A collection of Bible verses about rainbows. All these scriptures on rainbows will be from the NKJV and can be used for studying the topic of rainbows in the Bible.
The rainbow is a meteorological phenomenon that has astounded people for centuries. In our modern world we understand how this beautiful bow of colors happens, but it's still one of those things that make you stop and point to the sky.
I can't tell you how many times I have stopped everything to take a picture of a rainbow. But what makes rainbows even more special is what they mean to us spiritually. And that's what we are going to look at with these bible verses about rainbows.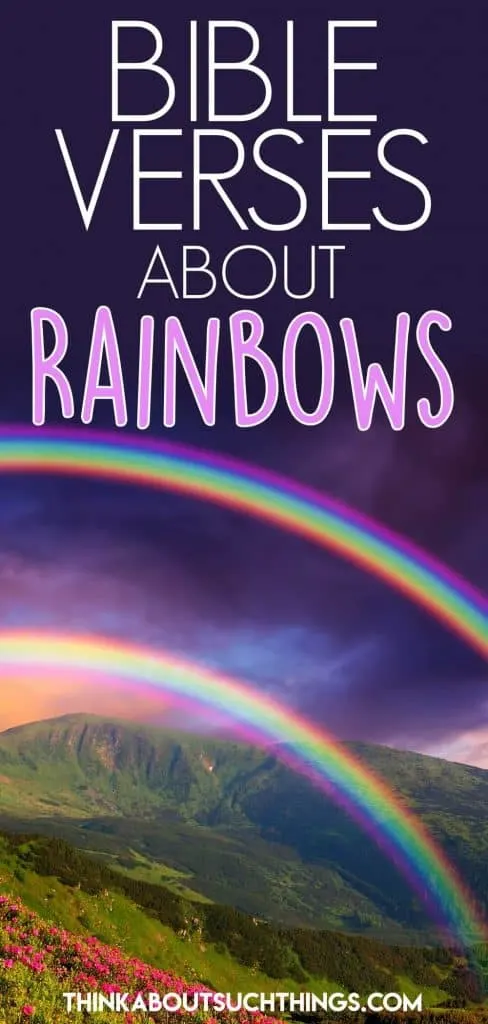 Rainbows In The Bible
When I started to look into the Bible about rainbows I was really surprised there wasn't a slew of scripture verses on them. When you look at translations like the NKJ (New King James) you only see 6 mentions of the word rainbows. And in the KJV things get a little tricky because the rainbow is called a bow in the clouds. We will look more at that later…
Now, lets look at some key things about rainbows in the Bible.
>> Check out Bible Verses about Mountains
Rainbow Symbolism According to the Bible
So, what does the rainbow mean in the bible?
I like what Nelson's Illustrated Bible Dictionary says when it comes the symbolism of rainbows.
"The most important reference to the rainbow in the Bible occurs in Genesis 9:13-17, where the rainbow serves as a sign of God's covenant with Noah. This covenant was a promise by God to the world that it would never again be destroyed by a flood. The rain clouds and the rainbow were never again to be regarded by people as a threat of ultimate judgment, but as an unchanging indicator of God's mercy…. The remaining references to the rainbow in the Bible develop this symbolism. They all occur in passages where judgment is to be announced, notably in Revelation 4:3 and 10:1 in connection with God's judgment of the world (Ezek. 1:28). In all these cases, however, the rainbow is a sign of the glorious presence of God. It is a reminder that His mercy and grace will finally triumph. "
Key Rainbow Symbolism
Covenant
Promises
God's presence
God's mercy and grace
Peace after the storm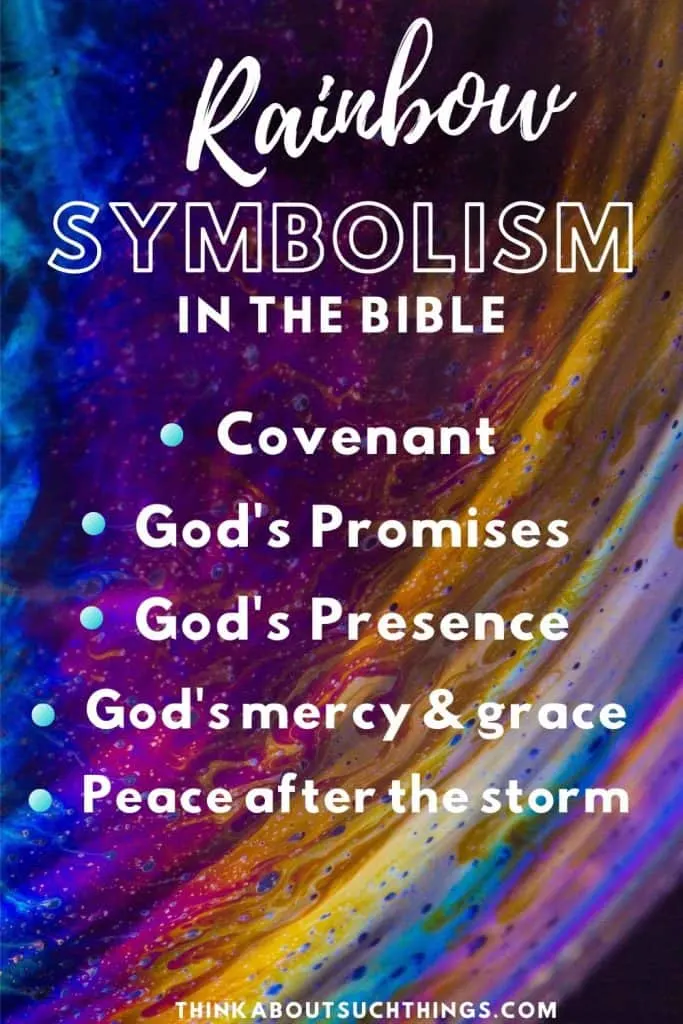 Rainbows Before the Flood Or After
Did it rain before the flood?
There is a debate between theologians whether the rainbow first appeared after the flood or had always been and God decided to make it a sign to Noah.
Some believe that the atmosphere before the flood was different and that it did not rain on the earth ever. This would make Noah look even crazier when building an ark.
The flip side is that it rained like it always has and rainbows were a common occurrence.
I'm not here to tell you which one to believe but encourage you to study God's word and determine that yourself.
Bible Verses On Rainbows
All verses below are from the NKJV. You can hover over the reference and you can check out the Amplified translation of the Bible verse. If you would like to check out other translations then head over to Bible Gateway.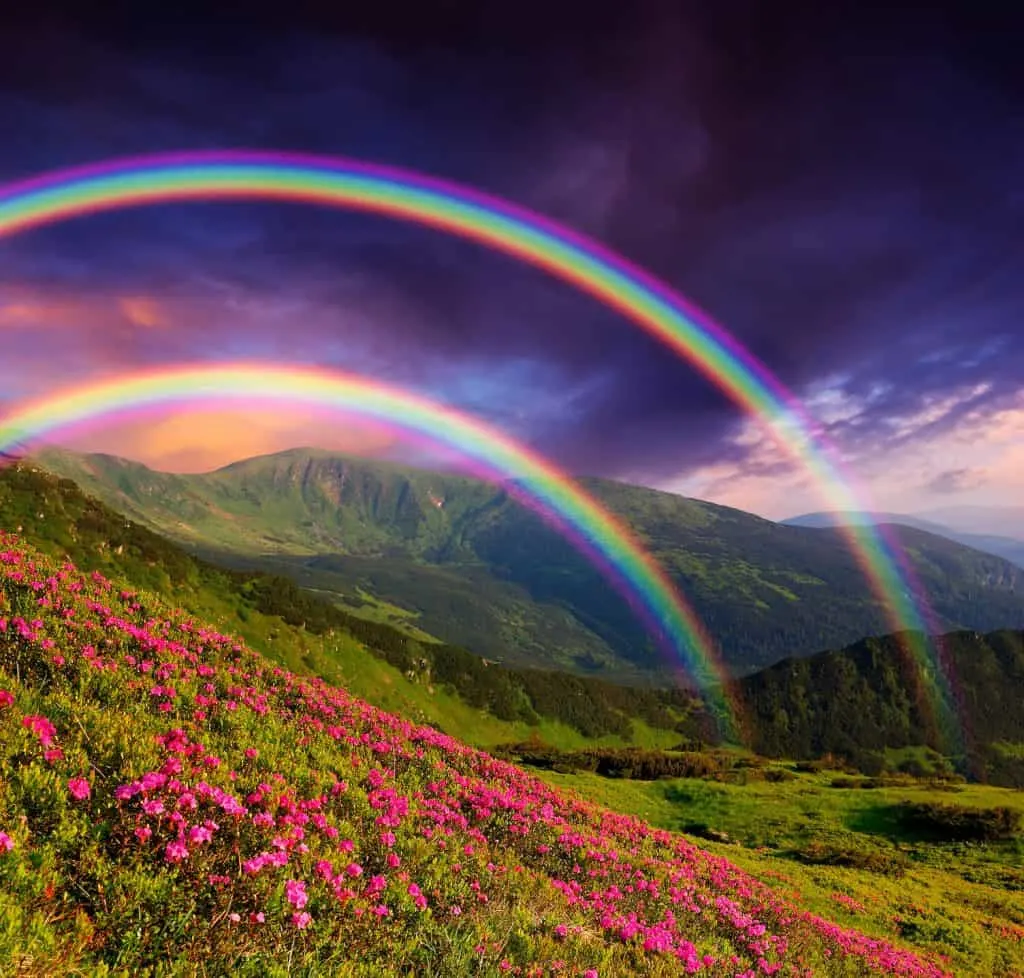 ---
God Promise & Covenant
Genesis 9:11-16 NKJV – 11 "Thus I establish My covenant with you: Never again shall all flesh be cut off by the waters of the flood; never again shall there be a flood to destroy the earth." 12 And God said: "This is the sign of the covenant which I make between Me and you, and every living creature that is with you, for perpetual generations: 13 "I set My rainbow in the cloud, and it shall be for the sign of the covenant between Me and the earth. 14 "It shall be, when I bring a cloud over the earth, that the rainbow shall be seen in the cloud; 15 "and I will remember My covenant which is between Me and you and every living creature of all flesh; the waters shall never again become a flood to destroy all flesh. 16 "The rainbow shall be in the cloud, and I will look on it to remember the everlasting covenant between God and every living creature of all flesh that is on the earth."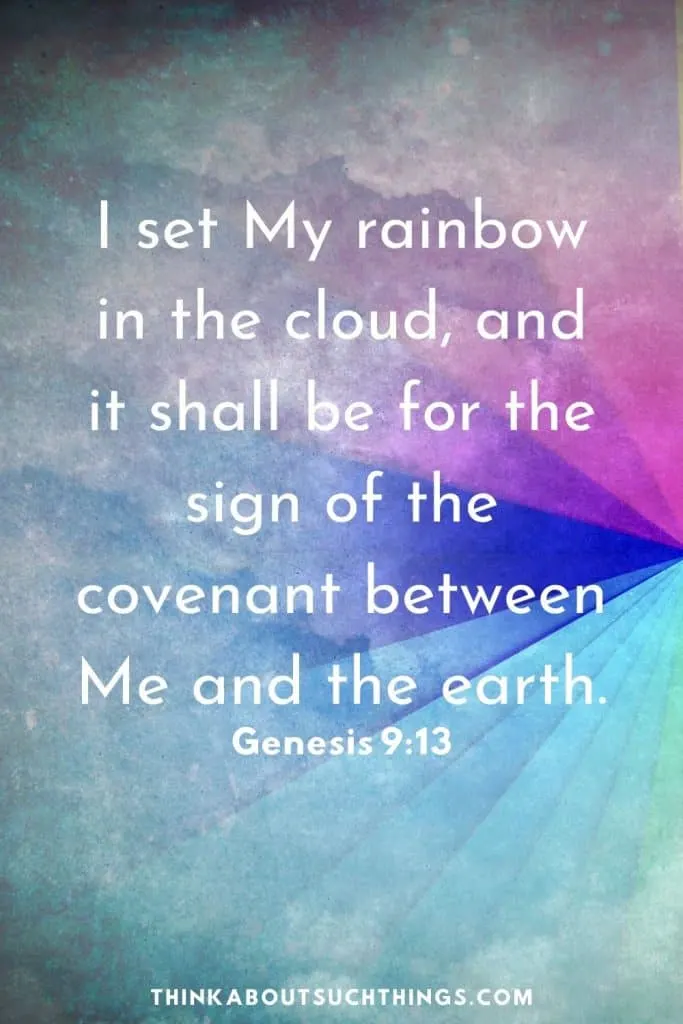 A Rainbow Around The Throne and In Heaven
We see in the book of Revelation that there is a green rainbow around the throne of God! Learn more about colors on my… The Biblical Meaning of Colors post.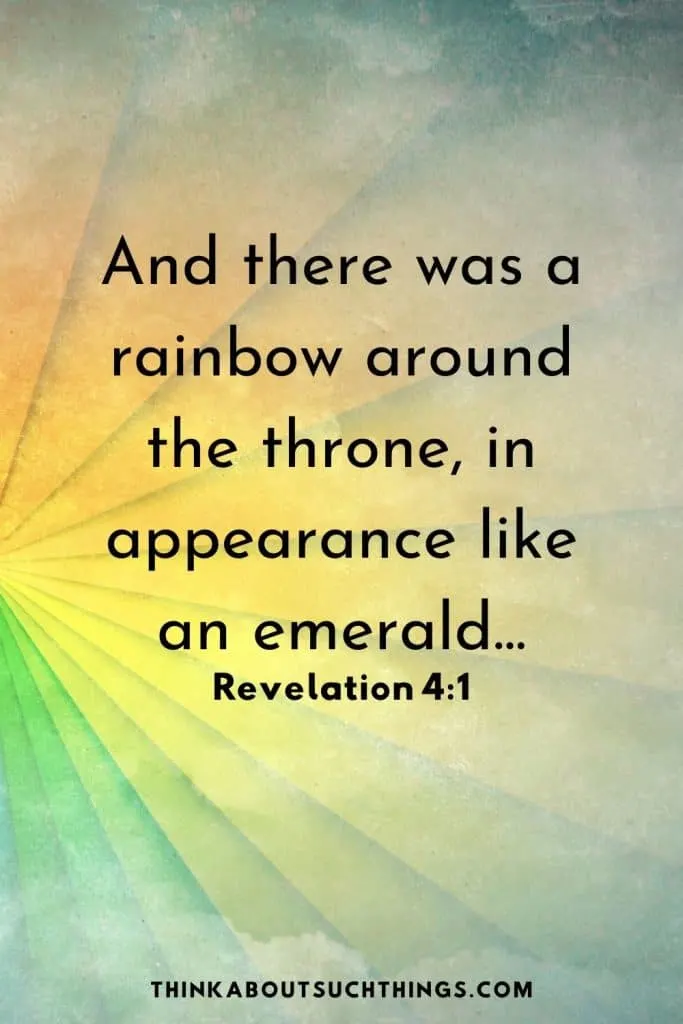 Revelation 4:1-4 NKJV – 1 After these things I looked, and behold, a door [standing] open in heaven. And the first voice which I heard [was] like a trumpet speaking with me, saying, "Come up here, and I will show you things which must take place after this." 2 Immediately I was in the Spirit; and behold, a throne set in heaven, and [One] sat on the throne.
3 And He who sat there was like a jasper and a sardius stone in appearance; and [there was] a rainbow around the throne, in appearance like an emerald. 4 Around the throne [were] twenty-four thrones, and on the thrones I saw twenty-four elders sitting, clothed in white robes; and they had crowns of gold on their heads.
Bow In The Clouds
The term bow in the clouds is used in certain translations of the Bible. We see it especially in the King James Version (KJV). But it also can be seen in the ESV, NASB, CSB. Below I have shared again the verses in Genesis to show you the different translation of rainbow.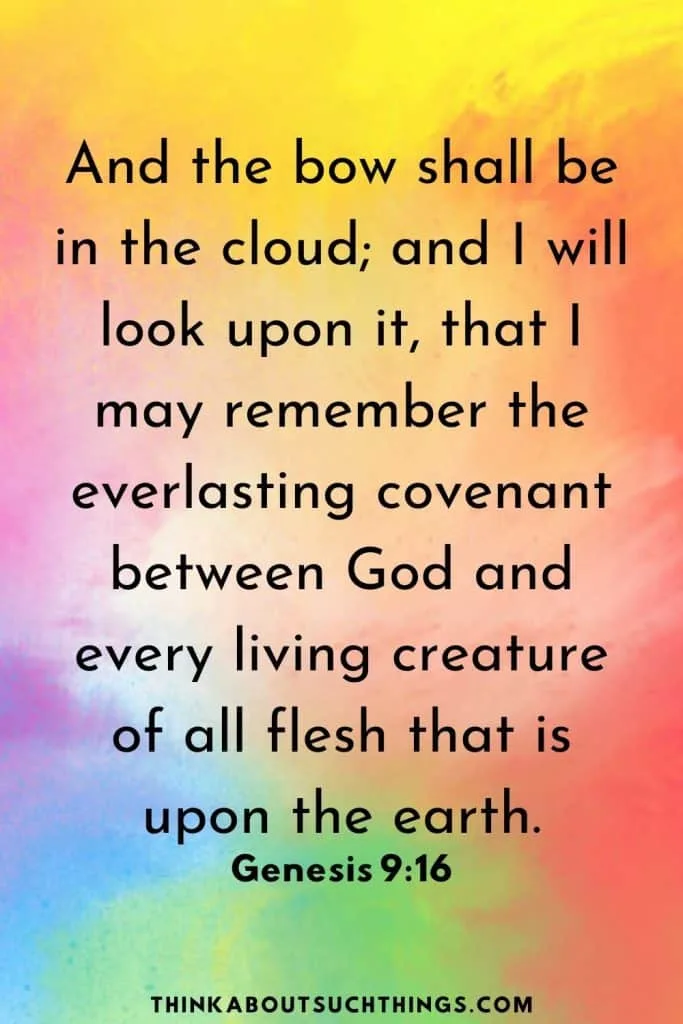 Genesis 9:13-16 KJV – I do set my bow in the cloud, and it shall be for a token of a covenant between me and the earth. And it shall come to pass, when I bring a cloud over the earth, that the bow shall be seen in the cloud:
And I will remember my covenant, which is between me and you and every living creature of all flesh; and the waters shall no more become a flood to destroy all flesh. And the bow shall be in the cloud; and I will look upon it, that I may remember the everlasting covenant between God and every living creature of all flesh that is upon the earth.
The Lord… Angels And Rainbows
It's pretty neat that rainbows are used to describe the Lord and what an angel look like.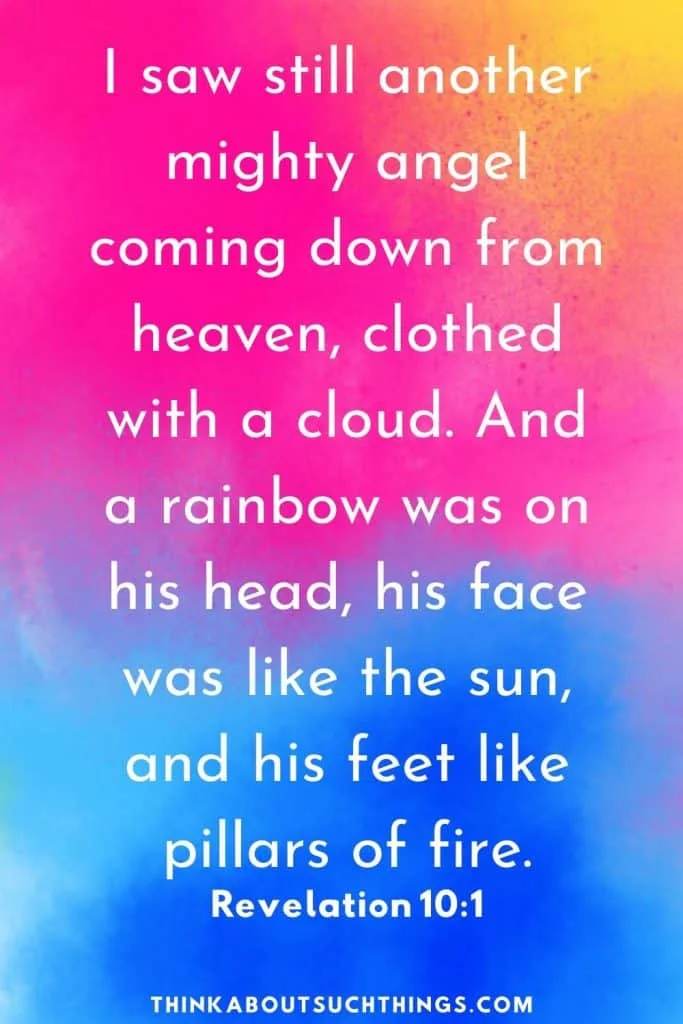 Ezekiel 1:28 NKJV – 28 Like the appearance of a rainbow in a cloud on a rainy day, so [was] the appearance of the brightness all around it. This [was] the appearance of the likeness of the glory of the LORD. So when I saw [it], I fell on my face, and I heard a voice of One speaking.
Revelation 10:1 NKJV – 1 I saw still another mighty angel coming down from heaven, clothed with a cloud. And a rainbow [was] on his head, his face [was] like the sun, and his feet like pillars of fire.
Quick Reference List of Bible Verses About Rainbows
Like I do with all my topical Bible verses here is a simple reference list of Bible verses about rainbows. I hope this makes it easy for you to jot down these verses in your journal or Bible for future use or study.
A List of Rainbow Bible Verses
Genesis 9:13
Genesis 9:14
Genesis 9:16
Ezekiel 1:28
Revelation 4:3
Revelation 10:1
---
I hope these Bible verses about rainbows have blessed you and stirred up your hunger to dive deeper into God's word! If you would like to read more on the topic of celestial elements in the Bible then check out some of these posts!
Feel free to drop me a comment below! I would love what God is doing in your life!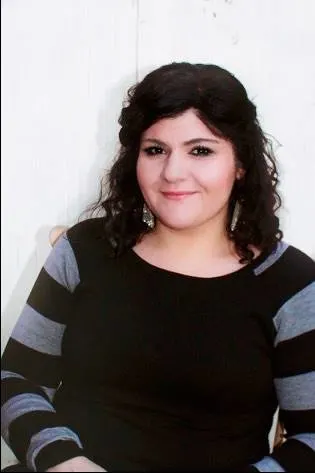 Melissa is a passionate minister, speaker and an ongoing learner of the Bible. She has been involved in church and vocational ministry for over 18 years. And is the founder of Think About Such Things. She has the heart to equip the saints by helping them get into the Word of God and fall more in love with Jesus. She also enjoys family, cooking, and reading.
She has spoken in churches in California, Oregon, Texas, and Mexico and has been featured in Guidepost Magazine and All Recipes Magazine. Read More…