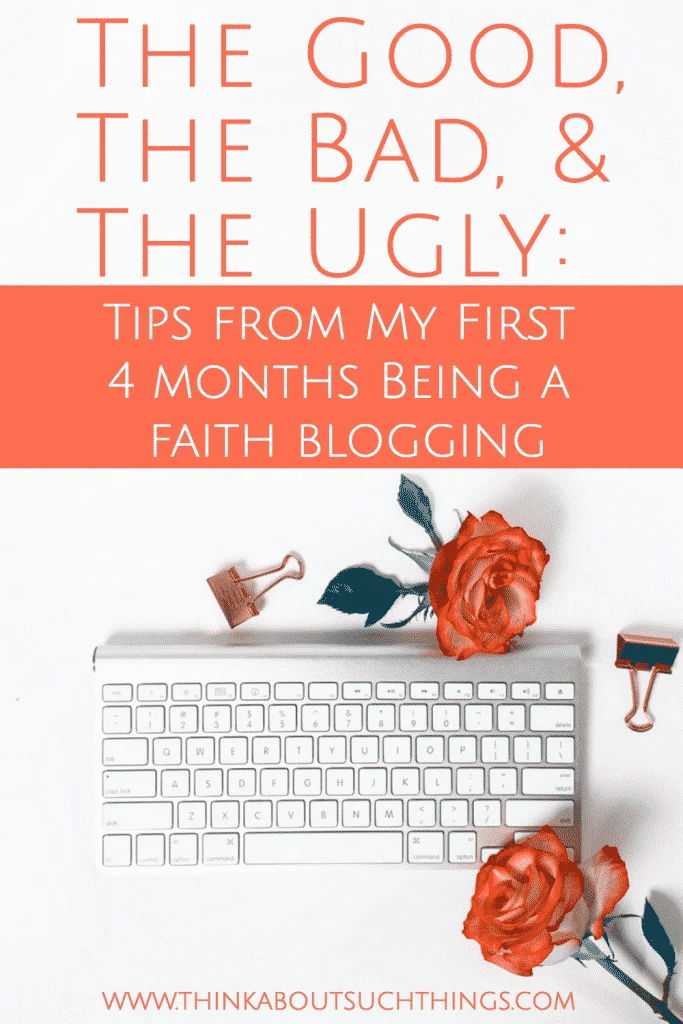 I'm not new to the blogging world but the same time I am. I've never done blogging "professionally" like I'm doing with Think About Such Things. I've always blogged casually and for fun. I've actually gone through 5 blogs before starting this one. I learned a lot from those blogs and how inconsistency can train wrecked my pursuit of having a successful blog. If you would like to read more about it you can visit my post at: 5 REASONS WHY I FAILED AT BLOGGING
I have now been professionally blogging for 4 solid months. I thought I would share my blogging tips: the good, the bad and the ugly. If this is your first time here, in a nutshell, I'm a Christian lifestyle blogger. I write on a variety of topics but tend to camp out on the faith topic the most. To be honest that's where my passion is. I've been in ministry most of my life and I love helping people grow in their relationship with God. But I also enjoy sharing on other topics that I love. BOOM that's how this blog rolls!
Starting this blog I was a little clueless on what would happen. Like I was doing this all fancy and professional like this time around. So, I was expecting different kind of results than my casual blogging days. This time I wanted to track my pageviews, grow my email list, build my social media platform, and a whole lot more. I didn't know if my growth was going to be slow or fast. Was I going to be one of those super bloggers that get 1,000 email subscribers and 25,000 pageviews in their first month? Or was I going to be that blogger that only has their mom looking at her posts?
This is why I want to share my experience. I'm just an average girl with an average blog in cyberspace. And these are the things that I have learned. Some are good, like really good, some things have been bad or unwise of me. and then some stuff was downright ugly. Now don't get scared about the word ugly. I will share what I mean by that later on in this post.
BlOGGING TIPS FROM MY FIRST FOUR MONTHS
BLOGGING TIPS: THE GOOD
Achievements In my first 4 months of blogging as a Christian lifestyle blogger:
250 email subscribers
6000+ pageviews a month
61 live posts
Pinterest followers went from 3,045 to 4,001
(I established my Pinterest a long time ago as my personal Pinterest profile. I still have no idea how I got 3,000 followers by pinning random things I like)
Twitter followers went from 467 to 506 (also converted by personal account to my blog)
Instagram followers went from 0 to 4522 (Started my blog IG from scratch. I didn't want to mix it with my personal account.)
Total Income from the 4 months (not including expenses): $523.22
WHAT WORKED FOR ME:
Praying for my blog –
Praying for my blog and asking God to bless it really has played an impact on how it has grown. I asked God to give me wisdom when I plan and write content. That I would write on topics that would bless and impact people's lives. I do feel like blogging is a form of ministry. You can read more in that on my blog post: blogging for Jesus.
Signing up for Elite Blog Academy –
I wanted to really know how to blog and to do that I knew I needed schooling. I've read tons of reviews on different courses, but I wanted something that would teach me all of it. So, I bit the bullet and signed up to take Elite blog Academy. I knew it was a big investment, but WOW it has changed the way I blog. I now have the right tools and methods to move forward and be successful as a blogger. It's worth every penny and Ruth is a genius.
Being consistent –
I cannot tell you how helpful it's been to be consistently working on my blog and not do everything on a whim. I know it helps my numbers to grow, but more importantly, it has helped me keep my focus and remember why I'm blogging in the first place.
Having an editorial calendar –
I have always been a big planner person. Every time I worked as an administrator or in a church I always used a planner. This time around I use an editorial planner both digitally and physically. I'm one of those weird people that love to have the paper version. But also like having the convenience of seeing it online when I'm on my computer. Having an editorial calendar keeps me on track and helps me create a plan for the future months of my blog.
For my digital editorial calendar, I used Coschedule. it's an amazing service that lets me have the ability to plan and execute my post through WordPress. They have a widget you can install into your WordPress that lets you plan and even schedule your social media content. You can also use their app site to work on your calendar. Another AWESOME feature is that they have the ability to schedule social media posts. They work with Google+, Pinterest, Facebook, Twitter, and more.

Here are some screenshots to show you awesome it is!
For my printed editorial calendar I use the Content Strategy Planner (second Edition) by Sarah Eatherton-Goff. This is a recent find for me and I am in LOVE. This planner helps me keep track of my monthly/weekly to-dos for my blog, track of all my content planning, opportunity planning, and blog/social media stats. The calendar dates are blank so you can start it at anytime. I also love that I can work on planning without my computer. I can go to a coffee shop sip on a delicious cappuccino, work on my blog without one techie device. Marvelous!
Here are some screenshots of my Content Strategy Planner: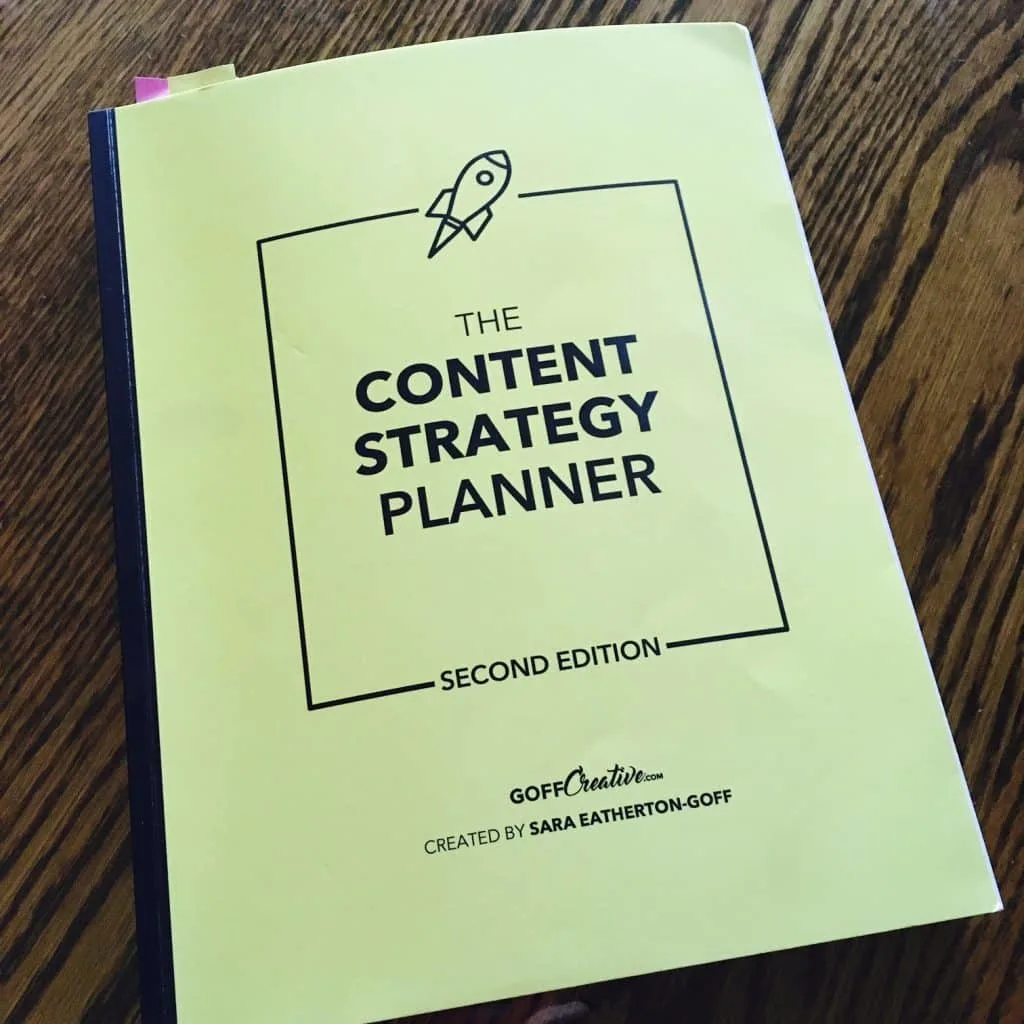 Printables –
I knew from the beginning I want to create lots of freebies for my readers. And one freebie that everyone loves is printables. I created a list of printables that I could create and offer for free for my readers. This has helped me grow my list a ton. I would say 90% of my email list has come from my free printable offers.
I use Pages for Apple to make all of my printables.
Connecting with bloggers –
It's easy to feel like a Lone Ranger when you're at home at your desk by yourself working on your blog. It makes you want to break out into Céline Dion's….ALLLLL BY MYSELF!
Blogging is not a very social job and It can be very hard for certain personality types. Can I get an amen from the extroverts? Connecting with bloggers online has helped me stay motivated, and encouraged. Not to mention I have learned a ton of helpful tips. There are tons of Facebook groups for all kinds of bloggers. These groups are a great place to ask questions, learn from, and network with others.
Being ahead on my content writing –
I have experienced being one month ahead of my content writing. It's pure bliss! But I have also experienced the polar opposite of that where I am writing a blog post that very same day. Being on top of the game helps tremendously. I even took some time off of posting to get ahead and have a whole month ready to post. If you are consistently trying to push content out when it's due you are going to get stressed out. When that happens it's hard to focus on other areas of your blog.
BLOGGING TIPS: THE BAD
These are the things that I did that I thought was going to help me move forward, but instead, they slowed me down, frustrated me, or confused me. BLAH!
Taking too many free webinars or e-courses –
It's like on every social media channel you see a free e-course/free webinar being offered to
Help you grow your traffic…
Grow your email list…
How to make money on your blog…
So on and so forth. It's never-ending. As someone who likes to learn, I fell victim to this very easily. I cannot tell you how many free webinars and courses I have signed up for. It's on the ridiculous side. And even though some might have some helpful information, all the time I'm spending on these webinars could be spent on doing things for my blog (especially stuff I am learning from Elite Blog Academy). I could be writing awesome content, working on my social media strategy, creating more freebies for my readers, or why not make my own free webinar!
I lost so much valuable time by doing these courses and in all honesty, they weren't helpful. I think maybe like two or three tops gave me good tips that I didn't know before. So my honest opinion is to skip out on the free webinars/e-courses. Unless you know without a shadow of a doubt that it will help you.
Facebook Blogging Promotional Groups –
When I first started my blog I joined like 20 different promotional groups on Facebook. Some were for all topics, some were Christian-based, and some were geared towards social media promotion. I literally spent hours every day going through these groups posting my stuff and then promoting other bloggers content. All in hopes that my blog post would get comments and shares. But the daily grind of having to promote for hours was getting old and I wasn't seeing a huge benefit from it. So, I took a scary step and decided to stop doing all Facebook promotional groups.
And you know what happened? My numbers didn't change and my blog traffic actually went up. Because of my new free time, I could focus on other areas of my blog. I will say the only thing that I notice that changed was a number of comments I was getting on my posts.
So, now I only use these groups on very rare occasions if I want a certain blog post to get shared more quickly.
BLOGGING TIPS: THE UGLY
Now, what I mean by ugly are things I struggle with personally. Mental hang-ups can wreak havoc from you moving forward in any area of your life. It's important that we recognize them and ask for the Lord's help. These are two areas that I've been hard on me these past four months and that I'm trying to work through. I hope my honesty will help some of those who are dealing with the same things as me.
Comparing –
I don't think there's one person on this planet that hasn't compare themselves to someone else. We do it without even realizing it and I even wrote a blog post about it: THE UGLY TRUTH ABOUT COMPARING
After noticing that I always compare myself with other bloggers who are successful or doing better than me at the stage I'm at. I would get discouraged and question myself, "maybe blogging isn't for me" or "maybe this is not something God has for me?" "Maybe I'm not cut out for this?" "Why do they have 75,000 pageviews at 5 months and I don't." " What am I doing wrong?" " Am I going to fail at this like I failed at other things?"
All these questions and doubting came from comparing. It doesn't help that Pinterest has a ton of pins saying "how I made this much in this many months or how I grew this much in this many months." Sure they can be an encouragement. But sometimes when you do exactly what they told you to do and you end up with fewer pageviews. That's when things can get ugly.
I have to guard my heart to not go there. To trust that God has me on my journey and that it is a unique path that he wants me to walk on with him. With that said I don't click on those pins as much anymore. I am realizing that is someone else's journey and I need to focus on my journey.
Fear of Writing –
Now you may be a little surprised by this since I'm a blogger. Writing for me is not easy. I'm not very confident in my writing ability though I do like to write and I feel very strongly God has called me to write. I can't even tell you that amount of prophetic words I have gotten about my writing. But I still struggle with it.
I'll be honest I'm not the best at grammar. My sentence structure can use some major work. I feel like I am constantly being critiqued, probably because some of my friends act like grammar police. It can be hard on me emotionally. And yes, I'm very well informed about grammar apps and spell check. I use them regularly, but even with that, there are days I don't want to write. This is not helpful when you are a blogger and majority of your content is written.
So, I am in the process of dealing with my fear and insecurities with writing. Getting to the root of it and having God's perfect love cast it out of my life forever.
That's it, folks! I know this is a way longer post than usual. But those are the things that I have learned in my first 4 months of being a Christian blogger. I hope these blogging tips help you as a blogger and that you can learn from my wins and mistakes. Feel free to drop me a comment below and share some stuff that you have learned as a blogger. Let all help each other grow and learn!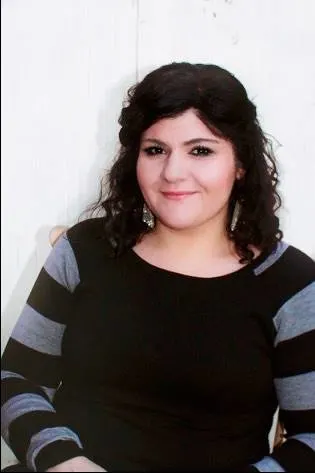 Melissa is a passionate minister, speaker and an ongoing learner of the Bible. She has been involved in church and vocational ministry for over 18 years. And is the founder of Think About Such Things. She has the heart to equip the saints by helping them get into the Word of God and fall more in love with Jesus. She also enjoys family, cooking, and reading.
She has spoken in churches in California, Oregon, Texas, and Mexico and has been featured in Guidepost Magazine and All Recipes Magazine. Read More…