This post may contain affiliate links. Please read my disclosure policy for more info.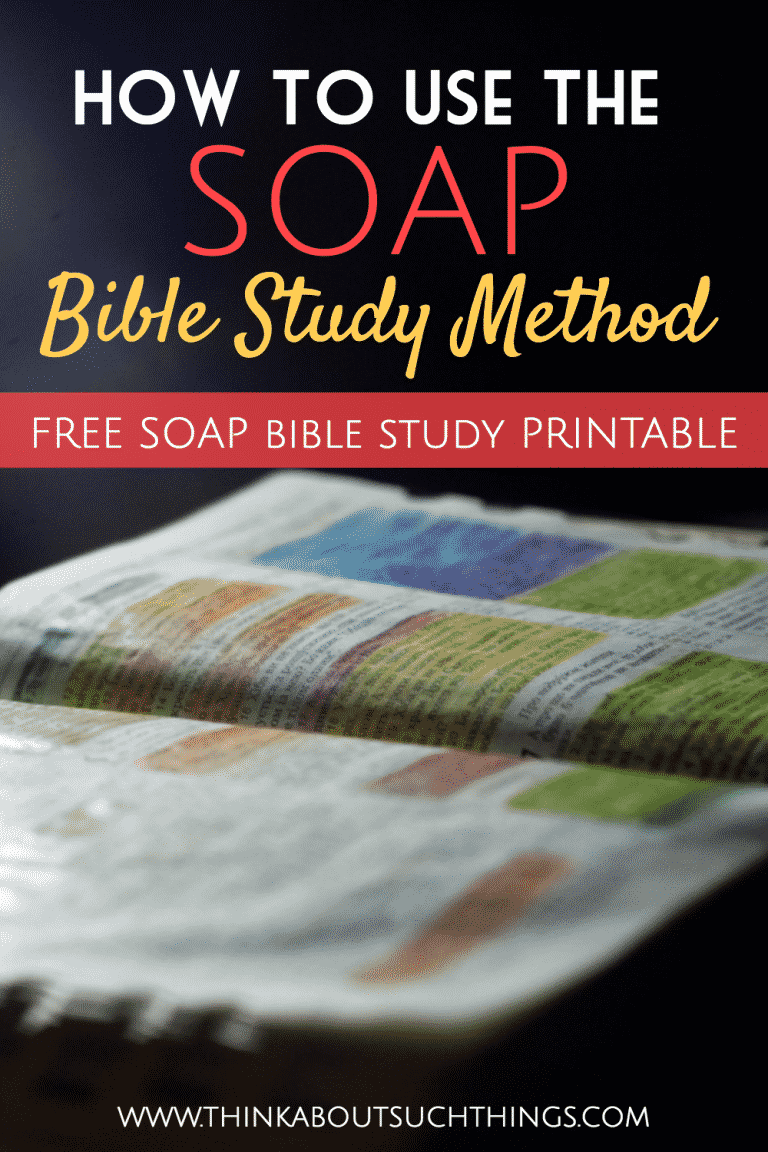 When it comes to Bible study methods there is a lot of them. Simply one of the most well-known ones is the SOAP Bible Study method. There is a good reason why it is so popular with people. It's an easy, quick, and effective way to dive deeper into scripture.
There are countless times we read through the Word so quickly, that we miss out on what God is really wanting to teach and reveal to us. One of the reasons I love the SOAP method is because it slows you down and lets you concentrate on just one or two verses.
You don't need lots of resources or tools to do it. All you really need is:
The Holy Spirit
The Bible
Paper or SOAP Printable
A Pen or Pencil


That's it! The SOAP method is so easy that you can do it within your Bible reading time.
THE SOAP BIBLE STUDY METHOD
SOAP is an acronym for:
Scripture
Observation
Application
Prayer
Scripture
Pick a verse from your devotional time or one that stood out to you during a church service.
Write out the verse and reread the verse a few times slowly.
Observation
What stood out to you in the verse? Is there anything that stirred your faith?
*You can take this to the next level and use a Bible Dictionary or a Strong's Concordance.
Write down a few sentences about what stood out to you.
Application
Is what you observed being applied to your life? If so how can you apply this truth to your life?
Write down practical ways you can apply what you learned.
Prayer
Consider the last three steps and talk to God about it! Tell Him how the verse impacted you and how you desire to apply His word to your life. Ask Him for grace, wisdom, and strength so that you will be able to bring this change into your life!
Feel free to write the prayer out, or speak it out. There have been times when I do a combo of both.
Here is an example of the SOAP Method I have done:
Scripture: Matthew 6:33-34 NIV
But seek first his kingdom and his righteousness, and all these things will be given to you as well. Therefore do not worry about tomorrow, for tomorrow will worry about itself. Each day has enough trouble of its own.
Observation:
When reading this passage a few things really stuck out to me. One of those things is the word "first." It really hits me hard. God wants Himself to be "first" in our life. He wants His Kingdom (All the things He does and reigns in) and His righteousness which makes me think of His personhood. Those need to be our "firsts." When we make God our first we don't need to worry because He takes care of us.
Application:
Learning to let go of things and making God number one. Believing that He will take care of the things that stress me out.
Prayer:
Dear Father,
Thank you for your truth in your Word. Lord, I ask that you would help me and give me the grace to make you my first in every aspect of my life. That I would be one who seeks hard after your Kingdom and your Righteousness. God help me to trust you. That I don't need to worry about my day or the days to come, but that as I seek You, you will make my path straight. Thank you, Lord, for your love and goodness may it cover me all the days of my life. In the mighty name of Jesus! Amen and amen!!
I hope that example is helpful for you as you pursue your studies in God's word. It truly is easy to glean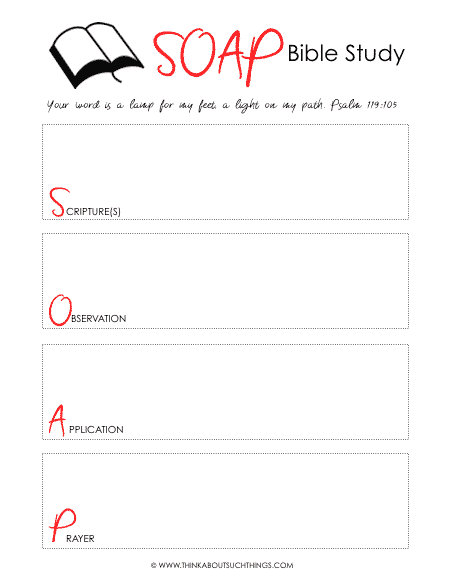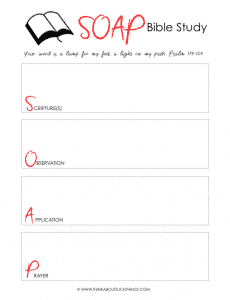 from His word when you spend time in it and ask Him to reveal truth to you.
If any of you lack wisdom, you should ask God, who gives generously to all without finding fault, and it will be given to you. James 1:5
If you want to try this method you can download my FREE SOAP Bible Study Printable by signing up for my newsletter below. The form makes it even easier to get your study on!
You will get access to the SOAP Printable and my other freebies! Like my Goal Setting Wheel!
Let me know below in a comment what are some of your favorite Bible Study methods and what you think of the SOAP method.