Discover the Soap Bible Study method explained in 4 easy steps. Comes with a Free Soap Template (PDF)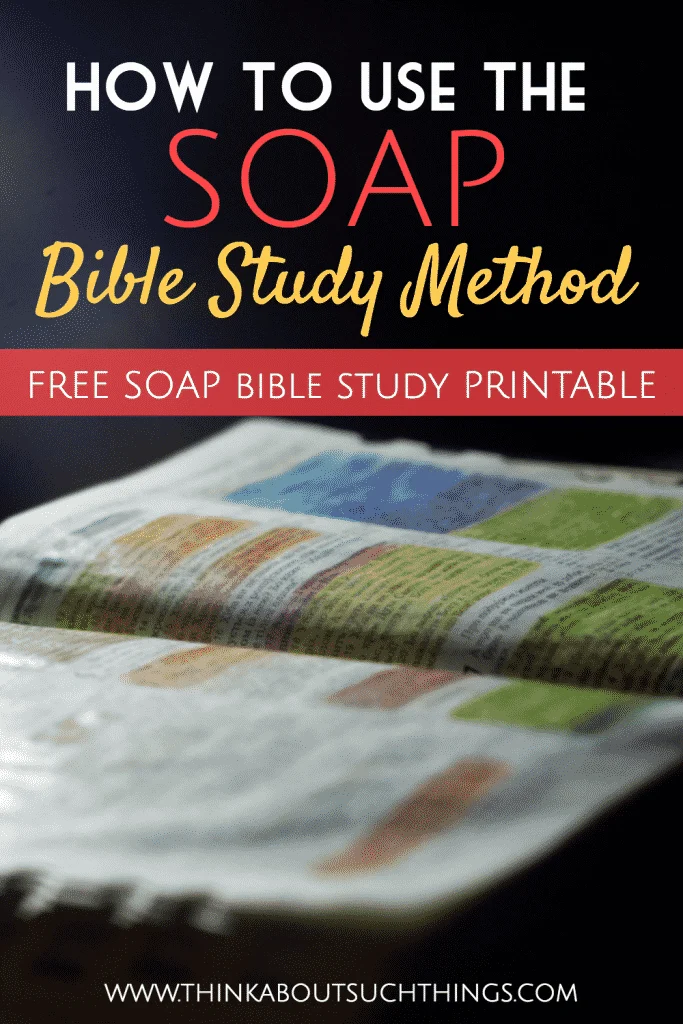 When it comes to Bible study methods there is a lot of them. One of the most well-known ones is an acronym bible study called the SOAP Bible Study method.
There is a good reason why it is so popular with people. It's an easy, quick, and effective way to dive deeper into scripture. And because it's so simple it can be taught to older kids and teens.
There are countless times we read through the Word so quickly, that we miss out on what God is really wanting to teach and reveal to us.
One of the reasons I love the SOAP method is because it slows you down and lets you concentrate on just one or two verses at a time.
And another great thing is that you don't need lots of resources or tools to do the study. All you really need is:
The Holy Spirit
The Bible
Paper or SOAP Printable or Journal
A Pen or Pencil
That's it! The SOAP method is so easy that you can do it within your Bible reading time.
Alright now let's get down to business on how to do the SOAP Bible study. If you would like to skip around use this handy dandy table of contents below.
THE SOAP BIBLE STUDY METHOD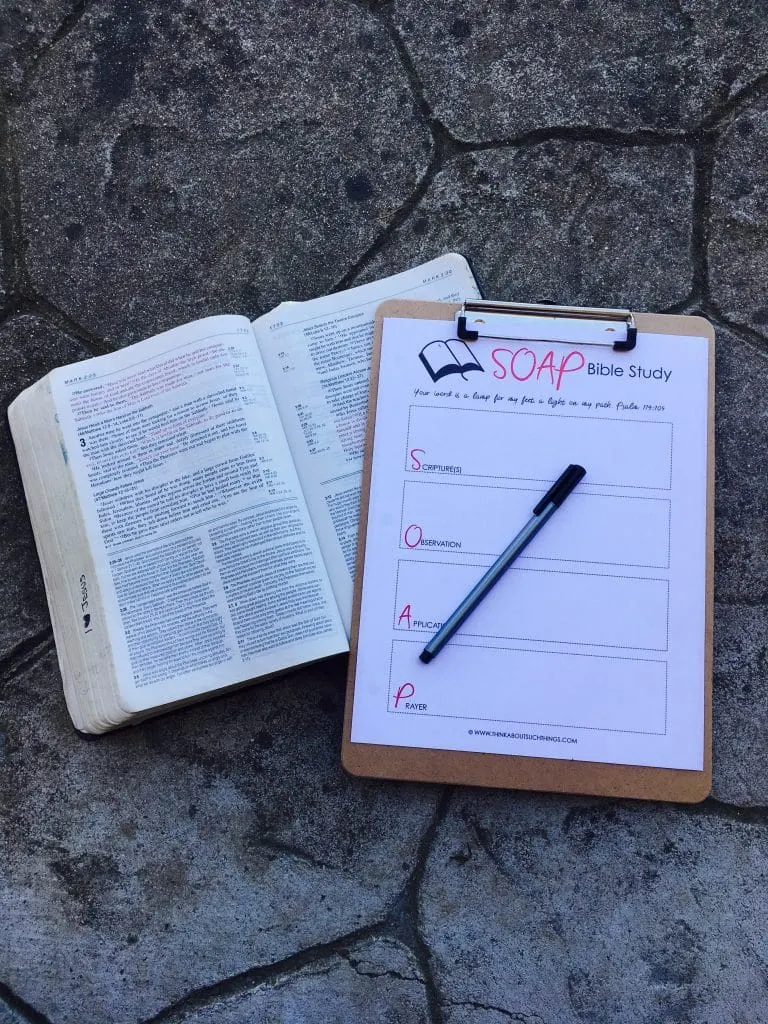 Like I mentioned above SOAP is an acronym for:
Scripture
Observation
Application
Prayer
I will break down each one to create 4 easy steps.
Step 1 – S is for Scripture
Pick a verse from your devotional time or one that stood out to you during a church service. You can even do two or three. Just don't go crazy. You want to keep this simple.
Write out the verse and reread the verse a few times slowly. Take your time in this step. There is no need to hurry.
An example verse could be Phillipian 4:8
Finally, brothers and sisters, whatever is true, whatever is noble, whatever is right, whatever is pure, whatever is lovely, whatever is admirable–if anything is excellent or praiseworthy–think about such things. – Philippians 4:8
Step 2 – O is for Observation
Observation is all about what stood out to you. Is there anything that stirred your faith?
This is the time you want to start writing stuff down. Write down truths you feel God is wanting you to learn. They can be warnings, truths, principles, commands, and more.
*You can take this to the next level and use a Bible Dictionary, Bible Commentary or a Strong's Concordance. This is getting more advanced but the extra effort is very rewarding. I encourage you to at least try it once.
Step 3 – A is for Application
Application is all about getting personal. It's time to ask is what you observed being applied to your life? If not how can you apply this truth to your life?
Write down practical ways you can apply what you learned and make the Word come alive in your life.
Step 4 – P is for Prayer
Consider the last three steps and talk to God about it! Tell Him how the verse impacted you and how you desire to apply His Word to your life. Ask Him for grace, wisdom, and strength so that you will be able to bring this change into your life!
Feel free to write the prayer out, or speak it out. There have been times when I do a combo of both.
---
So, that is the SOAP Bible Study method explained. I tried to make it easy and simple. Now I know for me personally I like having an example. So, in the next section, I will provide one.
SOAP Bible Study Example
This example will be using Matthew 6:33-34 from the NIV. You can use any translation you prefer.
Scripture: Matthew 6:33-34
But seek first his kingdom and his righteousness, and all these things will be given to you as well. Therefore do not worry about tomorrow, for tomorrow will worry about itself. Each day has enough trouble of its own.
Observation
When reading this passage a few things really stuck out to me. One of those things is the word "first." It really hits me hard. God wants Himself to be "first" in our life. He wants His Kingdom (All the things He does and reigns in) and His righteousness which makes me think of His personhood. Those need to be our "firsts." When we make God our first we don't need to worry because He takes care of us.
Application
Learning to let go of things and making God number one. Believing that He will take care of the things that stress me out.
Prayer
Dear Father,
Thank you for your truth in your Word. Lord, I ask that you would help me and give me the grace to make you my first in every aspect of my life. That I would be one who seeks hard after your Kingdom and your Righteousness. God help me to trust you. That I don't need to worry about my day or the days to come, but that as I seek You, you will make my path straight. Thank you, Lord, for your love and goodness may it cover me all the days of my life. In the mighty name of Jesus! Amen and amen!!
---
I hope that example is helpful for you as you pursue your studies in God's word. It truly is easy to glean from His word when you spend time in it and ask Him to reveal truth to you.
If any of you lack wisdom, you should ask God, who gives generously to all without finding fault, and it will be given to you. James 1:5
FREE PDF Template – SOAP BIBLE STUDY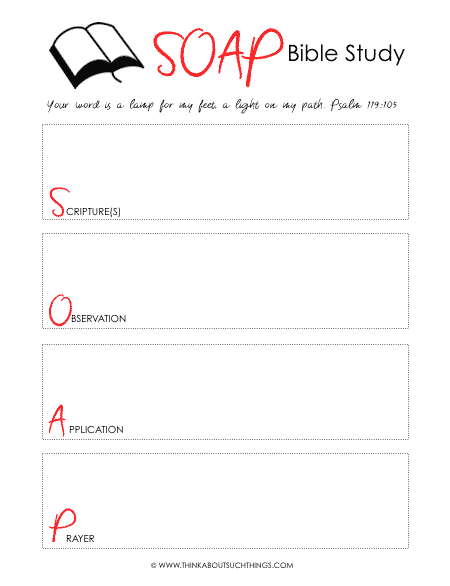 If you want to try this method you can download my FREE SOAP Bible Study Printable by signing up for my newsletter below. The form makes it even easier to get your study on!
You will get access to the SOAP Printable and my other freebies! Like my Goal Setting Wheel!
Let me know below in a comment what are some of your favorite Bible Study methods and what you think of the SOAP method.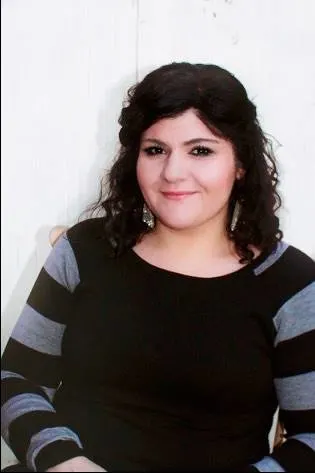 Melissa is a passionate minister, speaker and an ongoing learner of the Bible. She has been involved in church and vocational ministry for over 18 years. And is the founder of Think About Such Things. She has the heart to equip the saints by helping them get into the Word of God and fall more in love with Jesus. She also enjoys family, cooking, and reading.
She has spoken in churches in California, Oregon, Texas, and Mexico and has been featured in Guidepost Magazine and All Recipes Magazine. Read More…