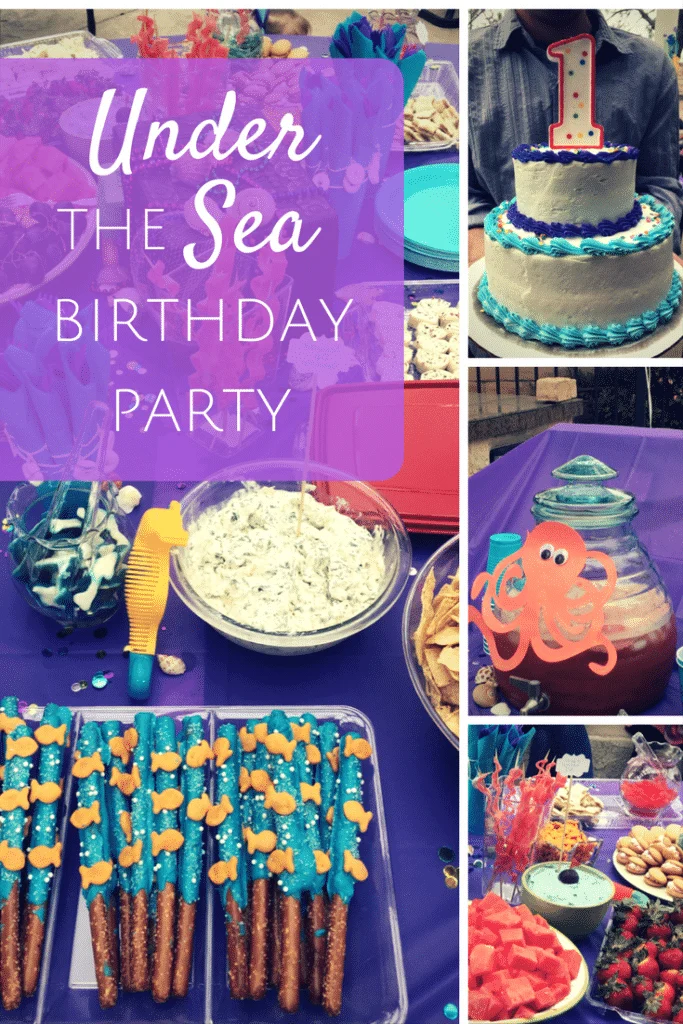 Being someone who loves parties and crazy themes I tend to get asked to help plan or host a party for good friends. This time around my good friend asked me to help with her daughters first birthday party.
They were originally from Alabama but stationed in San Diego.
So, they wanted a theme that would reflect where their daughter was born. And nothing says it more than a… Under the Sea Birthday Party Theme!
If you are thinking of doing an Under the Sea theme and need some creative ideas you have come to the right place. Check out these cute pictures and ideas from the event to get those creative juices flowing.
Cute Under the Sea Birthday Party Ideas
Food and Snack Ideas
Clam Shell Cookies – Grab a box vanilla wafers and make a batch of your favorite cream cheese frosting. Lightly dye the frosting pink and add a pearl candy.
Gold Fish Crackers
Pretzel Rods dipped in blue chocolate and decorated with goldfish crackers
Fruit platter or Veggie platter – Add a drop of blue food coloring to the dip to make it look like the ocean.
Spinach Dip and Chips (Label the spinach dip as seaweed deep)
Swedish Fish or other Fish Shaped Candies and Gummies
Life Savers Candies
Cut Out Star and Fish Sandwiches – You can really get creative with this one. Just keep in mind who your guests are and what they would like.
Some simple make-a-head sandwich ideas could be:
Tuna (keeping it real with the theme!)
Ham/Turkey and Cheese (make sure ham/turkey is thin and easy to cut through)
Cucumbers & Cream Cheese
Peanut butter & Banana
Peanut butter & Jelly
Peanut butter & Nutella

Decoration Ideas
Color Scheme
The three main colors that we went with were teal blue, purple, green. And we used multiple other colors as accents (Since the ocean is a colorful place)

But you can change up your main 3 colors easily. Take a look at some of these color combos:




Decore:
Streamers: Instead of using the normal way. Use the streamers to look like seaweed growing.

Balloons: They can give a great effect of bubbles at the party

Underwater Critter Cut Outs: I used my Silhouette Cameo to cut out cute little fish and sea creatures. Then to make them come more to life I added some googly eyes. If you plan a lot of parties or do a lot of paper crafts I highly recommend a Silhouette. It is by far one of the best crafting things you can own.

Tissue Paper Pom Poms: You can either buy these or make them yourself. I used my silhouette to make the pom-pom into sea creatures like crabs and turtles. They came out really cute.

Sea Shell and Coral: You can purchases them anywhere or if you live by the beach try to find some there! I like to scatter these around the table.

Sunken Treasure: Pick up some fake gold coins and beads at the dollar store

Treasure Chest: I happened to have a chest in my house, but you can buy one online or try to make one out of cardboard.

Well, I hope my under the sea party has inspired and spurred on your creative juices for your upcoming event! Please leave a comment below. I would love to know what you're planning next! And don't forget to check out how to throw an Epic Movie Night!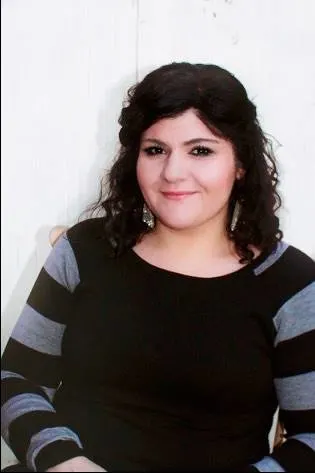 Melissa is a passionate minister, speaker and an ongoing learner of the Bible. She has been involved in church and vocational ministry for over 18 years. And is the founder of Think About Such Things. She has the heart to equip the saints by helping them get into the Word of God and fall more in love with Jesus. She also enjoys family, cooking, and reading.
She has spoken in churches in California, Oregon, Texas, and Mexico and has been featured in Guidepost Magazine and All Recipes Magazine. Read More…