In this article, we will look at a collection of Bible verses for a new home or even a newly remodeled home. These scriptures can be used for decor or even blessing.
At the end of month, we will close on a beautiful home in the heart of middle Tennessee. I am excited and terrified at the same time. I've been living in rentals for a while now and transitioning to a homeowner and its responsibilities seem daunting. But I know God has blessed us with this new home and He will help us through all it's up's and downs.
But with that said, it's nice to use Bible verses for your new home in different ways some can be for decorating or how I like to say adorn your house, or you can use them to pray, bless, and dedicate your new home to the Lord.
No matter the reason, I believe it's a beautiful and powerful to use God's Word over your new home. To make things easier for you to navigate, here is a handy dandy table of content.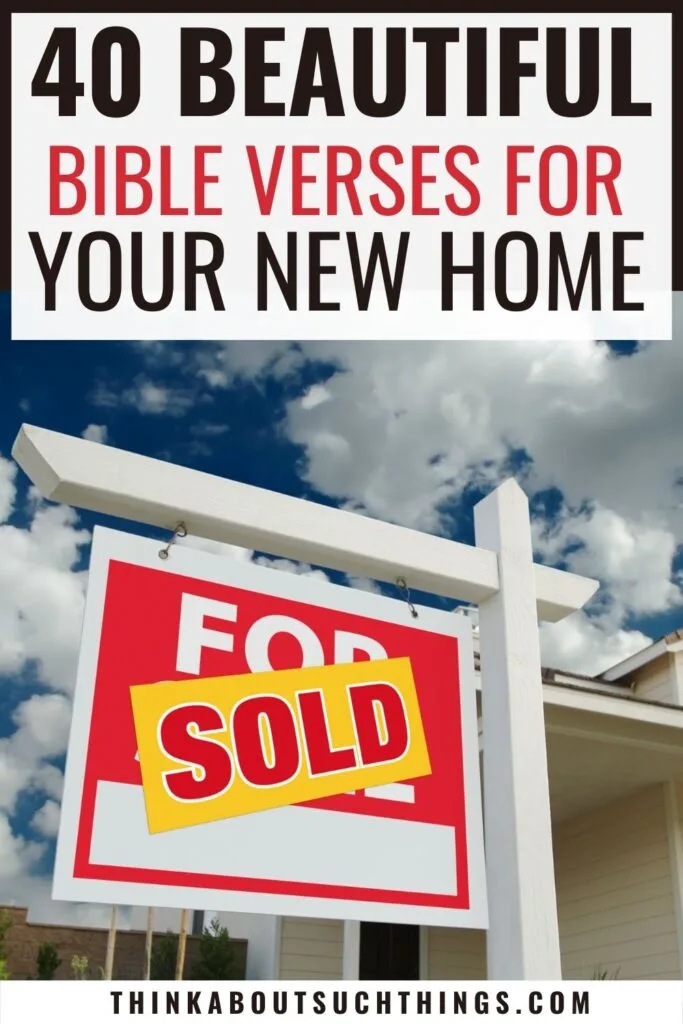 >> CHECK OUT MORE TOPICAL BIBLE VERSES
FUN FACT: The Mezuzah
The idea of placing scripture in your home is nothing new. It's actually an ancient tradition that uses the mezuzah. The word mezuzah refers to the two doorposts or doorjambs of a door. And it contained the scripture verses from Deuteronomy 6:4–9 and 11:13–21. Below is some more information on it:
"The mezuzah can be found on the door frames of many Jewish homes. It is placed on a slight angle on the right-hand side of every door frame in the house. The only door frame in the house that it is not placed on is the bathroom door.

The mezuzah is a piece of parchment scroll with the Shema prayer inscribed on it which is kept in a small case. The Shema prayer is important to Jews because the words describe God asking Jews to remember his commands in both their heads and hearts.

The words will have been written by a sofer, who is a person who is trained to write the Torah. The parchment that it is written on must be on the skin of a kosher animal.

The purpose of the mezuzah is to act as a constant reminder of God's presence. Jews will often touch the mezuzah as they go through the door. The instruction for this comes from the Torah." (source)
Here are pictures of mezuzahs…
Creative Ways to Use Bible Verses for Your New Home
I have seen many articles of how Christians write Bible verses on the wood beams or walls of the while constructing their new house. I think this is a wonderful idea if you are building a new home or remolding/adding an addition to your home. But the truth is that most of us will purchase a pre-existing home and not be building.
You won't be able to write on the beams, but there are tons of other creative ways to use Bible verses for your new home. Here are some of my favorite ways:
Use these verses to pray over and bless your home. You can go into each room and pray and speak scripture over that room. The last home we were in, we anointed each room as we prayed and dedicated them.

Spend sometime with Lord and ask Him to highlight to a specific scripture for each room. Then take the time to either create or purchase something with that scripture verse to display in that room.

Get your art on, by writing and painting scripture verses on rocks to decorate your front or back yard. This is also a great activity to do with the kiddos as well.

A lot of time we think Bible scriptures have to be placed on wall, but the reality is we can display God's Word in little decorative ways around our new home. I love these video on simple crafts with Bible verses: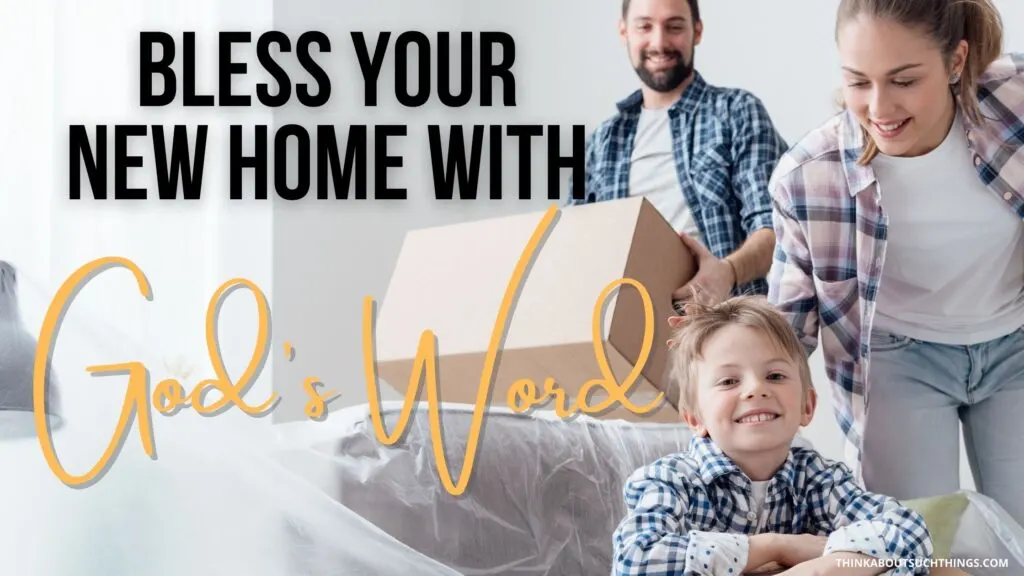 Bible Verses for Blessing a Home
All these verses through this post can be used for blessing or dedication of your new home, but I have placed these specifically in this area as I felt like these fit well. But I encourage you to let the Holy Spirit to highlight verses you are meant to bless your home with. He may show you a verse you never thought to use.
Deuteronomy 28:6 NIV – 6 You will be blessed when you come in and blessed when you go out.
Proverbs 3:24 NIV – 24 When you lie down, you will not be afraid; when you lie down, your sleep will be sweet.
Joshua 1:9 NIV – 9 Have I not commanded you? Be strong and courageous. Do not be afraid; do not be discouraged, for the LORD your God will be with you wherever you go."
Proverbs 24:3-4 NIV – 3 By wisdom a house is built, and through understanding it is established; 4 through knowledge its rooms are filled with rare and beautiful treasures.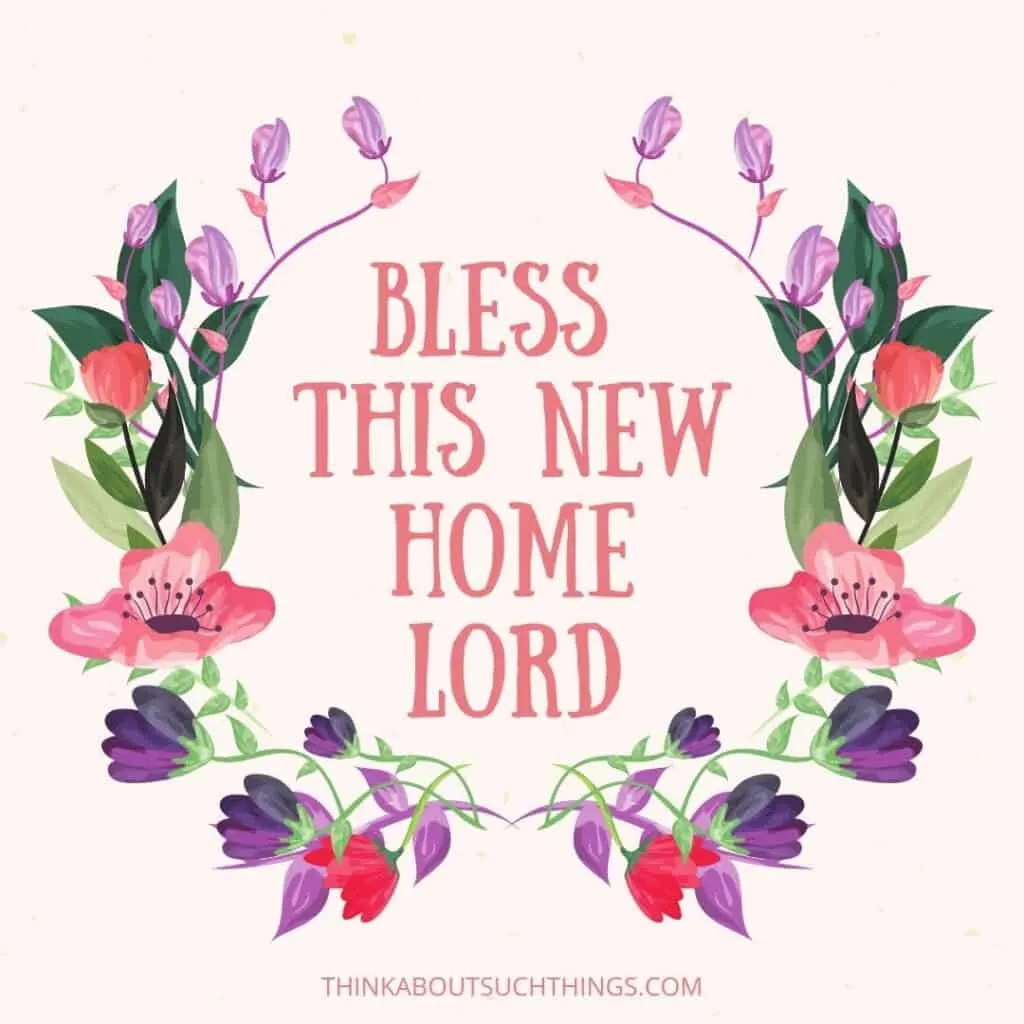 Acts 2:46 NIV – 46 Every day they continued to meet together in the temple courts. They broke bread in their homes and ate together with glad and sincere hearts,
Jeremiah 29:5 NIV – 5 "Build houses and settle down; plant gardens and eat what they produce.
Hebrews 3:4 NIV – 4 For every house is built by someone, but God is the builder of everything.
Psalms for House Blessing
These verses are specifically from the book of Psalms
Psalm 122:7 NIV – 7 May there be peace within your walls and security within your citadels."
Psalm 121:8 NIV – 8 the LORD will watch over your coming and going both now and forevermore.
Psalm 127:1 NIV – 1 A song of ascents. Of Solomon. Unless the LORD builds the house, the builders labor in vain. Unless the LORD watches over the city, the guards stand watch in vain.
Psalm 4:8 NIV – 8 In peace I will lie down and sleep, for you alone, LORD, make me dwell in safety.
Psalm 23:5 NIV – 5 You prepare a table before me in the presence of my enemies. You anoint my head with oil; my cup overflows.
Bible Verses for House Dedication
These Bible verses can be used for dedicating your home to the Lord.
Psalm 91:9-11 NIV – 9 If you say, "The LORD is my refuge," and you make the Most High your dwelling, 10 no harm will overtake you, no disaster will come near your tent. 11 For he will command his angels concerning you to guard you in all your ways;
James 1:17 NIV – 17 Every good and perfect gift is from above, coming down from the Father of the heavenly lights, who does not change like shifting shadows.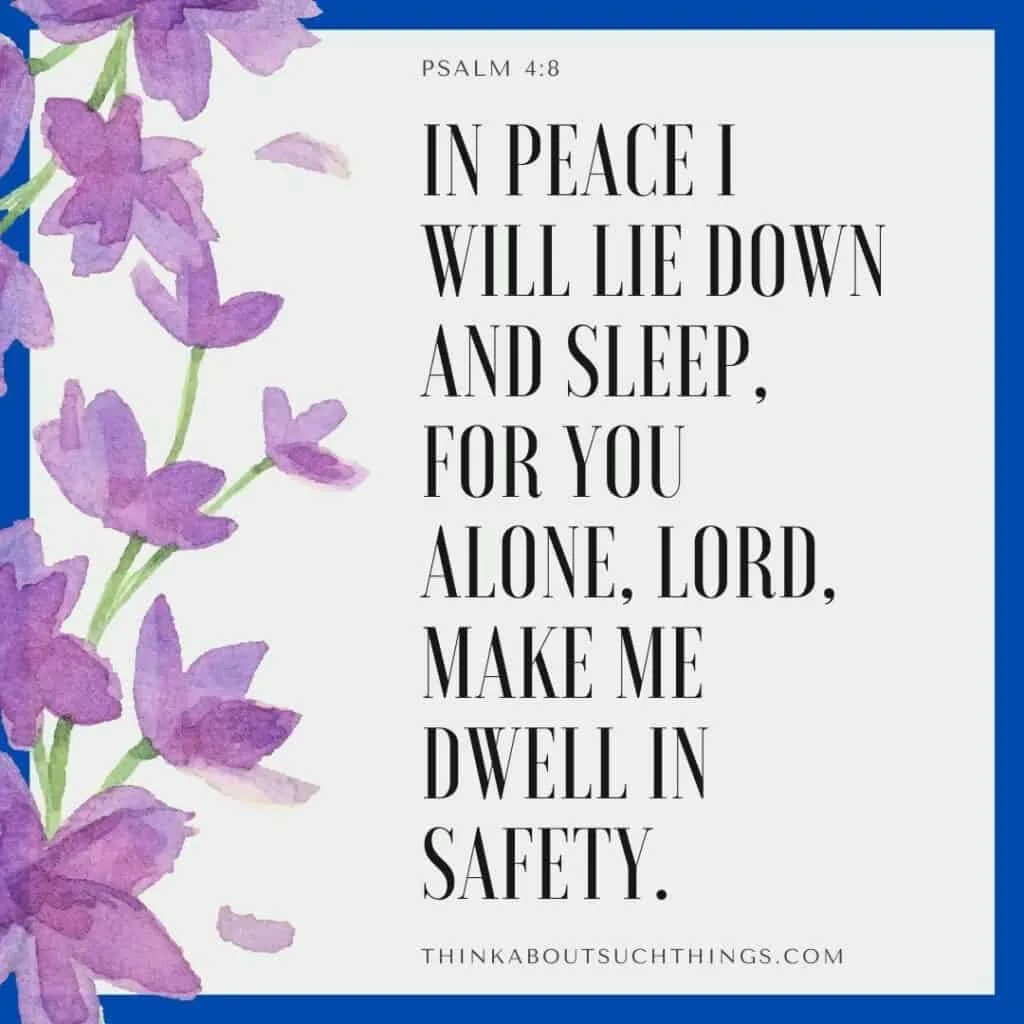 Ephesians 2:19-22 NIV – 19 Consequently, you are no longer foreigners and strangers, but fellow citizens with God's people and also members of his household, 20 built on the foundation of the apostles and prophets, with Christ

Jesus himself as the chief cornerstone. 21 In him the whole building is joined together and rises to become a holy temple in the Lord. 22 And in him you too are being built together to become a dwelling in which God lives by his Spirit.
Matthew 7:24 NIV – 24 "Therefore everyone who hears these words of mine and puts them into practice is like a wise man who built his house on the rock.
Psalm 5:7 NIV – 7 But I, by your great love, can come into your house; in reverence I bow down toward your holy temple.
Bible Verses about Home and Family
These scriptures highlight home and family and are a great reminder that God cares for us to be in a home that is at peace and filled with His presence.
Isaiah 32:18 NIV – 18 My people will live in peaceful dwelling places, in secure homes, in undisturbed places of rest.
Joshua 24:15 NIV – 15 But if serving the LORD seems undesirable to you, then choose for yourselves this day whom you will serve, whether the gods your ancestors served beyond the Euphrates, or the gods of the Amorites, in whose land you are living. But as for me and my household, we will serve the LORD."
Deuteronomy 6:5-7 NIV – 5 Love the LORD your God with all your heart and with all your soul and with all your strength. 6 These commandments that I give you today are to be on your hearts. 7 Impress them on your children. Talk about them when you sit at home and when you walk along the road, when you lie down and when you get up.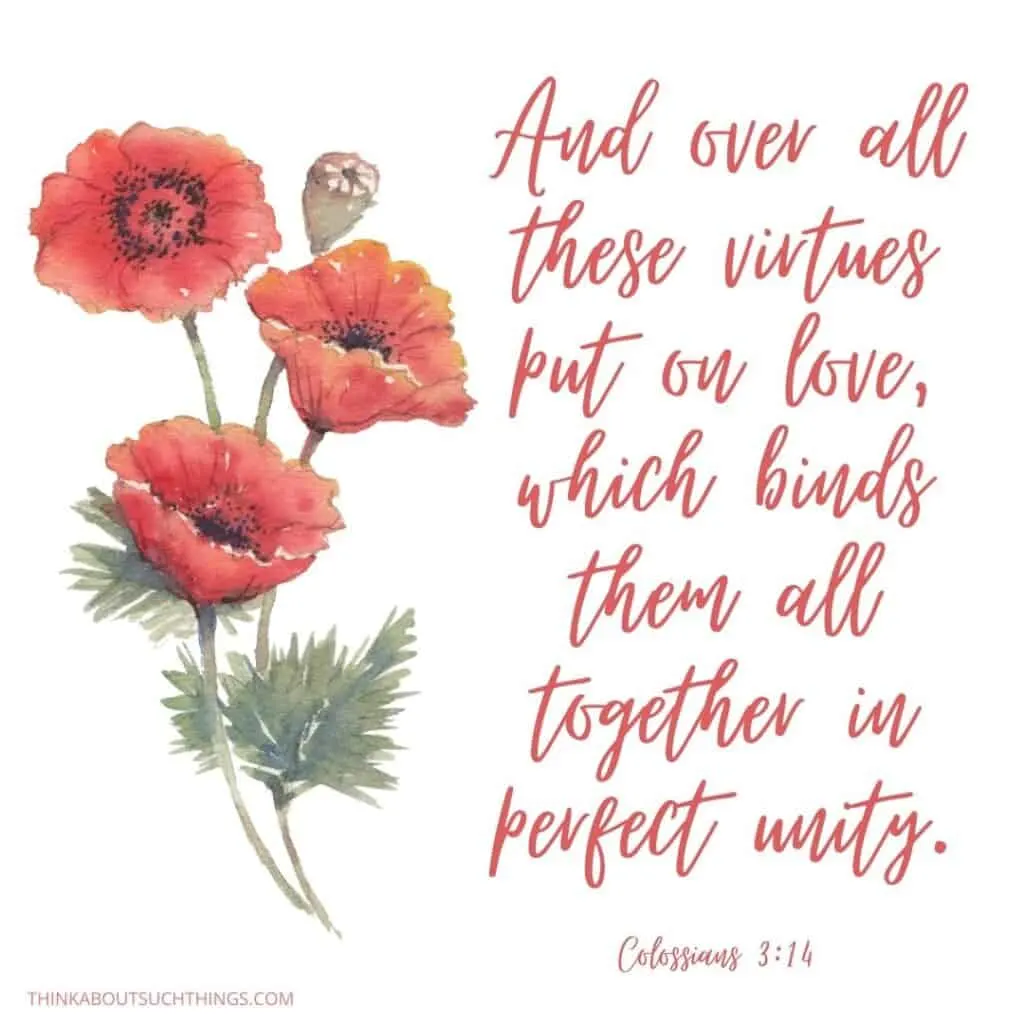 Colossians 3:14 NIV – 14 And over all these virtues put on love, which binds them all together in perfect unity.
Matthew 12:25 NIV – 25 Jesus knew their thoughts and said to them, "Every kingdom divided against itself will be ruined, and every city or household divided against itself will not stand.
2 Samuel 7:29 NIV – 29 Now be pleased to bless the house of your servant, that it may continue forever in your sight; for you, Sovereign LORD, have spoken, and with your blessing the house of your servant will be blessed forever."
Proverbs 24:27 NIV – 27 Put your outdoor work in order and get your fields ready; after that, build your house.
Housewarming Bible Verses
These are great verses to use for someones housewarming. You could use them in a card, or in a gift.
1 Samuel 25:6 NIV – Say to him: 'Long life to you! Good health to you and your household! And good health to all that is yours!
Luke 10:5 NIV – "When you enter a house, first say, 'Peace to this house.'
Psalm 121:8 NIV – the LORD will watch over your coming and going both now and forevermore.
Jeremiah 29:11 NIV – For I know the plans I have for you," declares the LORD, "plans to prosper you and not to harm you, plans to give you hope and a future.
Psalm 23:5 NIV – You prepare a table before me in the presence of my enemies. You anoint my head with oil; my cup overflows.
Numbers 6:24-26 NIV – "The LORD bless you and keep you; 25 the LORD make his face shine on you and be gracious to you; 26 the LORD turn his face toward you and give you peace." '
Matthew 7:24 NIV – "Therefore everyone who hears these words of mine and puts them into practice is like a wise man who built his house on the rock.
Housewarming Scripture Gift Ideas
---
I hope you have enjoyed this post on Bible verses for a new home and that you could find the perfect verse to bless your home with! If you would like, you can leave me a comment below! I would love to hear from you!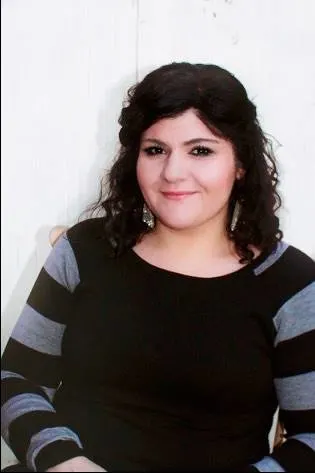 Melissa is a passionate minister, speaker and an ongoing learner of the Bible. She has been involved in church and vocational ministry for over 18 years. And is the founder of Think About Such Things. She has the heart to equip the saints by helping them get into the Word of God and fall more in love with Jesus. She also enjoys family, cooking, and reading.
She has spoken in churches in California, Oregon, Texas, and Mexico and has been featured in Guidepost Magazine and All Recipes Magazine. Read More…