An inspirational collection of the top Christian Leadership books to help you grow and develop your leadership skills.
If you have been on Think About Such Things before you probably know I am a BIG fan of books. And one of my favorite topics to read on is leadership.
I had a friend recently get into a leadership position. Long story short there was a big mess that needed to get cleaned up with some of their leaders under them. Not having a ton of experience this person called me up and one of the first things they said was….
"I know you read a lot of leadership books, maybe you can help me."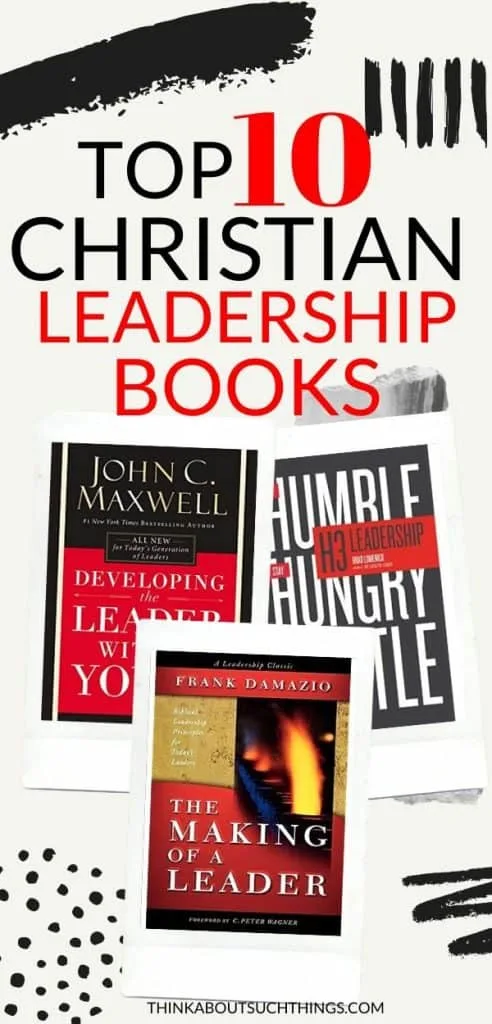 I laughed and said, if you are serious about leading then you better start reading them too! Leadership books have been a huge help in my development as a leader and minister. And I know they have for others as well.
So, I hope these books will do the same for you! I do want to make it clear that these are all Christian leadership books. These are not secular so these will be geared towards Biblical concepts of leading.
BUT 2 of them are not technically leadership geared books. This would be Rooted by Banning Liescher and The 5 Love Languages by Gary Chapman.
Even though they don't focus on the topic of leadership they both have content that I believe is vital in your growth as a Christian leader. They are winners!
"A true shepherd leads the way. He does not merely point the way." – Leonard Ravenhill (More Christian Leadership Quotes)
Top 10 Christian Leadership Books
Below you will find a short snippet of what the book is about. This will give you an idea if this should be your next leadership read. I have read the majority of these books, just a few I haven't but have been recommended to me by good friends. They are on my to-read list!
Drawing upon their own extensive leadership experience as well as their ministry to leaders in all walks of life, Henry and Richard Blackaby offer insightful counsel into the ways God develops, guides, and empowers spiritual leaders. Clear guidance is given on how leaders can make a positive impact on the people and organizations they are currently leading.
"The more I read the Bible, the more evident it becomes that everything I have ever taught or written about effective leadership over the past 25 years, Jesus did to perfection. He is simply the greatest leadership role model of all time." -Ken Blanchard
With simple yet profound principles from the life of Jesus and dozens of stories and leadership examples from his life experiences, veteran author, speaker and leadership expert Ken Blanchard guides readers through the process of discovering how to lead like Jesus. He describes it as the process of aligning two internal domains-the heart and the head-and two external domains-the hands and the habits. These four dimensions of leadership form the outline for this very practical and transformational book.
In this thoroughly revised and updated 25th-anniversary edition of his now-classic work, John C. Maxwell reveals how to develop the vision, value, influence, and motivation required of successful leaders.
Thoroughly revised and with two completely new chapters, this new edition updates the foundational principles for transformative leadership that Maxwell has used as a leader for more than 40 years. No matter what arena you are called to--family, church, business, nonprofit--the principles Maxwell shares will positively impact your own life and the lives of those around you. New readers as well as longtime fans of Maxwell and the original book won't want to miss out on this one.
Be Humble. Stay Hungry. Always Hustle. These powerful words describe the leader who is willing to work hard, get it done, and make sure it's not about him or her; the leader who knows that influence is about developing the right habits for success.Brad Lomenick, former president of Catalyst, shares his hard-earned insights from more than two decades of work alongside thought-leaders such as Jim Collins and Malcom Gladwell, Fortune 500 CEOs and start-up entrepreneurs. Operating within the framework of three core character qualities – humble, hungry, hustle.
Born in Nigeria, Adelaja was recruited as a teenager by Russian communists. Discover how God gave him a new assignment---to evangelize the Ukraine! Here's the astounding story of the unlikely pastor of Eastern Europe's largest megachurch. Recounting his struggle against prejudice and persecution, it will inspire you to maximize your impact for Christ.
Are there tried and true principles that are always certain to help a person grow? John Maxwell says the answer is yes. He has been passionate about personal development for over fifty years, and for the first time, he teaches everything he has gleaned about what it takes to reach our potential.
Ask yourself this question: What type of character qualifies the people God chooses to use?
The question itself assumes an atypical answer, simply because it leaves out so much. To ask only about one's character seems inadequate when defining a leader. We surely need to ask about character, but also about personality, communication skills, IQ, education, previous experience, and more... don't we? Crawford Loritts disagrees. He answers the question with four simple words: Brokenness, communion, servanthood, and obedience.
You were born to make an impact in this world and you know it. You feel it deep down in your bones. Apathy is your nemesis and your hunger to change the world keeps you up at night. But no matter how deep this hunger growls, we can only make a meaningful impact if we are rooted in Jesus. And here's the thing:
God is not interested in developing your vision first. He is interested in developing you.
In the #1 New York Times bestseller The 5 Love Languages, you'll discover the secret that has transformed millions of relationships worldwide. Whether your relationship is flourishing or failing, Dr. Gary Chapman's proven approach to showing and receiving love will help you experience deeper and richer levels of intimacy with your partner—starting today.
This perennial bestseller presents a scriptural analysis of the philosophy, history, qualifications and practice of Christian leadership. Charts, diagrams and illustrations enhance this intriguing study of what it means to be responsible for a group of followers.
I hope you have found a new Christian leadership book to read for yourself or team. If you are interested in growing as a Christian leader please check out my Christian Leadership Page.
Please drop me a comment below! I would love to hear what God is teaching and showing you about leadership!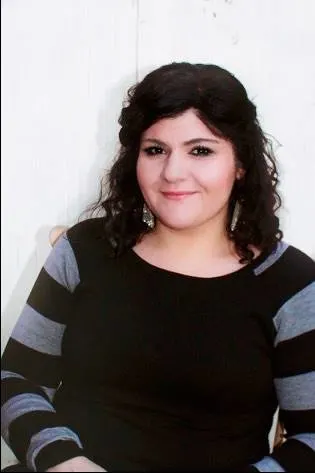 Melissa is a passionate minister, speaker and an ongoing learner of the Bible. She has been involved in church and vocational ministry for over 18 years. And is the founder of Think About Such Things. She has the heart to equip the saints by helping them get into the Word of God and fall more in love with Jesus. She also enjoys family, cooking, and reading.
She has spoken in churches in California, Oregon, Texas, and Mexico and has been featured in Guidepost Magazine and All Recipes Magazine. Read More…