Caramel Coconut Cheesecake
This post may contain affiliate links. Please read my disclosure policy for more info.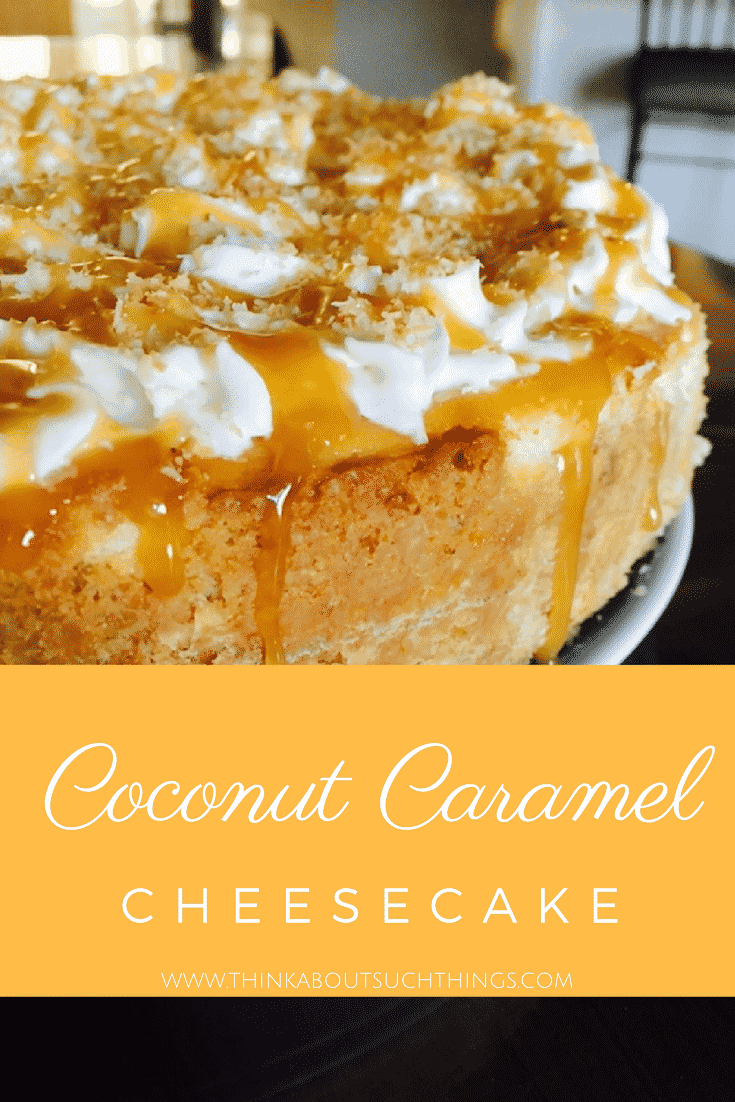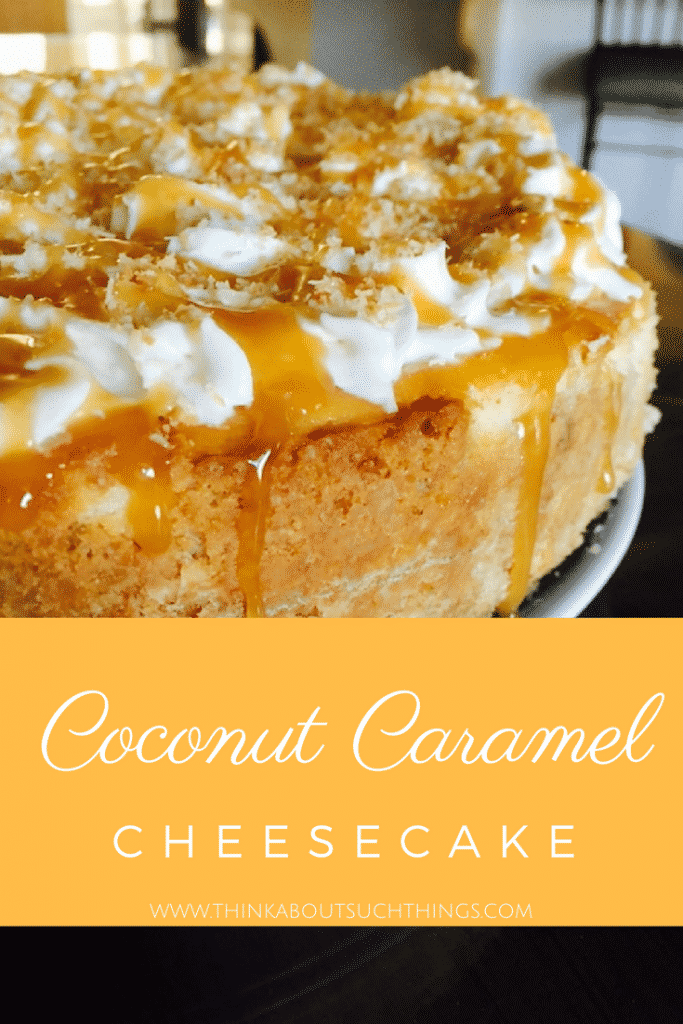 To celebrate this mother's day I decided to make a dessert for the family. I had a lot of ideas rolling through my head, but then realized I had a very large amount of cream cheese in the fridge.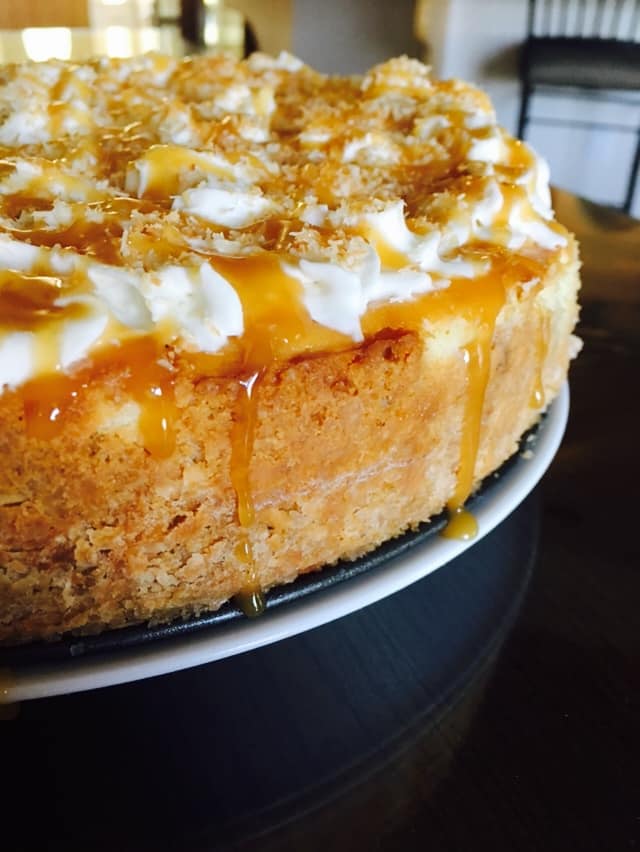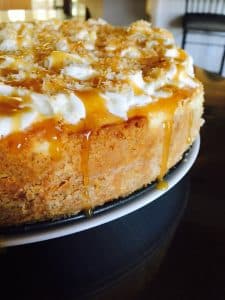 I gave up looking for a recipe since I knew I had to make cheesecake or all the cream cheese would go bad. That would have just made mom upset and not a very happy mother's day for her.
I really didn't want to make a cheesecake. I make them all the time since my family likes them. I wanted to make something different and unique. I tried pumpkin cheesecake one time and my family hated it. Apparently, they don't like pumpkin flavor. Crazy, right? It tasted awesome to a couple of us.
I knew if I had to make a different cheesecake that it would have to be a flavor everyone loves. That's when it hit me, COCONUT! My family and including myself love anything coconut. Then, thinking about the marriage of coconut and cheesecake…Oh, sweet Jesus! YUM! Who wouldn't love coconut cheesecake!
Not going to lie the finished product was outstanding. It was gobbled up all in one day by my immediate family and some extended family.
Since this recipe uses cream of coconut and sour cream, it produces less dense cheesecake. It has more of a creamy, but firm texture. I hope you enjoy this recipe as much as we did.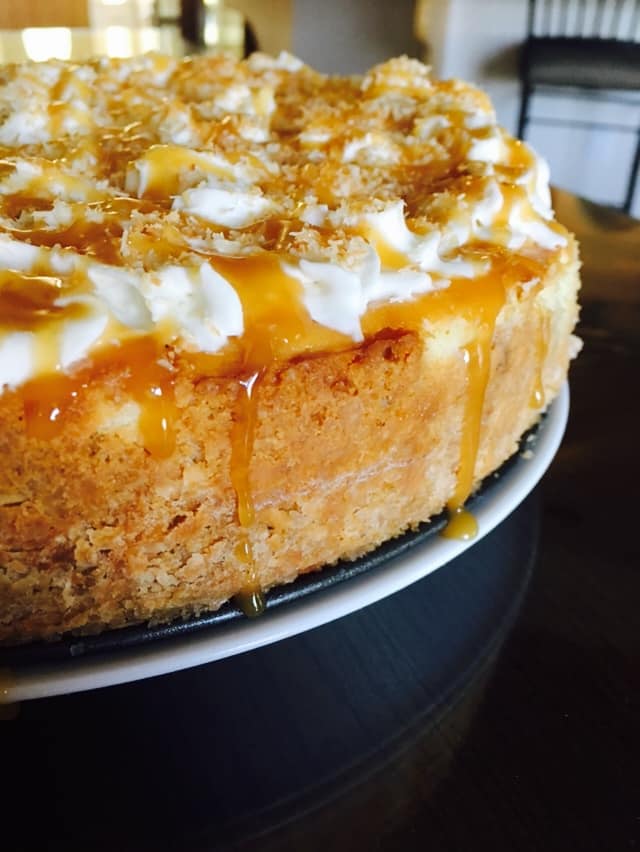 Coconut Caramel Cheesecake
Cook Time:
1 hour
25 minutes
Total Time:
1 hour
55 minutes
Ingredients
CRUST
1 1/2 cups rice Chex cereal crumbs (Gluten-Free version or you can use graham crackers )
1 1/2 cups of Sweetened Shredded Coconut
1/3 cup Melted Butter (add a pinch of salt if unsalted)
CHEESECAKE
1 1/2 pounds of cream cheese
1/2 cup sour cream
1 15 ounce can cream of coconut (example: trader joes, coco lopez)
4 eggs
1 cup sugar
2 tablespoons of Malibu Coconut Rum
1 teaspoon coconut extract
Pinch of salt
TOPPING
Caramel Topping
Reddi Wip (You can make your own whip cream if you like. I didn't have any whipping cream on hand)
Unsweetened toasted coconut flakes
Instructions
Preheat oven to 325 degrees. Wrap the outside of your springform pan with foil to avoid leaking.
For the crust mix all 3 ingredients in a small bowl. Press mixture onto the bottom and up the sides of the pan. *if you use rice cereal as your crust. Bake the crust at 400 degrees for 10 min. Then let it become room temperature
Beat cream cheese and sugar in a bowl until blended. Add eggs 1 at a time, beating the mixture after each egg. Add sour cream, cream of coconut, coconut extract, and malibu coconut rum, a pinch of salt. Beat mixture until well blended.
Pour cheesecake filling into the crust. Bake until the center is set, about 1 hour 25 min.
Transfer cheesecake to a rack and let it cool. Once cooled cover and place in the fridge overnight.
Cut around the pan sides to loosen the cheesecake. Remove the sides of the springform pan.
Toast coconut flakes in a pan over medium heat. Remove from heat when lightly golden and place them on a plate to cool. Let them cool completely before adding them to the top of the cheesecake.
Cover the cake with whipped cream and sprinkle with toasted coconut flakes and drizzle with caramel topping