A study of the gift of word of knowledge in the Bible. We will look at how the gift of knowledge operates and what it means.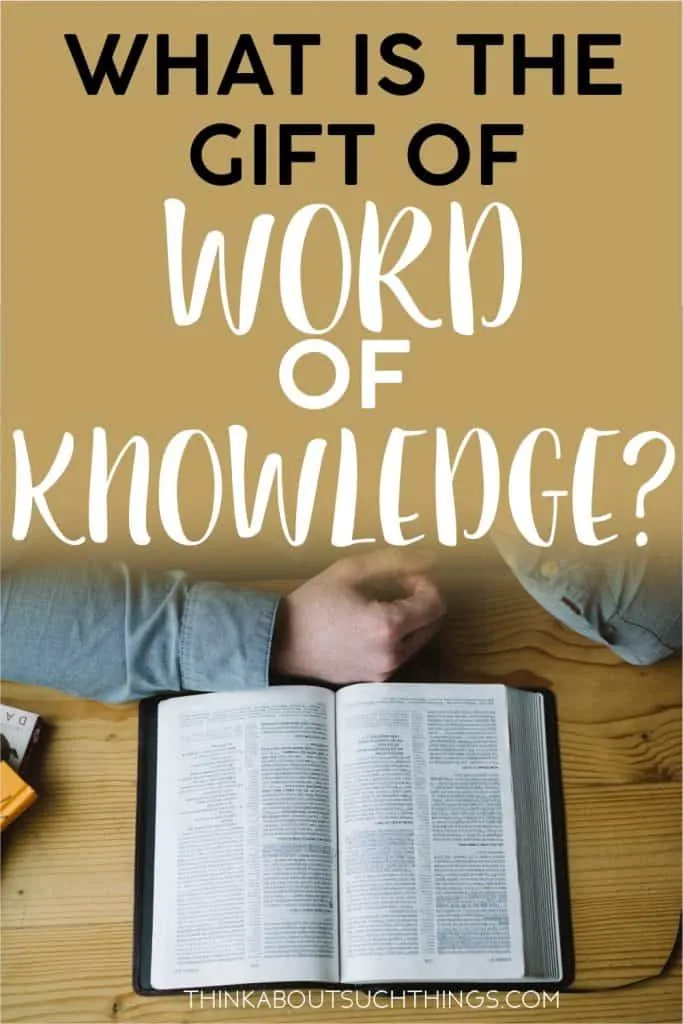 A word of knowledge is one of those unique spiritual gifts that many get confused about. We can easily grasp what word of wisdom is, or healing. But knowledge seems kind of vague.
So, in this post we are going to answer some common questions about this gift and bring some clarity.
Curious about the other gifts? Don't forget to check out the other gifts below:
STUDY THE GIFTS OF THE HOLY SPIRIT
Click on the links below to learn more…
To make things easier you can use the table of contents below to jump to certain topics or you can scroll through like usual. If you are new the gifts I encourage you to read through it.
The Gift of Word of Knowledge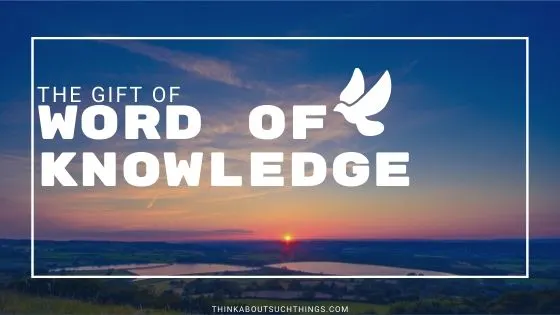 But the manifestation of the Spirit is given to each one for the profit of all: 8 for to one is given the word of wisdom through the Spirit, to another the word of knowledge through the same Spirit, 9 to another faith by the same Spirit, to another gifts of healings by the same Spirit, 10 to another the working of miracles, to another prophecy, to another discerning of spirits, to another different kinds of tongues, to another the interpretation of tongues. 11 But one and the same Spirit works all these things, distributing to each one individually as He wills. – 1 Corinthians 12:7-11 NKJV (emphasis added in bold)
When writing on the gifts I thought it might be easier to break up information by answering the 5 W's. If you are not familiar with the 5 W's it basically means, who, what, when, where, and why.
Just a note for now I have skipped out on "when." If in the future I come up for a when question or a helpful reading has some suggestions…I'll add it to the post. But I sure hope this structure helps to make things clear and easy to digest.
What Is the Gift of Word of Knowledge?
The Greek word for knowledge is gnōsis it means knowing. But the gift is not the gift of knowledge but the "word of knowledge." "Word" is logos in the Greek, which means "word," "reason," or "plan."
γνῶσις gnōsis, gno'-sis; from G1097; knowing (the act), i.e. (by implication) knowledge:—knowledge, science.
The gift of word of knowledge is the supernatural revelation from God that gives you details or information about a certain situation or person, that is not known to you prier the revelation.
Dereck Prince puts it this way…
"A word of knowledge is a tiny portion of God's total knowledge supernaturally imparted by the Holy Spirit operated only under God's control."
What the Gift of Word of Knowledge Is Not?
Natural Knowledge
Education, taking classes, winning Jeopardy doesn't mean you have the gift of word of knowledge. Just means you have have studied a lot and have a wonderful ability to retain information.
Knowledge About God
Learning and getting a good understanding and knowledge about God is not the same thing as this gift. As we grow and mature in God our of Him will naturally increase.
What Is the Purpose of the Gift of Word of Knowledge?
God can use a Word of knowledge in many different ways. It can be used to draw someone closer to God, raise your faith, conviction, aid in a situation, open doors, and bring favor with a person or situation.
What Are Some Examples of Word of Knowledge in the Bible?
Acts 9:11-16 – The Lord gave Ananias a word of knowledge by giving distinct information how to find Paul.
Acts 10 – Cornelius was given a word of knowledge through a vision and angel about Simon Peter.
Acts 5:1-11- Peter received a word of knowledge concerning the lies Ananias and Sapphira made.
John 4 – Jesus has a word of knowledge about the Samaritan woman at the well.
Who Is the Gift of Word of Knowledge For?
Pursue love, and desire spiritual gifts, but especially that you may prophesy. – 1 corinthians 14:1
I mention this in all my posts dealing with the gifts, but it's vital! Paul clearly states that we should pursue love (super important) and desire spiritual gifts. That word desire means to be passionate or zealous.
Anyone who is a believer in Jesus Christ can ask for a gift of the Holy Spirit and this includes the gift of word of knowledge. And this gift should be pursued. It's one that really draws people to the Lord.
I want to share a quick testimony about the power of the word of knowledge.
I was invited to minister at a juvenile hall and I sat down next to this teenage boy. We listened to someone speak about the Lord and then we connected with the kids. I started talk to this teenage boy and as clear as day I say a picture of him dreaming about his mom. I felt it so strong and I felt like the Lord wanted to let him know that his mom will be ok.
So, I asked him, "Have you been dreaming about your mom? I feel like the Lord is showing me that and that he wants you to know it's going to be ok." I will never forget the boys face. Total shock and awe… "How did you know that!?!? How?!"
That opened the door for me to tell him that Jesus knows him and loves him so much. He got so excited it was like he was going to jump off the walls. His life was impacted by that little word of knowledge
Why Is This Gift of Necessary for Today?
I mention this with all the gifts. But if it was necessary for the church in the past, it's necessary for us today!
The word of knowledge gift is one that is so practical, yet spiritually powerful. The Holy Spirit can give you this gift for when a child is lost to know where they are, to ministering to someone and leading them to the Lord.
Where Can I Find It in the Bible?
The word of knowledge has been used countless times within the stories of Jesus and the apostles, but the actual term "word of knowledge" is only mentioned once!
The Apostle Paul was inspired to give that supernatural gift an actual name. Otherwise, people probably described it as something like this…
"Hey you know those times when God tells you something you didn't know, but it was known to someone/something else, and then something amazing happens? Yeah, that thing!"
Let's call it a word of knowledge!
Word of Knowledge Scripture
1Co 12:8 NKJV – 8 for to one is given the word of wisdom through the Spirit, to another the word of knowledge through the same Spirit
My Conclusion and Summarization about the Gift of Word of Knowledge
The gift of word of knowledge opens doors, brings breakthroughs, and draws us closer to God. Every time we see it's manifestation in scripture that's exactly what it does.
Some of the ways the gift can manifest are by a vision, dream, and inner knowing. This is why it gets confused with the gift of prophecy. Many people think they are giving a prophetic word when in reality it's a word of knowledge. And many times the two gifts will work together to increase faith and bring confirmation.
A quick story on the two working together:
I was at a ministry school retreat as a leader. They asked for all the leaders to pray for the students. I went up to this gentleman and began to pray for him. When I began to pray I saw a carton of eggs and the eggs were hatching and I felt strongly it meant things about the season he was in. I told him what I saw and gave him the details I felt like it meant. To me, it was a random word and I was hoping it would make sense to him and bless him.
The gentleman starts to shake his head and laugh. I was a little taken back by that. And he then goes to tell me…"Last night I had a dream of a carton of eggs and the eggs were hatching. I didn't know the meaning of the dream and was praying God would tell me." The man left truly blessed that God answered his prayer and gave him clarity. And I was blown away by the power and goodness of God.
The first part of my word was the egg carton and eggs hatching. That was a word of knowledge for that man since he had already had the dream. He knew it, but I had no knowledge of it.
The second part of the word was giving the meaning of the vision (for me) and dream (for him) was a prophetic word.
The Holy Spirit tends to do this with a lot of his gifts! He weaves them together and amazing things happen!
---
I hope this post has brought clarity on the word of knowledge and I hope it's stirred your hunger to pursue this gift more. If God is teaching you about the gifts…I would love to hear from you! Feel free to drop me a comment below.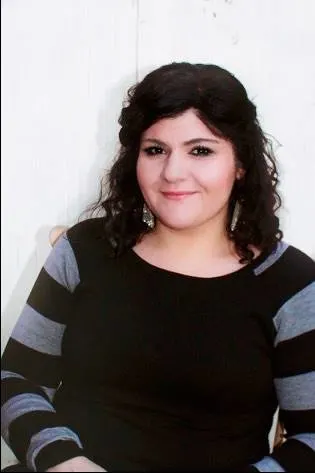 Melissa is a passionate minister, speaker and an ongoing learner of the Bible. She has been involved in church and vocational ministry for over 18 years. And is the founder of Think About Such Things. She has the heart to equip the saints by helping them get into the Word of God and fall more in love with Jesus. She also enjoys family, cooking, and reading.
She has spoken in churches in California, Oregon, Texas, and Mexico and has been featured in Guidepost Magazine and All Recipes Magazine. Read More…