Discover 10 ways to bless and honor your mom for a special occasion or just because. It's like sending a "God bless my mom" in a tangible way. Don't just say it with words but bless her with actions. A little mom appreciation goes a long way.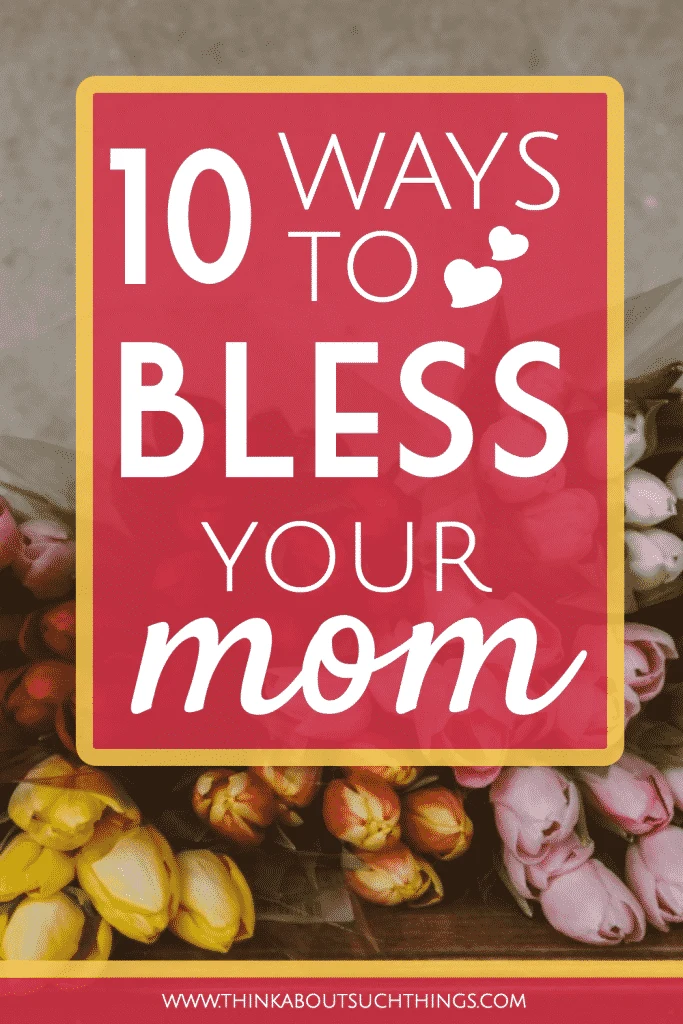 Mom's are pretty awesome if you ask me (Dad's are too…learn how you can bless them here). And I am not tooting my own horn here. I'm not a mom yet, but I do hope to be one someday. I am very fortunate to have a very close relationship with my mom.
It has been one of the best things in my life. She's my best friend but at the same time very much my mom.
But when I look at moms, in general, It amazes me how much they love and sacrifice for their children. I loved this video that was posted a few years ago about how much mom's do for us.
Honor your Mother
Whether it's your mom's birthday, mother's day, or just because. Mom's deserve to be blessed by their kids! That's the reason I wrote this post, and the Bible also gives us reasons too.
The Bible shares many scriptures on this topic. But one of the most well known is to honor your mother and father.
Children, obey your parents in the Lord, for this is right. "Honor your father and mother"—which is the first commandment with a promise— "so that it may go well with you and that you may enjoy long life on the earth. Ephesians 6:1-3 (NIV)
We as Christians are called to honor our moms. Honoring your mother can be expressed in a lot of ways. And we will look at 10 of them in a little bit. But I do want to express something real quick before we get to that.
Sometimes your relationship with your mom is less than what you wanted or deserved. It can cause a lot of pain in your life. If you are in that place today I am sorry for your pain.
God wants to heal that hurt. One of the first steps to start healing is to forgive your mom. No one is perfect and parenting can be hard.
But by forgiving you will give God access to that part of your heart. Then He can bring healing. And hopefully, you will be able to reconcile the relationship.
When it comes to blessing your mom, it doesn't always have to be some grand gift or expression. That can be nice when you can do that. But most of the time it's the small things that are done regularly that leave an impression.
If you happen to know your mom's love language this will make things way easier. Those love languages are physical touch, words of affirmation, gifts, acts of service, and quality time
If you have no idea what love languages are. Oh boy, are you in luck! Check our Gary Chapman's Book: Love Languages. It will change your understanding of how you need to be loved and how others need to be loved. It's an incredible book!
Whether or not you know your mom's love language these 10 ways to bless your mom are sure to make her love bucket filled to the max!
I've also created some sweet graphics you can post on your mother's social media account or even text to her for just an extra little… "I love you, mom!"
Ways To Honor and Bless Your Mom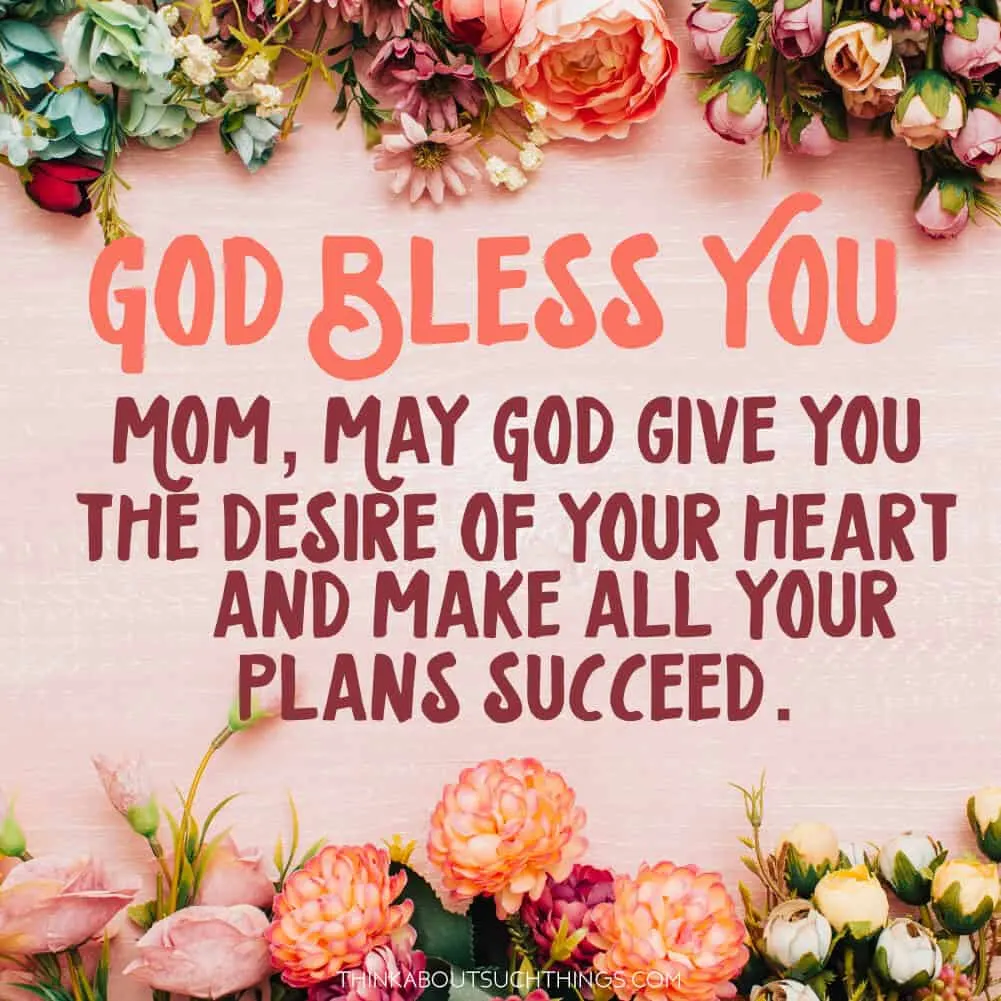 1. Communicate With Her – Mom's care about their kids and they love to know how you are doing and what's going on inside of you. Take some time to open up and share that with them.
2. Pray For Your Mom – So many times we think of mom's praying and covering everyone in the family. But she need's prayer covering also. Lift her up in prayer, even if she says she has no prayer request.
3. Help Her With Tasks She Can't Do Or Are Too Hard. – There is usually something that is hard for mom to do that is really easy for you. From helping to fix something, set something up, or show her how to use something. Have a little patience and help her.
For me, this is my mom with technology. I try my best to be patient and kind to her when she is learning something new on her iPad.
4. Take Her Out – Go do something that your mom enjoys or would be fun. Try to really think outside of the box for this. It doesn't always have to look like dinner or a movie. If you know she likes flowers and gardens then why not take a small road trip to a fancy garden or flower market.
Does she love to sew? Find a sewing class you both can attend.
Big fan of the theater or concerts? Get tickets to a play or a band she loves.
5. Buy Her A Gift – Every woman is different when it comes to gifts. Some like gifts that are practical and useful. Some love pretty things they can wear or put in the house. Think about what kind of gifts she likes before buying something.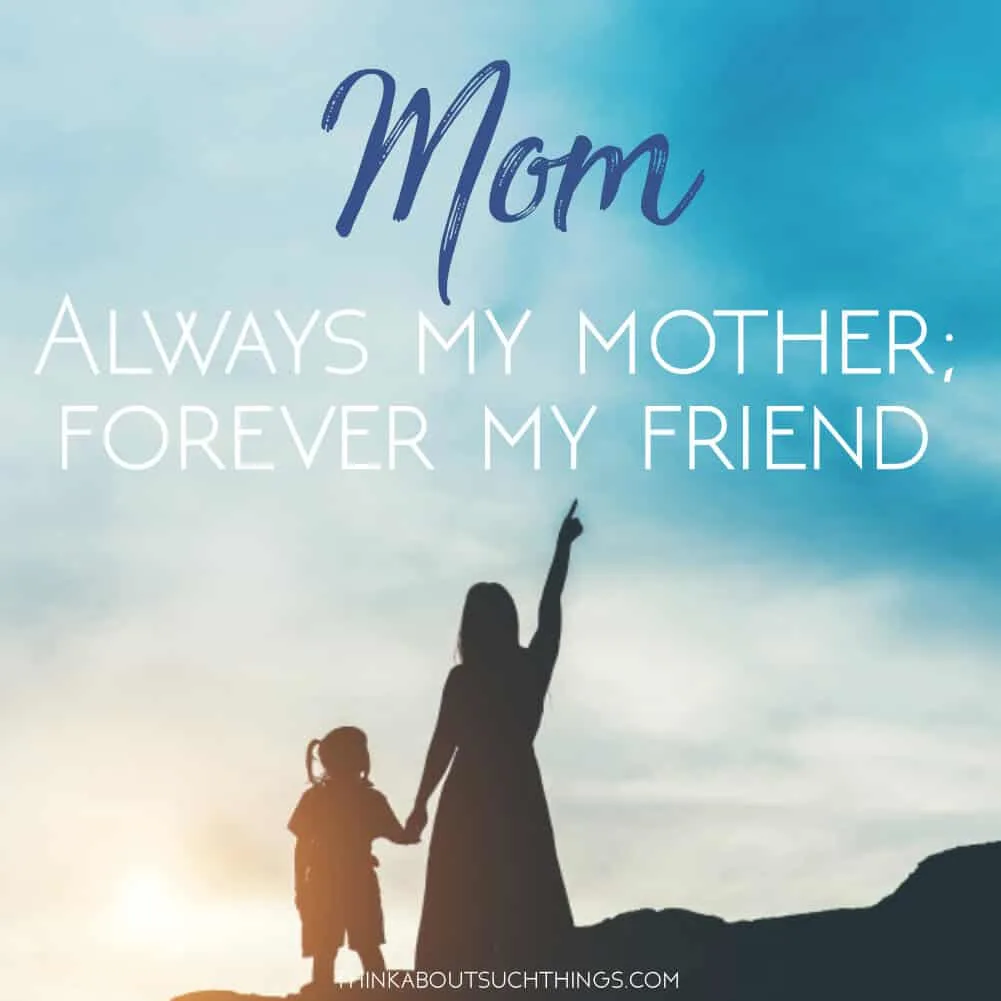 6. Let Her Spend Time With The Grandkids – If you have children bring them over to have a hang out with grandma. Love this scripture how our children crown our parents!
Children's children are a crown to the aged, and parents are the pride of their children – Proverbs 17:6 (NIV)
7. Invite Her Over To Hang Out – When was the last time you invited your mom over to watch a movie with you or have a cup of coffee? She will love it!
8. Tell Her You Appreciate Her – Simple words of affection either spoken or written can really speak volumes. Saying I love you mom isn't just for when you are a kid. Give her a card, send a random text, post something on her facebook wall. These little things can really bless her.
9. Help Her Cross Off Something On Her Bucket List- Depending on your mom this could be a little bit bigger thing to tackle. But imagine making a dream come true for your mom to experience. The amount of joy it would bring her is well worth it.
10. Make Her Something – If you know how to make things (cook, build, paint, craft, etc…) then create something for her that she would really appreciate. If you aren't that type of person go back to number 5…. no shame!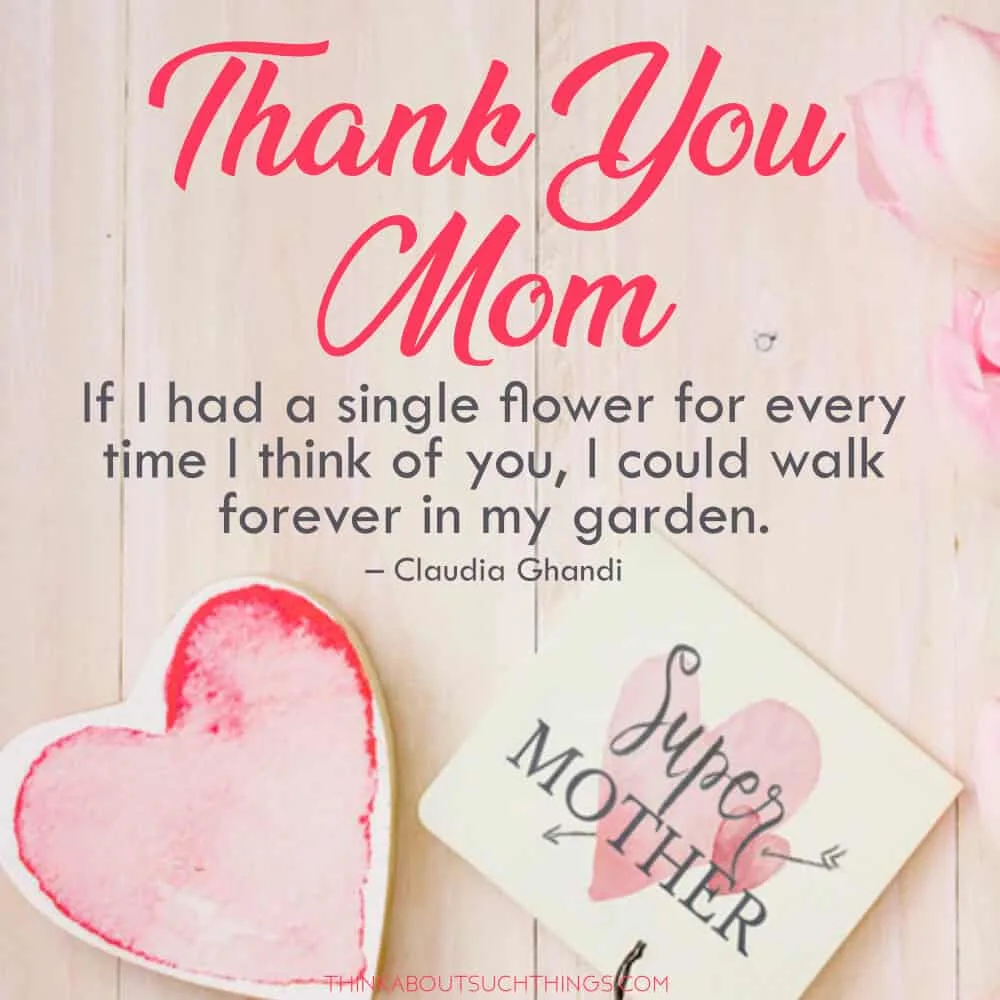 A little Mom Appreciation
There you go 10 ways to bless your momma show her some appreciation! Now just think if you did only a few of these things. Your relationship with your mom would flourish and I know without a doubt it would bless God to see you honor her!
Those two things alone make it all worth it, but there is more.
If you have kiddos or will someday you will be teaching and showing them to appreciate mom, dad, and other family members. You are sowing seeds for how your kids will treat you one day.
And hopefully, they will pass it down to their children. You can never go wrong by showing appreciation and being a blessing to others.
---
Please share below any comments you have or how you like to bless your mom. And don't forget to save this pin to your mom board for future reference!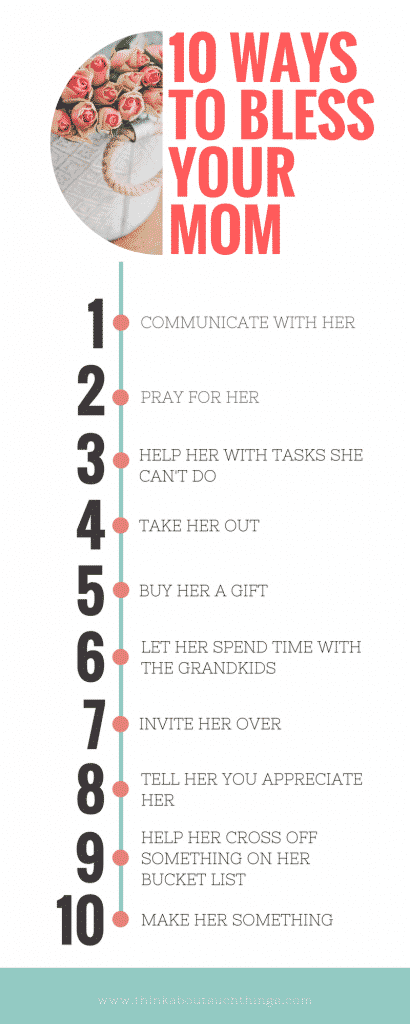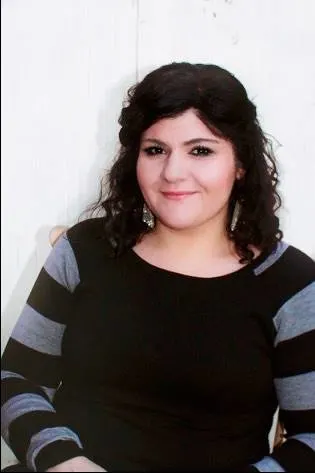 Melissa is a passionate minister, speaker and an ongoing learner of the Bible. She has been involved in church and vocational ministry for over 18 years. And is the founder of Think About Such Things. She has the heart to equip the saints by helping them get into the Word of God and fall more in love with Jesus. She also enjoys family, cooking, and reading.
She has spoken in churches in California, Oregon, Texas, and Mexico and has been featured in Guidepost Magazine and All Recipes Magazine. Read More…