In this article we will look at different prayers for weight loss. These prayer will give you the spiritual strength you need to make lifestyle changes you need for your health.
Many people struggle with weight loss. I know this first hand with my own struggle. There are so many diets and weight loss programs out there, but it is hard to find the one that will work for you.
While weight loss can be difficult, we can ask God for help! He wants to give us the wisdom, strength, and ability we need to make these huge lifestyle changes. All of these weight-loss prayers come from personal experience and have helped me through my journey!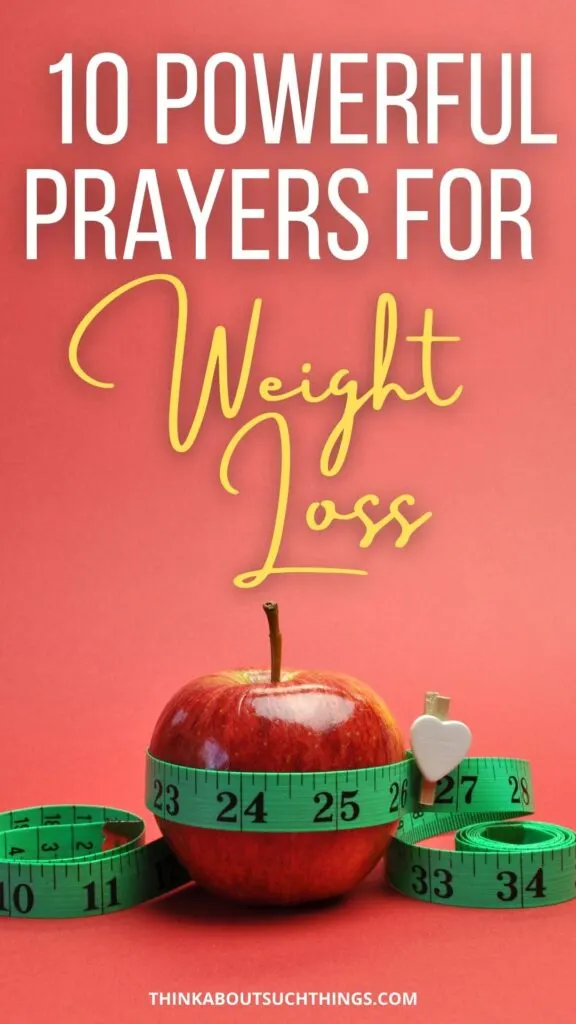 Dr. James L. Marcum has a great video on Biblical tips for weight loss. You can take a look at it here.
Tips for Prayers for Weight Loss
I always like to cover some tips when it comes to written prayers. Written prayers should always be used as an aid to help you pray. Never as a replacement to you communicating with God. And here are my tips when comes to praying for weight loss.
Tell God Your Heart – Weight loss is both a physical and emotional battle. It takes a lot of determination, and strength. Talk to the Lord about your struggles and what your heart needs. Be real with Him! He longs to hear from you.

Share Details – God wants to hear the details. If you struggle with sweets, discouragement, or staying focused. Share those things with Him. Another way to go about this by praying when you are feeling tempted to eat things you are not supposed too.

Continue Praying and Don't Give Up – I think we all wish that weight loss was a quick fix. Diet for a few days and poof 25 pounds are gone. But sadly it isn't always like that. If you are serious about losing weight then continue to pray and ask God for strength daily.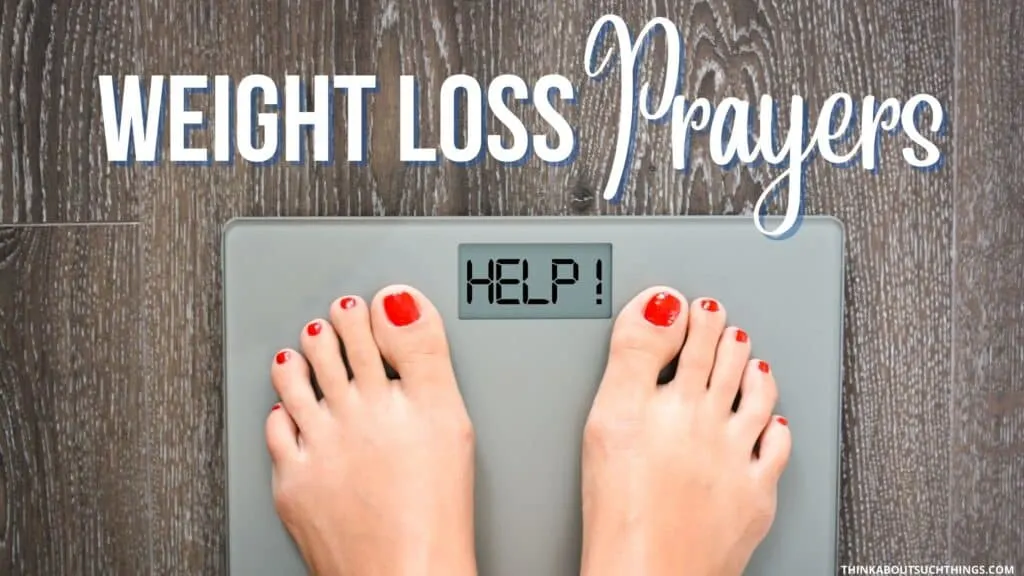 Prayer for Weight loss
Heavenly Father, I am coming before You today asking for your help with losing weight. It's been difficult to lose weight in the past and I need Your strength to stay on my diet and a routine for exercise. Help me to focus on the goal ahead and to see breakthroughs in my health. I ask that You would help me daily and that I would be victorious in this area of my life. Thank You, Lord! In Jesus' name, amen!
Lose Weight Prayer
Lord Jesus, thank You that when I feel weak or sad on my weight-loss journey, that Your strength is made perfect in my weakness. I desire to become a healthier person and You are my motivation. Please help my body to be able to shed weight and to be healthy. I know that weight loss is difficult, but with Your help it can do it! Give me the grace I need to accomplish this goal. In might name of Jesus, amen!
Prayer for a New Diet Plan
Lord, today I am starting a new diet plan in order to lose weight. I am worried I will cheat or fall off the bandwagon. Please give me the motivation and willpower to stick to it. Give me the wisdom I need to know what I should and shouldn't eat and that I wouldn't be tempted to eat junk food. I want to change for Your glory and I know that I can reach a healthy weight with Your help. Thank You for everything! In Jesus' name, amen!
Prayer for Getting Back on Track on Weight Loss
Jesus, I have been having a difficult time losing weight and staying healthy. I need your help to get back on the saddle and try again. Help me to focus on my weight loss goals and help me be able to stay on course. Even when I feel like giving up or I don't see quick results. Help me to have the strength I need and help me find weight loss inspiration daily. In the name of Jesus, amen.
Prayer for Wisdom to Lose Weight
Father, I ask that You would give me the wisdom I need as I try to lose weight. Give me this wisdom especially when I got out to eat, or traveling. In those situations, it's so hard for me to make wise choices. I also ask that You would provide healthy choices where ever I go. Please help me to make weight loss a priority and see the breakthrough I need in my body. Thank You for the help Lord! I know You are with me. In Jesus' name, amen!
Prayer to Lose Weight During the Holidays
Lord, I am going into these next few weeks with Thanksgiving and Christmas coming up soon. Unfortunately, it is so easy for me to eat more than usual during those times of year because there are tempting foods everywhere. I ask that You would help me to pass up those temptations and not eat more than I should. Help me to choose wisely and Holiday gatherings. Thank You for being with me through my weight loss journey. In the name of Jesus, amen.
Prayer to Start Exercising
Lord, if I am being honest, I struggle with exercising. It doesn't come naturally to me. Please give me the motivation to go exercise, even if it's going for a walk outside or doing some weight training. Help me to make weight loss an important part of my life and that includes exercising regularly. Let my body change and feel stronger as I start this new exercise routine. In Jesus' name, amen!
Prayer for Supernatural Weight Loss
Heavenly Father, I ask that you would supernaturally help me with my health. I need your healing touch to help me lose weight. I know I need to make better choices and I ask that You would give me the grace to do that. Lord, let my metabolism speed up and lose weight easily as I make adjustments to my new lifestyle. Help to drop the weight quickly as I need to for the sake of my health.
Prayer For When I Don't See Weight Loss Results (Weight Loss Plateau)
Lord, I have been on my diet for some time now, and my body doesn't seem to want to shed the weight. I don't know if I have hit a plateau or what. But I am asking You Lord to help my body to lose weight and to break this plateau. Help me to keep my eyes on the long term goal and not what is going on right now. In Jesus name, amen!
Prayer for Your Body To Work Properly to Lose Weight
Lord, I thank you that You are with me on my weight loss journey. Help me to take care of this body and treat it right so that it can lose weight. I ask to You would heal areas of my body that may cause hindrance to my weight loss. Touch my hormones, metabolism, digestive system, and everything else that is necessary for my body to lose weight. Let weight loss come easily and effortlessly to me. Lord, I thank You for everything You do in my life! In Jesus' name, amen!
---
I hope these weight loss prayers have helped and encouraged you during this season. Weight loss is not something that happens over night, so keep praying and asking the Lord to give you strength. If you would like to grow in your prayer life, check out my prayer and intercession page. It has loads of articles that can help you learn to communicate with God.
If you would like to leave a comment feel free to do so below.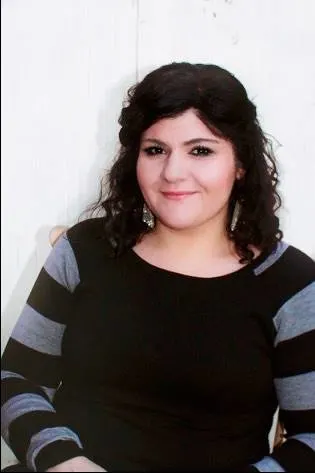 Melissa is a passionate minister, speaker and an ongoing learner of the Bible. She has been involved in church and vocational ministry for over 18 years. And is the founder of Think About Such Things. She has the heart to equip the saints by helping them get into the Word of God and fall more in love with Jesus. She also enjoys family, cooking, and reading.
She has spoken in churches in California, Oregon, Texas, and Mexico and has been featured in Guidepost Magazine and All Recipes Magazine. Read More…