In this article we be going into a quick Bible study on Seraphim in the Bible. We will take a look at the definition, and verses about seraph angels. So, grab you Bible and get ready to learn about these burning angels…
To go along with my Study on Cherubim, I thought it would be good to write on Seraphim. You can check out all my posts about angels on my Angelology page if you would like.
But for now, we are going to take a deep look into what are seraph angels. And hopefully, answer some very important questions that will help us understand these angelic creatures.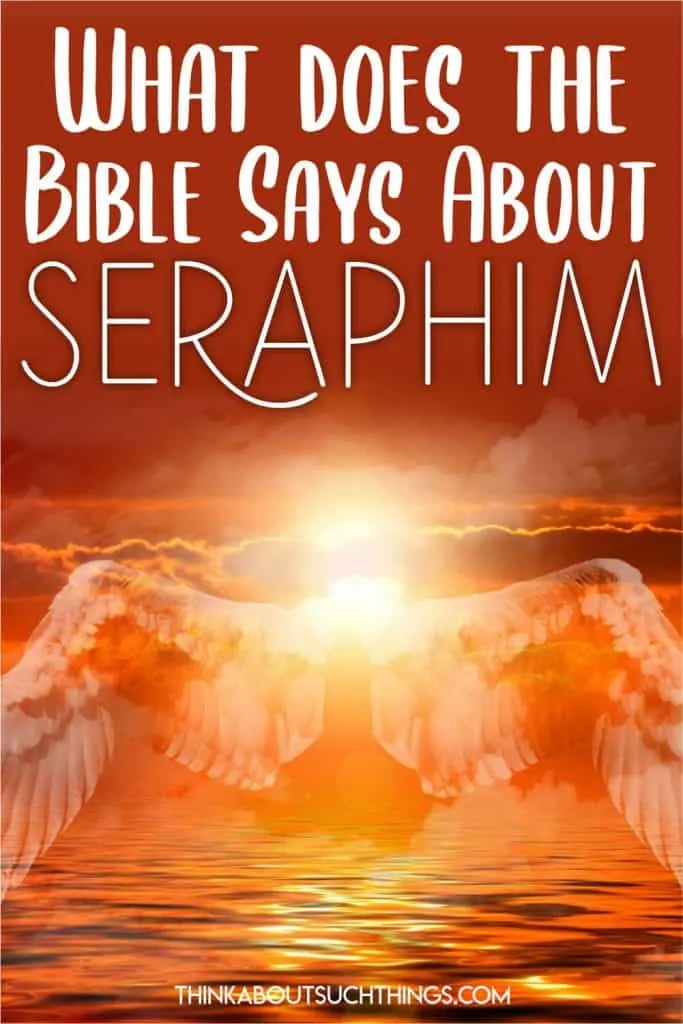 What does the Word Seraphim or Seraph Mean in Hebrew?
Before we get into the meaning I want to make sure you understand that Seraphim is the plural form of seraph. There is no difference between the two except that.
The meaning or definition of Seraphim is "burning." We see that they are called this because of their description.
שָׂרָף sârâph, saw-rawf'; from Strongs H8313; burning, i.e.
Many scholars believe that the cherubim mentioned in Ezekiel 1 and 10 are actually the seraphim of Isaiah 6. This is very plausible since the description of these angels is extremely similar. This would make the word "cherubim" more a general term for a group of different species of angels.
Where can I find Seraphim in the Bible?
The actual word "seraphim" is only found in one chapter of the whole Bible. The word seraph is not even found. It's interesting to note that cherubim are mentioned over 100 times.
Seraphim in Isaiah 6
The key scripture portion for us to learn about seraphim is from Isaiah 6 NKJV. In this chapter, you will see that the prophet Isaiah has an incredible encounter where he is in the throne room of God. And it is here we see these angels ministering unto the Lord.
Since this is just one chapter and only 13 verses. I have placed it below for you to read.
In the year that King Uzziah died, I saw the Lord sitting on a throne, high and lifted up, and the train of His robe filled the temple. 2 Above it stood seraphim; each one had six wings: with two he covered his face, with two he covered his feet, and with two he flew. 3 And one cried to another and said:
"Holy, holy, holy is the Lord of hosts; The whole earth is full of His glory!"
4 And the posts of the door were shaken by the voice of him who cried out, and the house was filled with smoke. 5 So I said: "Woe is me, for I am undone! Because I am a man of unclean lips, And I dwell in the midst of a people of unclean lips; For my eyes have seen the King, The Lord of hosts."
6 Then one of the seraphim flew to me, having in his hand a live coal which he had taken with the tongs from the altar. 7 And he touched my mouth with it, and said:
"Behold, this has touched your lips; Your iniquity is taken away, And your sin purged." 8 Also I heard the voice of the Lord, saying: "Whom shall I send, And who will go for Us?" Then I said, "Here am I! Send me."
9 And He said, "Go, and tell this people: 'Keep on hearing, but do not understand; Keep on seeing, but do not perceive.' 10 "Make the heart of this people dull, And their ears heavy, And shut their eyes; Lest they see with their eyes, And hear with their ears, And understand with their heart, And return and be healed." 11 Then I said, "Lord, how long?"
And He answered: "Until the cities are laid waste and without inhabitant, The houses are without a man, The land is utterly desolate, 12 The Lord has removed men far away, And the forsaken places are many in the midst of the land. 13 But yet a tenth will be in it, And will return and be for consuming,As a terebinth tree or as an oak, Whose stump remains when it is cut down. So the holy seed shall be its stump."
Seraphim In Other Bible Verses?
Like I mentioned above some scholars believe that the seraphim in Isaiah are the cherubim in Ezekiel and the living creatures of the Book of Revelation.
You are basically getting 3 different men's description on angelic creatures that they have zero earthly grid for. Something that stuck out to Ezekiel may have not to John.
It's like putting a German shepherd in front of 3 people who have never seen a dog before and asking them separately to describe the dog. You will have similarities, but each person will emphasize different things they noticed or felt were important.
So, it's plausible that these seraphim are the same angels, but then again they could be different. God doesn't lack in his celestial hosts. He created 1000's upon 1000's of angels.
If you would like to compare the different portions of scripture with Isaiah 6 here is the list. You can click them and read the chapters or verses.
Ezekiel 1
Ezekiel 10
Revelation 4:6-8
What do Seraphim look like?
For this portion, I will stick with just Isaiah's description of these angels. And since the chapter can be read above I will place bullet points here of what they look like.
It's important to remember they are called "Seraphim = burning" These angels were burning perhaps on fire since they are near the altar of God. And they were able to pick up a live (burning) coal with their bare hands. (V6)
Each seraph angel has 6 wings.
With one set of wings, they covered their face
With another set they covered their feet
With another, they flew.
Isaiah doesn't mention multiple faces but they could have been covered by their wings and were never revealed. He also doesn't mention them being covered in eyes like John or Ezekiel.
Images of Seraphim or Seraph Angels
Here are some images I found that describe seraph angels. Some are close to what Isaiah describes and some tried their best at attempting to create these creatures.
All in all, I thought it would be helpful and fun was to kind of get an idea of what they could look like. All photo sources and or artists can be found underneath the picture.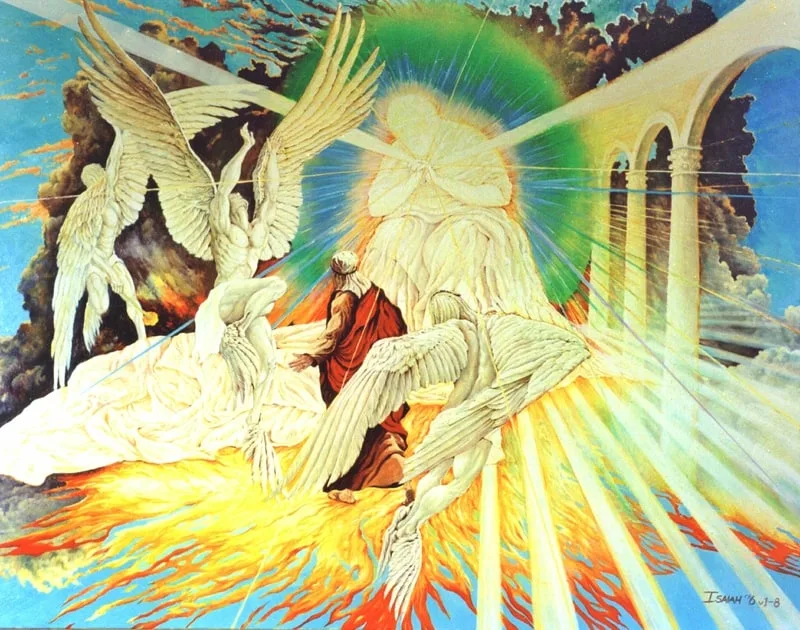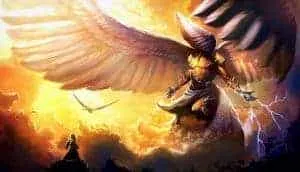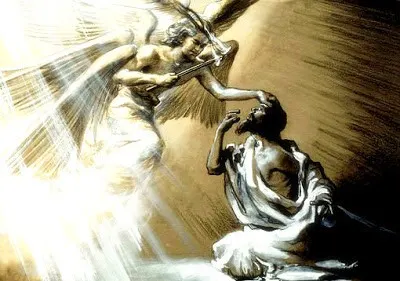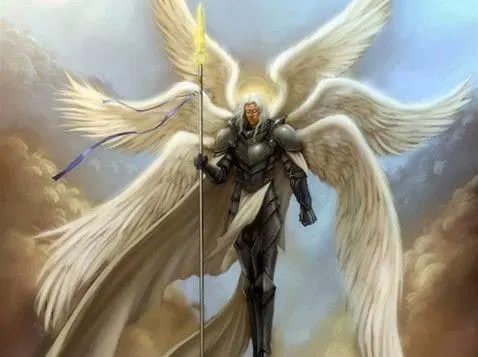 I'm sure we are way off, but someday we will see what they truly look like.
A Summary of Key Points
I thought it might be helpful to recap some key points in this article. You can use this as a quick review, or if you don't feel like reading the whole thing take this as a little cheat sheet.
Seraphim means burning (burning ones) They are able to touch the burning coals at the alter.
They worship and minister in the throne room of God.
They have 6 wings, 2 cover their face, 2 cover their feet, and 2 they fly with.
When they cry out the doorpost shake.
The word seraphim are only mentioned in Isaiah 6.
Seraphim could be lumped in with the word cherubim.
---
I hope this article has answered some of your questions about seraphim and that it has stirred you up to get into the Word of God more. Please feel free to leave me a comment below. I would love to hear from you and know what God is doing in your life.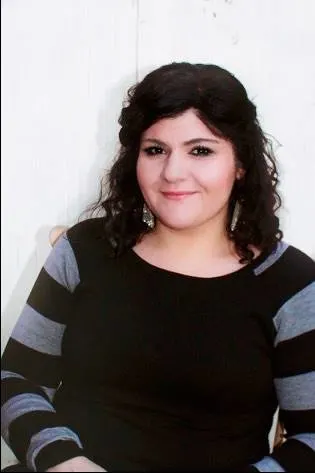 Melissa is a passionate minister, speaker and an ongoing learner of the Bible. She has been involved in church and vocational ministry for over 18 years. And is the founder of Think About Such Things. She has the heart to equip the saints by helping them get into the Word of God and fall more in love with Jesus. She also enjoys family, cooking, and reading.
She has spoken in churches in California, Oregon, Texas, and Mexico and has been featured in Guidepost Magazine and All Recipes Magazine. Read More…