In this article, we will explore what it means when the Bible says, "the Lord will fight for you". So. grab your Bible, and let's dig in…
The Bible is not a peaceful book in the sense that there are more wars, battles, and fights in the Bible than in any other single book.
We see God sending many great kings and leaders to fight other nations, and in the New Testament, we also see that we are still in a war, though not against flesh and blood.
For our struggle is not against flesh and blood, but against the rulers, against the authorities, against the powers of this dark world and against the spiritual forces of evil in the heavenly realms. – Ephesians 6:12
Battles are an inescapable part of the believer's life. But what if you don't have the strength to fight anymore?
What can you do if you don't even know how to attack or defend yourself in those battles?
The Bible gives a unique and powerful solution: the Lord will fight for you.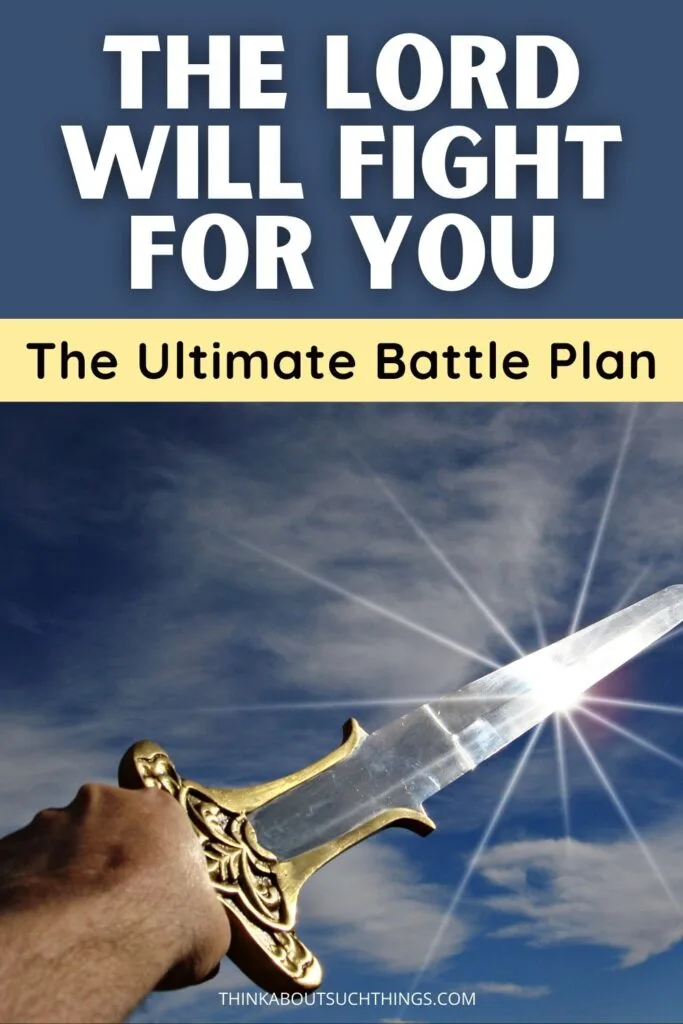 Bible Verses About The Lord Will Fight For You
There are many verses that directly or indirectly point to God fighting on behalf of His people. These stories inspire and encourage us as believers!
Let's look at some of the most prominent ones.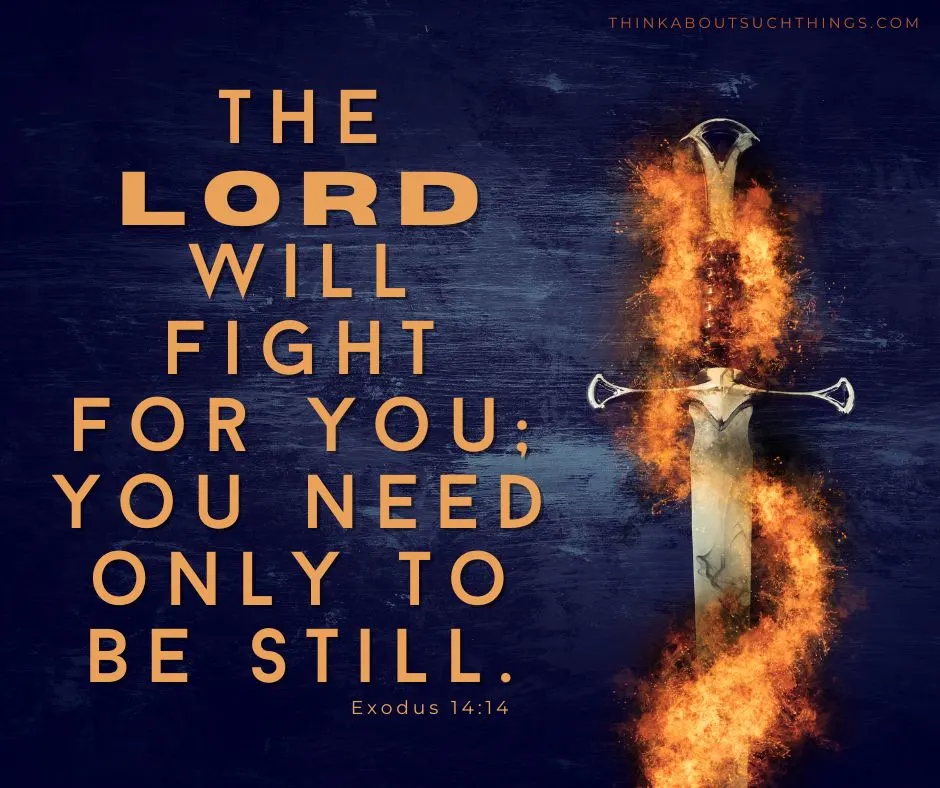 Israel and the Red Sea
The first time that the Bible mentions God fighting on behalf of the people occurs in Exodus 14. The Israelites are finally fleeing Egypt when Pharaoh decides he does not want to let them go after all and sends his armies after them. The Israelites, so full of joy about getting out of their slavery, suddenly find themselves between an army and the Red Sea.
That's when Moses says the following in verses 13-14:
"Moses answered the people, "Do not be afraid. Stand firm and you will see the deliverance the Lord will bring you today. The Egyptians you see today you will never see again. 14 The Lord will fight for you; you need only to be still." – Exodus 14:13-14
We all know what happened next. God told Moses to raise his staff and split the sea, which he did, and God let all the Israelites escape before closing the waters on Pharoah's men.
Jehoshaphat and the Armies of the Moabites
In 2 Chronicles 20, we see how Judah was attacked by the Moabites and Ammonites. Judah was utterly outnumbered and faced certain doom.
But then the Holy Spirit prophesied through a Levite called Jahaziel and said the following in verses 15-17:
Do not be afraid and do not be dismayed at this great horde, for the battle is not yours but God's. Tomorrow go down against them. Behold, they will come up by the ascent of Ziz. You will find them at the end of the valley, east of the wilderness of Jeruel.

You will not need to fight in this battle. Stand firm, hold your position, and see the salvation of the LORD on your behalf, O Judah and Jerusalem. – 2 Chronicles 20:15 -17
This was followed by King Jehoshaphat and the people bowing down and worshiping the Lord, after which they faced their opponents with no hope except God's promise.
And God was faithful to His word: the Bible says that God set an ambush against the opposing armies and routed them. When Judah approached, there were only dead bodies to be seen, and no one had escaped.
The Law of Moses
It's impressive to see that Moses even commanded the principle of letting the Lord fight for you as a law. In Deuteronomy 20:1-4, Moses commanded the following:
"When you go out to war against your enemies, and see horses and chariots and an army larger than your own, you shall not be afraid of them, for the LORD your God is with you, who brought you up out of the land of Egypt.

And when you draw near to the battle, the priest shall come forward and speak to the people and shall say to them, 'Hear, O Israel, today you are drawing near for battle against your enemies: let not your heart faint. Do not fear or panic or be in dread of them, for the LORD your God is he who goes with you to fight for you against your enemies, to give you the victory."
Letting the Lord fight for you is not just an occasional relief from the fight but an actual command and a principle that the people of God were instructed to live by.
What Do All These Scriptures Have In Common?
Most of the scriptures, including the ones we haven't even looked at, have one thing in common:
Israel was in a place of weakness.
In Exodus, the Israelites were just released from slavery and had little or no military training.

In 2 Chronicles, the people of Judah were vastly outnumbered by the armies that rose against them.

In Deuteronomy also speaks of them looking at horses, chariots, and an army larger than their own.
So, when we feel powerless in the face of the opposition, we can trust that God will fight on our behalf.
Does that mean God won't fight on our behalf if we actually have the strength to fight?
Not at all!
God loves fighting on behalf of His people. He is a warrior, after all. Even one of God's names is Jehovah Tsaba which means the Lour is our Warrior!
The Lord is a warrior;
the Lord is his name. – Exodus 15:3
Throughout the scriptures, we can see that God fought for His people, even when they weren't necessarily outnumbered.
David and his mighty men fought many battles with bravery, all the while knowing that God was going to war by their side. God even instructed Gideon ( a Judge of Israel) to reduce the number of his army from 32,000 to just 300 (Judges 7).
To make His victory even sweeter and more of a demonstration of the power He is willing to unleash on behalf of His people.
The principle also applies to New Testament believers like us. Jesus gave us authority to tread upon serpents and scorpions without anything causing us any harm (Luke 10:19).
Paul says in Romans 8:37 that we are more than conquerors through Him Who loves us.
James 4:7 tells us to resist the enemy, and he will flee from us. God is still fighting on our behalf if we are willing to stand for Him.
God Fighting For Us In Real Life
Whatever challenges we face in life, whether we feel powerless or not, we can stand firm in the belief that God is fighting on our behalf. It's an unshakable Biblical principle.
I have a friend, a fellow believer and brother in Christ, who went through a massive trial a while ago. He was a High School teacher who was suddenly accused by some of the students' parents that he was forging marks.
This was a pretty wealthy private school, so the management always tended to take the parents' side in such situations despite evidence to the contrary.
My friend was called in to face the disciplinary process. As he was preparing and praying, God told him not to fight. Like the Israelites, he was told to stand his ground and remain silent, awaiting the deliverance of the Lord.
As challenging as this was for him, he was obedient and did not defend himself once during the entire process, trying to follow the example of Christ. By the end of the hearing, his accusers themselves began to defend him and offered up evidence on his behalf.
Though the school still chose to let him go to appease the parents, claiming "lack of trust" as the reason, God has rewarded him generously for his obedience.
Other schools started fighting to employ him, and the managers and parents that accused him have since been exposed for their unfair actions and are facing the consequences.
In many similar cases, believers have faced unjust persecution or trials, but their reliance on God and faith that He would fight on their behalf never fails.
---
There are times when we must fight; it's inevitable, and the Bible makes no secret of the fact that we have an enemy who is constantly trying to work against us.
When that time comes, we can fight with the sure knowledge that God gave us the weapons we need to fight effectively and that He is running into battle with us.
With your help I can advance against a troop;
with my God I can scale a wall. – Psalm 18:29
But there's also a time not to fight, a time to stand our ground and be silent, awaiting the salvation of the Lord.
Those are the times when we feel weak and powerless against the opposition we face. But those are also the times when God's strength shines brightest on behalf of His people, and we can rest in the knowledge that our God, the Mighty Warrior, will fight for us.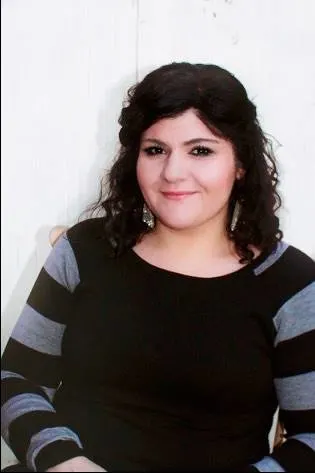 Melissa is a passionate minister, speaker and an ongoing learner of the Bible. She has been involved in church and vocational ministry for over 18 years. And is the founder of Think About Such Things. She has the heart to equip the saints by helping them get into the Word of God and fall more in love with Jesus. She also enjoys family, cooking, and reading.
She has spoken in churches in California, Oregon, Texas, and Mexico and has been featured in Guidepost Magazine and All Recipes Magazine. Read More…