Summer is here and it's time to cool off and relax. When I think of hot summer days I always think of those iconic things that go with them; the beach, lemonade, picnics, and WATERMELON. If a fruit could be a king for a season, Watermelon would rule summer.
There is nothing like a cold, crisp, and sweet slice of watermelon on the dog days of summer. The great thing about watermelon is that it's so easy. Slice it up and enjoy. There really isn't much you need to do to it.
I think we can get a little stuck with watermelon. We only use it one way, and the thing is watermelon is extremely versatile. You can use it in a ton of ways, both savory and sweet.
So, in honor of the king of summer, I have discovered 13 mouth watering watermelon recipes. Step out of the box and be that awesome person at the picnic that brings watermelon lemonade or watermelon salsa!
To view the recipe just click on recipe title.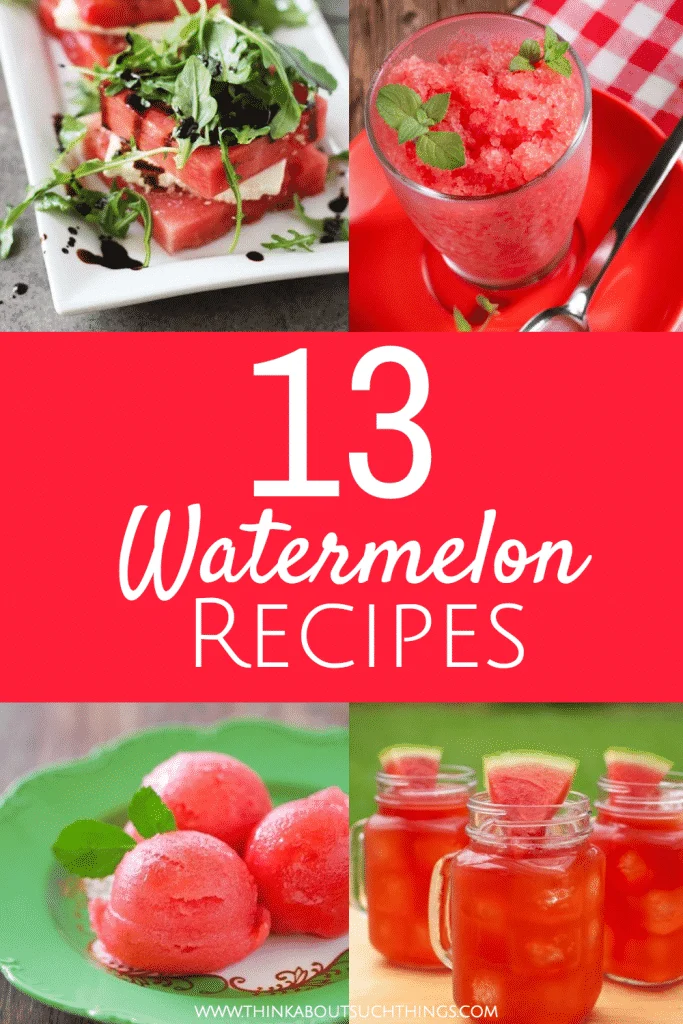 13 Watermelon Recipes
Sweet tea combined with fresh squeezed watermelon juice for a sweet summer beverage.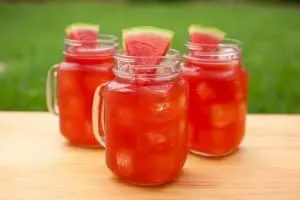 Skinny Watermelon Sorbet by Skinny Ms.
Watermelon is a wonderfully healthy fruit that contains enough water to hydrate, as well as vitamins C, A, and B6, and the lycopene often found in red, fleshy fruits. A hint of lemon juice gives a zesty edge to watermelon's sweetness, resulting in the perfect flavor combination.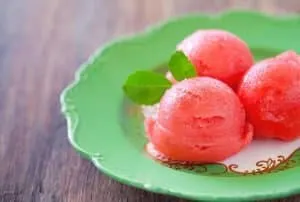 It has the perfect amount of sweet and tart, and a delicious depth of mellow watermelon flavor.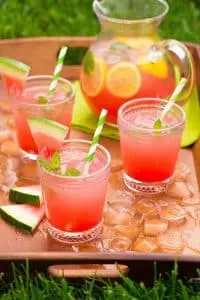 A girl's got to have an Easy Watermelon Slushy every once in a while to just–you know, spice things up.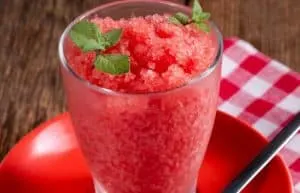 Creamy Watermelon Coconut Milkshake by Cook Nourish Bliss
Recipe for dairy free creamy watermelon coconut milkshake. With frozen watermelon, coconut milk, maple syrup and vanilla! Vegan! A fun summer treat!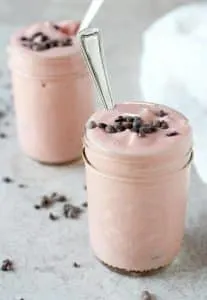 This berry watermelon fruit salad is exactly the sort of non-recipe I make over and over again, all Summer long. Peak season fruit doesn't need a whole lot (or often anything) to be spectacular – in this case just a light squeeze of fresh lime juice and a quick toss together before being eaten with a big spoon, preferably al fresco…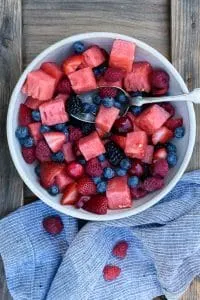 Fresh watermelon shines in this 5 ingredient recipe for watermelon salsa.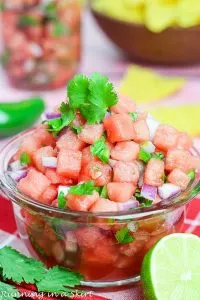 Watermelon Salad with Cucumbers, Feta, and Mint by The Mediterranean Dish
An easy, fresh and super light Mediterranean watermelon salad. Three main ingredients: watermelon, cucumber, and feta cheese. But to take it to the next level, we add some fresh mint, basil, and a honey vinaigrette. The perfect dish for your next neighborhood party!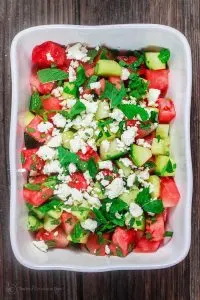 I made a nice batch of jam from half a regular watermelon. Tastes like jarred sunshine. What a great gift to share with friends and family! Perhaps with a spot of tea.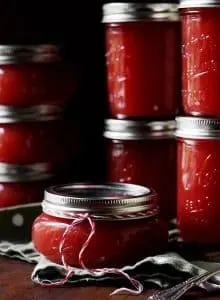 This sweet-and-savory Watermelon Bruschetta will make bring the party to everyone's tastebuds! Perfect for summer, the cool watermelon and flavorful feta will make an unexpectedly delicious combination!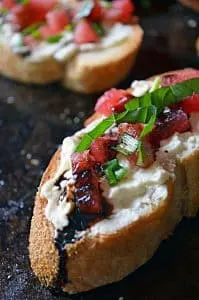 Grilled Watermelon and Feta Stacked Salad by Cooking for Keeps
These watermelon stacked salads are another Grecian dish of what I previously pictured we'd find here in Greece, although I've come to find that the majority of dishes are much, much more down-home than this is.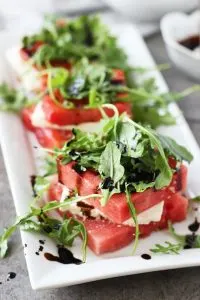 Refreshing and light watermelon gazpacho is a perfect vegan and raw summer soup. This easy recipe only takes 15 minutes to make!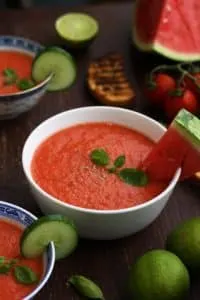 Watermelon Green Tea Refresher by The Busy Baker
When the weather turns warm it can be hard to resist all those sweet beverages at barbecues and parties – warm days call for a sweet and refreshing drink and unfortunately most cocktail-inspired beverages contain little more than empty calories. This Watermelon Green Tea Refresher is made from unsweetened green tea, fresh, ripe watermelon and a splash of lemon or lime juice so it's thirst-quenching and full of
summery goodness without all that sugar!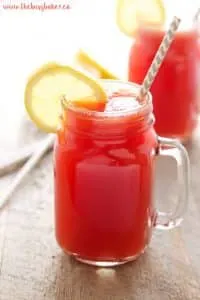 I hope you enjoy these 13 refreshing recipes! Drop me a comment below and share with me your favorite way you enjoy eating watermelon. And since it's summer time don't forget to check out my 10 Pesto Recipes.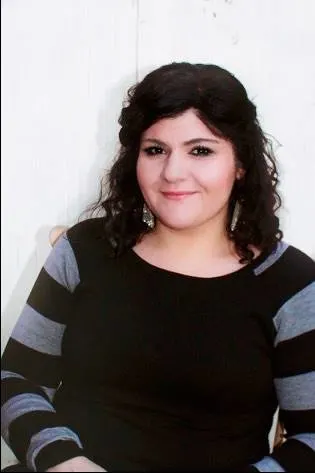 Melissa is a passionate minister, speaker and an ongoing learner of the Bible. She has been involved in church and vocational ministry for over 18 years. And is the founder of Think About Such Things. She has the heart to equip the saints by helping them get into the Word of God and fall more in love with Jesus. She also enjoys family, cooking, and reading.
She has spoken in churches in California, Oregon, Texas, and Mexico and has been featured in Guidepost Magazine and All Recipes Magazine. Read More…