A collection of Bible verses about courage. Build up your confidence with God's word.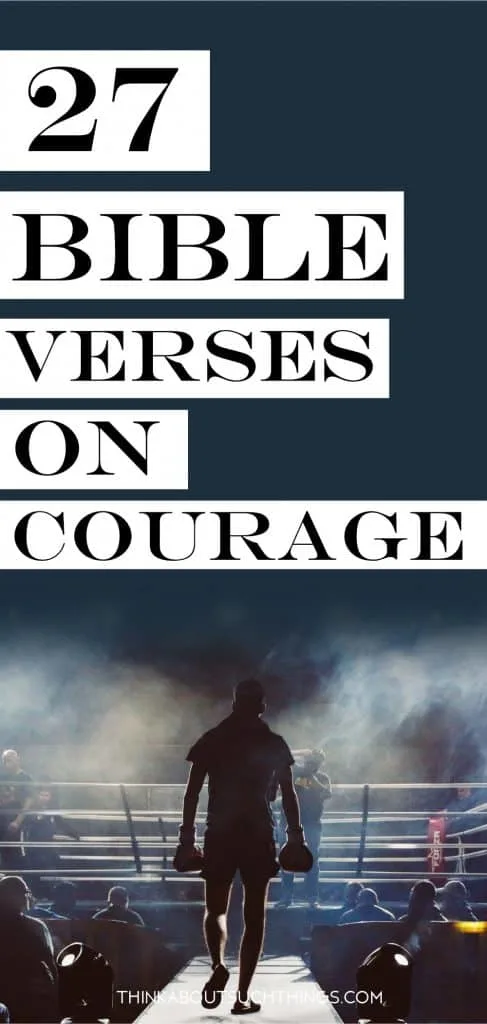 Life is not always sunshine and roses. There are a lot of situations that can arise where we need the courage to face them and not back down.
The wonderful thing is we don't need to rely on only ourselves to obtain courage, confidence or strength. God wants to help us through our situations and give us the courage needed to experience a breakthrough.
We see this clearly throughout His word. Some verses hit it right on the head and for others you see God bringing courage throughout the story. For example, Gideon is a powerful story of a very frighten man who becomes courageous by strengthing himself in the Lord.
In my post, I Wanna See You Be Brave…I share this quote and I think it's fitting for this article as well.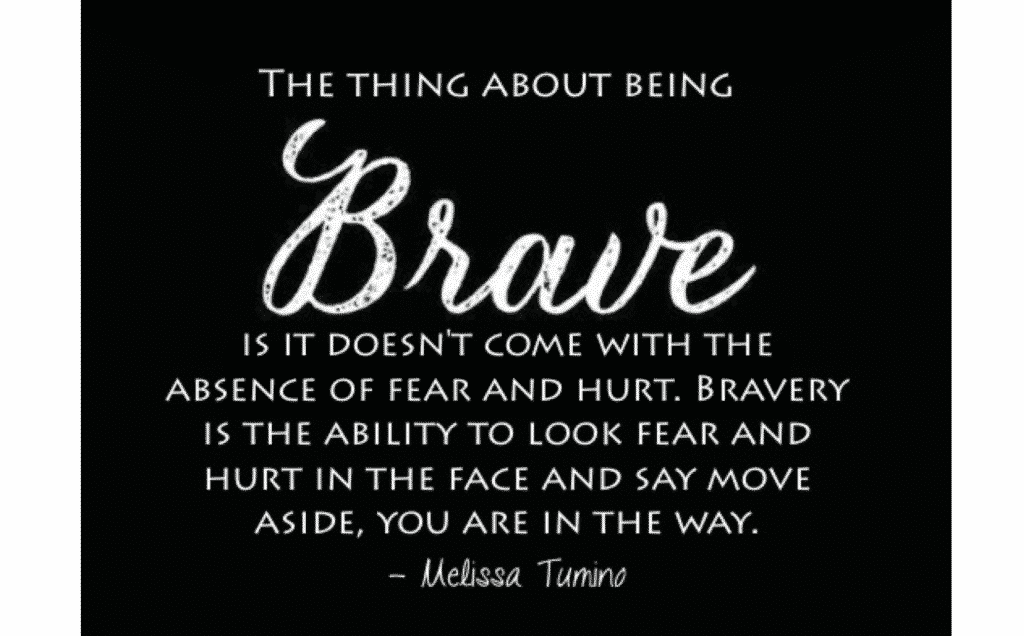 I also have a collection of Bible verses about Strength which would piggyback on these verses extremely well. Feel free to check those out as well.
Bible Verses about Courage
All verses below are from the NKJV. You can hover over the reference and you can check out the Amplified translation of the Bible verse. If you would like to check out other translations then head over to Bible Gateway.
I highly recommend memorizing some of these verses. So, during a time where fear is present or hurt you can combat it with God's powerful word.
---
1 Chronicles 28:20 NKJV – 20 And David said to his son Solomon, "Be strong and of good courage, and do [it]; do not fear nor be dismayed, for the LORD God–my God–[will be] with you. He will not leave you nor forsake you, until you have finished all the work for the service of the house of the LORD.
Isaiah 41:10-13 NKJV – 10 Fear not, for I [am] with you; Be not dismayed, for I [am] your God. I will strengthen you, Yes, I will help you, I will uphold you with My righteous right hand.' 11 "Behold, all those who were incensed against you Shall be ashamed and disgraced; They shall be as nothing, And those who strive with you shall perish. 12 You shall seek them and not find them–Those who contended with you. Those who war against you Shall be as nothing, As a nonexistent thing. 13 For I, the LORD your God, will hold your right hand, Saying to you, 'Fear not, I will help you.'
Deuteronomy 31:8 NKJV – 8 "And the LORD, He [is] the One who goes before you. He will be with you, He will not leave you nor forsake you; do not fear nor be dismayed."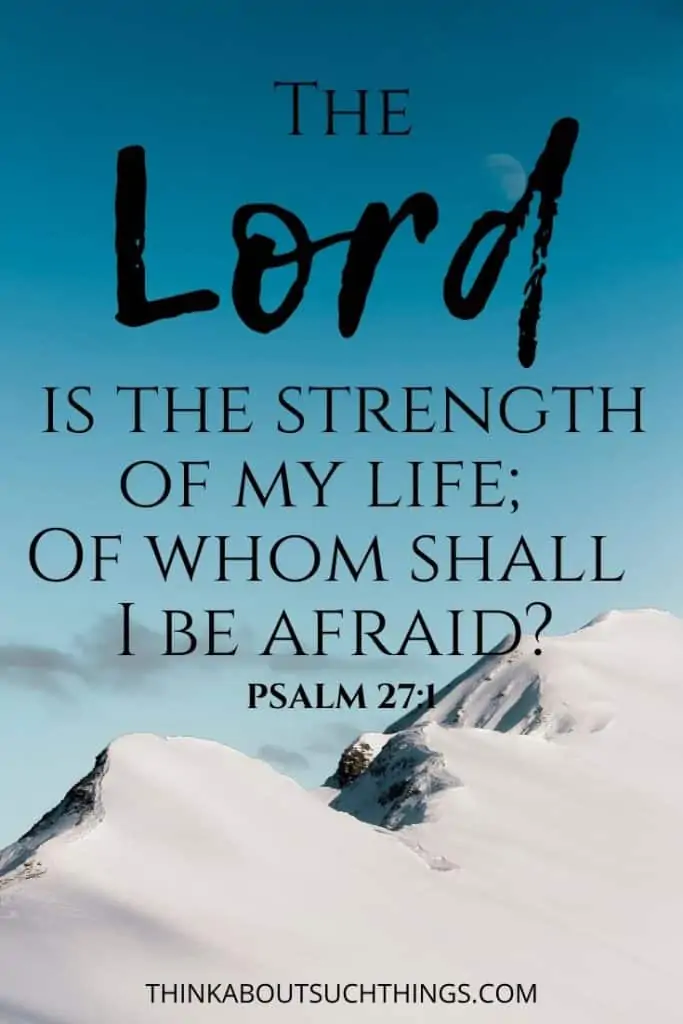 2 Corinthians 4:8-11 NKJV – 8 [We are] hard-pressed on every side, yet not crushed; [we are] perplexed, but not in despair; 9 persecuted, but not forsaken; struck down, but not destroyed– 10 always carrying about in the body the dying of the Lord Jesus, that the life of Jesus also may be manifested in our body. 11 For we who live are always delivered to death for Jesus' sake, that the life of Jesus also may be manifested in our mortal flesh.
Romans 8:15 NKJV – 15 For you did not receive the spirit of bondage again to fear, but you received the Spirit of adoption by whom we cry out, "Abba, Father."
Joshua 1:9 NKJV – 9 "Have I not commanded you? Be strong and of good courage; do not be afraid, nor be dismayed, for the LORD your God [is] with you wherever you go."
Psalm 27:1 NKJV – 1 [A Psalm] of David. The LORD [is] my light and my salvation; Whom shall I fear? The LORD [is] the strength of my life; Of whom shall I be afraid?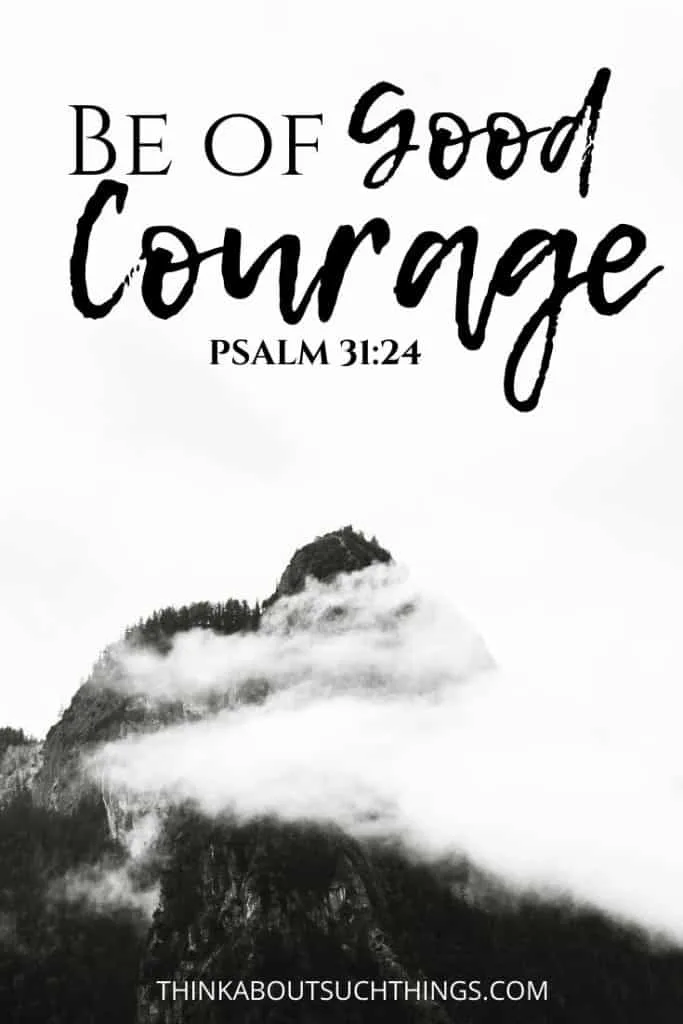 1 Corinthians 15:58 NKJV – 58 Therefore, my beloved brethren, be steadfast, immovable, always abounding in the work of the Lord, knowing that your labor is not in vain in the Lord.
Psalm 138:3 NKJV – 3 In the day when I cried out, You answered me, [And] made me bold [with] strength in my soul.
Psalm 18:39 NKJV – 39 For You have armed me with strength for the battle; You have subdued under me those who rose up against me.
Psalm 56:3-4 NKJV – 3 Whenever I am afraid, I will trust in You. 4 In God (I will praise His word), In God I have put my trust; I will not fear. What can flesh do to me?
Matthew 10:26 NKJV – 26 "Therefore do not fear them. For there is nothing covered that will not be revealed, and hidden that will not be known.
2 Corinthians 5:6-7 NKJV – 6 So [we are] always confident, knowing that while we are at home in the body we are absent from the Lord. 7 For we walk by faith, not by sight.
Ephesians 6:10 NKJV – 10 Finally, my brethren, be strong in the Lord and in the power of His might.
2 Samuel 10:12 NKJV – 12 "Be of good courage, and let us be strong for our people and for the cities of our God. And may the LORD do [what is] good in His sight."
1 John 4:18 NKJV – 18 There is no fear in love; but perfect love casts out fear, because fear involves torment. But he who fears has not been made perfect in love.
Psalm 31:24 NKJV – 24 Be of good courage, And He shall strengthen your heart, All you who hope in the LORD.
Proverbs 3:5-6 NKJV – 5 Trust in the LORD with all your heart, And lean not on your own understanding; 6 In all your ways acknowledge Him, And He shall direct your paths.
John 16:33 NKJV – 33 "These things I have spoken to you, that in Me you may have peace. In the world you will have tribulation; but be of good cheer, I have overcome the world."
Romans 8:38-39 NKJV – 38 For I am persuaded that neither death nor life, nor angels nor principalities nor powers, nor things present nor things to come, 39 nor height nor depth, nor any other created thing, shall be able to separate us from the love of God which is in Christ Jesus our Lord.
2 Timothy 1:7 NKJV – 7 For God has not given us a spirit of fear, but of power and of love and of a sound mind.
Isaiah 35:4 NKJV – 4 Say to those [who are] fearful-hearted, "Be strong, do not fear! Behold, your God will come [with] vengeance, [With] the recompense of God; He will come and save you."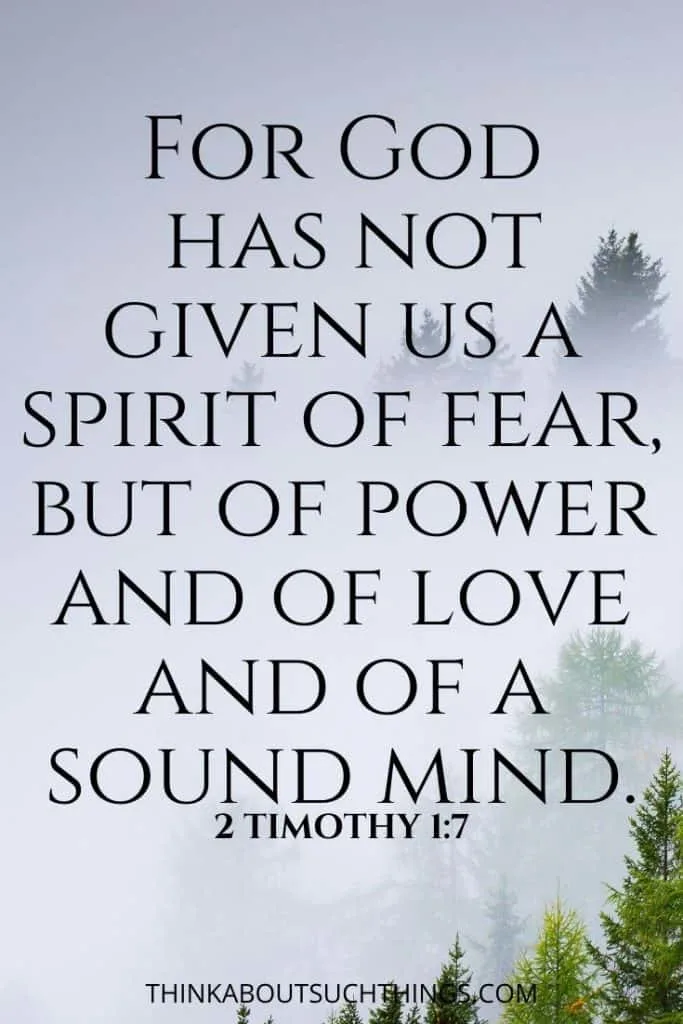 Hebrews 13:5-6 NKJV – 5 [Let your] conduct [be] without covetousness; [be] content with such things as you have. For He Himself has said, "I will never leave you nor forsake you." 6 So we may boldly say: "The LORD [is] my helper; I will not fear. What can man do to me?"
Psalm 23:4 NKJV – 4 Yea, though I walk through the valley of the shadow of death, I will fear no evil; For You [are] with me; Your rod and Your staff, they comfort me.
Philippians 1:20 NKJV – 20 according to my earnest expectation and hope that in nothing I shall be ashamed, but with all boldness, as always, so now also Christ will be magnified in my body, whether by life or by death.
Matthew 10:28 NKJV – 28 "And do not fear those who kill the body but cannot kill the soul. But rather fear Him who is able to destroy both soul and body in hell.
Acts 4:13 NKJV – 13 Now when they saw the boldness of Peter and John, and perceived that they were uneducated and untrained men, they marveled. And they realized that they had been with Jesus.
Quick Reference List of Scriptures on Courage
Like I do with all my topical Bible verses here is a simple reference list of Bible verses about light. I hope this makes it easy for you to jot down these verses in your journal or Bible for future use or study.
List of Courageous Bible Verses
1 Chronicles 28:20
Isaiah 41:10-13
Deuteronomy 31:8
2 Corinthians 4:8-11
Romans 8:15
Joshua 1:9
Psalm 27:1
1 Corinthians 15:58
Psalm 138:3
Psalm 18:39
Psalm 56:3-4
Matthew 10:26
2 Corinthians 5:6-7
Ephesians 6:10
2 Samuel 10:12
1 John 4:18
Psalm 31:24
Proverbs 3:5-6
John 16:33
Romans 8:38-39
2 Timothy 1:7
Isaiah 35:4
Hebrews 13:5-6
Psalm 23:4
Philippians 1:20
Matthew 10:28
Acts 4:13
---
I hope these verses have encouraged and strengthened in your time of need or helped you in your study. And as the psalmist said…"Be of good courage!"
Feel free to drop me a comment below! I would love what God is doing in your life!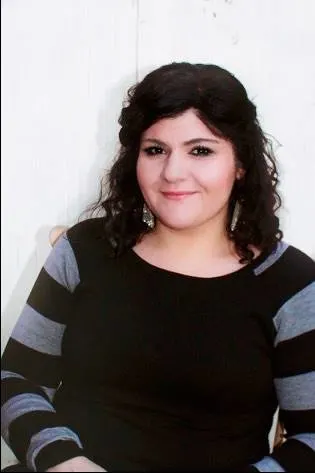 Melissa is a passionate minister, speaker and an ongoing learner of the Bible. She has been involved in church and vocational ministry for over 18 years. And is the founder of Think About Such Things. She has the heart to equip the saints by helping them get into the Word of God and fall more in love with Jesus. She also enjoys family, cooking, and reading.
She has spoken in churches in California, Oregon, Texas, and Mexico and has been featured in Guidepost Magazine and All Recipes Magazine. Read More…