A collection of Bible verses about forgiveness. These scriptures will share God's heart towards forgiving others and more.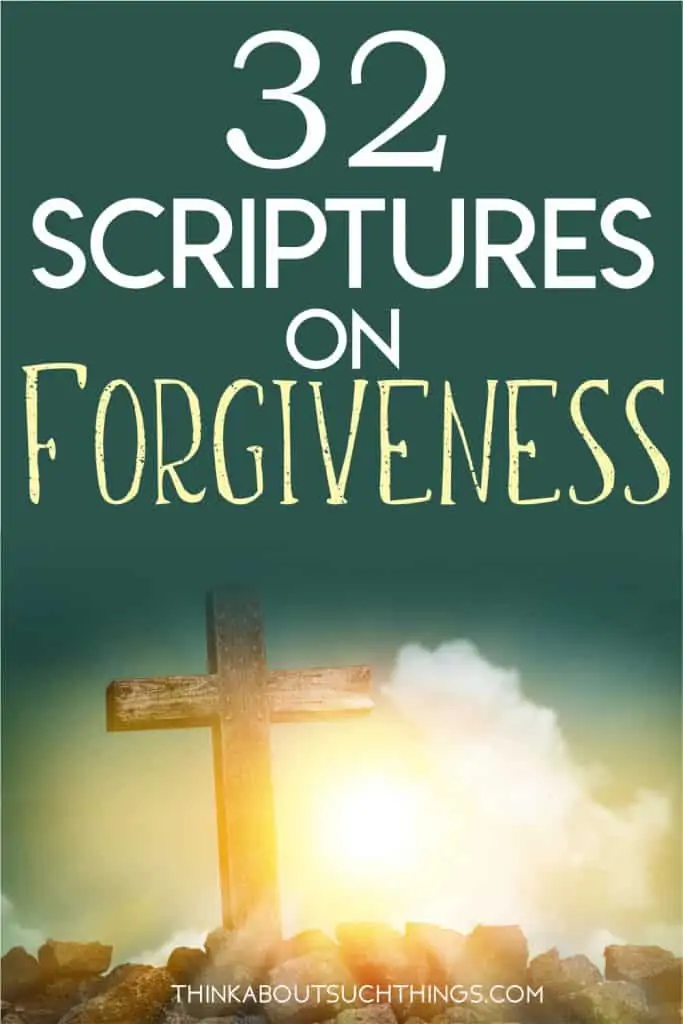 Forgiveness.
One of the most vital things we must learn to walk in. I'm going to be real…unforgiveness stinks. It causes so much heartache, bitterness, and destruction in our lives and the lives of those around us. And to top it off it creates this spiritual wedge between us and God when we are the ones refusing to forgive.
Forgiveness is not an option. No matter what someone or something has done we need to forgive them. And we must be careful not to harbor offense because that's where unforgiveness loves to stay. I mention this in my article How to Overcome a Spirit of Offense.
The simple truth is this…If God can forgive us for all the things we have done and for crucifying His son. We have no place to hold someone a prisoner with unforgiveness.
Now, this post is not about me sharing on walking in forgiveness so I will stop with what I wrote above and continue to what this post is really about. And that's Bible verses about forgiveness! If you are interested on reading on forgiveness then check out this post from Crosswalk.
I will say I'm super happy you are here and wanting to learn what God's word says about forgiveness. I hope these verses minister to you and encourage.
Bible Verses on Forgiveness
All verses below are from the NKJV. You can hover over the reference and you can check out the Amplified translation of the Bible verse. If you would like to check out other translations then head over to Bible Gateway.
---
Colossians 3:13 NKJV – 13 bearing with one another, and forgiving one another, if anyone has a complaint against another; even as Christ forgave you, so you also [must do].
Luke 6:37 NKJV – 37 "Judge not, and you shall not be judged. Condemn not, and you shall not be condemned. Forgive, and you will be forgiven.
Matthew 6:14-15 NKJV – 14 "For if you forgive men their trespasses, your heavenly Father will also forgive you. 15 "But if you do not forgive men their trespasses, neither will your Father forgive your trespasses.
Luke 17:3-4 NKJV – 3 "Take heed to yourselves. If your brother sins against you, rebuke him; and if he repents, forgive him. 4 "And if he sins against you seven times in a day, and seven times in a day returns to you, saying, 'I repent,' you shall forgive him."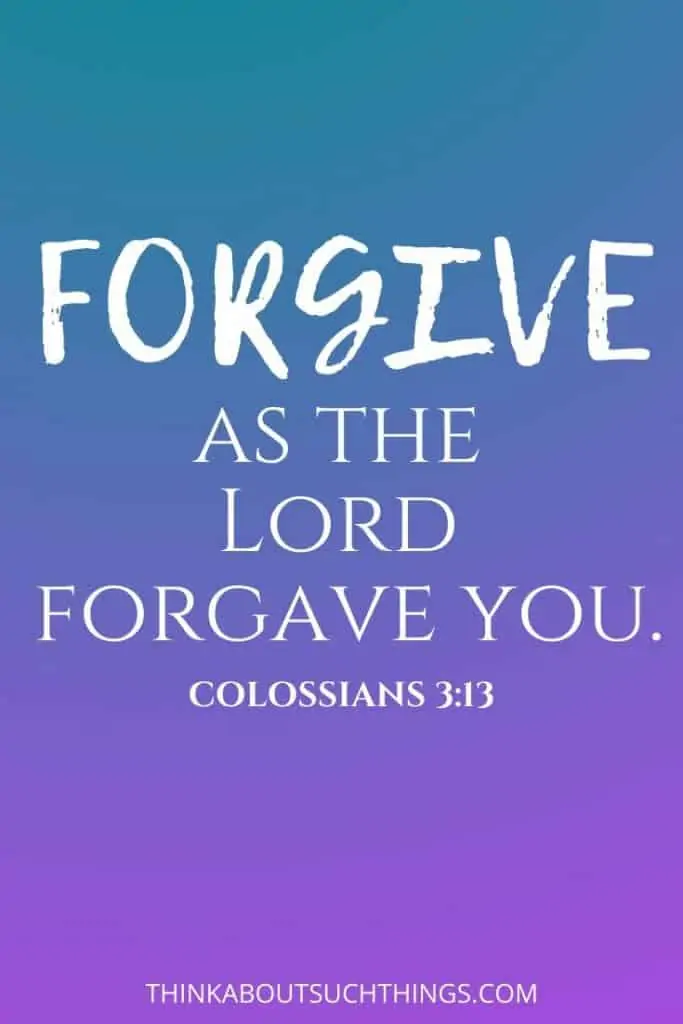 Psalm 86:5 NKJV – 5 For You, Lord, [are] good, and ready to forgive, And abundant in mercy to all those who call upon You.
Ephesians 4:31-32 NKJV – 31 Let all bitterness, wrath, anger, clamor, and evil speaking be put away from you, with all malice. 32 And be kind to one another, tenderhearted, forgiving one another, even as God in Christ forgave you.
1 John 1:9 NKJV – 9 If we confess our sins, He is faithful and just to forgive us [our] sins and to cleanse us from all unrighteousness.
Isaiah 43:25-26 NKJV – 25 "I, [even] I, [am] He who blots out your transgressions for My own sake; And I will not remember your sins. 26 Put Me in remembrance; Let us contend together; State your [case], that you may be acquitted.
Romans 4:7-8 NKJV – 7 "Blessed [are those] whose lawless deeds are forgiven, And whose sins are covered; 8 Blessed [is the] man to whom the LORD shall not impute sin."
Acts 3:19 NKJV – 19 "Repent therefore and be converted, that your sins may be blotted out, so that times of refreshing may come from the presence of the Lord,
Isaiah 1:18 NKJV – 18 "Come now, and let us reason together," Says the LORD, "Though your sins are like scarlet, They shall be as white as snow; Though they are red like crimson, They shall be as wool.
Proverbs 17:9 NKJV – 9 He who covers a transgression seeks love, But he who repeats a matter separates friends.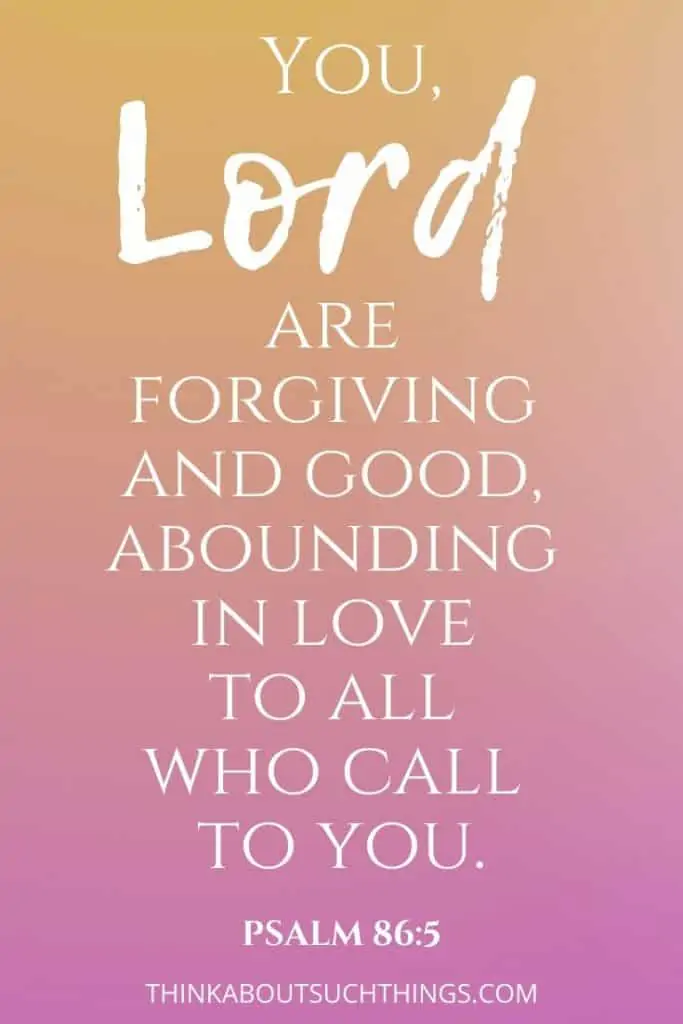 2 Corinthians 5:17 NKJV – 17 Therefore, if anyone [is] in Christ, [he is] a new creation; old things have passed away; behold, all things have become new.
Ephesians 1:7-8 NKJV – 7 In Him we have redemption through His blood, the forgiveness of sins, according to the riches of His grace 8 which He made to abound toward us in all wisdom and prudence,
2 Chronicles 7:14 NKJV – 14 "if My people who are called by My name will humble themselves, and pray and seek My face, and turn from their wicked ways, then I will hear from heaven, and will forgive their sin and heal their land.
Hebrews 10:16-17 NKJV – 16 "This [is] the covenant that I will make with them after those days, says the LORD: I will put My laws into their hearts, and in their minds I will write them," 17 [then He adds], "Their sins and their lawless deeds I will remember no more."
Leviticus 19:18 NKJV – 18 'You shall not take vengeance, nor bear any grudge against the children of your people, but you shall love your neighbor as yourself: I [am] the LORD.
Daniel 9:9 NKJV – 9 "To the Lord our God [belong] mercy and forgiveness, though we have rebelled against Him.
Proverbs 28:13 NKJV – 13 He who covers his sins will not prosper, But whoever confesses and forsakes [them] will have mercy.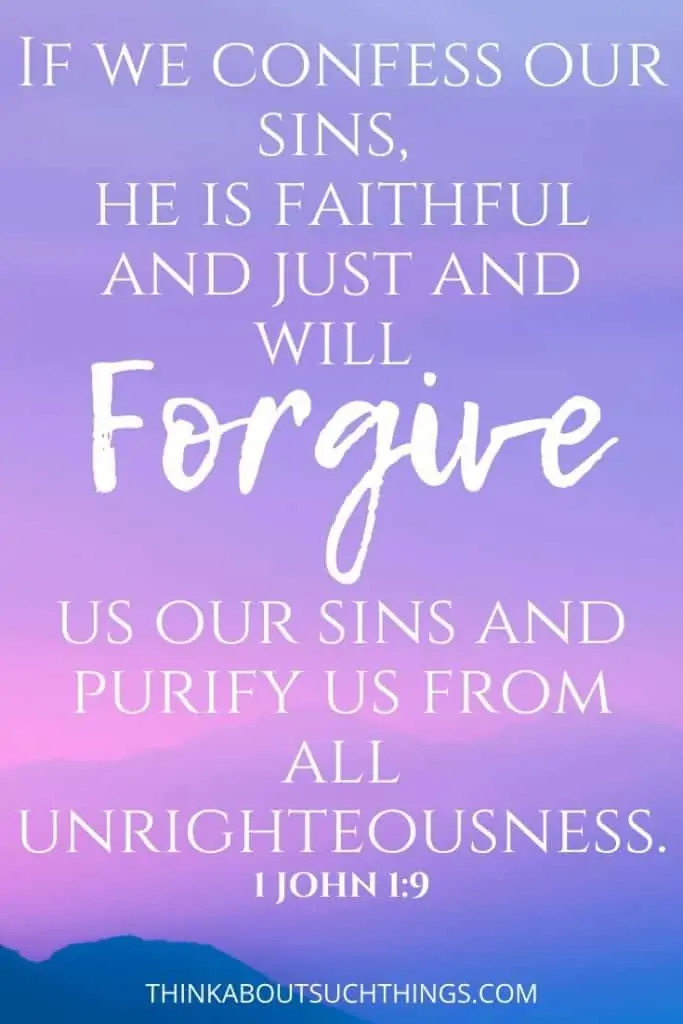 Colossians 1:13-14 NKJV – 13 He has delivered us from the power of darkness and conveyed [us] into the kingdom of the Son of His love, 14 in whom we have redemption through His blood, the forgiveness of sins.
James 5:14-15 NKJV – 14 Is anyone among you sick? Let him call for the elders of the church, and let them pray over him, anointing him with oil in the name of the Lord. 15 And the prayer of faith will save the sick, and the Lord will raise him up. And if he has committed sins, he will be forgiven.
Psalm 103:10-12 NKJV – 10 He has not dealt with us according to our sins, Nor punished us according to our iniquities. 11 For as the heavens are high above the earth, [So] great is His mercy toward those who fear Him; 12 As far as the east is from the west, [So] far has He removed our transgressions from us.
Acts 13:38-39 NKJV – 38 "Therefore let it be known to you, brethren, that through this Man is preached to you the forgiveness of sins; 39 "and by Him everyone who believes is justified from all things from which you could not be justified by the law of Moses.
Numbers 14:19-21 NKJV – 19 "Pardon the iniquity of this people, I pray, according to the greatness of Your mercy, just as You have forgiven this people, from Egypt even until now." 20 Then the LORD said: "I have pardoned, according to your word; 21 "but truly, as I live, all the earth shall be filled with the glory of the LORD–
Micah 7:18-19 NKJV – 18 Who [is] a God like You, Pardoning iniquity And passing over the transgression of the remnant of His heritage? He does not retain His anger forever, Because He delights [in] mercy. 19 He will again have compassion on us, And will subdue our iniquities. You will cast all our sins Into the depths of the sea.
Psalm 32:5 NKJV – 5 I acknowledged my sin to You, And my iniquity I have not hidden. I said, "I will confess my transgressions to the LORD," And You forgave the iniquity of my sin. Selah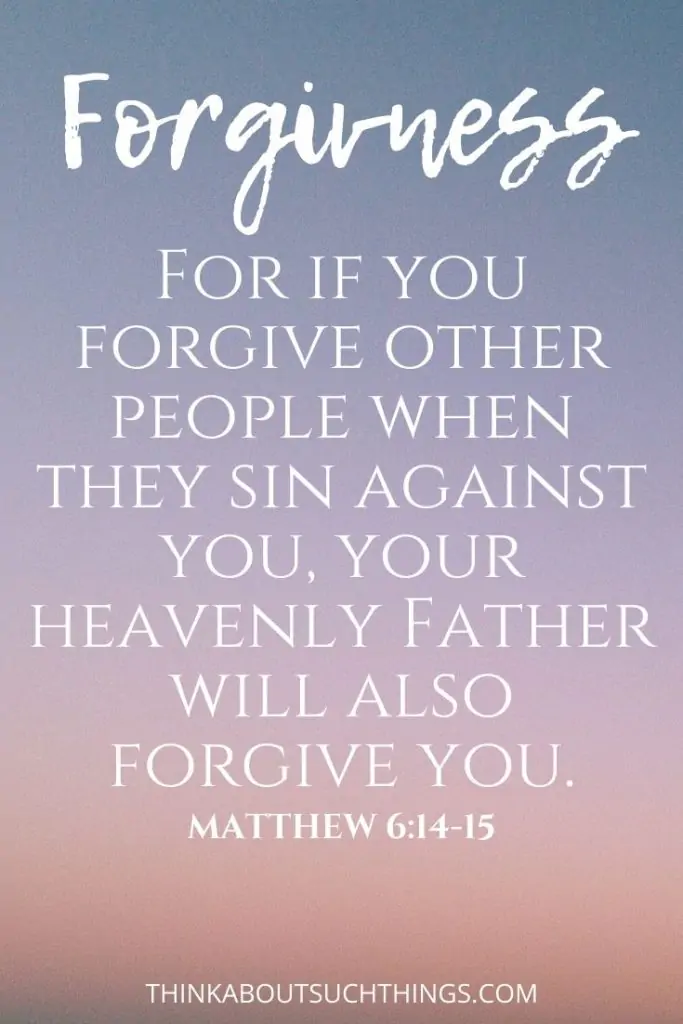 Matthew 6:9-13 NKJV – 9 "In this manner, therefore, pray: Our Father in heaven, Hallowed be Your name. 10 Your kingdom come. Your will be done On earth as [it is] in heaven. 11 Give us this day our daily bread. 12 And forgive us our debts, As we forgive our debtors. 13 And do not lead us into temptation, But deliver us from the evil one. For Yours is the kingdom and the power and the glory forever. Amen.
Luke 23:34 NKJV – 34 Then Jesus said, "Father, forgive them, for they do not know what they do." And they divided His garments and cast lots.
Mark 11:25 NKJV – 25 "And whenever you stand praying, if you have anything against anyone, forgive him, that your Father in heaven may also forgive you your trespasses.
Proverbs 10:12 NKJV – 12 Hatred stirs up strife, But love covers all sins.
Matthew 26:28 NKJV – 28 "For this is My blood of the new covenant, which is shed for many for the remission of sins.
Matthew 18:21-22 NKJV – 21 Then Peter came to Him and said, "Lord, how often shall my brother sin against me, and I forgive him? Up to seven times?" 22 Jesus said to him, "I do not say to you, up to seven times, but up to seventy times seven.
Quick Reference List of Scriptures on Forgiveness
Here is a simple reference list of Bible verses on forgiving. I hope this makes it easy for you to jot down these verses in your journal or Bible for future use or study.
I do recommend doing is praying scripture if you are dealing with unforgiveness. Ask God to help you and give you grace.
List of Forgiveness Bible Verses
Colossians 3:13
Luke 6:37
Matthew 6:14-15
Luke 17:3-4
Psalm 86:5
Ephesians 4:31-32
1 John 1:9
Isaiah 43:25-26
Romans 4:7-8
Acts 3:19
Isaiah 1:18
Proverbs 17:9
2 Corinthians 5:17
Ephesians 1:7-8
2 Chronicles 7:14
Hebrews 10:16-17
Leviticus 19:18
Daniel 9:9
Proverbs 28:13
Colossians 1:13-14
James 5:14-15
Psalm 103:10-12
Acts 13:38-39
Numbers 14:19-21
Micah 7:18-19
Psalm 32:5
Matthew 6:9-15
Luke 23:34
Mark 11:25
Proverbs 10:12
Matthew 26:28
Matthew 18:21-22
---
Well, there you go! I hope these scriptures have spoken to your heart about forgiving. And if this post is being used for a study or for a teaching. I pray it impacts those around you as you share the revelation the Lord is showing you.
Feel free to drop me a comment below! I would love what God is doing in your life!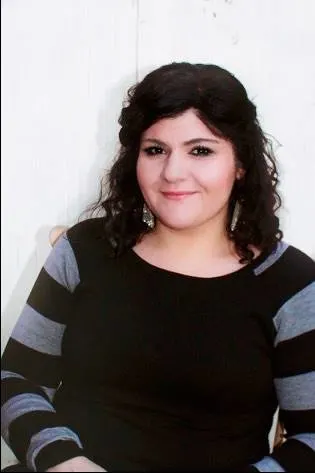 Melissa is a passionate minister, speaker and an ongoing learner of the Bible. She has been involved in church and vocational ministry for over 18 years. And is the founder of Think About Such Things. She has the heart to equip the saints by helping them get into the Word of God and fall more in love with Jesus. She also enjoys family, cooking, and reading.
She has spoken in churches in California, Oregon, Texas, and Mexico and has been featured in Guidepost Magazine and All Recipes Magazine. Read More…