A collection of Bible verses about freedom. These scriptures will bring you strength and victory in whatever season of life you are in.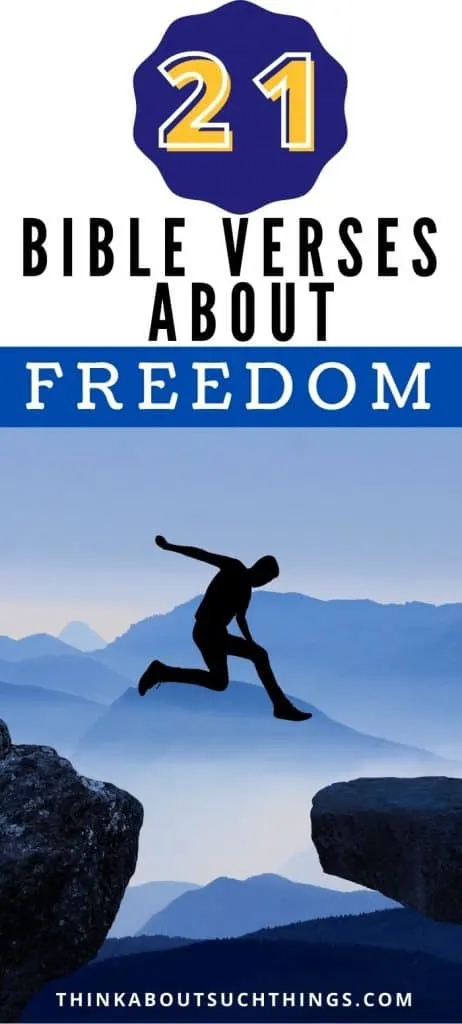 I remember when I first experienced God's freedom in my life. I was just a young teen at the age of 15 when Jesus radically saved me and set me free of a ton of demonic influences in my life.
I will never forget after my deliverance how much freedom I felt. Words can not describe the peace, and relief I felt that day and still experience to this day. I tasted God's freedom and I am never going back!
Today I wanted to share some powerful Bible verses about freedom. I thought this would be an important topic to add to my topical Bible Scriptures which you can use for studying.
I have broken down some of the Bible verses into sections. You can hop to the section you like or read through all of them!
In almost everything that touches our everyday life on earth, God is pleased when we're pleased. He wills that we be as free as birds to soar and sing our maker's praise without anxiety.

– A.W Tozer
Scriptures About Freedom
All scriptures below are taken from the NKJV. You can hover over the reference and read the AMP version. For more versions check out Biblegateway.com
As a little side note these verses would be great to pray and meditate on!
---
2 Corinthians 3:17 NKJV – 17 Now the Lord is the Spirit; and where the Spirit of the Lord [is], there [is] liberty.
Psalm 119:45 NKJV – 45 And I will walk at liberty, For I seek Your precepts.
Isaiah 61:1 NKJV – 1 "The Spirit of the Lord GOD [is] upon Me, Because the LORD has anointed Me To preach good tidings to the poor; He has sent Me to heal the brokenhearted, To proclaim liberty to the captives, And the opening of the prison to [those who are] bound;
Psalm 118:5 NKJV – 5 I called on the LORD in distress; The LORD answered me [and set me] in a broad place.
Romans 8:21 NKJV – 21 because the creation itself also will be delivered from the bondage of corruption into the glorious liberty of the children of God.
John 8:32 NKJV – 32 "And you shall know the truth, and the truth shall make you free."
Bible Verses about Freedom in Christ
Galatians 5:1 NKJV – 1 Stand fast therefore in the liberty by which Christ has made us free, and do not be entangled again with a yoke of bondage.
John 8:36 NKJV – 36 "Therefore if the Son makes you free, you shall be free indeed.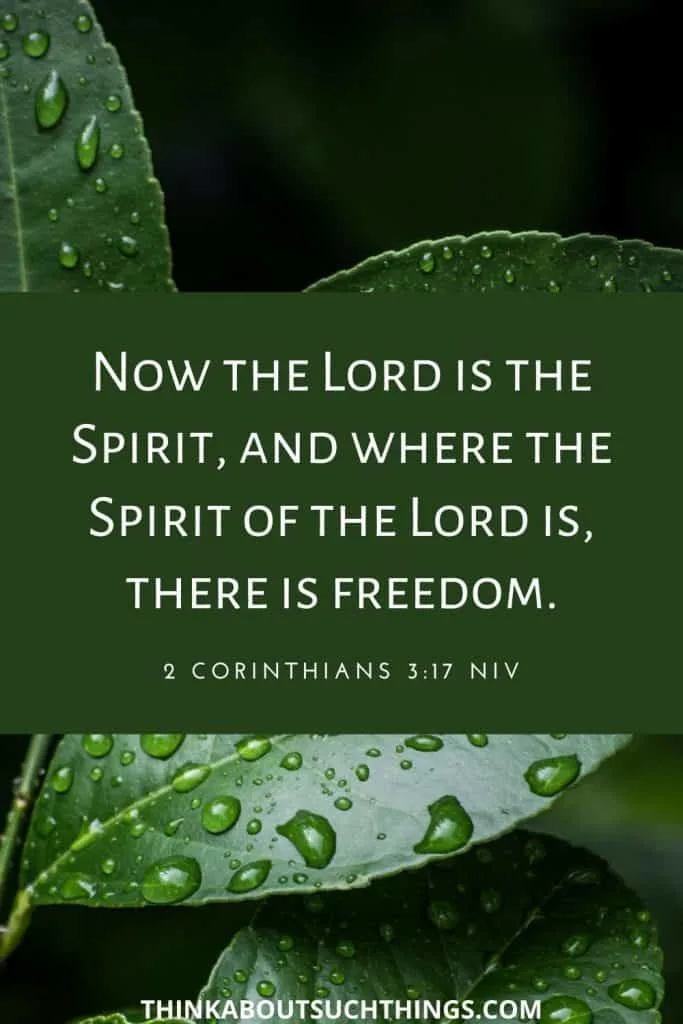 Ephesians 3:12 NKJV – 12 in whom we have boldness and access with confidence through faith in Him.
Romans 8:1-4 NKJV – 1 [There is] therefore now no condemnation to those who are in Christ Jesus, who do not walk according to the flesh, but according to the Spirit. 2 For the law of the Spirit of life in Christ Jesus has made me free from the law of sin and death. 3 For what the law could not do in that it was weak through the flesh, God [did] by sending His own Son in the likeness of sinful flesh, on account of sin: He condemned sin in the flesh, 4 that the righteous requirement of the law might be fulfilled in us who do not walk according to the flesh but according to the Spirit.
Bible Verses about Freedom from Sin
Romans 6:18-22 NKJV – 18 And having been set free from sin, you became slaves of righteousness. 19 I speak in human [terms] because of the weakness of your flesh. For just as you presented your members [as] slaves of uncleanness, and of lawlessness [leading] to [more] lawlessness, so now present your members [as] slaves [of] righteousness for holiness. 20 For when you were slaves of sin, you were free in regard to righteousness. 21 What fruit did you have then in the things of which you are now ashamed? For the end of those things [is] death. 22 But now having been set free from sin, and having become slaves of God, you have your fruit to holiness, and the end, everlasting life.
Hebrews 2:14-15 NKJV – 14 In as much then as the children have partaken of flesh and blood, He Himself likewise shared in the same, that through death He might destroy him who had the power of death, that is, the devil, 15 and release those who through fear of death were all their lifetime subject to bondage.
Acts 13:38-39 NKJV – 38 "Therefore let it be known to you, brethren, that through this Man is preached to you the forgiveness of sins; 39 "and by Him everyone who believes is justified from all things from which you could not be justified by the law of Moses.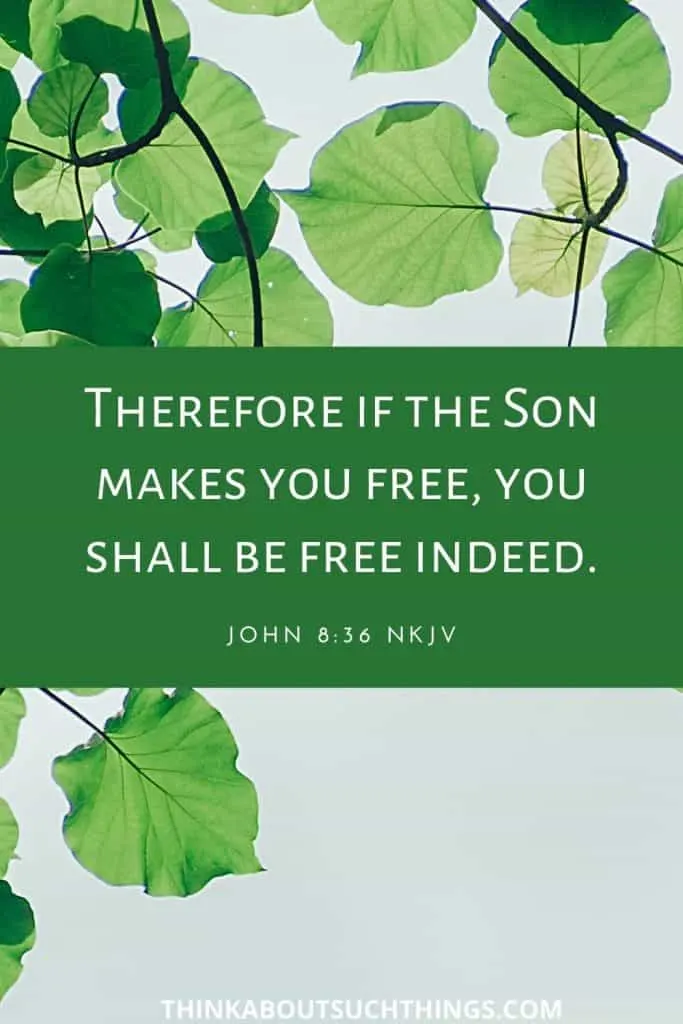 Colossians 1:21-23 NKJV – 21 And you, who once were alienated and enemies in your mind by wicked works, yet now He has reconciled 22 in the body of His flesh through death, to present you holy, and blameless, and above reproach in His sight– 23 if indeed you continue in the faith, grounded and steadfast, and are not moved away from the hope of the gospel which you heard, which was preached to every creature under heaven, of which I, Paul, became a minister.
Romans 6:14 NKJV – 14 For sin shall not have dominion over you, for you are not under law but under grace.
Bible Verses about Freedom of Choice
1 Corinthians 6:12 NKJV – 12 All things are lawful for me, but all things are not helpful. All things are lawful for me, but I will not be brought under the power of any.
1 Peter 2:16 NKJV – 16 as free, yet not using liberty as a cloak for vice, but as bondservants of God.
1 Corinthians 9:19 NKJV – 19 For though I am free from all [men], I have made myself a servant to all, that I might win the more;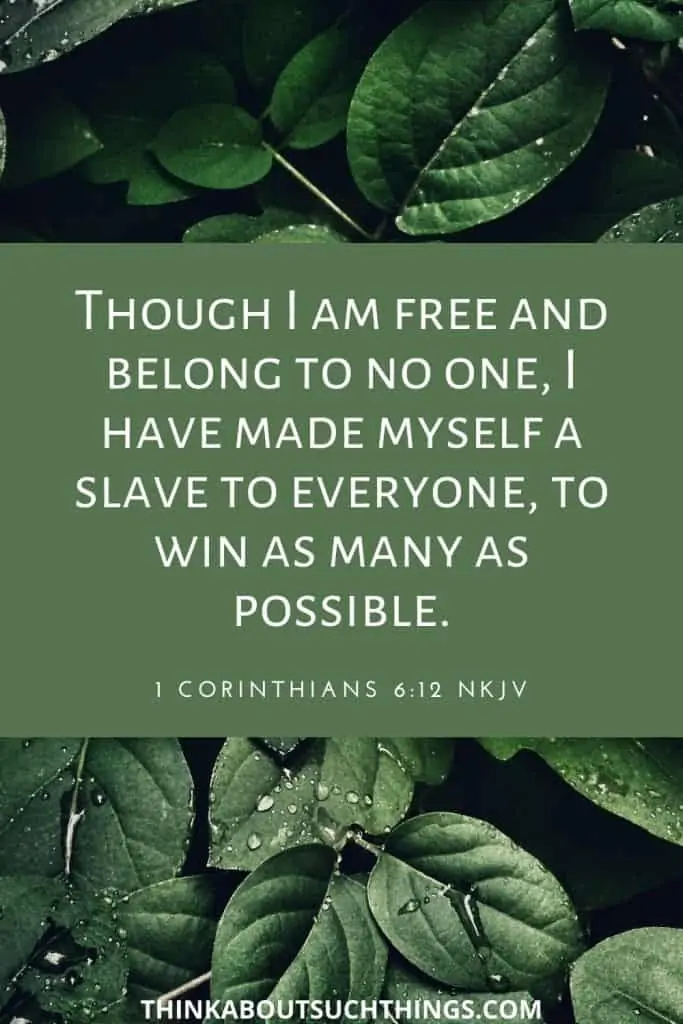 Galatians 5:13-14 NKJV – 13 For you, brethren, have been called to liberty; only do not [use] liberty as an opportunity for the flesh, but through love serve one another. 14 For all the law is fulfilled in one word, [even] in this: "You shall love your neighbor as yourself."
James 1:25 NKJV – 25 But he who looks into the perfect law of liberty and continues [in it], and is not a forgetful hearer but a doer of the work, this one will be blessed in what he does.
Quick Reference List of All 21 Verses on Freedom and Liberty
Like I do with all my topical Bible verses here is a simple reference list of Bible verses about freedom. I hope this makes it easy for you to jot down these verses in your Bible, journal, or notebook for future use or study.

List of Freedom Bible Verses
Romans 6:18-19
Hebrews 2:14-15
Acts 13:38-39
Colossians 1:21-23
Romans 6:14
2 Corinthians 3:17
Psalm 119:45
Isaiah 61:1
Psalm 118:5
Romans 8:21
John 8:32
Galatians 5:1
John 8:36
Ephesians 3:12
Romans 8:1-4
1 Corinthians 6:12
1 Peter 2:16
1 Corinthians 9:19
Galatians 5:13-14
James 1:25
Romans 6:20-22
---
Well, I hope these Freedom verses have inspired your faith. I also hope they have encouraged you to experience a greater level of freedom in Christ.
You are more than welcome to drop me a comment below. I would love to hear what God is doing in your life.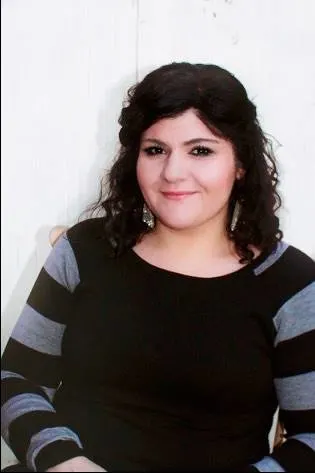 Melissa is a passionate minister, speaker and an ongoing learner of the Bible. She has been involved in church and vocational ministry for over 18 years. And is the founder of Think About Such Things. She has the heart to equip the saints by helping them get into the Word of God and fall more in love with Jesus. She also enjoys family, cooking, and reading.
She has spoken in churches in California, Oregon, Texas, and Mexico and has been featured in Guidepost Magazine and All Recipes Magazine. Read More…