A powerful collection of Bible verses about thanksgiving that will encourage your gratitude towards the Lord.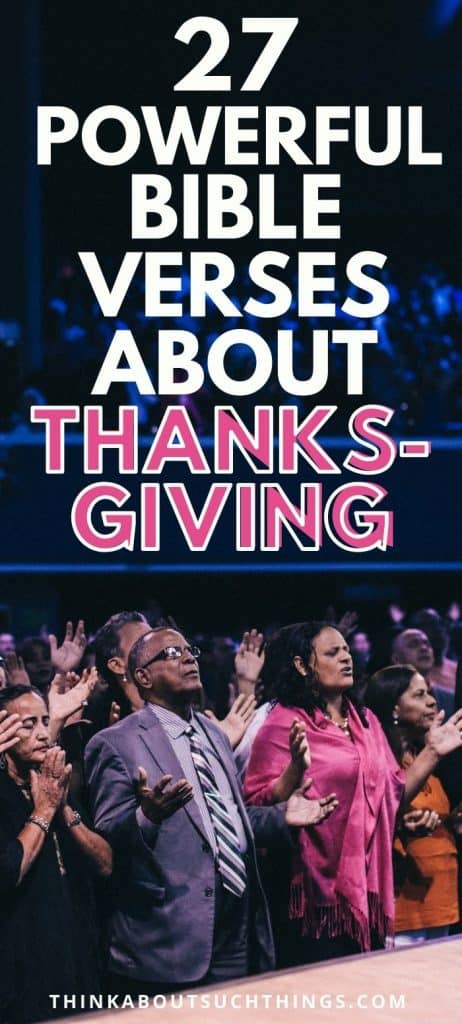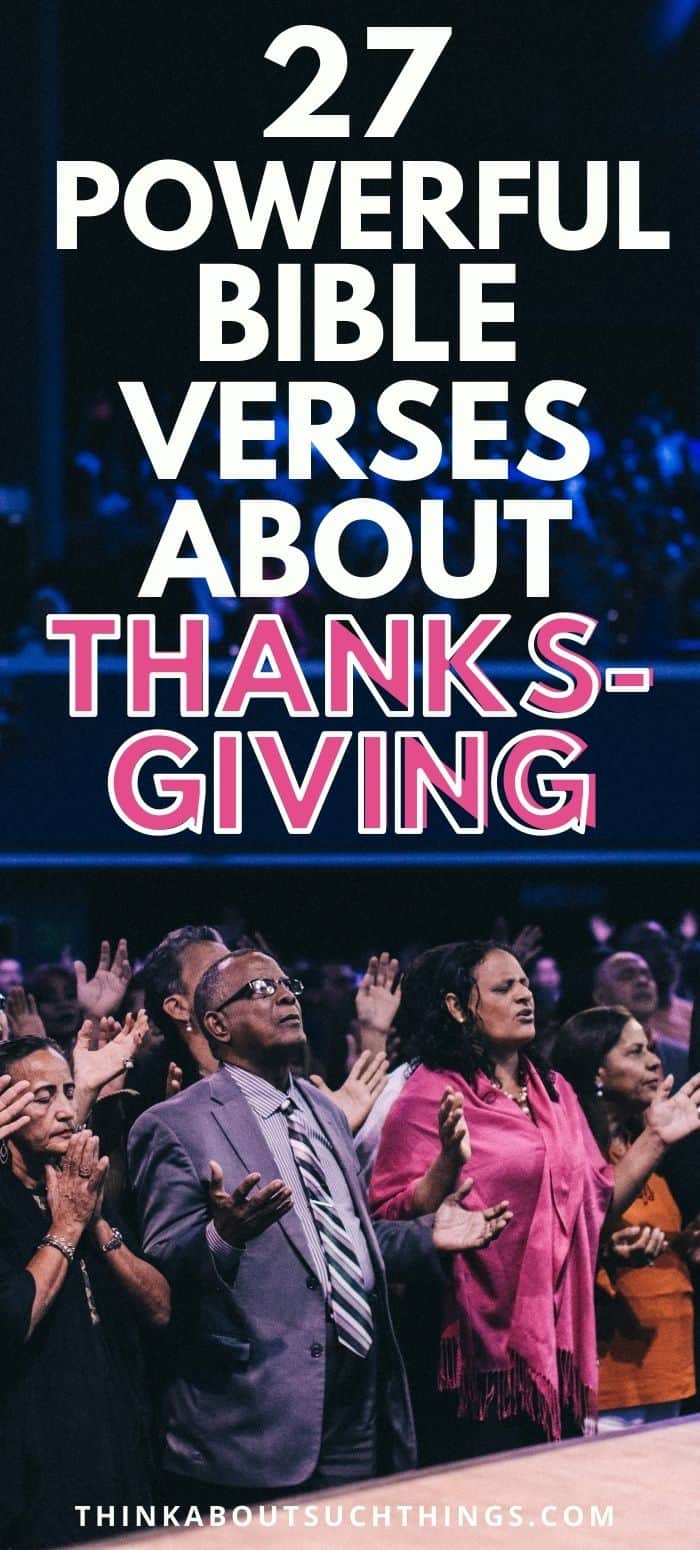 Thanksgiving is such an interesting thing when it comes to what it does in the spiritual realm. On a natural level it's easy to think of it as being thankful for something and that's it. And lets be real some people all they can think of is turkey when you say thanksgiving.
But the actual word in the Hebrew is one of the 7 words for praise. So, it actual a form of praising God, which is a physical act.
תּוֹדָה tôwdâh, to-daw'; from H3034; properly, an extension of the hand, i.e. (by implication) avowal, or (usually) adoration; specifically, a choir of worshippers:—confession, (sacrifice of) praise, thanks(-giving, offering).
So we can be thankful or grateful towards God by using our words but also using our body by lifting our hands!
Now the word gratitude is not used in the KJV or NKJV but we do see it mentioned twice in the NIV. One being Colossians 3:16:
Let the message of Christ dwell among you richly as you teach and admonish one another with all wisdom through psalms, hymns, and songs from the Spirit, singing to God with gratitude in your hearts.
That word in the greek is Charis.
χάρις cháris, khar'-ece; from G5463; graciousness (as gratifying), of manner or act (abstract or concrete; literal, figurative or spiritual; especially the divine influence upon the heart, and its reflection in the life; including gratitude):—acceptable, benefit, favour, gift, grace(- ious), joy, liberality, pleasure, thank(-s, -worthy).
There is soooo much more I could go into, but this post is about Bible verses about thanksgiving and gratitude. So, I will cut this part short. But I did want share a little about the words in the Hebrew and Greek.
Now let's check out some Thanksgiving scriptures!
A sensible thanksgiving for mercies received is a mighty prayer in the Spirit of God. It prevails with Him unspeakably.

– John Bunyan
Bible Verses about Thanksgiving and Gratitude
The verses below are taken from the NKJV. You can hover over the reference and check out the AMP version. For more versions check out Biblegateway.com
As a little side note these verses would be great to pray and meditate on!
---
1 Thessalonians 5:16-18 NKJV – 16 Rejoice always, 17 pray without ceasing, 18 in everything give thanks; for this is the will of God in Christ Jesus for you.
Psalm 100:4 NKJV – 4 Enter into His gates with thanksgiving, [And] into His courts with praise. Be thankful to Him, [and] bless His name.
2 Corinthians 2:14 NKJV – 14 Now thanks [be] to God who always leads us in triumph in Christ, and through us diffuses the fragrance of His knowledge in every place.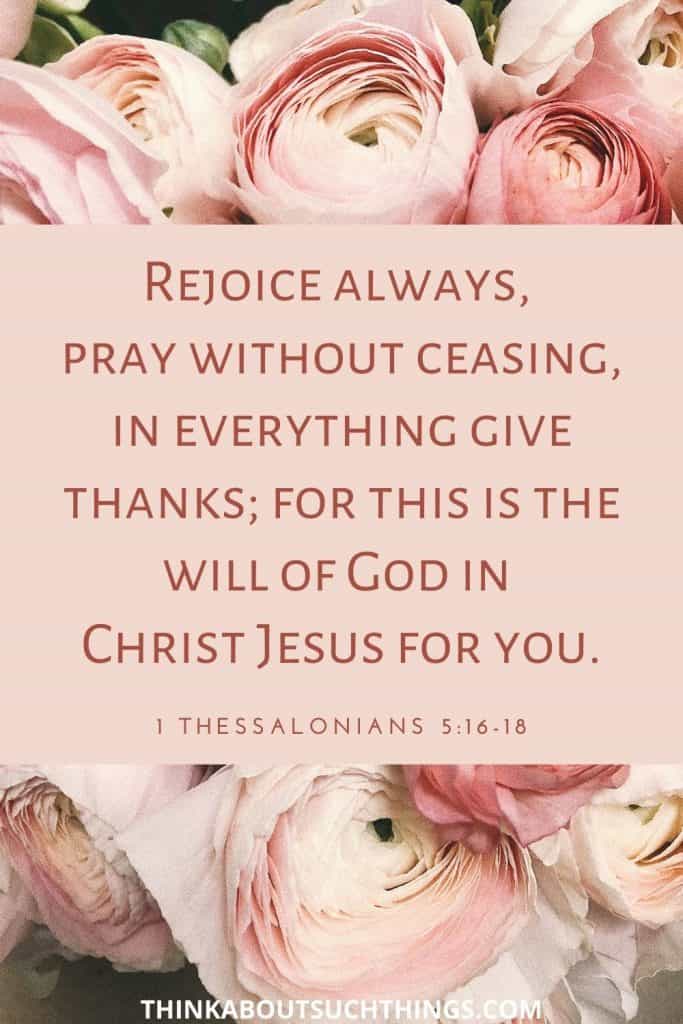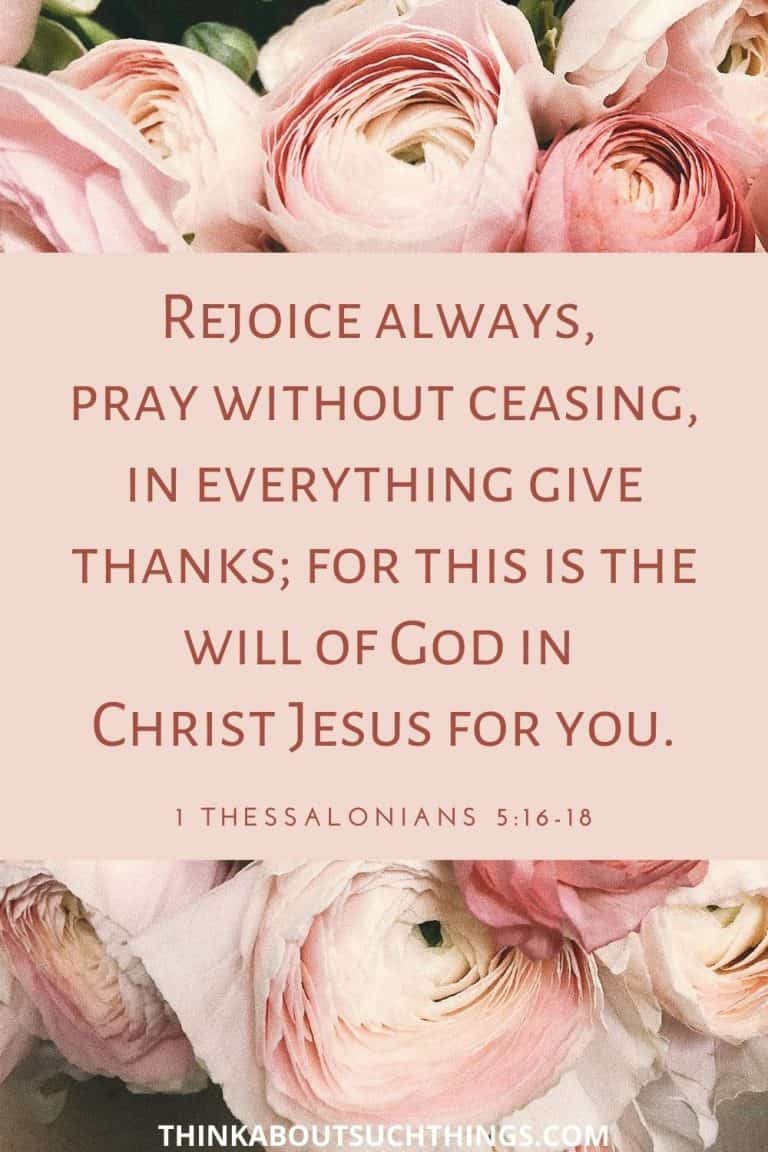 Philippians 4:6-7 NKJV – 6 Be anxious for nothing, but in everything by prayer and supplication, with thanksgiving, let your requests be made known to God; 7 and the peace of God, which surpasses all understanding, will guard your hearts and minds through Christ Jesus.
Colossians 2:7 NKJV – 7 rooted and built up in Him and established in the faith, as you have been taught, abounding in it with thanksgiving.
1 Timothy 4:4-5 NKJV – 4 For every creature of God [is] good, and nothing is to be refused if it is received with thanksgiving; 5 for it is sanctified by the word of God and prayer.
Colossians 3:15-17 NKJV – 15 And let the peace of God rule in your hearts, to which also you were called in one body; and be thankful. 16 Let the word of Christ dwell in you richly in all wisdom, teaching and admonishing one another in psalms and hymns and spiritual songs, singing with grace in your hearts to the Lord. 17 And whatever you do in word or deed, [do] all in the name of the Lord Jesus, giving thanks to God the Father through Him.
Psalm 107:1 NKJV – 1 Oh, give thanks to the LORD, for [He is] good! For His mercy [endures] forever.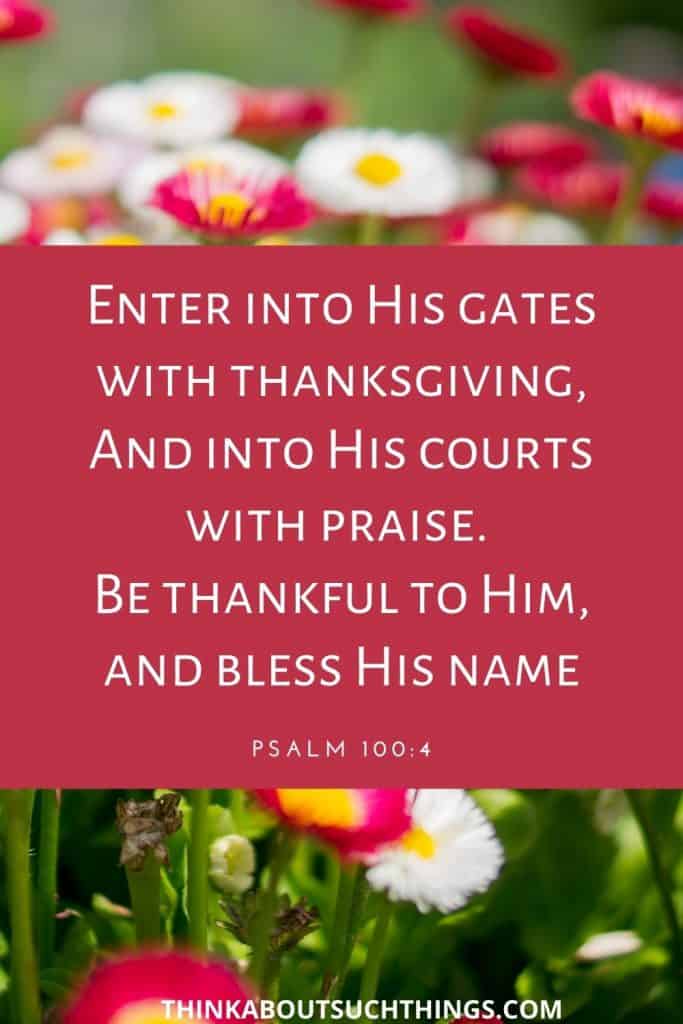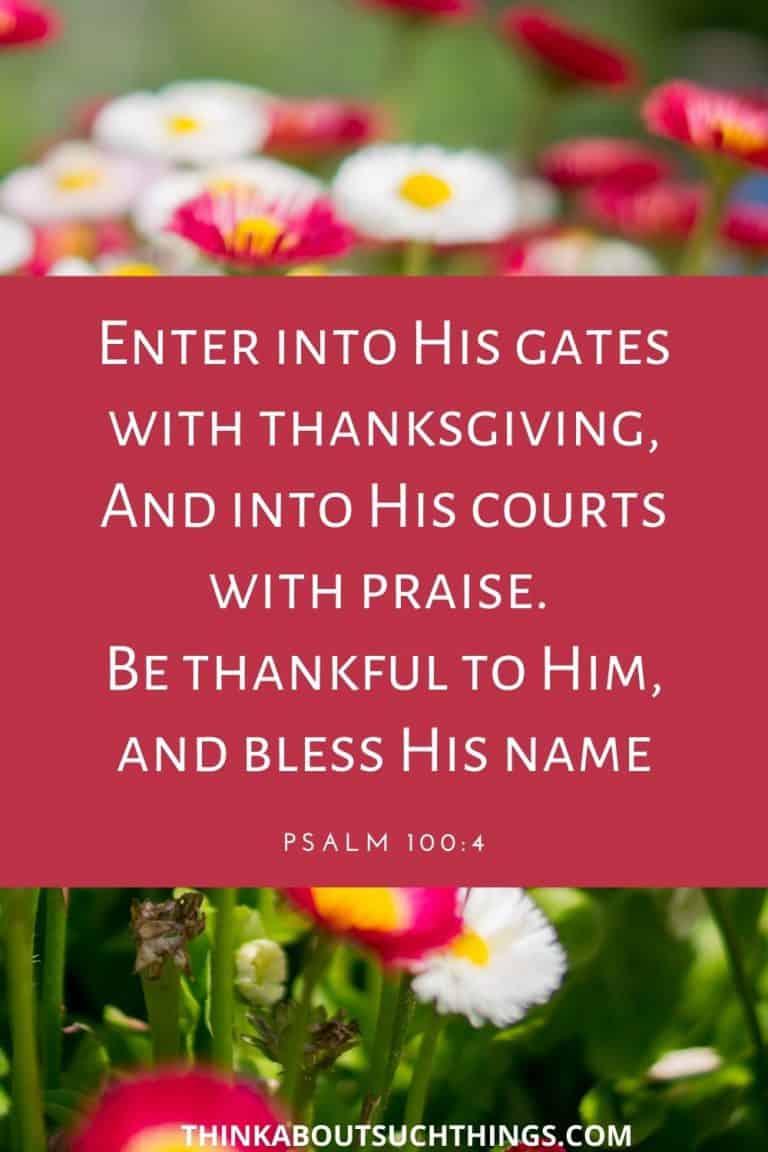 1 Corinthians 15:57 NKJV – 57 But thanks [be] to God, who gives us the victory through our Lord Jesus Christ.
Ezra 3:11 NKJV – 11 And they sang responsively, praising and giving thanks to the LORD: "For [He is] good, For His mercy [endures] forever toward Israel." Then all the people shouted with a great shout, when they praised the LORD, because the foundation of the house of the LORD was laid.
Hebrews 12:28-29 NKJV – 28 Therefore, since we are receiving a kingdom which cannot be shaken, let us have grace, by which we may serve God acceptably with reverence and godly fear. 29 For our God [is] a consuming fire.
1 Chronicles 16:34 NKJV – 34 Oh, give thanks to the LORD, for [He is] good! For His mercy [endures] forever.
Colossians 1:12 NKJV – 12 giving thanks to the Father who has qualified us to be partakers of the inheritance of the saints in the light.
Psalm 95:1-3 NKJV – 1 Oh come, let us sing to the LORD! Let us shout joyfully to the Rock of our salvation. 2 Let us come before His presence with thanksgiving; Let us shout joyfully to Him with psalms. 3 For the LORD [is] the great God, And the great King above all gods.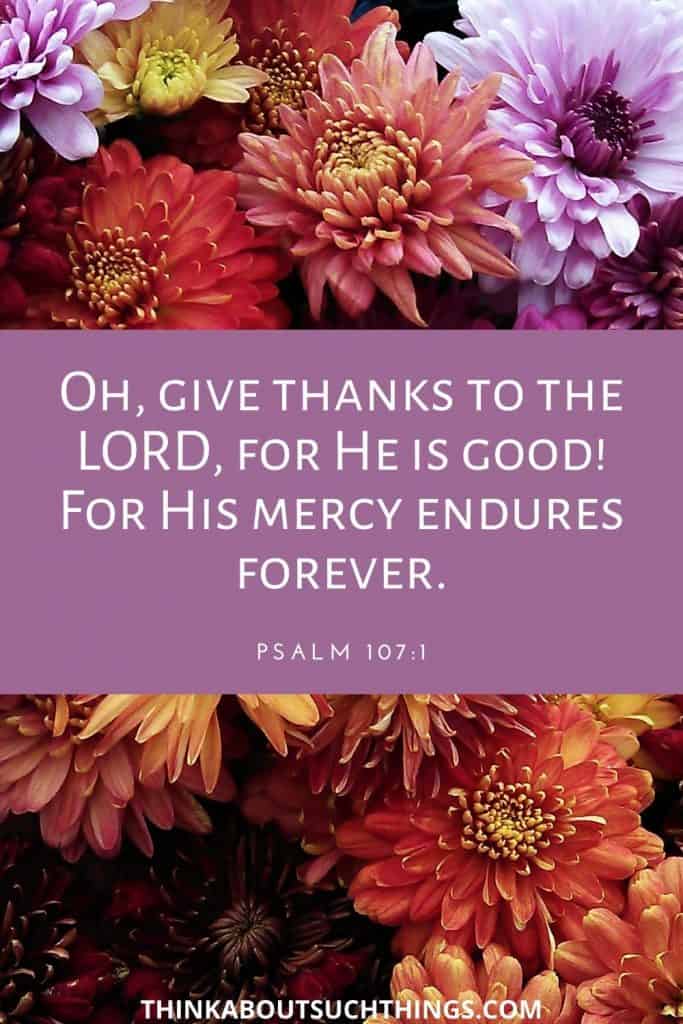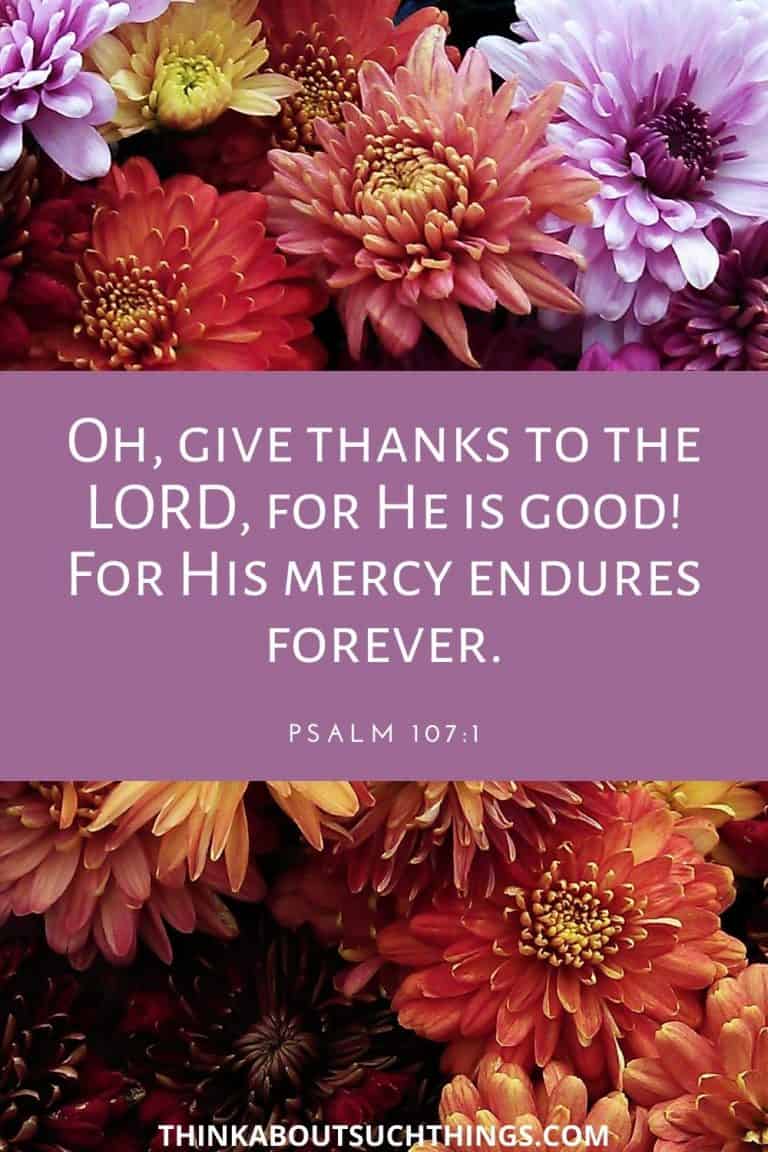 James 1:2-4 NKJV – 2 My brethren, count it all joy when you fall into various trials, 3 knowing that the testing of your faith produces patience. 4 But let patience have [its] perfect work, that you may be perfect and complete, lacking nothing.
Psalm 107:8-9 NKJV – 8 Oh, that [men] would give thanks to the LORD [for] His goodness, And [for] His wonderful works to the children of men! 9 For He satisfies the longing soul, And fills the hungry soul with goodness.
Quick Reference List of All 21 Verses on Freedom and Liberty
I always like to add just a list of all the Bible verses. It makes it easier if you want to jot them down or look them over. You can also hover your most over these references and read the Amplified version of them.
Bible Verses About Gratitude
1 Thessalonians 5:16-18
Psalm 100:4
2 Corinthians 2:14
Philippians 4:6-7
Colossians 2:7
1 Timothy 4:4-5
1 Thessalonians 5:18
Colossians 3:15-17
Psalm 107:1
1 Corinthians 15:57
Ezra 3:11
Hebrews 12:28-29
1 Chronicles 16:34
Colossians 1:12
Psalm 95:1-3
James 1:2-4
Psalm 107:8-9
---
Well, I hope these scriptures on thanksgiving and gratitude have inspired your walk with God. I also hope they have encouraged you to cultivate a deeper heart of thanksgiving towards Him!
Feel free to leave me a comment below. I would love to know what God is doing in your life!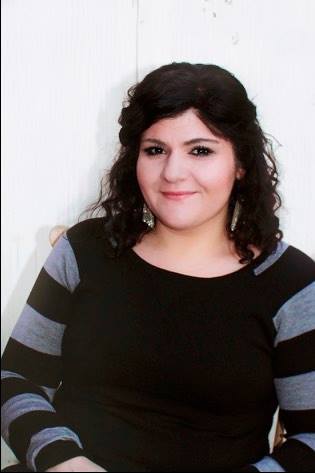 Melissa is a passionate minister, speaker and an ongoing learner of the Bible. She has been involved in church and vocational ministry for over 18 years. And is the founder of Think About Such Things. She has the heart to equip the saints by helping them get into the Word of God and fall more in love with Jesus. She also enjoys family, cooking, and reading.
She has spoken in churches in California, Oregon, Texas, and Mexico and has been featured in Guidepost Magazine and All Recipes Magazine. Read More…