In this article we will look at a collection of A.W Tozer quotes that will inspire, strengthen, and cause you to ponder the deeper things of faith. So, let's dive in…
I remember reading my first book from A.W. Tozer and I was blown away. A.W Tozer has an amazing way to speak forth truth in a powerful, raw, and deep way. I mean that's the best way I can describe it.
I have shared numerous Christian quotes on my site. (see below for a list).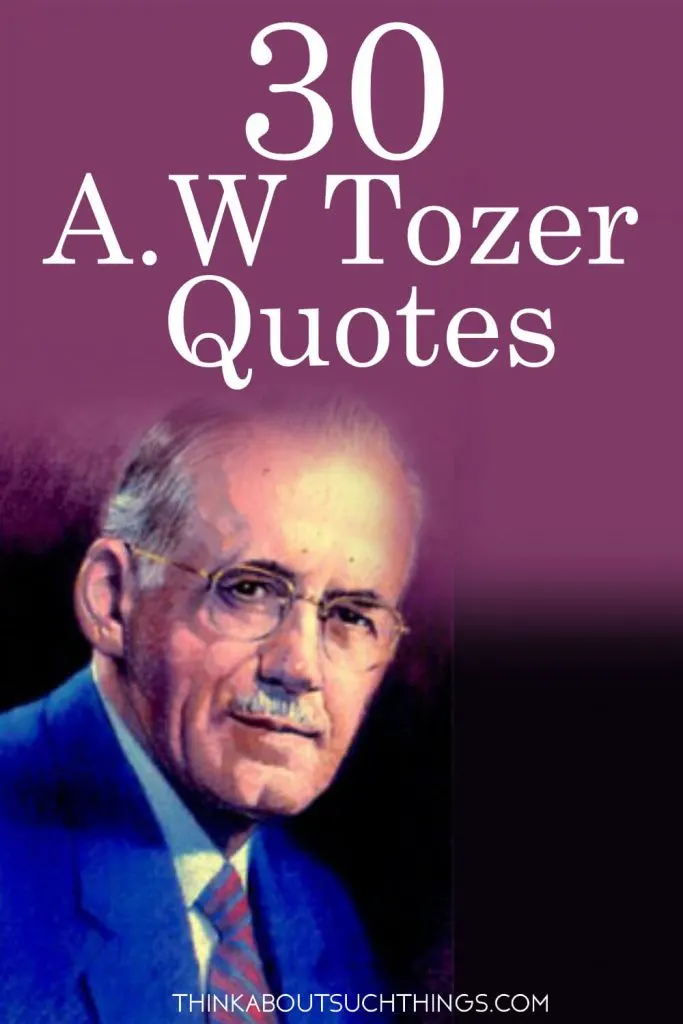 And the reason I decided to do a post on A.W Tozer is that every time I read his quotes…I literally say, "Oh, snap!" Then I usually have to process or pray about it.
His quotes are so GOOD! And I hope and pray they minister to you as they have ministered to me.
Here is a quick bio of A.W Tozer
"A. W. TOZER (1897-1963) began his lifelong pursuit of God after hearing a street preacher in Akron, Ohio, at the age of seventeen. The self-taught theologian committed his life to the ministry of God's Word as a pastor, teacher, and writer. For his flowing prose, Spirit-filled words, and deep conviction, many have called him a modern-day prophet. He is the author of the beloved classic The Pursuit of God and dozens of other works.
For more information and for more of Tozer's writing, visit awtozer.org"
Quotes by A.W Tozer
"What comes into our minds when we think about God is the most important thing about us."
― A.W. Tozer
"God never hurries. There are no deadlines against which he must work. Only to know this is to quiet our spirits and relax our nerves."
― A.W. Tozer, The Pursuit of God
"Jesus calls us to his rest, and meekness is His method. The meek man cares not at all who is greater than he, for he has long ago decided that the esteem of the world is not worth the effort."
― A. W. Tozer, Pursuit of God
"The Spirit-filled life is not a special, deluxe edition of Christianity. It is part and parcel of the total plan of God for His people." ― A. W. Tozer
"To have found God and still to pursue Him is the soul's paradox of love."
― A.W. Tozer, The Pursuit of God: The Human Thirst for the Divine
"Sometimes I go to God and say, "God, if Thou dost never answer another prayer while I live on this earth, I will still worship Thee as long as I live and in the ages to come for what Thou hast done already. God's already put me so far in debt that if I were to live one million millenniums I couldn't pay Him for what He's done for me."
― A.W. Tozer
"Jesus is not one of many ways to approach God, nor is He the best of several ways; He is the only way."― A.W. Tozer
"Unbelief is actually perverted faith, for it puts its faith not in the living God, but in dying men."
― A.W. Tozer, The Knowledge of the Holy
"Justice is not something God has. Justice is something that God is."
― A.W. Tozer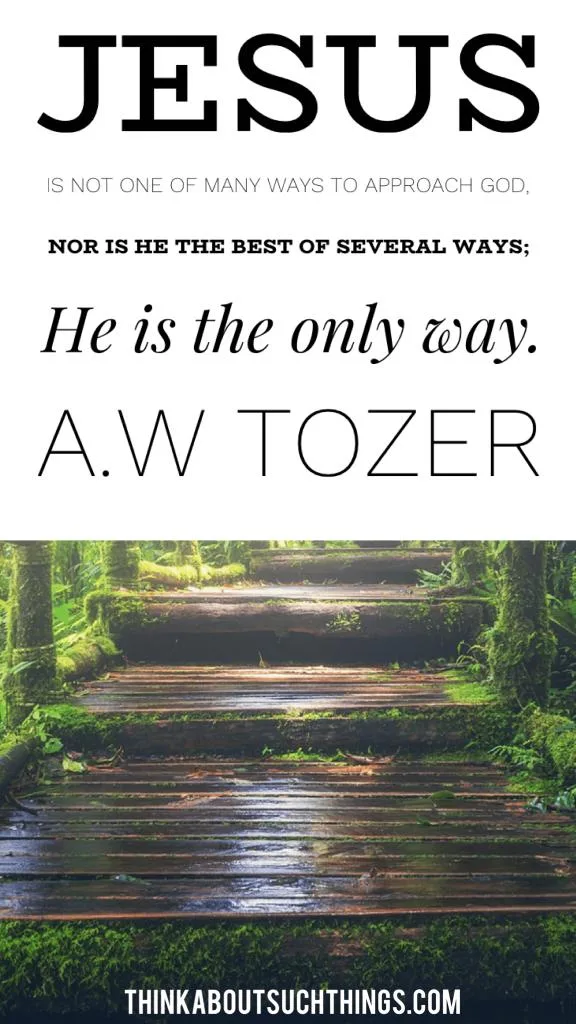 "We need never shout across the spaces to an absent God. He is nearer than our own soul, closer than our most secret thoughts"
― A.W. Tozer, The Pursuit of God
"We have become so engrossed in the work of the Lord that we have forgotten the Lord of the work."― A.W. Tozer
"An infinite God can give all of Himself to each of His children. He does not distribute Himself that each may have a part, but to each one He gives all of Himself as fully as if there were no others."
― A.W. Tozer
"He remembers our frame and knows that we are dust. He may sometimes chasten us, it is true, but even this He does with a smile, the proud, tender smile of a Father who is bursting with pleasure over an imperfect but promising son who is coming every day to look more and more like the One whose child he is."― A.W. Tozer
"We are not diplomats but prophets, and our message is not a compromise but an ultimatum."― A.W. Tozer
"Distractions must be conquered or they will conquer us. So let us cultivate simplicity." ― A.W. Tozer
"Rules for Self Discovery:
1. What we want most;
2. What we think about most;
3. How we use our money;
4. What we do with our leisure time;
5. The company we enjoy;
6. Who and what we admire;
7. What we laugh at."
― A. W. Tozer
"You can see God from anywhere if your mind is set to love and obey Him."
― A.W. Tozer, The Pursuit of God
"We have learned to live with unholiness and have come to look upon it as the natural and expected thing."― A.W. Tozer
"Did you ever stop to think that God is going to be as pleased to have you with Him in Heaven as you are to be there?"
― A.W. Tozer, The Attributes of God
"When you kill time, remember that it has no resurrection."
― A.W. Tozer
"Prayer among evangelical Christians is always in danger of degenerating into a glorified "gold rush." Almost every book on prayer deals with the "get" element mainly. How to get things we want from God occupies most of our space. Christians should never forget that the highest kind of prayer is never the making of requests. Prayer at its holiest moment is the entering into God to a place of such blessed union as makes miracles seem tame and remarkable answers to prayer appear something very far short of wonderful by comparison. " ― A.W. Tozer
"True faith rests upon the character of God and asks no further proof than the moral perfections of the One who cannot lie."
― A.W. Tozer
"A pharisee is hard on others and easy on himself, but a spiritual man is easy on others and hard on himself" .― A.W. Tozer
"Let every man abide in the calling wherein he is called and his work will be as sacred as the work of the ministry. It is not what a man does that determines whether his work is sacred or secular, it is why he does it."
― A.W. Tozer, The Pursuit of God
"We can be in our day what the heroes of faith were in their day – but remember at the time they didn't know they were heroes."
― A.W. Tozer
"The best book is not one that informs merely, but one that stirs the reader up to inform himself."
― A.W. Tozer, Man The Dwelling Place Of God
"Always, everywhere God is present, and always He seeks to discover Himself to each one"
― A.W. Tozer, The Pursuit of God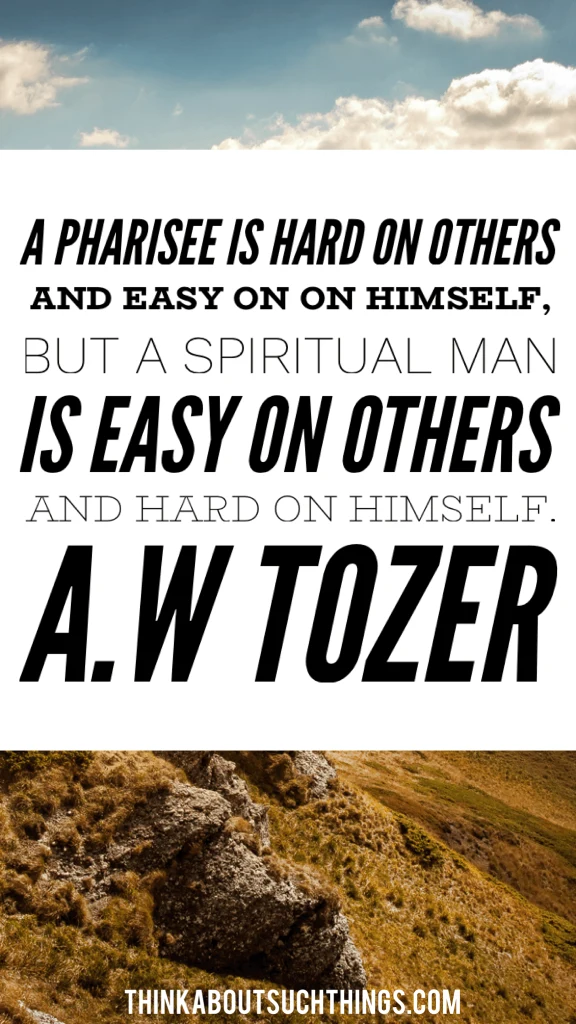 "An idol of the mind is as offensive to God as an idol of the hand." ― A.W. Tozer
"If the Holy Spirit was withdrawn from the church today, 95 percent of what we do would go on and no one would know the difference. If the Holy Spirit had been withdrawn from the New Testament church, 95 percent of what they did would stop, and everybody would know the difference" ― A.W. Tozer
"Our Lord told His disciples that love and obedience were organically united. The final test of love is obedience."― A.W. Tozer
---
Drop me a comment below sharing your favorite A.W Tozer quotes with me and don't forget to check out these awesome quotes below!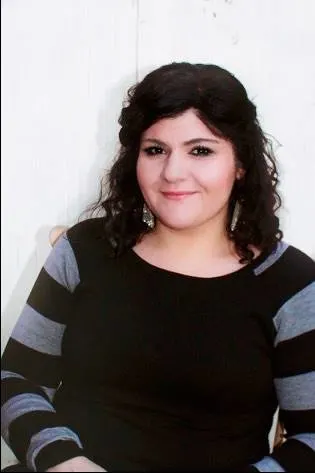 Melissa is a passionate minister, speaker and an ongoing learner of the Bible. She has been involved in church and vocational ministry for over 18 years. And is the founder of Think About Such Things. She has the heart to equip the saints by helping them get into the Word of God and fall more in love with Jesus. She also enjoys family, cooking, and reading.
She has spoken in churches in California, Oregon, Texas, and Mexico and has been featured in Guidepost Magazine and All Recipes Magazine. Read More…