A collection of Bible verses about new beginnings and starting new. God is doing a new thing!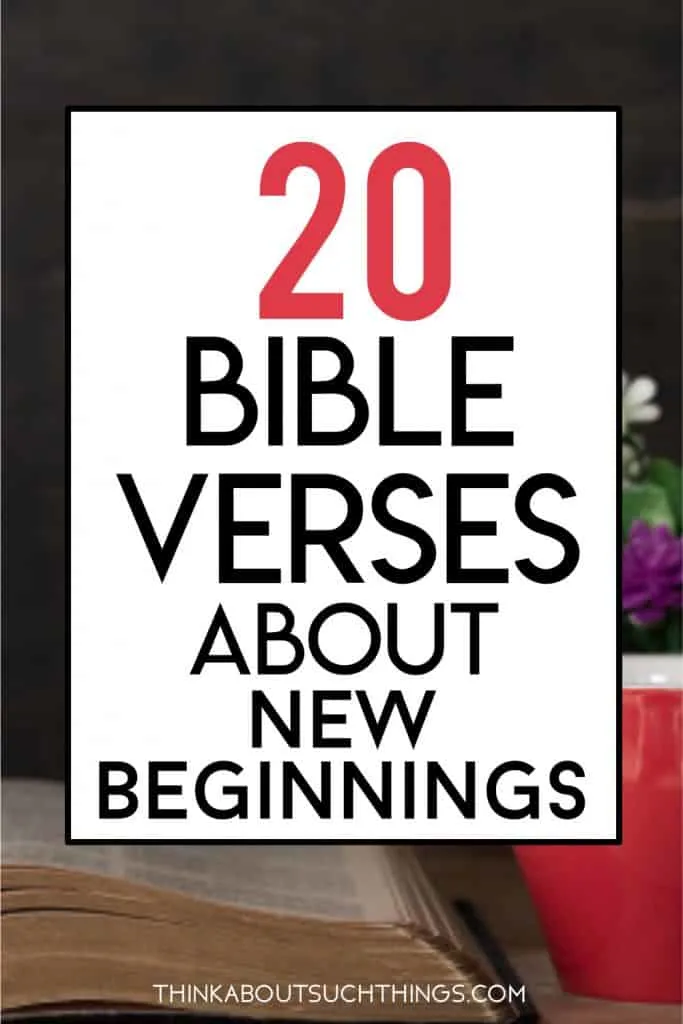 God is always doing something in our lives. He's wanting us to draw near to Him and be transformed. And there are seasons when God does a new thing. It's a shift, a breakthrough, a change, a restoration that occurs in our lives.
Whether you are in a season of new beginnings or in a place of transition praying and hoping for a new season these Bible verses will encourage and uplift you.
I know for me being in transition can be super hard…you know you are at the edge of change but still in a place of unknowing. It reminds me of the quote from Corrie Ten Boom…
When a train goes through a tunnel and it gets dark, you don't throw away the ticket and jump off. You sit still and trust the engineer.

~ Corrie Ten Boom
That new beginning is that light at the end of that tunnel! It's coming…God is faithful to bring something new and fresh into your life. I hope these Bible verses encourage and uplift you in that and that no matter what He is working on behalf. (Romans 8:28)
And if you are experiencing that new season…may God richly bless you in it by you drawing closer to Him, and experience His peace and joy in all things.
Bible Verses on Topic
All verses below are from the NKJV. You can hover over the reference and you can check out the Amplified translation of the Bible verse. If you would like to check out other translations then head over to Bible Gateway.
Keep in mind these are great verses to meditate and pray into.
---
Isaiah 43:18-19 NKJV – 18 "Do not remember the former things, Nor consider the things of old. 19 Behold, I will do a new thing, Now it shall spring forth; Shall you not know it? I will even make a road in the wilderness [And] rivers in the desert.
2 Corinthians 5:17 NKJV – 17 Therefore, if anyone [is] in Christ, [he is] a new creation; old things have passed away; behold, all things have become new.
Lamentations 3:22-24 NKJV – 22 [Through] the LORD's mercies we are not consumed, Because His compassions fail not. 23 [They are] new every morning; Great [is] Your faithfulness. 24 "The LORD [is] my portion," says my soul, "Therefore I hope in Him!"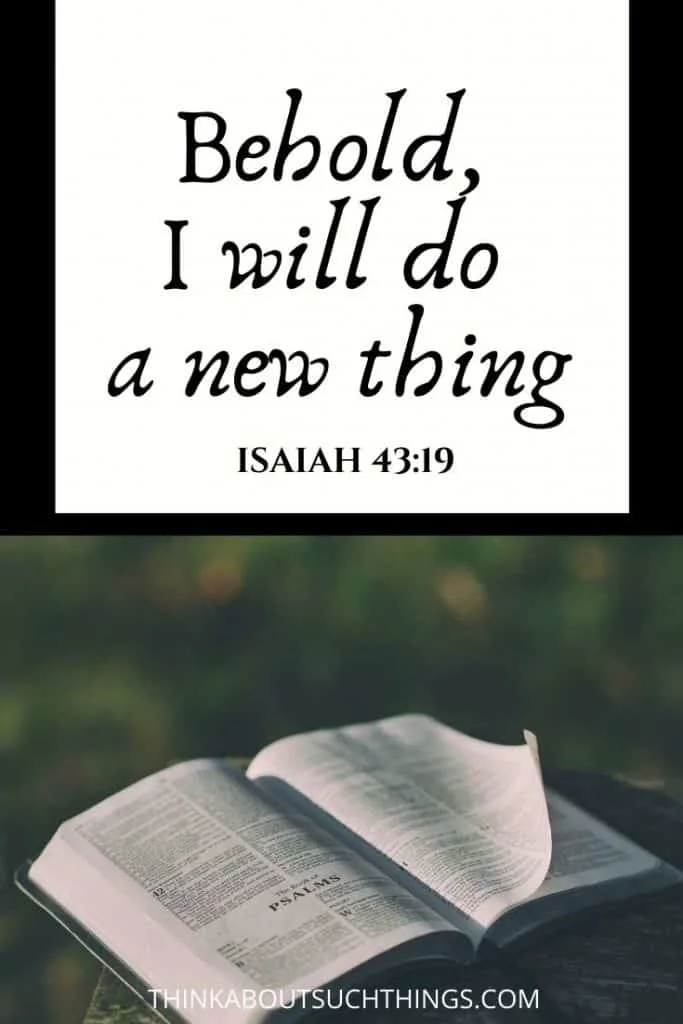 Ephesians 4:22-24 NKJV – 22 that you put off, concerning your former conduct, the old man which grows corrupt according to the deceitful lusts, 23 and be renewed in the spirit of your mind, 24 and that you put on the new man which was created according to God, in true righteousness and holiness.
Jeremiah 29:11 NKJV – 11 For I know the thoughts that I think toward you, says the LORD, thoughts of peace and not of evil, to give you a future and a hope.
Psalm 40:3 NKJV – 3 He has put a new song in my mouth–Praise to our God; Many will see [it] and fear, And will trust in the LORD.
Romans 12:2 NKJV – 2 And do not be conformed to this world, but be transformed by the renewing of your mind, that you may prove what [is] that good and acceptable and perfect will of God.
Zechariah 4:10 NKJV – 10 For who has despised the day of small things? For these seven rejoice to see The plumb line in the hand of Zerubbabel. They are the eyes of the LORD, Which scan to and fro throughout the whole earth."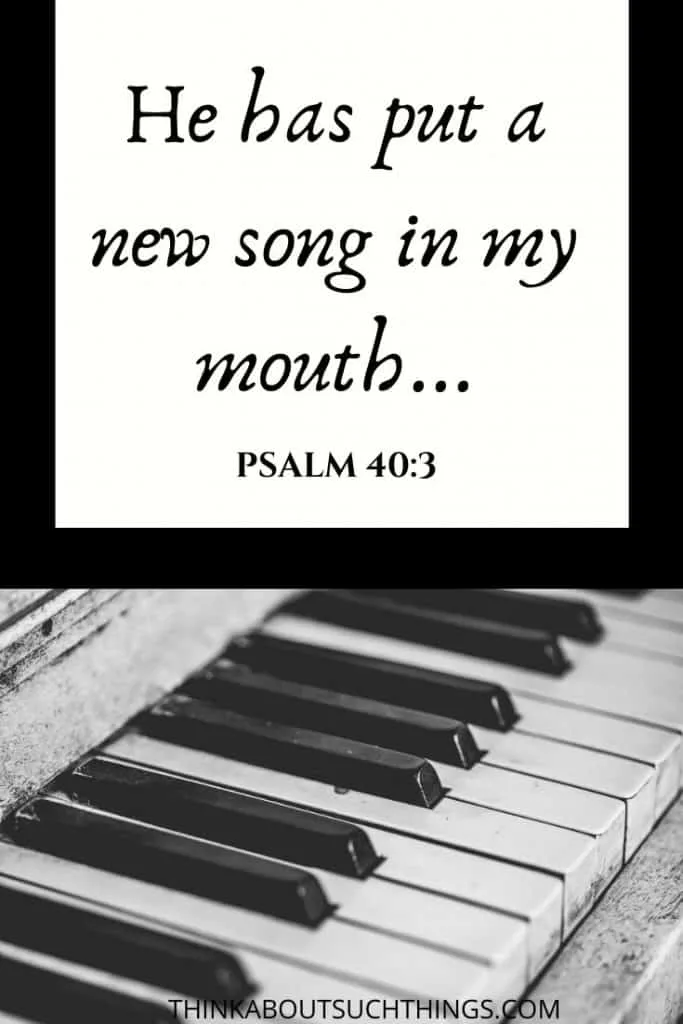 Proverbs 23:18 NKJV – 18 For surely there is a hereafter, And your hope will not be cut off.
Psalm 20:4 NKJV – 4 May He grant you according to your heart's [desire], And fulfill all your purpose.
Isaiah 40:31 NKJV – 31 But those who wait on the LORD Shall renew [their] strength; They shall mount up with wings like eagles, They shall run and not be weary, They shall walk and not faint.
2 Corinthians 4:16-17 NKJV – 16 Therefore we do not lose heart. Even though our outward man is perishing, yet the inward [man] is being renewed day by day. 17 For our light affliction, which is but for a moment, is working for us a far more exceeding [and] eternal weight of glory,
Ezekiel 11:19 NKJV – 19 "Then I will give them one heart, and I will put a new spirit within them, and take the stony heart out of their flesh, and give them a heart of flesh,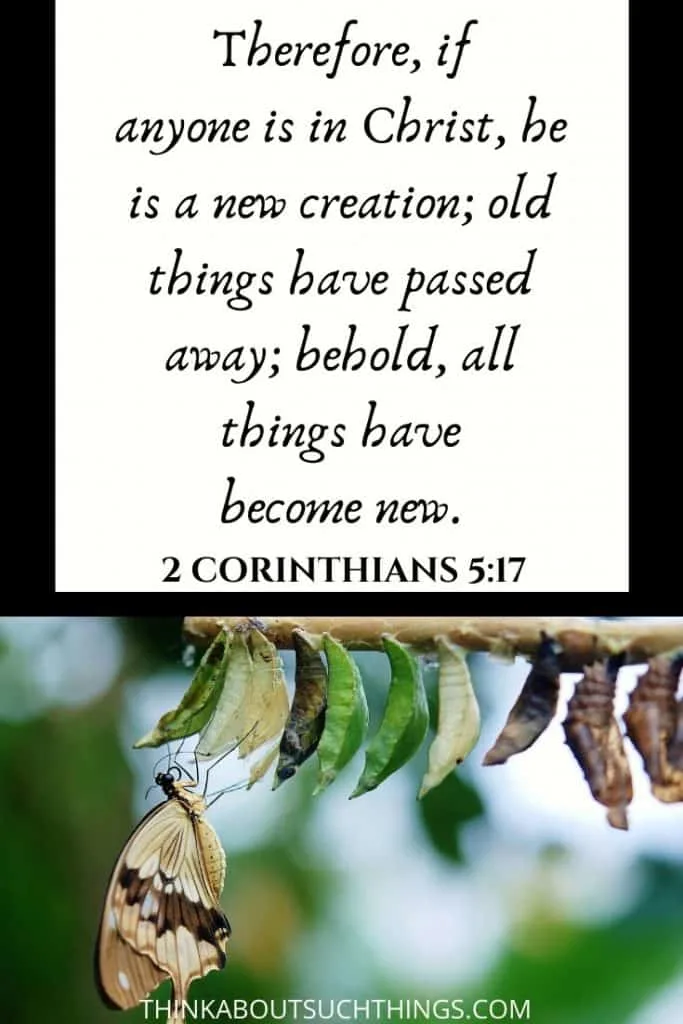 Psalm 98:1-3 NKJV – 1 A Psalm. Oh, sing to the LORD a new song! For He has done marvelous things; His right hand and His holy arm have gained Him the victory. 2 The LORD has made known His salvation; His righteousness He has revealed in the sight of the nations. 3 He has remembered His mercy and His faithfulness to the house of Israel; All the ends of the earth have seen the salvation of our God.
Colossians 3:9-11 NKJV – 9 Do not lie to one another, since you have put off the old man with his deeds, 10 and have put on the new [man] who is renewed in knowledge according to the image of Him who created him, 11 where there is neither Greek nor Jew, circumcised nor uncircumcised, barbarian, Scythian, slave [nor] free, but Christ [is] all and in all.
Philippians 4:6 NKJV – 6 Be anxious for nothing, but in everything by prayer and supplication, with thanksgiving, let your requests be made known to God;
1 Peter 5:7 NKJV – 7 casting all your care upon Him, for He cares for you.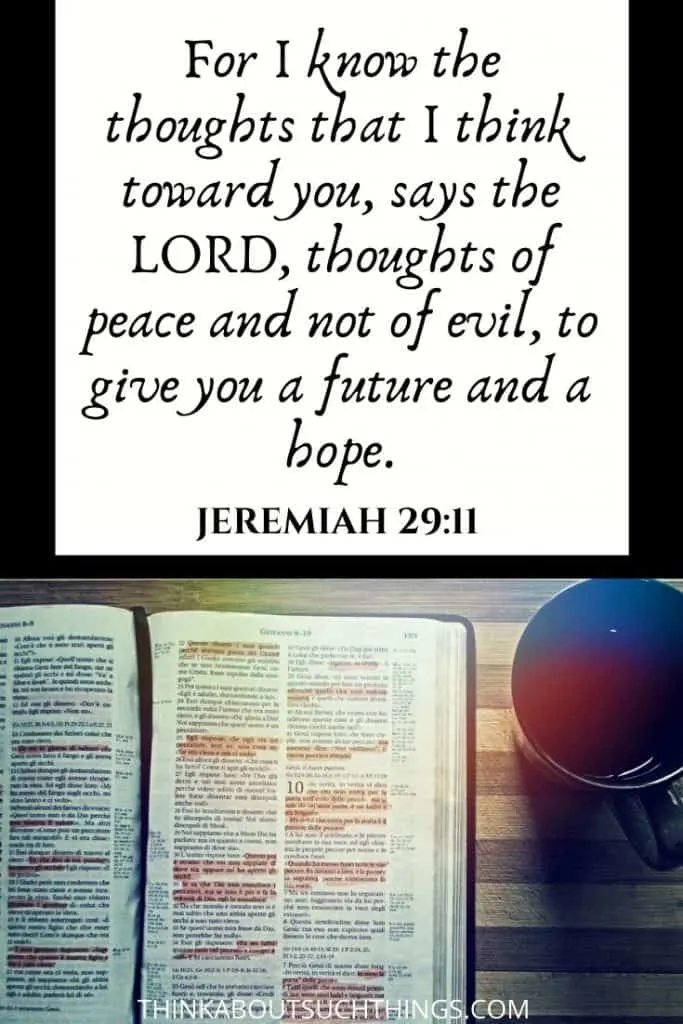 Ezekiel 36:26 NKJV – 26 "I will give you a new heart and put a new spirit within you; I will take the heart of stone out of your flesh and give you a heart of flesh.
Revelation 21:4-5 NKJV – 4 "And God will wipe away every tear from their eyes; there shall be no more death, nor sorrow, nor crying. There shall be no more pain, for the former things have passed away." 5 Then He who sat on the throne said, "Behold, I make all things new." And He said to me, "Write, for these words are true and faithful."
---
Quick Reference List of Scriptures on New Seasons
Like I do with all my topical Bible verses here is a simple reference list of Bible verses about New Beginnings. I hope this makes it easy for you to jot down these verses in your journal or Bible for future use or study.
List of Bible Verses on New Beginnings
Isaiah 43:18-19
2 Corinthians 5:17
Lamentations 3:22-24
Ephesians 4:22-24
Jeremiah 29:11
Psalm 40:3
Romans 12:2
Zechariah 4:10
Proverbs 23:18
Psalm 20:4
Isaiah 40:31
2 Corinthians 4:16-17
Psalm 40:3
Ezekiel 11:19
Philippians 4:6
Psalm 98:1-3
Colossians 3:9-11
1 Peter 5:7
Ezekiel 36:26
Revelation 21:4-5
---
I hope these scripture verses have ministered to you on a deep level. And that God's new adventure for your life would cause you to fall more in love with Him!
Feel free to drop me a comment below! I would love what God is doing in your life!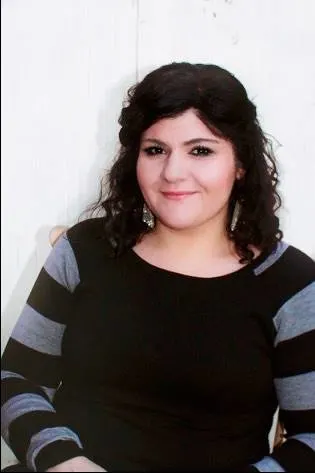 Melissa is a passionate minister, speaker and an ongoing learner of the Bible. She has been involved in church and vocational ministry for over 18 years. And is the founder of Think About Such Things. She has the heart to equip the saints by helping them get into the Word of God and fall more in love with Jesus. She also enjoys family, cooking, and reading.
She has spoken in churches in California, Oregon, Texas, and Mexico and has been featured in Guidepost Magazine and All Recipes Magazine. Read More…