A beautiful collection of Bible verses about Heaven. This is our promise that we will have eternal life and one day go to heaven to be with God.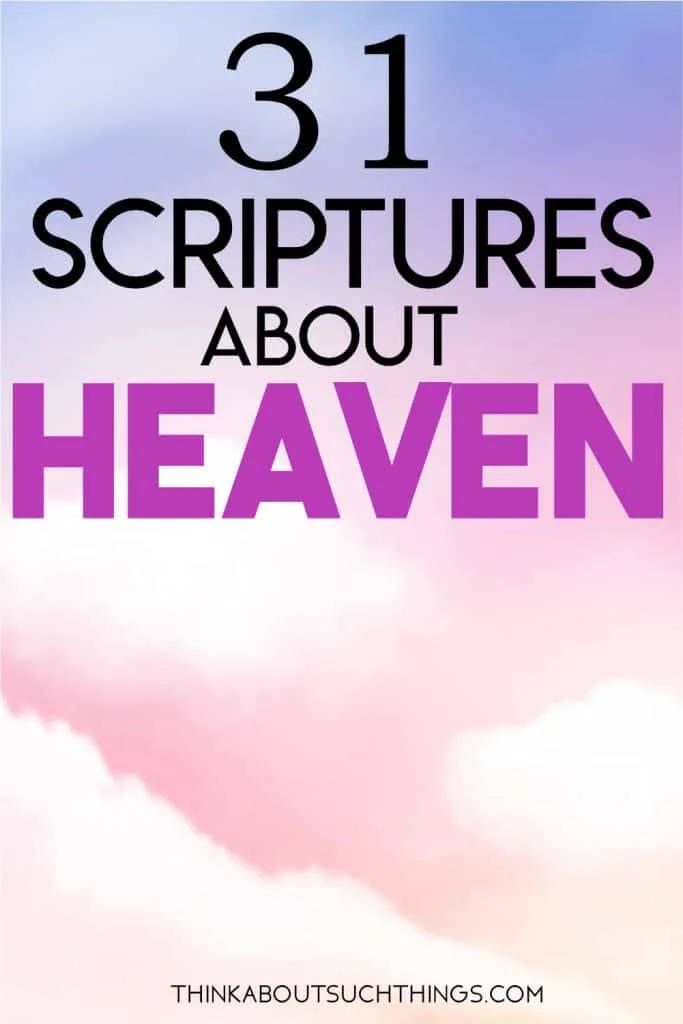 My father and a couple of my uncles have passed and I sometimes think about what beautiful things they are experiencing and how amazing it must be to be in the presence of Jesus 24-7. I know someday I will be going to heaven as well and get to taste and see first hand.
But for now, It's hard to wrap our minds around our future eternal home, but the Bible is filled with beautiful passages about heaven.
The most descriptive part of heaven will be found in the book of Revelation. I encourage you to read the whole book to really see what it's like. Other Bible verses will share about going to heaven, and eternal life.
Bible Verses on Topic
All verses below are from the NKJV. You can hover over the reference and you can check out the Amplified translation of the Bible verse. If you would like to check out other translations then head over to Bible Gateway.
2 Corinthians 5:8 NKJV – 8 We are confident, yes, well pleased rather to be absent from the body and to be present with the Lord.
Philippians 3:20-21 NKJV – 20 For our citizenship is in heaven, from which we also eagerly wait for the Savior, the Lord Jesus Christ, 21 who will transform our lowly body that it may be conformed to His glorious body, according to the working by which He is able even to subdue all things to Himself.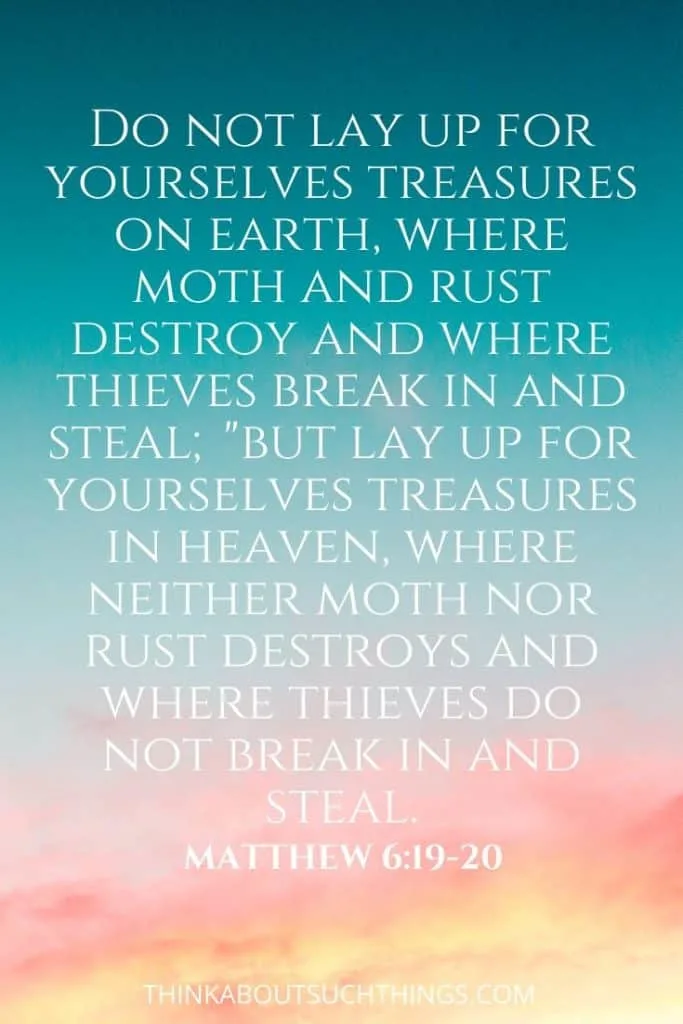 Acts 1:10-11 NKJV – 10 And while they looked steadfastly toward heaven as He went up, behold, two men stood by them in white apparel, 11 who also said, "Men of Galilee, why do you stand gazing up into heaven? This [same] Jesus, who was taken up from you into heaven, will so come in like manner as you saw Him go into heaven."
Luke 10:20 NKJV – 20 "Nevertheless do not rejoice in this, that the spirits are subject to you, but rather rejoice because your names are written in heaven."
Colossians 1:13 NKJV – 13 He has delivered us from the power of darkness and conveyed [us] into the kingdom of the Son of His love,
Hebrews 13:14 NKJV – 14 For here we have no continuing city, but we seek the one to come.
Revelation 21:15-17 NKJV – 15 And he who talked with me had a gold reed to measure the city, its gates, and its wall. 16 The city is laid out as a square; its length is as great as its breadth. And he measured the city with the reed: twelve thousand furlongs. Its length, breadth, and height are equal. 17 Then he measured its wall: one hundred [and] forty-four cubits, [according] to the measure of a man, that is, of an angel.
John 14:1-7 NKJV – 1 "Let not your heart be troubled; you believe in God, believe also in Me. 2 "In My Father's house are many mansions; if [it were] not [so], I would have told you. I go to prepare a place for you. 3 "And if I go and prepare a place for you, I will come again and receive you to Myself; that where I am, [there] you may be also. 4 "And where I go you know, and the way you know." 5 Thomas said to Him, "Lord, we do not know where You are going, and how can we know the way?" 6 Jesus said to him, "I am the way, the truth, and the life. No one comes to the Father except through Me. 7 "If you had known Me, you would have known My Father also; and from now on you know Him and have seen Him."
Revelation 4:2 NKJV – 2 Immediately I was in the Spirit; and behold, a throne set in heaven, and [One] sat on the throne.
Matthew 5:18 NKJV – 18 "For assuredly, I say to you, till heaven and earth pass away, one jot or one tittle will by no means pass from the law till all is fulfilled.
Luke 15:7 NKJV – 7 "I say to you that likewise there will be more joy in heaven over one sinner who repents than over ninety-nine just persons who need no repentance.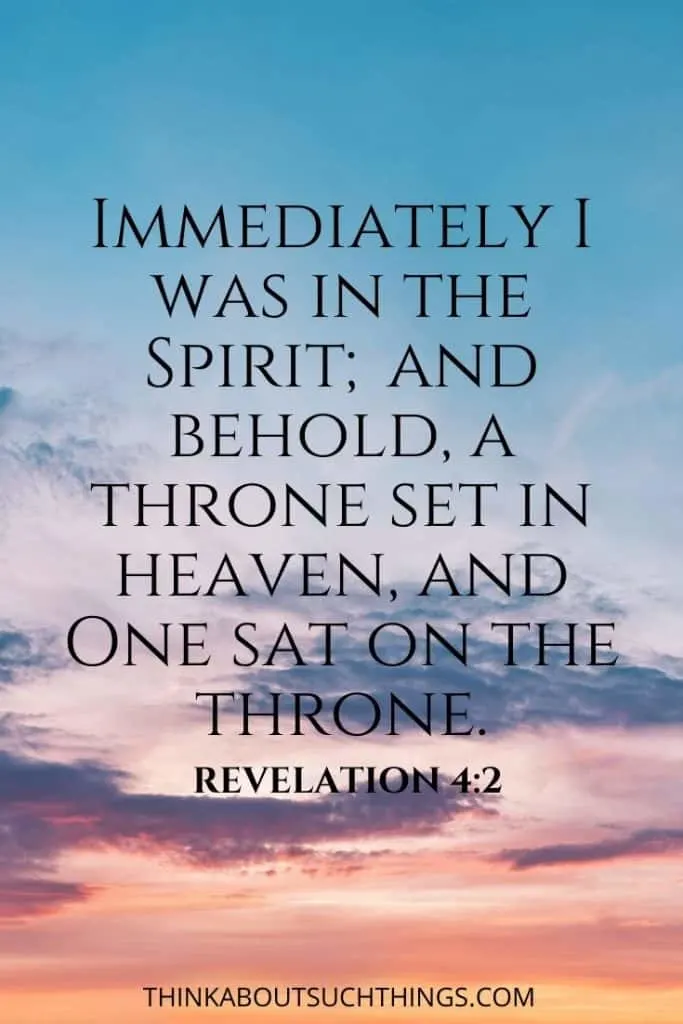 Revelation 7:13-17 NKJV – 13 Then one of the elders answered, saying to me, "Who are these arrayed in white robes, and where did they come from?" 14 And I said to him, "Sir, you know." So he said to me, "These are the ones who come out of the great tribulation, and washed their robes and made them white in the blood of the Lamb. 15 "Therefore they are before the throne of God, and serve Him day and night in His temple. And He who sits on the throne will dwell among them. 16 "They shall neither hunger anymore nor thirst anymore; the sun shall not strike them, nor any heat; 17 "for the Lamb who is in the midst of the throne will shepherd them and lead them to living fountains of waters. And God will wipe away every tear from their eyes."
Matthew 5:19 NKJV – 19 "Whoever therefore breaks one of the least of these commandments, and teaches men so, shall be called least in the kingdom of heaven; but whoever does and teaches [them], he shall be called great in the kingdom of heaven.
Matthew 7:21-23 NKJV – 21 "Not everyone who says to Me, 'Lord, Lord,' shall enter the kingdom of heaven, but he who does the will of My Father in heaven. 22 "Many will say to Me in that day, 'Lord, Lord, have we not prophesied in Your name, cast out demons in Your name, and done many wonders in Your name?' 23 "And then I will declare to them, 'I never knew you; depart from Me, you who practice lawlessness!'
Matthew 19:14 NKJV – 14 But Jesus said, "Let the little children come to Me, and do not forbid them; for of such is the kingdom of heaven."
Deuteronomy 10:14 NKJV – 14 "Indeed heaven and the highest heavens belong to the LORD your God, [also] the earth with all that [is] in it.
Psalm 14:2 NKJV – 2 The LORD looks down from heaven upon the children of men, To see if there are any who understand, who seek God.
Psalm 33:6 NKJV – 6 By the word of the LORD the heavens were made, And all the host of them by the breath of His mouth.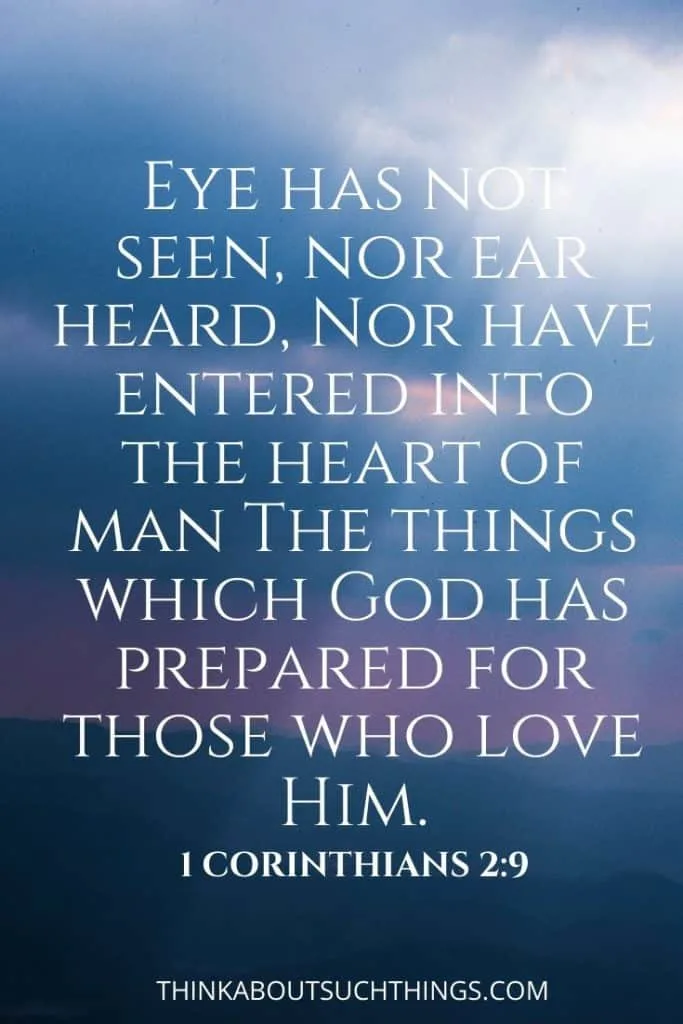 2 Corinthians 5:1-5 NKJV – 1 For we know that if our earthly house, [this] tent, is destroyed, we have a building from God, a house not made with hands, eternal in the heavens. 2 For in this we groan, earnestly desiring to be clothed with our habitation which is from heaven, 3 if indeed, having been clothed, we shall not be found naked. 4 For we who are in [this] tent groan, being burdened, not because we want to be unclothed, but further clothed, that mortality may be swallowed up by life. 5 Now He who has prepared us for this very thing [is] God, who also has given us the Spirit as a guarantee.
Matthew 5:12 NKJV – 12 "Rejoice and be exceedingly glad, for great [is] your reward in heaven, for so they persecuted the prophets who were before you.
Revelation 21:9-12 NKJV – 9 Then one of the seven angels who had the seven bowls filled with the seven last plagues came to me and talked with me, saying, "Come, I will show you the bride, the Lamb's wife." 10 And he carried me away in the Spirit to a great and high mountain, and showed me the great city, the holy Jerusalem, descending out of heaven from God, 11 having the glory of God. Her light [was] like a most precious stone, like a jasper stone, clear as crystal. 12 Also she had a great and high wall with twelve gates, and twelve angels at the gates, and names written on them, which are [the names] of the twelve tribes of the children of Israel:
1 Corinthians 2:9 NKJV – 9 But as it is written: "Eye has not seen, nor ear heard, Nor have entered into the heart of man The things which God has prepared for those who love Him."
2 Peter 3:13 NKJV – 13 Nevertheless we, according to His promise, look for new heavens and a new earth in which righteousness dwells.
Matthew 16:19 NKJV – 19 "And I will give you the keys of the kingdom of heaven, and whatever you bind on earth will be bound in heaven, and whatever you loose on earth will be loosed in heaven."
1 Corinthians 15:50 NKJV – 50 Now this I say, brethren, that flesh and blood cannot inherit the kingdom of God; nor does corruption inherit incorruption.
Psalm 19:1-2 NKJV – 1 To the Chief Musician. A Psalm of David. The heavens declare the glory of God; And the firmament shows His handiwork. 2 Day unto day utters speech, And night unto night reveals knowledge.
Revelation 21:1-5 NKJV – 1 Now I saw a new heaven and a new earth, for the first heaven and the first earth had passed away. Also there was no more sea. 2 Then I, John, saw the holy city, New Jerusalem, coming down out of heaven from God, prepared as a bride adorned for her husband. 3 And I heard a loud voice from heaven saying, "Behold, the tabernacle of God [is] with men, and He will dwell with them, and they shall be His people. God Himself will be with them [and be] their God. 4 "And God will wipe away every tear from their eyes; there shall be no more death, nor sorrow, nor crying. There shall be no more pain, for the former things have passed away." 5 Then He who sat on the throne said, "Behold, I make all things new." And He said to me, "Write, for these words are true and faithful."
Hebrews 11:16 NKJV – 16 But now they desire a better, that is, a heavenly [country]. Therefore God is not ashamed to be called their God, for He has prepared a city for them.
Matthew 19:21 NKJV – 21 Jesus said to him, "If you want to be perfect, go, sell what you have and give to the poor, and you will have treasure in heaven; and come, follow Me."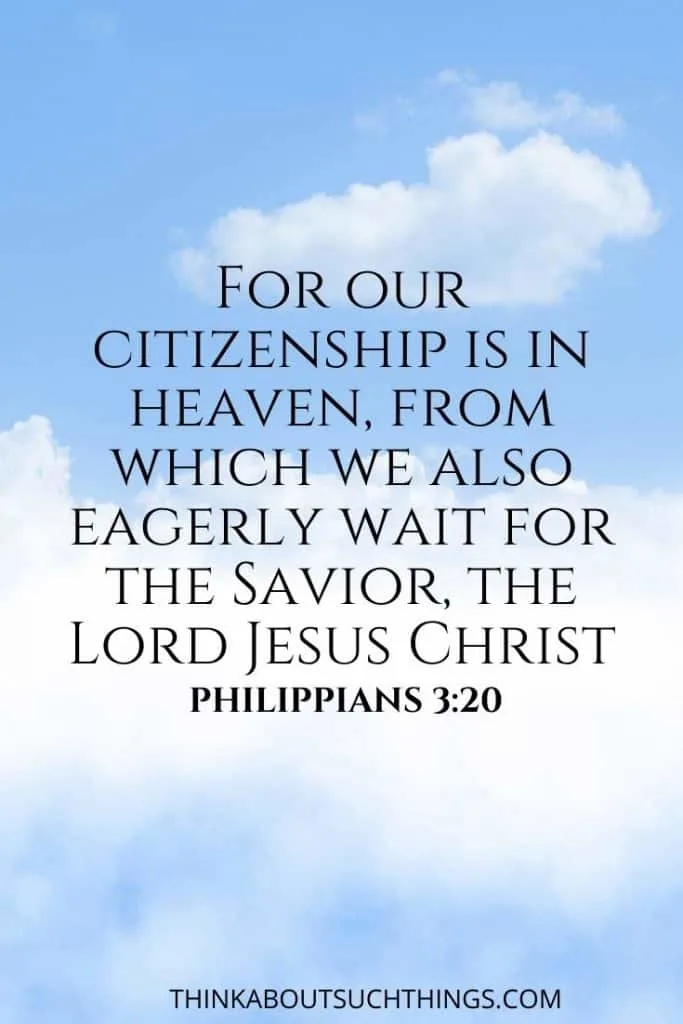 Revelation 22:1-9 NKJV – 1 And he showed me a pure river of water of life, clear as crystal, proceeding from the throne of God and of the Lamb. 2 In the middle of its street, and on either side of the river, [was] the tree of life, which bore twelve fruits, each [tree] yielding its fruit every month. The leaves of the tree [were] for the healing of the nations. 3 And there shall be no more curse, but the throne of God and of the Lamb shall be in it, and His servants shall serve Him. 4 They shall see His face, and His name [shall be] on their foreheads. 5 There shall be no night there: They need no lamp nor light of the sun, for the Lord God gives them light. And they shall reign forever and ever. 6 Then he said to me, "These words [are] faithful and true." And the Lord God of the holy prophets sent His angel to show His servants the things which must shortly take place. 7 "Behold, I am coming quickly! Blessed [is] he who keeps the words of the prophecy of this book." 8 Now I, John, saw and heard these things. And when I heard and saw, I fell down to worship before the feet of the angel who showed me these things. 9 Then he said to me, "See [that you do] not [do that]. For I am your fellow servant, and of your brethren the prophets, and of those who keep the words of this book. Worship God."
Matthew 6:19-20 NKJV – 19 "Do not lay up for yourselves treasures on earth, where moth and rust destroy and where thieves break in and steal; 20 "but lay up for yourselves treasures in heaven, where neither moth nor rust destroys and where thieves do not break in and steal.
---
Quick Reference List of Scriptures on Heaven
Like I do with all my topical Bible verses here is a simple reference list of Bible verses about heaven. I hope this makes it easy for you to jot down these verses in your journal or Bible for future use or study.
List of Heaven Bible Verses
2 Corinthians 5:8
Philippians 3:20-21
Acts 1:10-11
Colossians 1:13
Luke 10:20
Hebrews 13:14
Revelation 21:15-17
Matthew 5:18
John 14:1-7
Revelation 4:2
Luke 15:7
Revelation 7:13-17
Matthew 5:19
Matthew 7:21-23
Matthew 19:14
Deuteronomy 10:14
Psalm 14:2
Psalm 33:6
2 Corinthians 5:1-5
Revelation 21:9-12
Matthew 5:12
1 Corinthians 2:9
2 Peter 3:13
Matthew 16:19
1 Corinthians 15:50
Psalm 19:1-2
Revelation 21:1-5
Hebrews 11:16
Matthew 19:21
Revelation 22:1-9
Matthew 6:19-20
---
I hope these verses have blesses you in learning about heaven. For more Christian articles please visit my Faith Page.
Feel free to drop me a comment below! I would love what God is doing in your life!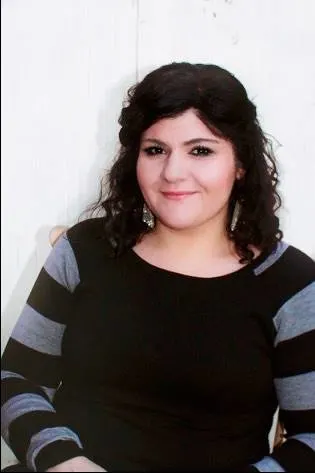 Melissa is a passionate minister, speaker and an ongoing learner of the Bible. She has been involved in church and vocational ministry for over 18 years. And is the founder of Think About Such Things. She has the heart to equip the saints by helping them get into the Word of God and fall more in love with Jesus. She also enjoys family, cooking, and reading.
She has spoken in churches in California, Oregon, Texas, and Mexico and has been featured in Guidepost Magazine and All Recipes Magazine. Read More…