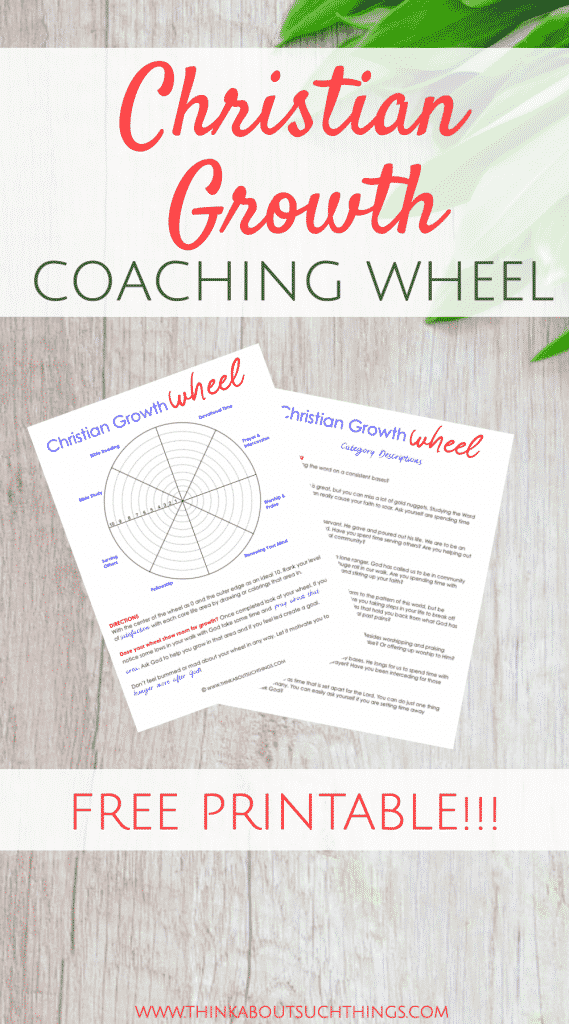 Before I created the Christian Growth Wheel I was heading up a ministry school in Southern California. At the start of the school, we wanted a way to see where the students were growing in spiritually and areas they were struggling with. That way, we could help stretch them in those areas.
For the life of me, I couldn't think of a way to do it that would be easy, clear, and fruitful. Then it dawned on me! Well, it was probably the Holy Spirit helping me out with this idea. I have done coaching and goal setting for years. A very common tool that we use is a coaching/goal setting wheel. I recently wrote about it here: This Year Crush Your Goals: Tips & Tricks
I thought if I could take the basic concept of the coaching wheel and tweak it for our needs, that it could work. I made the focuses on Christian disciplines and not on general life areas like career and home. And that is how I developed Christian Growth Wheel.
This was a great tool for the students. It gave them a visual view of the areas of their faith. It showed areas they were thriving in and areas that they needed to water.
I didn't want this to remain with the students, but I wanted to help other Christians as well. So, today I am offering my Christian Growth Wheel free to download and print!
One thing I want to make very clear before you fill out this wheel. This is not about striving or thinking you need to be a "better" Christian. Listen, you don't need to strive or do anything to be a better Christian, or earn God's love and acceptance. Nor do you need to impress people in any way, shape, or form. God loves you just the way you are.
"but God shows his love for us in that while we were still sinners, Christ died for us." – Romans 5:8 ESV
When Jesus died for you, it was during all your ugly. He didn't die for only those who looked good or did well. We would all be in big trouble if He did.
Striving will never let you hit the mark. We hit the mark only through the blood of Christ that cleanses us from all unrighteousness.
The reason you would want to do this wheel is out of a place of love and hunger for the Lord. You desire to know the Lord more and want to grow in your relationship with Him. It's in that heart position that you will see growth and transformation.
To download the Christian Growth Wheel, you can fill out the form below. Now, let's take a look at how we can fill out this form.
How to fill out the Christian Growth Wheel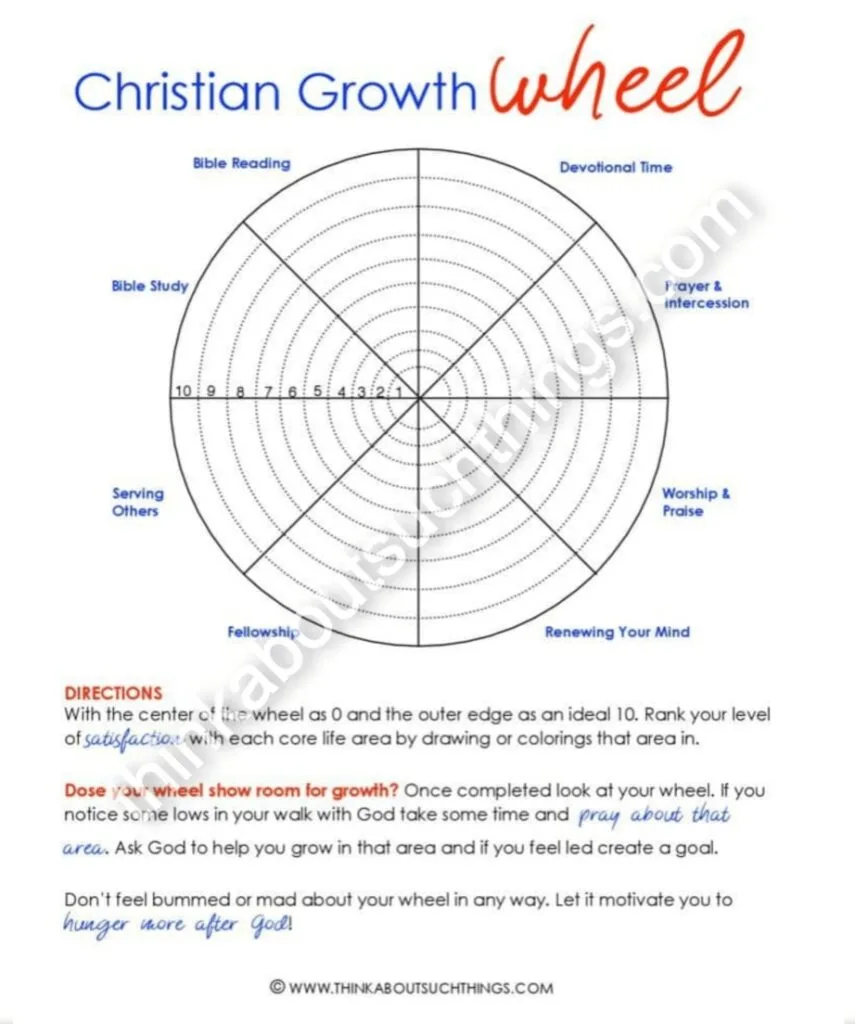 It's super easy to fill out. Here are some keys to help you with the process.
Prayer – Whenever doing stuff like this I think it's a good idea to pray and ask God to reveal things and help you.
Grab a marker or colored pen/pencil – I like having a color that is bright so you can see your wheel easily. You don't need this to complete the wheel. You can use any pen or pencil.
Fill Out the Wheel –With the center of the wheel as 0 and the outer edge as an ideal 10. Rank your level of satisfaction with each Christian discipline by drawing or colorings that area in.
Look at it this way:
10- ROCKING IT FOR JESUS!
1- Sweet Lord…I need some help!
Low On The Christian Growth Wheel – 
(Things to ask yourself about this area of your life)
Why am I feeling low in this discipline?
What can I do to grow in this?
Can having an accountability partner or fellow believer help me with this?
How do you think growing in this area will affect your life and relationship with God?
High/Medium on the Christian Growth Wheel – (Things to ask yourself about this area of your life)
Is there anything I can do or add to increase this area of my faith? Is there a risk I should be taking?
What is it about this discipline that I enjoy?
How has this area of your faith impacted your life and relationship with God?
Can I help out/ encourage other believers with this discipline?
Once you fill out your wheel. There are one or two things you can do.
1) Pray
You can review what you are low in and begin to pray into that area. Ask God to help you grow. If doors need to be opened then ask for it. If you don't have the desire to grow, ask Him for a hunger for it.
I really encourage you to be raw and real with the Lord. No need for an eloquent prayer. If you think reading the Bible is boring then tell God. "Lord, it's hard for me to read the Bible. It's boring to me and I don't want to read it. I know It's your Word and that it's good for me. So, I ask you to help me with this. Help me to enjoy and hunger for your Word…"
2) Set Goals – Be Proactive
If you feel led to take it a step further, I highly recommend setting up some goals. They don't have to look profound, but little steps to grow that area will change you. A few examples of setting some goals would be:
I'm going to read a chapter a day in my Bible.
I'm going to join a Bible Study group at church.
I'm going to help volunteer with the youth group.
Going to spend 5-10min in my devotion time to worship and praise God.
A real life example for me recently was I was struggling in my day to day life to have a set time with the Lord. I was at church on a Sunday morning worshiping and I felt the Lord strongly tug at my heart about my devotional time.
I felt like the Lord wanted me to set my day with Him. So I set my alarm up at 6 am. I wake up and I spend 30-45min in prayer, worship, and reading of the Word. It has really helped me in this season.
I encourage you if you are hungering for more of God and want to grow. Download this free printable! It will bless you and strengthen your faith. It comes with the wheel and a description of the Christian Disciplines. You will also gain access to my other printable.
Here is the form for you to get the PDF
Drop me a comment below and share with me your thoughts on this. I would love to hear from you. Blessings!
*If you enjoyed this printable, check out my Goal Setting Wheel and Sermon Note Taking Printable.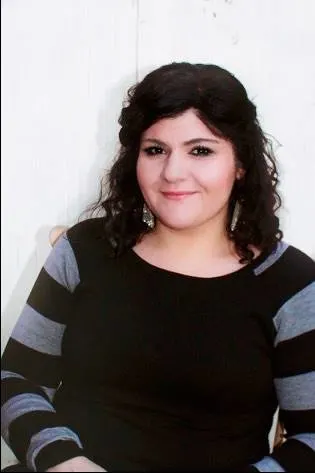 Melissa is a passionate minister, speaker and an ongoing learner of the Bible. She has been involved in church and vocational ministry for over 18 years. And is the founder of Think About Such Things. She has the heart to equip the saints by helping them get into the Word of God and fall more in love with Jesus. She also enjoys family, cooking, and reading.
She has spoken in churches in California, Oregon, Texas, and Mexico and has been featured in Guidepost Magazine and All Recipes Magazine. Read More…