Enjoy this free Sermon Notes Template that you can download and print right at home. You will be taking church notes like a pro! This is 100% free and will help you remember what your pastor preached.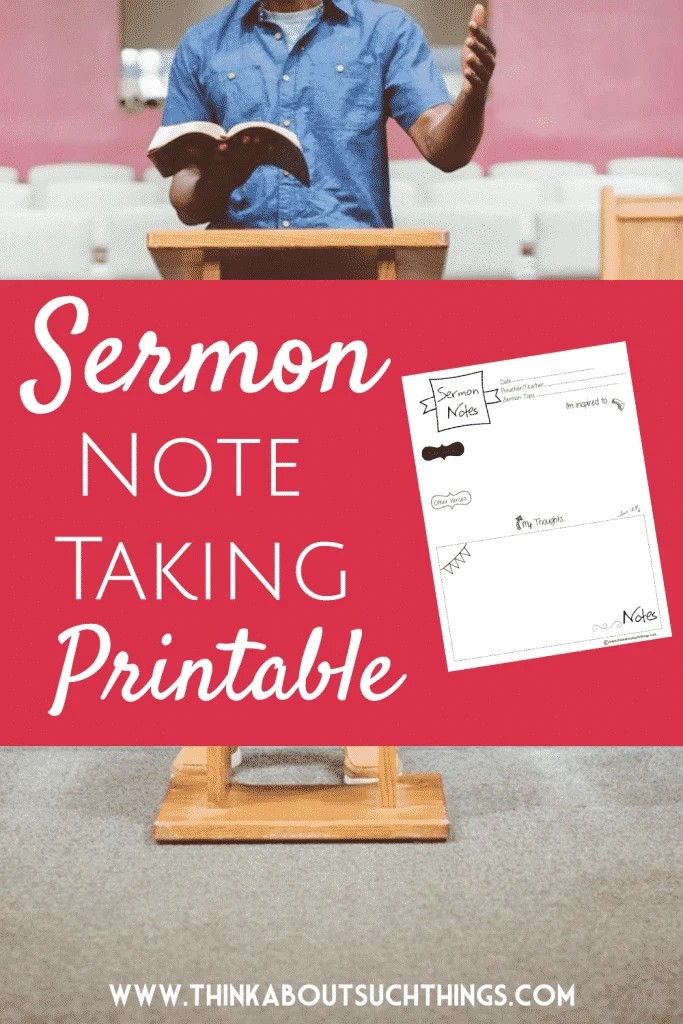 I want to break the mindset that note-taking is just for school or in a classroom setting. I have always been huge on taking notes, whenever I am in a situation where I am learning something new.
As believers, we are hearing tons of teachings every week. From normal church services, Bible studies, conferences, seminars and much more. On occasion we jot something down that sparks our hearing or we don't write anything at all.
By the time service is over and you are enjoying lunch, you have forgotten the majority of what the preacher spoke on. It's so easy to hear an awesome sermon and the next day not remember most of it.
The famous Edgar Dale's Cone of Experience states:
WE REMEMBER…
10% of what we read
20% of what we hear
30% of what we see
50% of what we see and hear
70% of what we discuss with others
80% of what we personally experience
95% or what we teach others
Think of all the great stuff you hear at church. From what Edgar is saying is that you are only retaining 20% of what you hear.
Side Note: I do believe that no matter what you remember the Holy Spirit is working on and in you. You may not intellectually remember the sermon, but the…
"Word of God is quick, and powerful, and sharper than any two edged sword, piercing even to the dividing asunder of soul and spirit, and of the joints and marrow, and is a discerner of the thoughts and intents of the heart." – Hebrews 4:12
But what if doing something as simple as taking notes can increase our ability to remember more. Wouldn't it be worth taking notes at church?
Let's look at 4 reasons why you should take notes…
4 Key Reasons to Take Church Notes
1. Taking Church Notes Keep Your Focused
It's hard to have your mind wander when you are taking notes. It's also hard to pick up your phone and check social media when you have a pen in your hand.
If it's hard to focus at church sometimes, try note taking. It really does help, unless the sermon is super boring. For that I am sorry…it happens.
2. Taking Notes at Church Helps You Remember More Information
Dustin Wax shares in his article Writing and Remembering: Why We Remember What We Write.
"When we take notes, though, something happens. As we're writing, we create spatial relations between the various bits of information we are recording. Spatial tasks are handled by another part of the brain, and the act of linking the verbal information with the spatial relationship seems to filter out the less relevant or important information."
3. Notes Helps you to Process and Think Through the Sermon
When you are taking notes you are actually chewing and processing the information even more than just listening. You are really trying to grasp what is being said. This will cause your brain to remember more on the topic. (Source: Study Smarter, Not Harder)
4. You Are Able to Review and Refresh What You Learned
When you take notes you can always go back a couple days, weeks, or even years later and be refreshed and encouraged. And from personal experience, you never know how handy those notes can be in your future.
Sermon or church note taking is really just a win-win. That's why I created this printable. I actually printed a whole bunch of them and created my own little notebook for church.
It's a handy way for me to capture what I am learning and because it's created for sermons it has all the areas I need to jot stuff down.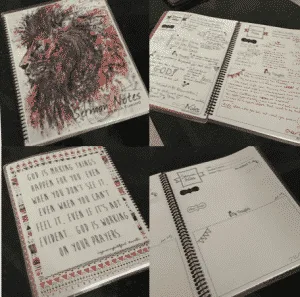 The Sermon Note Template
On my printable, you will find these areas:
Basic Info: Date, Preacher/Teachers name, Sermon Topic
Main Verse and Supporting Verses
Personal Thoughts: (Two sections:My Thoughts, I'm Inspired To) to write your questions or revelations you get during the sermon.
General Notes Section
When you sign up to receive the printable you will also get access to my other free printables and join in on my weekly newsletter. Most everything is geared toward Christian growth, but I do have a few things here and there on other topics.
My printable vault is like waking up on Christmas day and seeing a ton of presents with your name on them!
How to Create A Notebook for Your Sermon Notes Template
You can go about this a few different ways and all of them are super easy and affordable.
Spiral Bind Your Sermon Notebook
Print out the sermon note template. You can print as many as you like. I did about 60 pages, double sided. Making for whopping 120 sermon note pages.
Then create a cool front cover and back cover by printing an images you like. You can be super creative with this and use family pictures or art that inspires you. I recommend printing your covers in cardstock. If you have an at home lamentor you can laminate them (this is the one I own…I love it: Scotch Thermal Laminator) or have that done at an office supply store.
If making a cover seems like too much work just head to your local office supply store (staples, office depot, etc…) and ask them to place a plastic front and back cover when they are binding it.
If you do print your covers then grab them and your sermon note templates and head to the office supply store. They will spiral bind the whole thing for you for about $3-$5.
And BAM! You have your very own custom Sermon Notebook!
Using a Binder
If you don't want through all that hassle you can simple print the sermon note template and place it in a slim binder. I would recommend using 1/2 inch or smaller.
I wouldn't recommend a big binder unless you like hauling bulky things to church. My Study Bible is the heaviest thing I bring. So, homegirl doesn't need to bring a huge binder with it.
But hey that's me! You like big binders…do it! Be YOU!
Print When Needed
Oh, yes simplicity…
Who said you need a bind or use a binder? Well, I recommend it, but you don't have too. You can print a little stack of these and grab one each time you go to church.
You could store them in a folder or file at home. Or you could totally geek out and scan them. Then you could throw away the paper one and have your notes stores on your computer for future reference.
---
Well there you have it! Take this Church note printable for a test run during your next service you attend and let me know what you think. You are sure to love it!
Also, drop a comment below and let me know if you take notes or not! Or if you trying to get into the habit.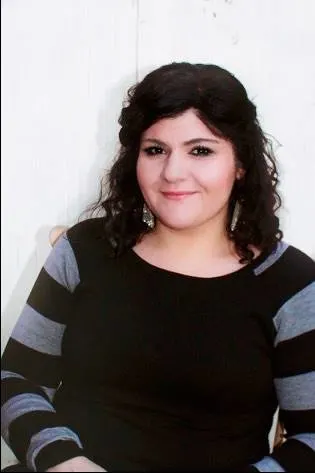 Melissa is a passionate minister, speaker and an ongoing learner of the Bible. She has been involved in church and vocational ministry for over 18 years. And is the founder of Think About Such Things. She has the heart to equip the saints by helping them get into the Word of God and fall more in love with Jesus. She also enjoys family, cooking, and reading.
She has spoken in churches in California, Oregon, Texas, and Mexico and has been featured in Guidepost Magazine and All Recipes Magazine. Read More…