In this article, we will look at four ways to focus on Jesus. These tools will help your mind and heart to focus on Him during any season you are in.
Every believer needs to learn and develop our ability to focus on Jesus at any moment, but this is especially important during difficult seasons and challenges. Life can quickly become overwhelming, and everything can seem to change in an instant.
But focusing on Jesus keeps us grounded, provides us with a heavenly perspective that leads to peace, and keeps us moving forward in His will for our lives. Without focusing on Him, we can be tossed here and there from our emotions and situations.
It can feel impossible in some difficult moments to focus on Jesus, but there are several tools provided by Scripture in the Bible to help us during these times. Learning to make focusing on Jesus your default mindset when life gets loud is a critical skill. I know it has helped me tremendously when I have had to go through some hard seasons.
Now, let's explore some ways to focus on Jesus during difficult seasons and in our day-to-day lives.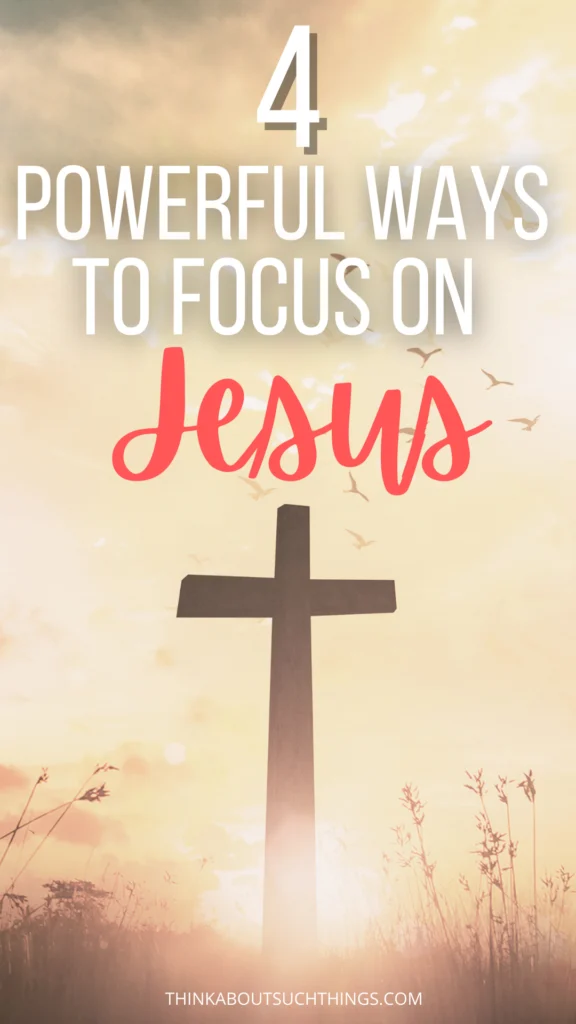 Ways To Focus On Jesus
Every believer has a unique relationship with Jesus, but everyone will face challenges and difficulties in their lives. In these moments, it is important to anchor ourselves in the truth of who Jesus is and the truth of the gospel.
If you find yourself struggling to focus on Jesus, the good news is that there are simple steps to take to align yourself with Him and receive peace and clarity from the Holy Spirit, regardless of what you are facing.
Here are some ways to focus on Jesus.
Reading The Bible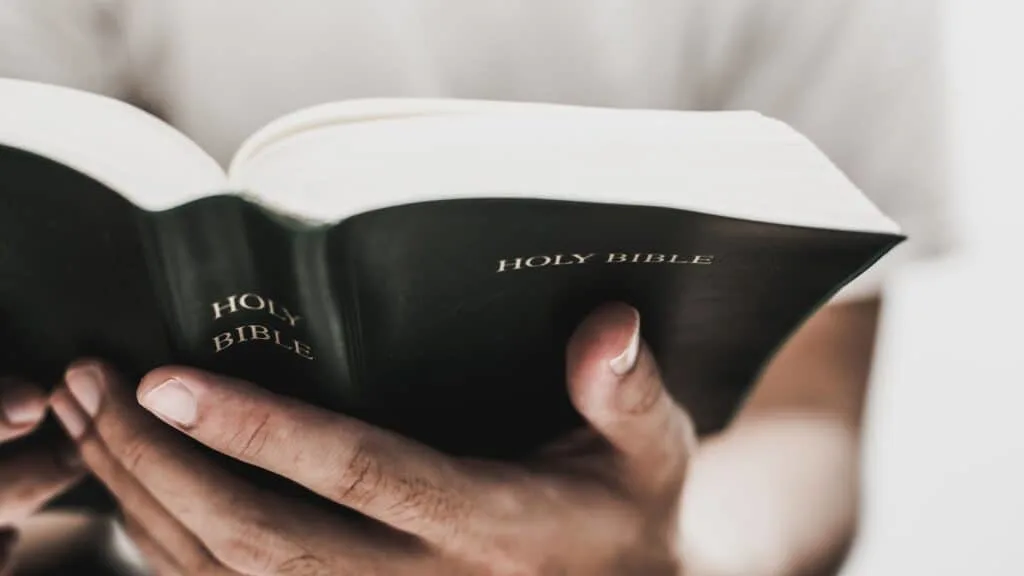 Sitting down and reading your Bible is among the best ways to focus on God.
Making the conscious effort to sit down and read your Bible pulls your focus into the Word of God and draws your focus away from everything else. This is especially true if you tend to worry a lot or have a hard time overthinking.
To top it off, the Bible is one of the ways that the Lord speaks to us, and it is a way to find truth and comfort in every season.
2 Timothy 3:16 -17 says that all Scripture is from God and that it teaches us how we should live, how we should react, what we should believe, and that it equips us for every good and instructs us in righteousness.
All Scripture is given by inspiration of God, and is profitable for doctrine, for reproof, for correction, for instruction in righteousness, 17 that the man of God may be complete, thoroughly equipped for every good work. – 2 Timothy 3:16 -17
Prayer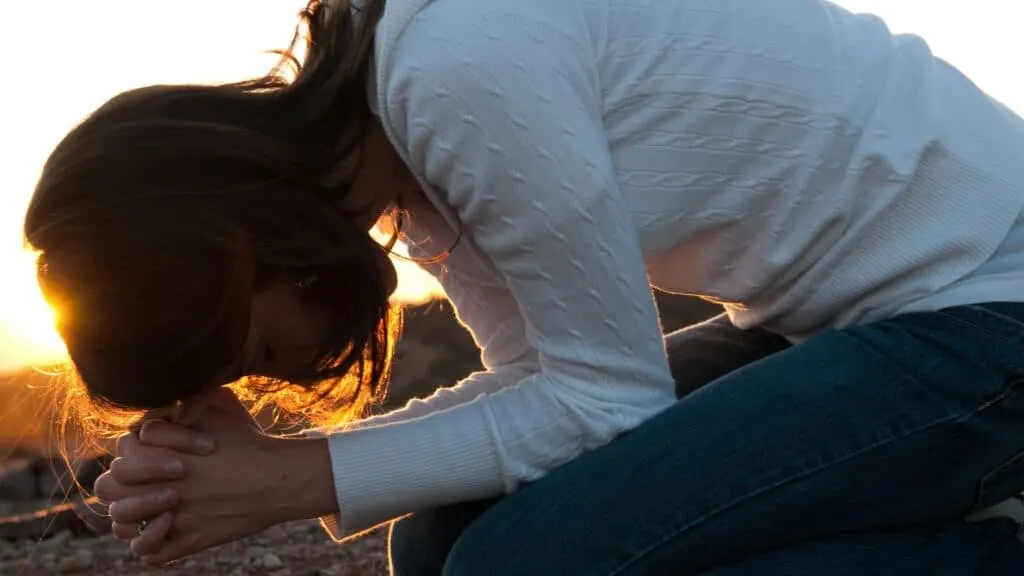 Praying is a powerful tool for every believer, regardless of the situation or circumstance.
By the Holy Spirit and the blood of Jesus, we are given free access to the throne of grace. Hebrews 4:16 says that we can boldly approach the Lord, knowing who we are in Him and that in this, we find mercy and grace to help in a time of need.
Praying is more than just saying words; it is communion with God. We get to experience His presence it's a time of communicating with Him. 1 Peter 5:7 says to cast your cares upon the Lord because He cares for you.
When you need to focus on Jesus, take a moment to speak to Him. Pray. Cast your cares upon Him. Focus on Him. You will find yourself in the peace of the Lord, and you will receive clarity on your next steps.
On a practical note, it can be hard to focus on prayer. If you get distracted, just start back praying again. I usually ask the Lord to help me to focus during my time of prayer. In this section, you will see some more practical ways to help you enter into His presence.
Enter The Secret Place With The Lord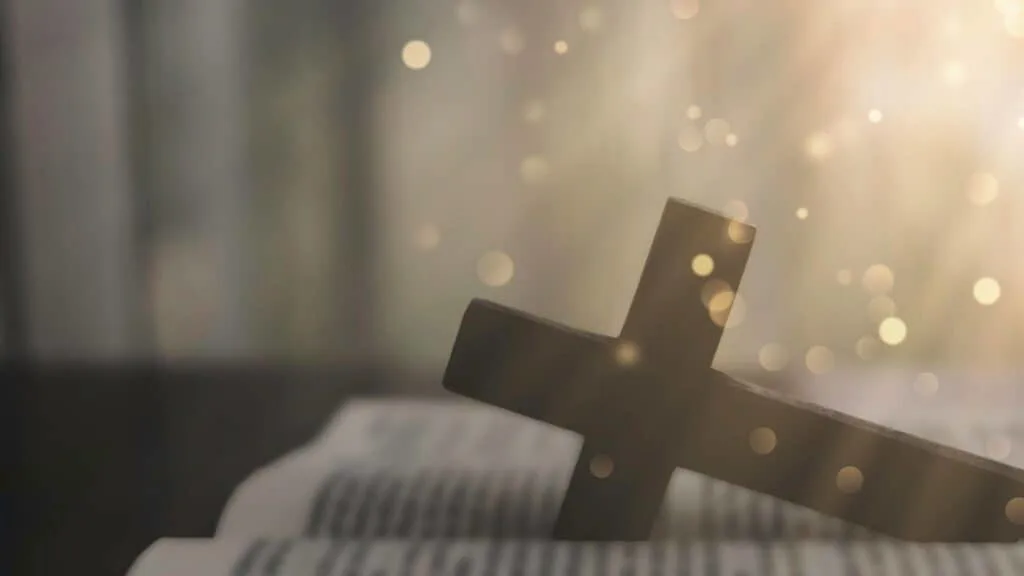 Matthew chapter 6 is a fantastic passage in the words of Jesus that teaches us how to pray and how to lean on our heavenly Father.
Verse 6 in this chapter says that when we pray, we should shut the door and pray to our Father in a secret place. Verse 8 in the same chapter says that the Father knows what we need before we ask him.
When you need to focus on Jesus, go into a quiet space, shut the door, and pray to the Lord. Spend time in His presence without any other distractions. Try to stay away from electronics and social media in these moments, and remain with the Lord.
Pray, read the Bible, and speak to Jesus. You will find your focus solely on Him.
This can take some time to learn to do, and it might be hard at first as you are building a spiritual muscle. But if you practice entering the secret place with God daily, you will find yourself entering His presence more easily each day until ignoring distractions and seeking the Lord becomes the easiest and best park f your daily life.
Remember The Gospel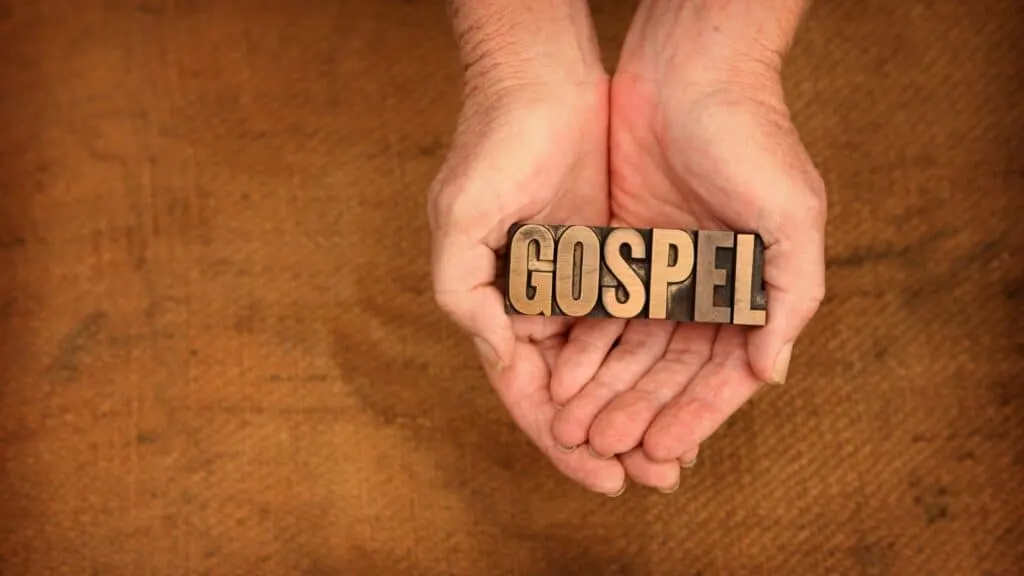 A great way to focus on Jesus during difficulty is to remember the Gospel of Christ.
Remember that Jesus came as a man, He lives a flawless life to fulfill the Law, He died on the cross to do away with sin once and for all, and He was raised from the dead on the third day and ascended to be seated at the right hand of the Father.
The reality of the Gospel of Christ is that there is nothing that can ever separate us from the love of God in Christ Jesus (Romans 8:37-39), we are clean and righteous before Him, and He is always with us in everything.
Ephesians 1 and 2 teach us that we are seated in Christ at the right hand of the Father, that we are accepted in the beloved, that we are holy and blameless before Him, and that we have redemption through His blood and forgiveness by His grace, and that we are alive in Him.
When you find yourself struggling to focus on Jesus, remember the truth of the gospel. Remember the reality of what Jesus did for you on the cross and in His resurrection, remember that He has poured out His Spirit into you, and you are eternally one with Him, never separated from Him.
I sometimes do think in the middle of the night when I can't sleep. I just lay there and think of all Christ has done for me. And there are times when such joy overflows thinking how blessed I am because of my salvation.
And it is in this place that you have full access to Him, to His grace, to His life, and to His peace. Remember the gospel and who you are in Him, and everything that you are going through will feel small by comparison.
---
As we recap, some good and practical ways to focus on Jesus are to read the Bible and receive truth from the Scriptures, pray, speak to Him, try to remove other distractions, enter the secret place with the Father, and remember the reality of the gospel of Christ and there is nothing that can separate you from Him.
Focusing on Jesus can feel like a struggle sometimes, especially when life gets loud, but remember that we have given all things that pertain to life and godliness (1 Peter 1:3), a spirit of power, love, and a sound mind (2 Timothy 1:7), and Jesus is with us always (Matthew 28:20).
Know that you have constant, unbroken access to Jesus, and in knowing this, focus on Him. Remove distractions from yourself, lean on Him, and receive His peace that rules in your heart.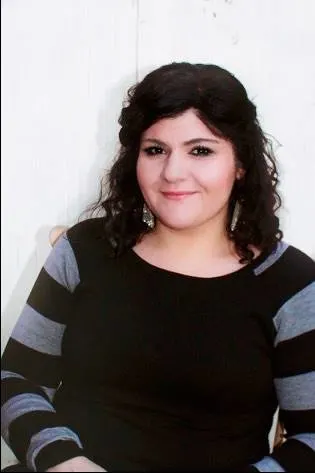 Melissa is a passionate minister, speaker and an ongoing learner of the Bible. She has been involved in church and vocational ministry for over 18 years. And is the founder of Think About Such Things. She has the heart to equip the saints by helping them get into the Word of God and fall more in love with Jesus. She also enjoys family, cooking, and reading.
She has spoken in churches in California, Oregon, Texas, and Mexico and has been featured in Guidepost Magazine and All Recipes Magazine. Read More…