A review of the new full-color Halley's Study Bible Thanks to Biblegateway.com and Bible Gateway Blogger Grid for the free Bible to review.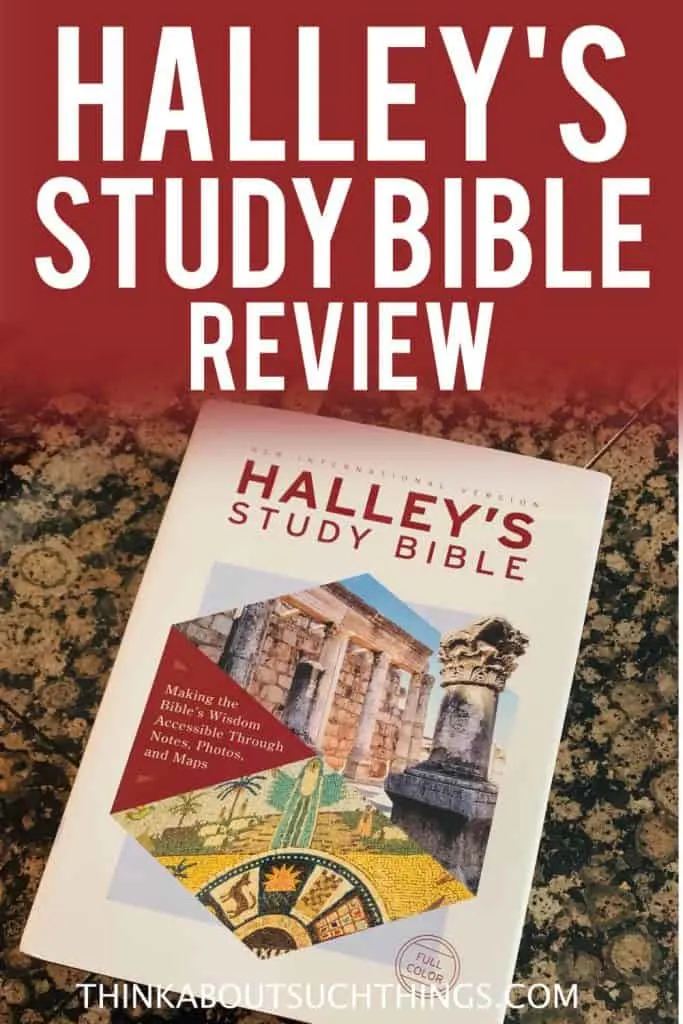 If you have been studying God's word for a while now you may be familiar with Halley's Bible Handbook by Dr. Henry H. Halley. Well, now you can glean from Dr. Halley right from your Bible, with the new Halley Study Bible!
If you have been around my site long enough you will know I am a sucker for study Bibles. So, I am excited to share my review with you. A good study Bible can help us grow in our faith and deepen our understanding of the Word of God. And Halley's does just that!
"A thorough knowledge of the Bible is worth more than a college education." Theodore Roosevelt
In short, I this is a great Bible. I would say it's comparable to the NIV New Life Application Study Bible. I believe New Life Application has more commentary and in-depth character profiles versus the Halley. But Halley takes the cake when it comes to the ease of reading with their comfort print
What is comfort print you ask? Well, this what Thomas Nelson and Zondervan say it is…
Designed with great precision and purpose, the exclusive new Comfort Print® KJV, NKJV, and NIV fonts will allow readers' eyes to flow smoothly along the lines of text so they can take in more of the story. (source)
It truly is easier on your eyes and it's a larger print than the stander print size we see in study Bibles.
Here is a little promo video about the Halley's Bible
Pros & Cons of Halley's Study Bible (NIV)
PROS
Full-Color throughout the entire Bible. Makes everything come to life!
750 articles, charts, and maps
6,000 study notes
Font size is Comfort Print which is much easier than your standard 8.5 size font in other study Bibles.
Intro to Each Book
Lays flat (only tested hardbound, but sure leather would do the same)
Dictionary/concordance in the back.
Words of Jesus in Red
One bookmark
Comes hardbound, imitation leather, or kindle
The paper quality is nice. Not super thin, but not heavy either
Great for Beginners in the Bible or those wanting to go deeper
Hardcover: Even without the dustjacket it's an attractive Bible.
The study notes really help you get a better understanding of the text you are reading.
CONS
It only comes in NIV
Great insight in the notes, but not for very in-depth studying. More as you read and ponder the notes bring a greater understanding.
---
As you can tell way more PROS than cons. It's a good study Bible and I have enjoyed reading from it. You can purchase this Bible on Amazon or at the Faithgateway Store.
Check out Halley's Study Bible On Amazon
Check out Halley's Study Bible At FaithGateway Store
Some Images of the Halley Study Bible
Pictures to me say volumes. So, here are some pictures I have taken of the Bible. I will say I love the look of the concordance in the back. It's so clean and easy to follow. A 100% win in my book.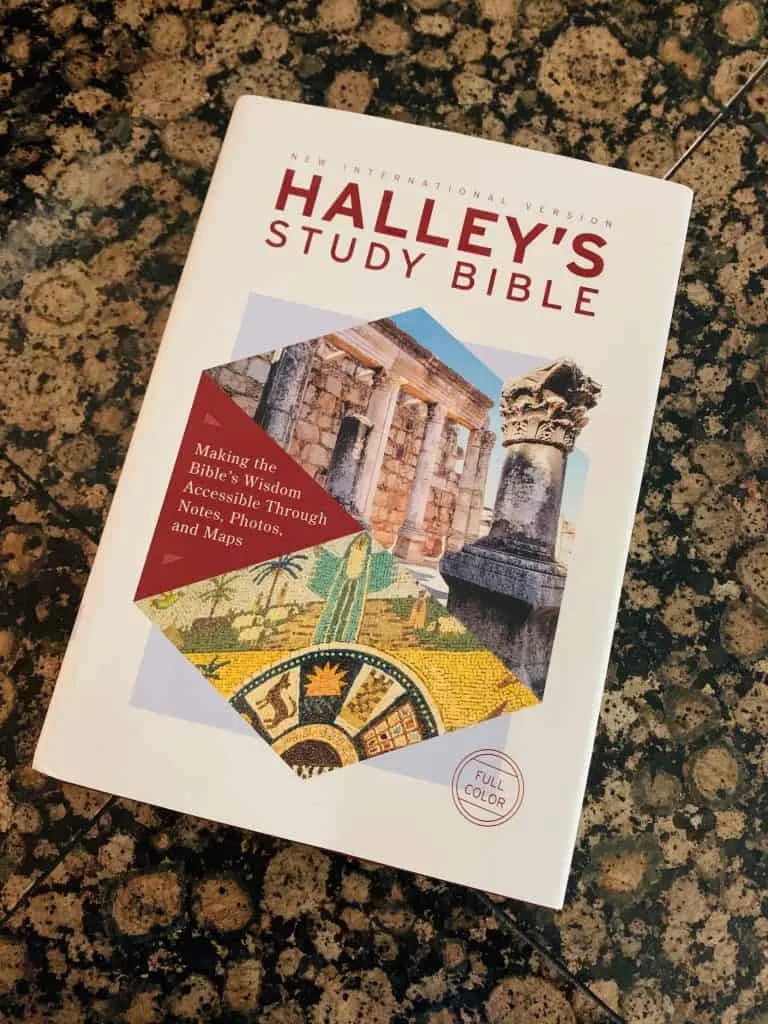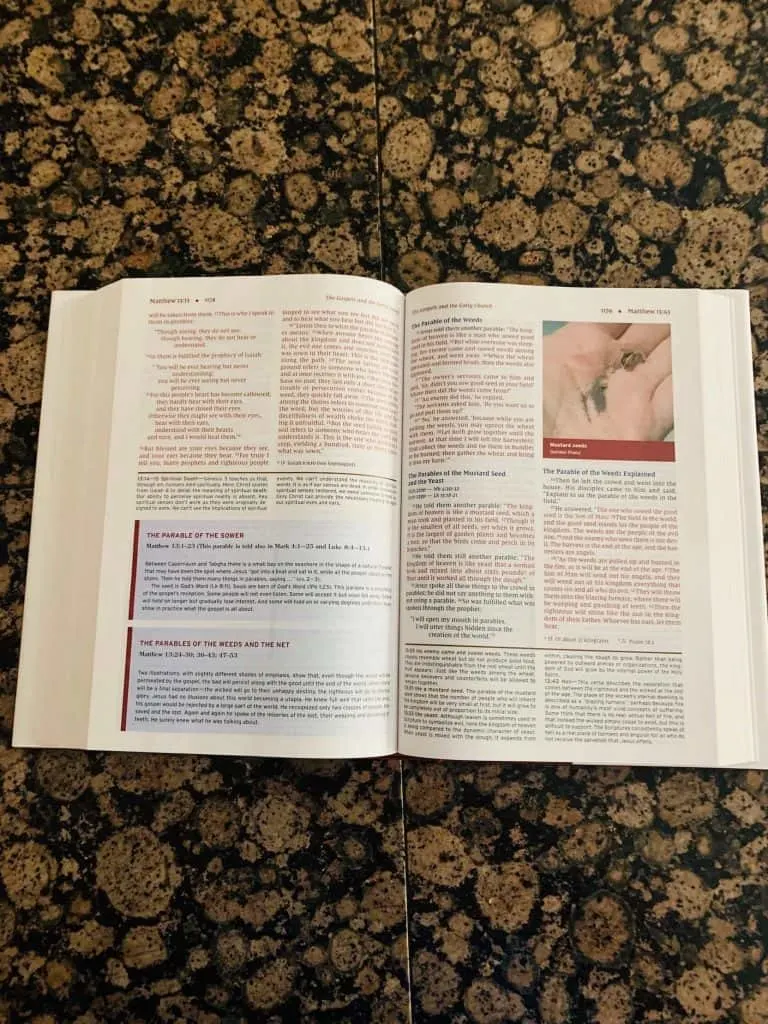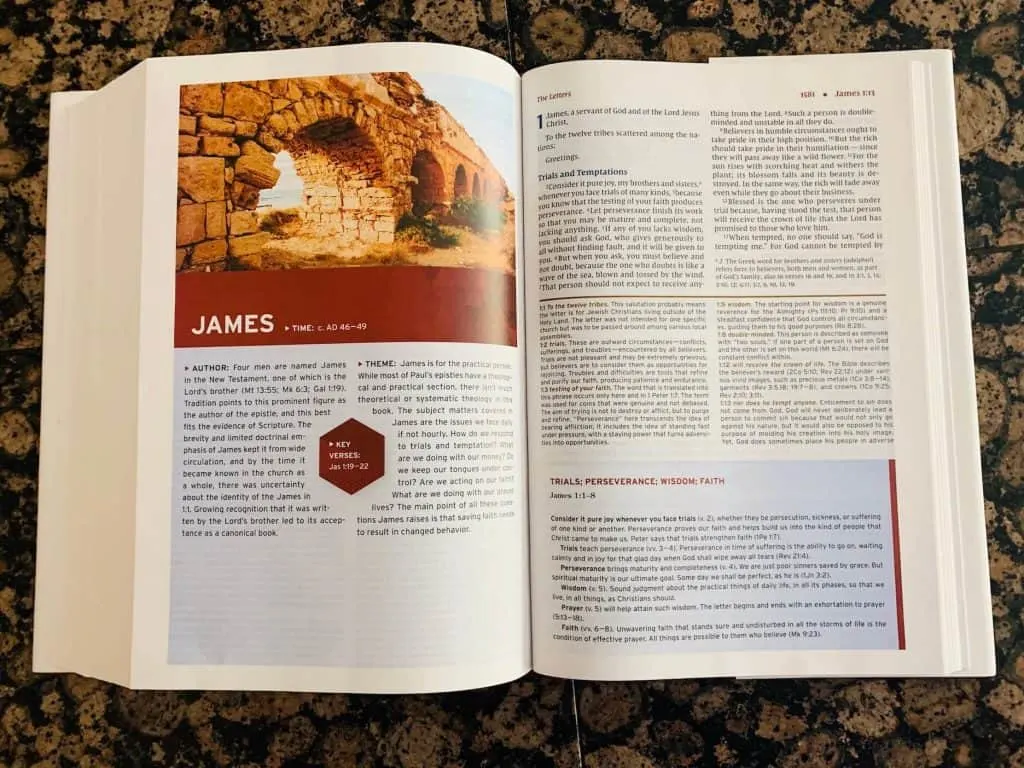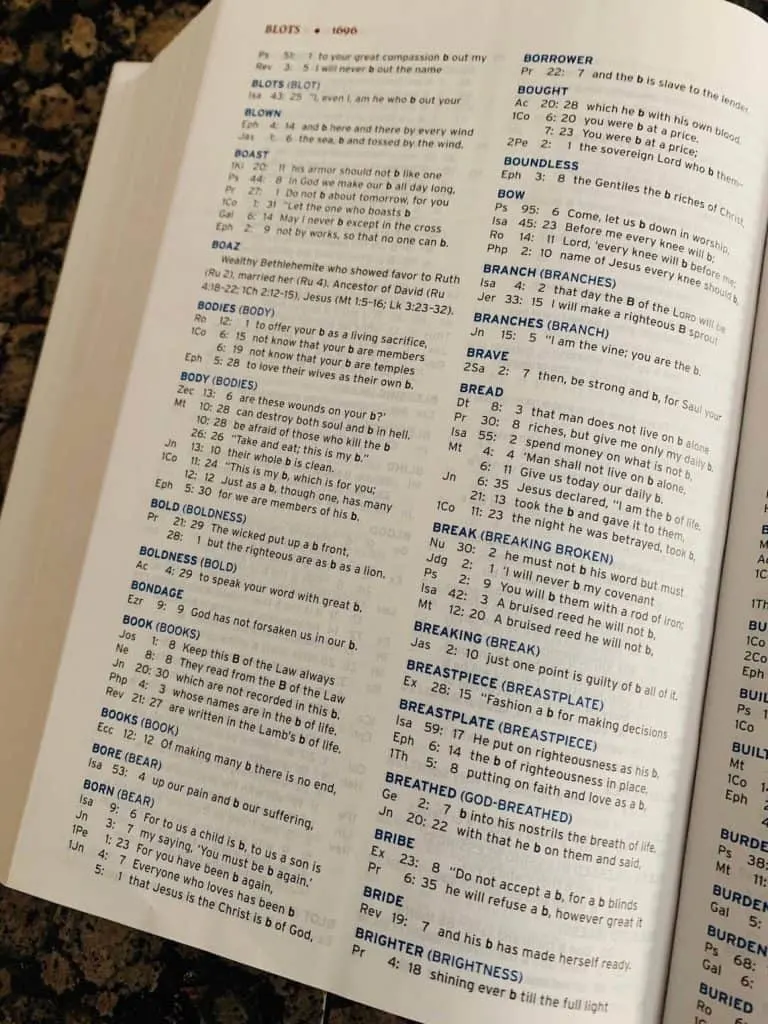 I hope these pictures and reviews show you a little bit of what the Halley's Study Bible is like. If you would like to check out more book reviews then check out my Christian Faith section!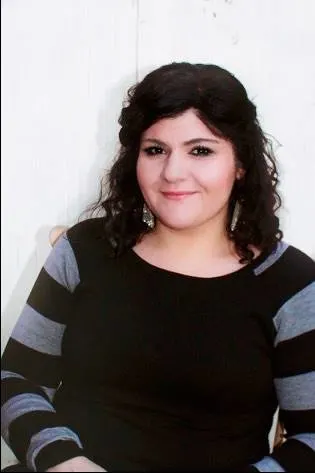 Melissa is a passionate minister, speaker and an ongoing learner of the Bible. She has been involved in church and vocational ministry for over 18 years. And is the founder of Think About Such Things. She has the heart to equip the saints by helping them get into the Word of God and fall more in love with Jesus. She also enjoys family, cooking, and reading.
She has spoken in churches in California, Oregon, Texas, and Mexico and has been featured in Guidepost Magazine and All Recipes Magazine. Read More…