In this article, we will look at fun and beautiful July blessings you can use to share with those you love.
Sun shining, blue skies, and warmer weather—July brings with it an immense sense of joy and fun! I have fond memories of going to the lake on the 4th of July and spending time with my family.
With all that goodness, why not share some of that with a July blessing? Something that will encourage and bless your friends and family. I got you covered!
I have written 30 blessings for July that you can quote or share an image of! I hope you enjoy them.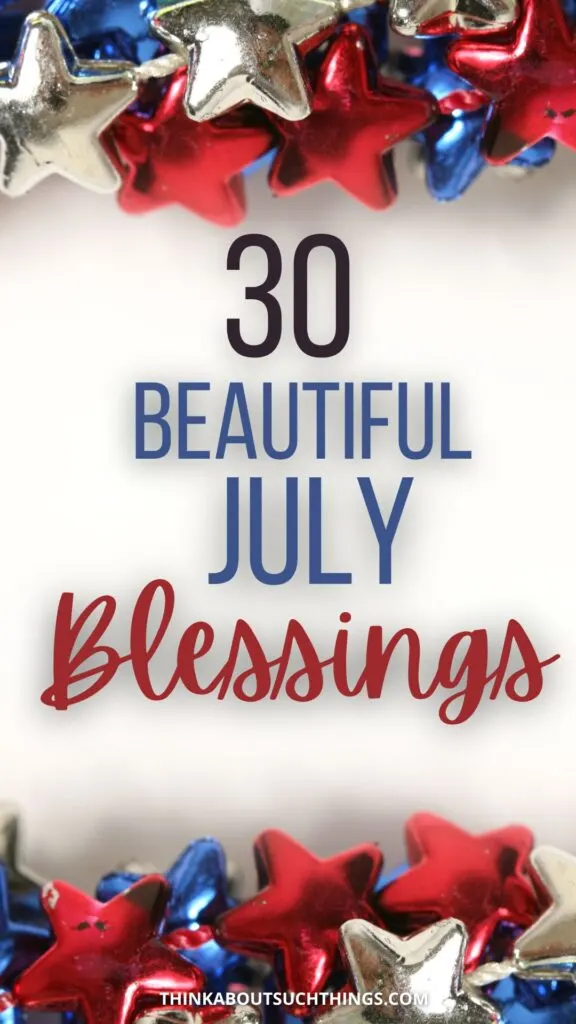 How To Use July Blessings
Have you ever considered the impact that a simple blessing can have on someone's life? The truth is, we often underestimate the power of our words. A kind message or blessing can really encourage a loved one. Here are some of my favorite ways to share them:
Social media – Whether you use Facebook, Instagram, or Twitter, sharing an uplifting blessing for July can really be a sweet way to bless the new month. And feel free to use one of the images below.
Text messages – This is another great way to connect with loved ones and share a personal blessing.
Emails – Emailing are another way to send a blessing. While texts are great for quick connections, emails allow you to write longer messages and include images and links.
Cards – Cards are a classic way to send a personal message of love and support. If you're not sure what to write in a card, consider using one of the blessings below, and boom, you got it!
Remember, we all have the power to make a difference in someone's life. By sharing messages of love and encouragement, we can inspire others to look to Jesus and find hope in Him.
July Blessings
Feel free to use the images below for personal use! This means you can share them with friends and family!
>> Need a birthday blessing? Check out: Short Birthday Prayers to Celebrate a Special Day
July's Brilliant Light: May the month of July be filled with the brilliant light of God's love, illuminating your path and guiding you through each day. God Bless!

A July of Restoration: Happy July, may you experience God's healing and restoration, mending the broken pieces of your life and renewing your spirit.

July's Divine Connection: It's July. May you strengthen your connection with God, engaging in prayer, worship, and reflection to deepen your faith.

The Warmth of July's Love: As the sun warms us up this July, may the warmth of God's love fill your heart, sustaining and nurturing you in all aspects of life.

July's Fountain of Blessings: May the month of July overflow with God's blessings, enriching your life and making it a time of joy and gratitude.

A July of Boundless Grace: This July, may you experience the boundless grace of God, empowering you to live a life that reflects His love and compassion.

July's Gentle Breeze of Peace: Happy July, may you feel the gentle breeze of God's peace, calming your heart and mind amidst life's storms.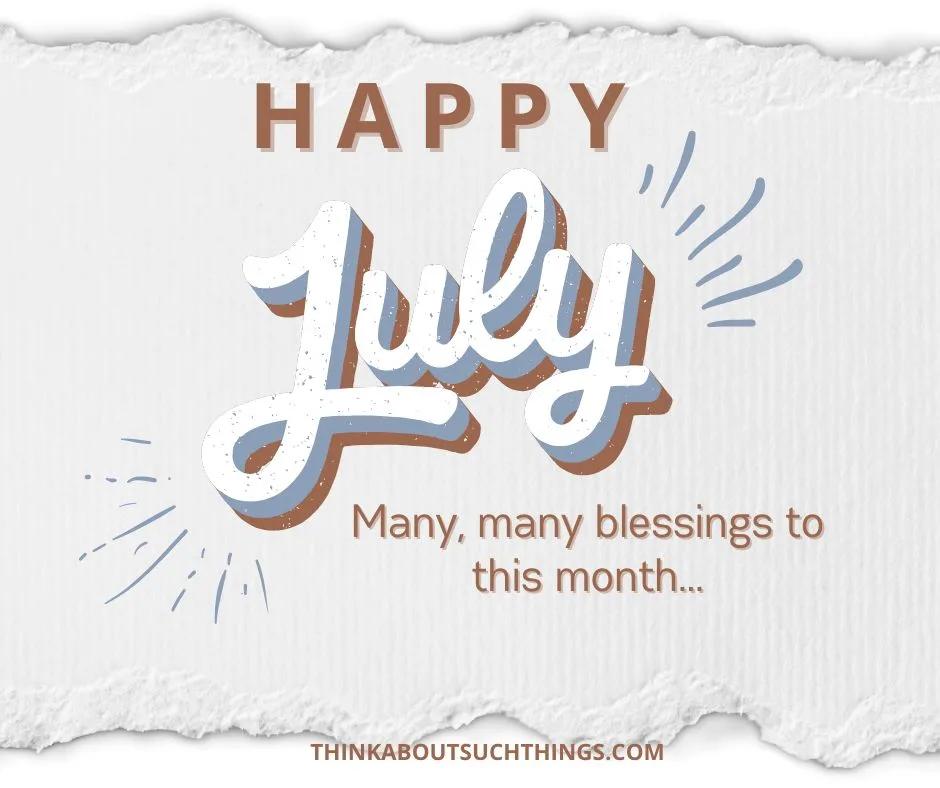 July's Spiritual Adventure: Happy July, discovering new depths of your faith and growing closer to God with each passing day. Blessings!

A July of Unfailing Hope: In this month of July, may you be filled with hope that never wavers, trusting in God's promises and looking forward to the future with anticipation.

July's Radiant Reflection: Throughout July, may your life be a radiant reflection of God's love, shining brightly and inspiring others to seek His presence.

July's Sacred Sanctuary: In the midst of life's busyness, may you find a peace in July, where you can connect with the Lord and find rest for your soul.

A July of Abundant Joy: This July, may your heart overflow with abundant joy, praising God for His goodness and sharing that joy with those around you.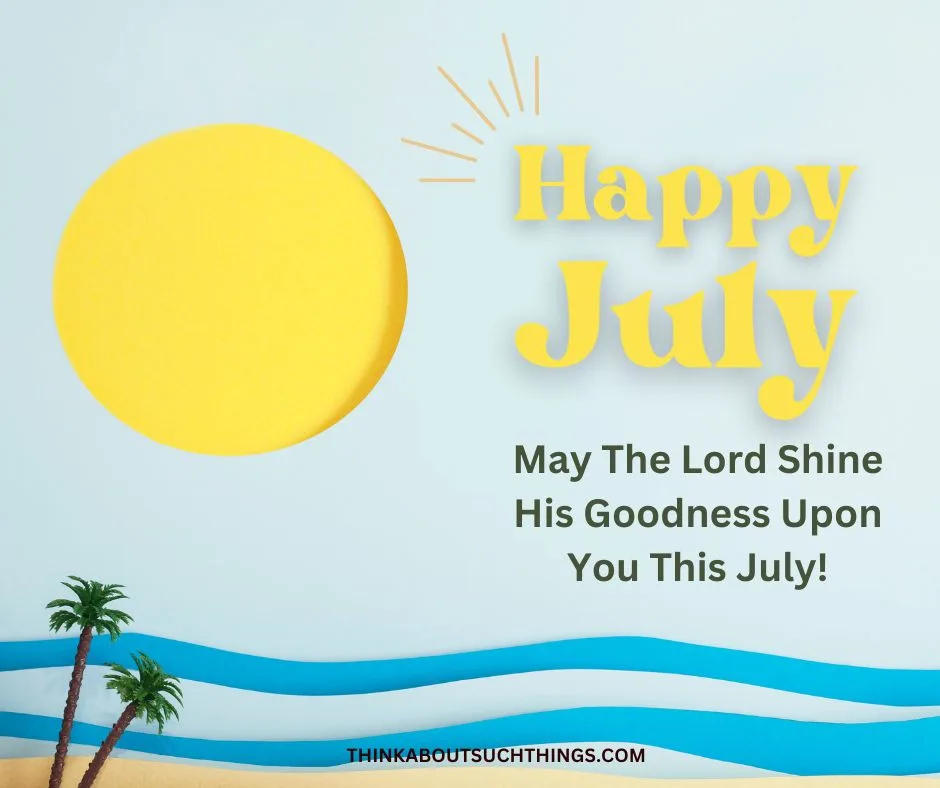 July's Melody of Praise: Have a blessed July! May your life be a melody of praise, giving thanks to God for His endless blessings and faithfulness.

July's Harvest of Kindness: In this month of July, may you sow seeds of kindness, reaping a harvest of love and goodwill that touches the lives of others.

July's Guiding Compass: As you navigate life in July, may God's Word be your guiding compass, providing wisdom and direction for each step.

A July of Divine Encounters: In this month of July, may you have divine encounters with God, experiencing His presence in unexpected places and ways.

July's Courageous Heart: Happy July, may you be filled with a courageous heart, trusting in God's strength to face any challenge or obstacle.

July's Prayerful Path: It's July! May you walk a prayerful path, seeking God's guidance and wisdom through daily conversation with Him.

A July of Seeking God: Have a blessed July, and may you be inspired to seek God with all your heart and mind.

July's Garden of Virtues: Throughout July, may you cultivate a garden of virtues, nurturing qualities like patience, humility, and perseverance under the watchful eye of the Master Gardener.

July's Heavenly Embrace: May you feel the tender embrace of our Heavenly Father, reminding you that you are deeply loved and never alone this July

A July of Rejuvenating Rest: In the midst of life's busyness, may you find moments of rejuvenating rest in July, drawing strength and comfort from God's presence.

July's Unwavering Faith: Throughout the month of July, may your faith remain unwavering, trusting in God's perfect plan and timing for your life.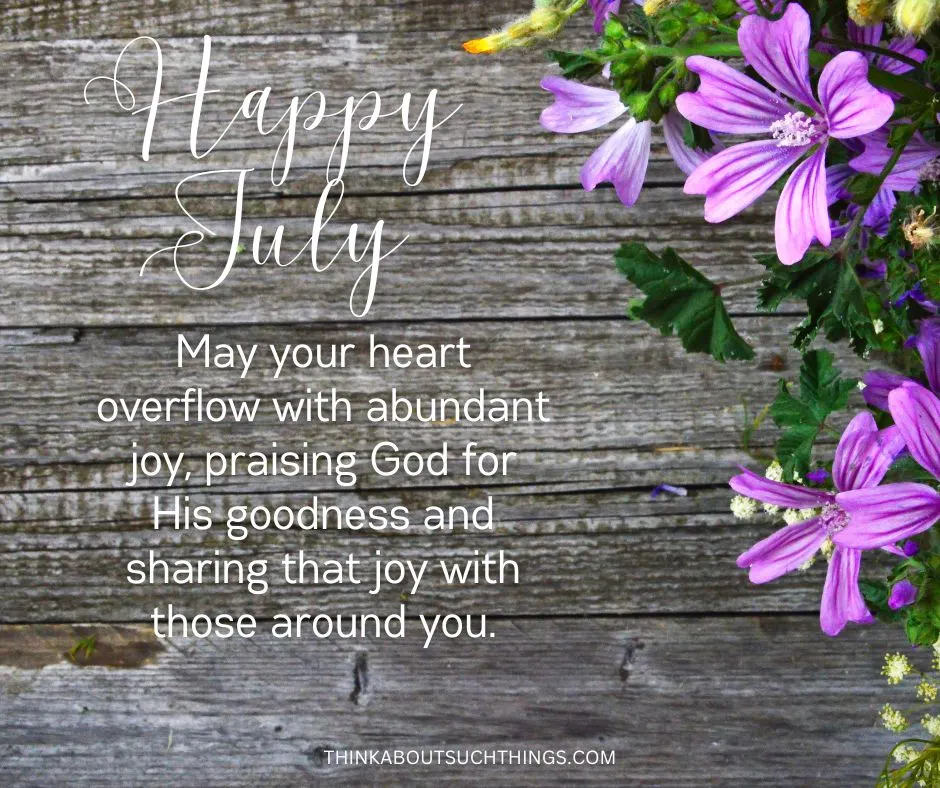 July's Joyful Celebration: In this month of July, may you celebrate the gift of life, rejoicing in God's love and the blessings He has bestowed upon you.

A July of Spiritual Nourishment: This July, may you feast upon the spiritual nourishment of God's Word, finding sustenance and strength for your daily walk of faith.

July's Loving Community: May you be surrounded by a loving community of fellow believers, encouraging and supporting one another on the journey of faith this July.

July's Transformative Power: In the month of July, may you experience the transformative power of God's love, molding you into the person He created you to be.

A July of Compassionate Service: This July, may you be inspired to serve others with compassion, reflecting the love of Christ in your words and actions.

July's Grateful Heart: July blessings! May your heart be filled with gratitude, recognizing and giving thanks for God's many blessings.

July's Path of Discernment: In this month of July, may you walk a path of discernment, seeking God's wisdom and guidance as you make important decisions and choices.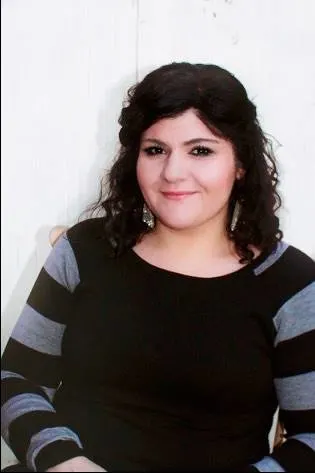 Melissa is a passionate minister, speaker and an ongoing learner of the Bible. She has been involved in church and vocational ministry for over 18 years. And is the founder of Think About Such Things. She has the heart to equip the saints by helping them get into the Word of God and fall more in love with Jesus. She also enjoys family, cooking, and reading.
She has spoken in churches in California, Oregon, Texas, and Mexico and has been featured in Guidepost Magazine and All Recipes Magazine. Read More…