In this article, we will go over tips for praying and a prayer for a lost pet like a cat, dog, bird, bunny, and more. I hope this post is helpful in this trying time…
Pets are more than just animals – they are our companions, our confidants, and part of our family. In my immediate and extended family, we have quite a few dogs, and I know if any of them were to go missing or get lost, it would be devastating.
The fear of never seeing them again can be overwhelming, leaving pet owners in a state of despair. In moments like these, prayer can be a source of hope and guidance. As Christians, we must remember that prayer is a powerful tool.
This is why I thought it would be helpful to give my readers some tips on how to pray for a missing pet and even give you some examples of prayer for a lost pet that you can use.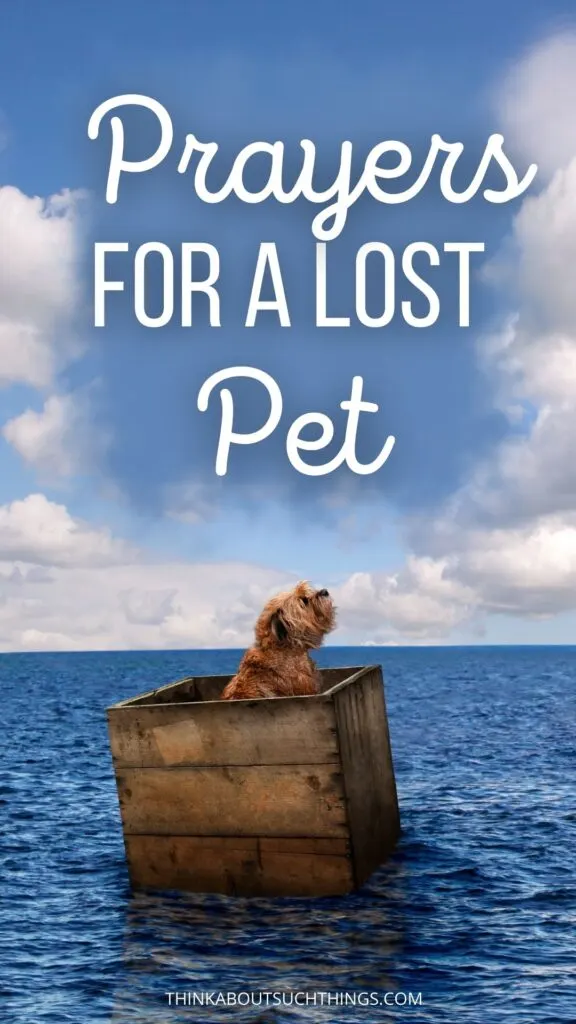 Tips For Praying For A Lost Pet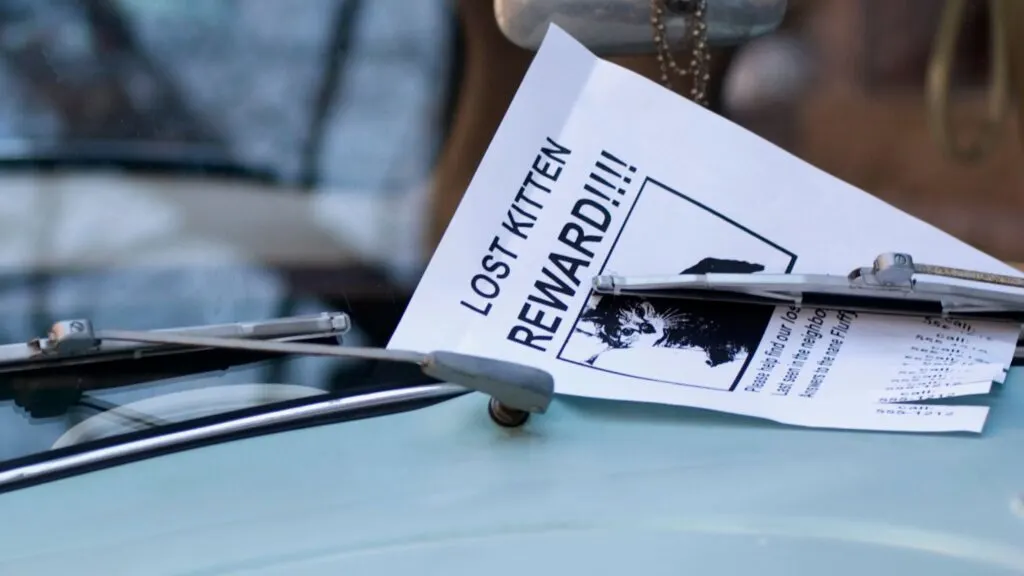 Be anxious for nothing, but in everything by prayer and supplication, with thanksgiving, let your requests be made known to God; 7 and the peace of God, which surpasses all understanding, will guard your hearts and minds through Christ Jesus. – Philippians 4:6-7
Acknowledge Your Emotions and Turn to Prayer
When a pet goes missing, it's common to experience feelings of hopelessness, fear, and anxiety. Acknowledge your emotions and turn to prayer to help with the pain or worry you're experiencing. Focus on expressing your fears and concerns to God, and ask Him for guidance and peace.
Pray for Your Pet's Safe and Speedy Return
A good thin to pray for your pet when they go missing is to pray for their safe and speedy return. Ask God to protect them and pray they find their way back to you soon.
Enlist the Help of Your Community
As Christians, we are part of a larger community. When your pet is lost, don't hesitate to seek help and support from those around you. Share information about your pet's disappearance on social media, local flyers, and with church or community groups if they are close to the location your pet went missing.
And don't forget to ask others to join you in prayer for your pet's safe return.
Don't Lose Faith
Losing a pet can be devastating, but we must remember to not lose faith. Trust in God's plan and His timing. While the situation may seem bleak, God always has a way of working things out for our good. What ever the outcome put you hope in Him.
Give Thanks
When your pet returns home safely, take the time to give thanks to God. Share your story with others and inspire them to turn to prayer during their times of need.
Prayer For A Lost Pet: 3 Examples
I thought it would be helpful to go over some basic prayers for a lost pet. I always say it's best to speak to the Lord from your heart. Be personal with Him sharing your feelings, things about your pet and so on.
These are pretty generic and don't say what kind of specific pet like a dog, cat, bird, etc… Please feel free to add your prayer to the Lord.
>>For more prayers for pets please check out >> 7 Prayers for Your Dog and 9 Prayers for Pets
Prayer For Lost Pet #1:
Heavenly Father, we come before you with heavy hearts as we seek the safe return of our lost pet. We know that you care about all creatures and that your eye is even on the sparrow. Please guide our pet back to us and keep them safe from harm.

We trust in Your promise that You will never leave us nor forsake us, and we cling to Your words in Psalm 145:18-19, which declare that You are near to all who call on You in truth and that You fulfill the desires of those who fear you.
Lord, we ask that You grant us the grace to wait patiently for Your answer and to trust in Your perfect timing. We pray all these things in the name of Jesus, our Savior and King. Amen.
Prayer For Lost Pet #2:
Gracious God, we are grateful for the joy and comfort that our pet has brought us over the years. We ask that you reunite us with them soon and that you provide us with the courage and wisdom to do all that we can to find them.
We ask that You would help out pet to find it's way home or that they would stumble upon a kind person that would return them home. In the name of Jesus Christ, our Lord and Redeemer. Amen.
Prayer For Lost Pet #3:
Heavenly Father, you are the Creator of all things, and you know every detail of our lives, including the whereabouts of our pet. We ask that you guide them back to us, and that you provide us with a hopeful outlook during this time of waiting.
Lord, we are reminded of your promise in Matthew 6:26, which reminds us to look at the birds of the air and see how they neither sow nor reap nor gather into barns, yet our Heavenly Father feeds them. Father, we know that our pet is in your loving care and that you will provide for their needs. We pray for your comfort and peace to be with us, and we trust that you are working all things for our good according to your plan.
We ask all these things in the name of Jesus Christ, Amen.
---
When your pet goes missing, don't hesitate to turn to prayer, enlist the help of your community, and keep the faith. Trust in God's plan and timing, and give thanks when your pet returns home safely. Remember, the power of prayer knows no bounds, and it can bring peace and healing in times of despair.
If you would like to leave a comment, you can do so below!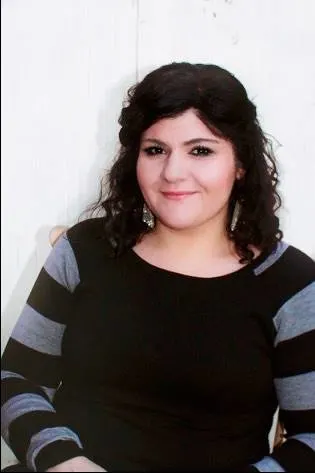 Melissa is a passionate minister, speaker and an ongoing learner of the Bible. She has been involved in church and vocational ministry for over 18 years. And is the founder of Think About Such Things. She has the heart to equip the saints by helping them get into the Word of God and fall more in love with Jesus. She also enjoys family, cooking, and reading.
She has spoken in churches in California, Oregon, Texas, and Mexico and has been featured in Guidepost Magazine and All Recipes Magazine. Read More…