Let's dive into Bible where we will look at 7 life lessons from Job. This object lesson is great for personal study, Sunday school, and more.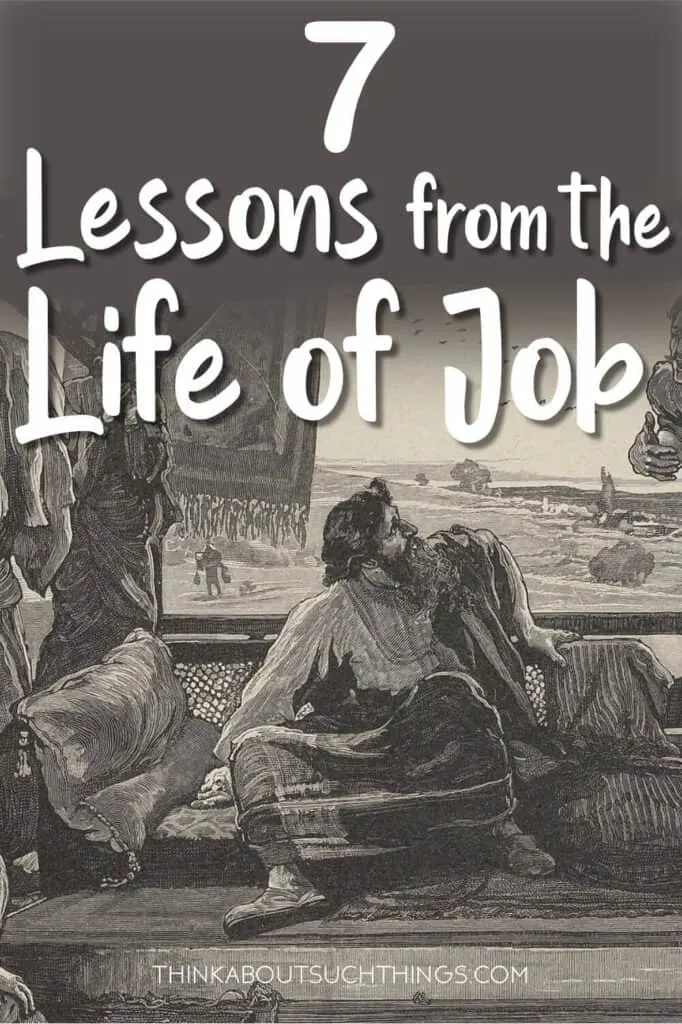 There is a lot you can learn from the characters in the Bible and draw powerful lessons that will be helpful in navigating the issues of life.
A man who has an incredible story of recovery from loss is Job. He was not an Israelite (Israel was not formed yet) but was from the land of Uz. They believe Uz is in connection with the kingdom of Edom. In modern times this would be roughly around the southwestern part of Jordan and Israel.
The Bible credits Job as one who was blameless, upright, feared God, and hated evil. Job had a wife, seven sons and three daughters and had great possessions (sheep, camels, oxen, donkeys, and a very large household).
Basically you name it…Job had it! He was extremely blessed and was considered the greatest man of all the people of the East.
There was a man in the land of Uz, whose name was Job; and that man was blameless and upright, and one who feared God and shunned evil. And seven sons and three daughters were born to him. Also, his possessions were seven thousand sheep, three thousand camels, five hundred yoke of oxen, five hundred female donkeys, and a very large household, so that this man was the greatest of all the people of the East. – Job 1:1-3
One day, Job suffered a great loss and turmoil when his children died and his possessions were taken away by raiders. He was also afflicted by painful boils all over his entire body. What he experienced was horrific on so many levels.
But his response was remarkable because he started by worshipping God and never sinned or blamed God.
Eventually, God restored to Job double of everything he had lost and his later years were better than his previous ones.
He chose to trust God with an unwavering faith, and we can learn a lot from his story. From the life of Job, we can learn the 7 powerful lessons from the book of Job below.
Life Lessons From Job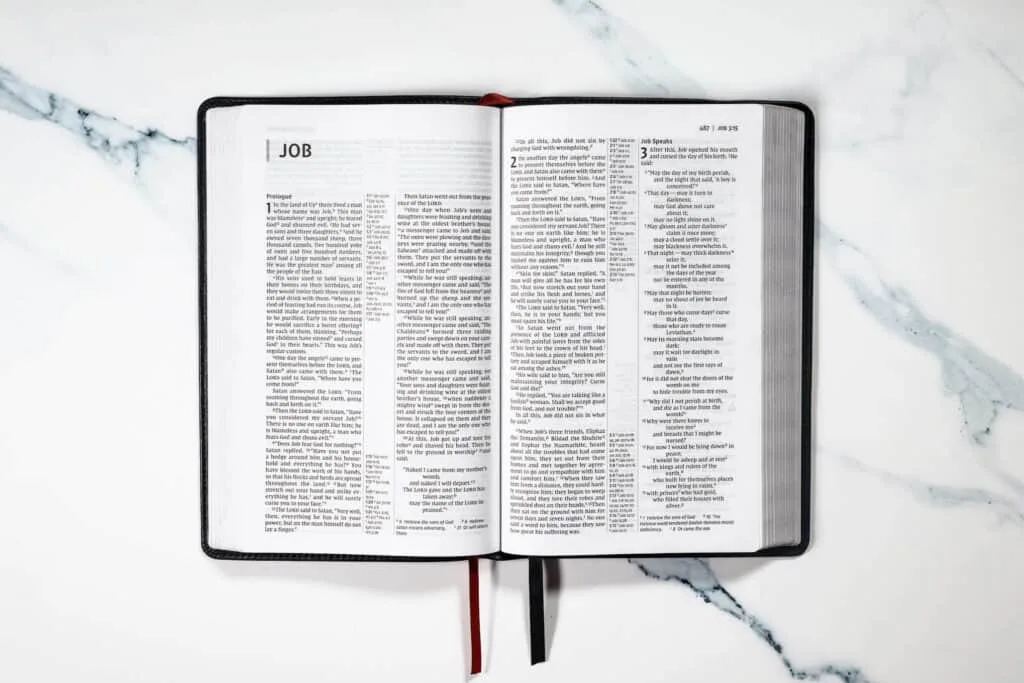 Don't Blame God for your Misfortune
You have probably come across people who were mad at God because of a terrible thing that happened in their lives. Or maybe that person is you.
It is a natural human reaction to blame God because you believe He allowed something bad to happen in your life.
If we learn from Job's story, we can deal with difficult situations in our lives and still acknowledge God as powerful and almighty. He is the one who is able to restore our lives and help us rise again.
Romans 8:28 tells us that all things work together for good to those who love God and are called according to His purpose. Trust that God will bring good out of the difficult circumstances you are dealing with today.
And we know that all things work together for good to those who love God, to those who are the called according to His purpose. – Romans 8:28
Recognized the Power of Prayer
Sometimes we don't understand the power of prayer, and when we don't see results, we assume that our prayers didn't work.
Job's friends, Eliphaz, Bildad, and Zophar had not spoken well of God as they were trying to advise Job regarding his predicament. God told Eliphaz that he and his two friends should go to Job so he can pray for them and God's judgment would not fall upon them (Job 42:7-10).
They did as God instructed, and God forgave their folly.
Prayer is powerful as we have seen in Job's friends' case. When you pray, believe that God will act on your prayer request. God intervenes in our lives when we pray, and brings restoration in our situations.
God's Purpose in your Life will Always Stand
When we have been through the worst, and we feel that years of our lives have been wasted, we can conclude that we will never fulfill God's purpose for our lives.
Well, that's a lie from the the pit of hell. The truth is that the plan and purpose God has for your life will still stand even after the storm is over. When all was said and done, Job realized that God's purpose will never be thwarted by anyone. "I know that you can do all things; no purpose of yours can be thwarted" (Job 42:2).
Your circumstances may have led you to believe that you will never do anything great for God, but remember that it's never too late to fulfill your God-given purpose.
I like what my pastor always says… "God can win with any hand He is dealt with.
Wisdom Comes from God
We usually assume that it is the elderly who are wise, or those who are extremely educated. And those who are young and uneducated are not.
But when you consider that wisdom comes from God, then you will know that even those who we think would be wise can have God's wisdom.
Elihu was a young man who was full of wisdom and he recognized that at his age, he was wise. He attributed his wisdom to the Holy Spirit.
But there is a spirit in man,And the breath of the Almighty gives him understanding. Great men are not always wise, Nor do the aged always understand justice. -Job 32:8-9
God gives us divine wisdom which is higher than our human wisdom and it helps us see things that are beyond our natural comprehension. Whenever you need wisdom to deal with any situation in life, ask God and He will give it to you.
If any of you lacks wisdom, let him ask of God, who gives to all liberally and without reproach, and it will be given to him. – James 1:5
God Speaks To Us Through Dreams
If you have been Think About Such Things then you will know I write a lot about dreams.
And it's because one of the ways God speaks to us is through dreams. Job 33:14-15 says…
"For God does speak—now one way, now another—though no one perceives it. In a dream, in a vision of the night, when deep sleep falls on people."
This means that we should pay attention to our dreams and pray and ask God for revelation. Not all dreams are from God but if you ask Him to help you identify dreams from Him, He will. When you have dreams, write them down so that you will have a record you can refer to over time.
Here is some additional reading on the topic…
6. Repent When You Sin
Job recognized the need to repent when he said, "Therefore I abhor (despise) myself, And repent in dust and ashes" (Job 42:6).
When we sin, we are to repent because God has promised to forgive us when we do. We can't gain forgiveness by forgetting what we did or ignoring it. We must confess and repent.
And the amazing this is that God is gracious and merciful, and wants to cleanse us from unrighteousness. In Christ we have the assurance that our sins will be forgiven.
We Don't Always Suffer Because of Sin
Job suffered but it was not because of any sin he committed. His suffering was because of Satan although Job didn't know it.
Job 1:12 says, "And the Lord said to Satan, 'Behold, all that he has is in your power; only do not lay a hand on his person.' So Satan went out from the presence of the Lord."
We also see something similar in the New Testament when Jesus tells Peter that Satan has asked him to sift him like wheat. (Luke 22:31)
You may go through suffering because of the enemy, who is always looking to devour us, orgoing through trails/tests,or it may be because of another's sin. But God will always bring good out of the difficult situations we go through.
---
There are many other powerful lessons from Job. It is a story of restoration and the goodness of God. As you read the book of Job, you will see how God works in our lives even when we are going through a lot. Let it encourage you, and give you hope for a brighter future.
If you would like you can leave me a comment below. I would love to hear from you!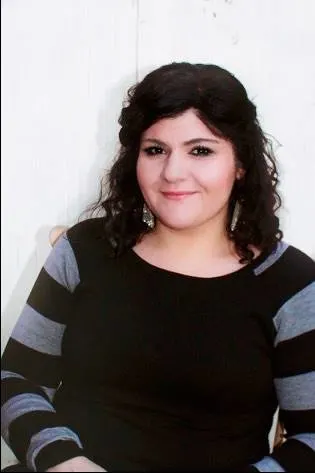 Melissa is a passionate minister, speaker and an ongoing learner of the Bible. She has been involved in church and vocational ministry for over 18 years. And is the founder of Think About Such Things. She has the heart to equip the saints by helping them get into the Word of God and fall more in love with Jesus. She also enjoys family, cooking, and reading.
She has spoken in churches in California, Oregon, Texas, and Mexico and has been featured in Guidepost Magazine and All Recipes Magazine. Read More…