This post may contain affiliate links. Please read my disclosure policy for more info.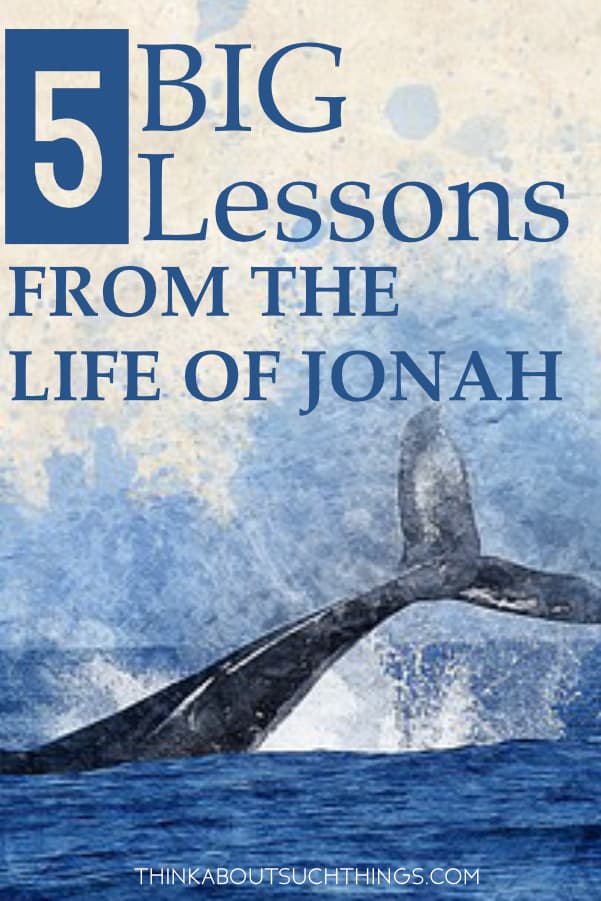 I have learned 5 keys from the life of Jonah! These past few months I have been doing the Jonah Bible study from Priscilla Shirer with my good friend Ana. Not to mention I did an Old Testament survey on him as well. It's been an amazing journey to take a deeper look at this prophet. And now I want to share what I have discovered with you!
Short little recap and insight:
*If you are not familiar with the story of Jonah…spend some time reading it. It's only 4 short chapters.
Jonah is a prophet during the reign of King Jeroboam II. That's after the prophet Elijah but before Amos and Hosea. Jonah is the only prophet in the Old Testament that God flat out told to preach to a Gentile city and not just any gentiles but the people of Nineveh (Assyrians).
These people were extremely cruel towards Israel and caused a lot of problem in the past. To top it off Nineveh is 800 miles away. Jonah would have to travel this by horse/camel. This would take him weeks!
The Pony Express riders would travel around 75 miles a day, interchanging horses every 5-20 miles. So, you know for Jonah it would be a BIG deal to travel to Nineveh. Could you imagin how many times you would hear your kids say…. "Are we there yet?" God have mercy!
Now that we had a tiny recap…let's get down to business!
Key 1 – God has no problem removing you from your comfort zone
Jonah 1:1-2 – The word of the Lord came to Jonah son of Amittai: "Go to the great city of Nineveh and preach against it, because its wickedness has come up before me."
Jonah was comfortable….
He was a prophet in a nation he is proud of. Then all of sudden God decided to come between Jonah and his patriotism. He asked him to go somewhere Jonah would NEVER want to go.
And Jonah has good earthly reasons why, but God looks beyond the earthly and looks through His spiritual eyes.
God will move you out of a place of comfort to see a greater level of breakthrough. For Jonah a whole city was ready to repent, but for that to happen he would have to leave.
Sometimes God will ask us to step out or step up. It's not always easy or fun, but at the end of it, there is a beautiful reward. It's like what my pastor says, "earthly obedience, brings forth spiritual release. "
Key 2 – You Can't Run from God
Jonah 1:3 – But Jonah ran away from the LORD and headed for Tarshish. He went down to Joppa, where he found a ship bound for that port. After paying the fare, he.

Jonah flat out doesn't want to go to Nineveh. He decides the best thing to do is leave Israel and go in the polar opposite direction to Tarshish, which is said to be near Spain.
My honest opinion of why he did that was in hopes that he could escape from God's presence. As we know it didn't really work too well for him.
The psalmist in Psalm 139 makes it pretty clear:
Where can I go from your Spirit?
Where can I flee from your presence?
If I go up to the heavens, you are there;
if I make my bed in the depths, you are there.
If I rise on the wings of the dawn,
if I settle on the far side of the sea,
even there your hand will guide me,
your right hand will hold me fast.
If I say, "Surely the darkness will hide me
and the light become night around me,"
even the darkness will not be dark to you;
the night will shine like the day,
for darkness is as light to you.
You can try to hide, move, go away, either physically or even internally with your emotions, but it is futile. God sees and knows. He is always there.
Key 3 – Disobedience will Create Turmoil in your Life
Sometimes when we read Jonah we shake our heads and go "seesh… really?" He gets tossed around by a storm and swallowed by a whale (or big fish…whatever floats your boat)

Disobedience is a big deal when it comes to God. It has spiritual ramifications that affect us spiritually and our life. When we accept Jesus and our "Lord" and Savior, then we need t to not just talk the talk but actually walk the walk.
The word Lord means someone or something having power, authority, or influence; master or ruler. When God speak to our heart to do something we should take intitive.
Side note on Vs 15- 16 (Then they took Jonah and threw him overboard, and the raging sea grew calm. At this the men greatly feared the Lord, and they offered a sacrifice to the Lord and made vows to him.)
It rocks my world that Jonah is running away from God and causing a huge storm (ahem…mess) actually got people to offer sacrifices and make vows to the Lord. Even in our failures, God can use it for good! Thank you, Jesus!
Key 4 – With Repentance Must Come Obedience
All 4 chapters of Jonah paints this picture of how we are to process our sin or disobedience before God.
Jonah 1-2 Acknowledge our sin
Jonah 2 Accept God's Discipline
Jonah 2 Repent
Jonah 3 Act on God's direction
Whenever we are in a situation where we have turned our back on God it's important to follow these four steps. Only true repentance can happen when we acknowledge and are willing to go in God's direction.
Key 5 – We Must Learn To See The Bigger Picture & Have a Soft Heart
In chapter 4 of Jonah, we see a man who is angry, because God decided to have mercy. We all have our opinions, and ideas about how things should happen or be.
But those things need to bow down to God's ways. We must realize we don't see it all, we don't understand it all. We must keep our hearts soft lest anger and bitterness come in.
It's easy to be triggered when things don't go the way we plan, but we need to surrender our will to His will.
I hope these 5 keys have made you hungry to dive more into God's word. There are treasures to be learned and applied in every chapter. If you want to learn more about Jonah…check out Priscilla Shirer Jonah Bible Study. I'm sure it will bless you like it has blessed me
I would love to hear from you! So, please feel free to drop me a comment below or take a look at my similar posts!