In this article, we will learn about some heartwarming couples in this selection of love stories in the Bible. So, grab your Bible, and let's dive in…
In the Holy Bible, many stories show us how to love and what true love means. We read in 1 Corinthians 13:4-5 what the meaning of love is. It does not envy or boast, is not proud, does not dishonor others, is not self-seeking, is not easily angered, and does not hold any grudges. Instead, love is patient and kind.
And this kind of love will endure through the trials and temptations in these modern times by having faith and trusting in God. The most wonderful love story in the Bible is the love between man and God. This is all about agape love.
But what about romantic love?
In the beginning, God created man in His image and named him Adam. God showed His love for Adam by creating a woman to share his life with. And so He created Eve, and their romantic love was a gift from God. (Genesis 2:18)
Throughout the Bible, we have beautiful stories of romantic love and lessons about having faith that God will provide the right person to share our lives. These stories remind us that it is essential that God be first in our lives and that couples must worship Him and pray together.
Below are 7 beautiful love stories in the Bible.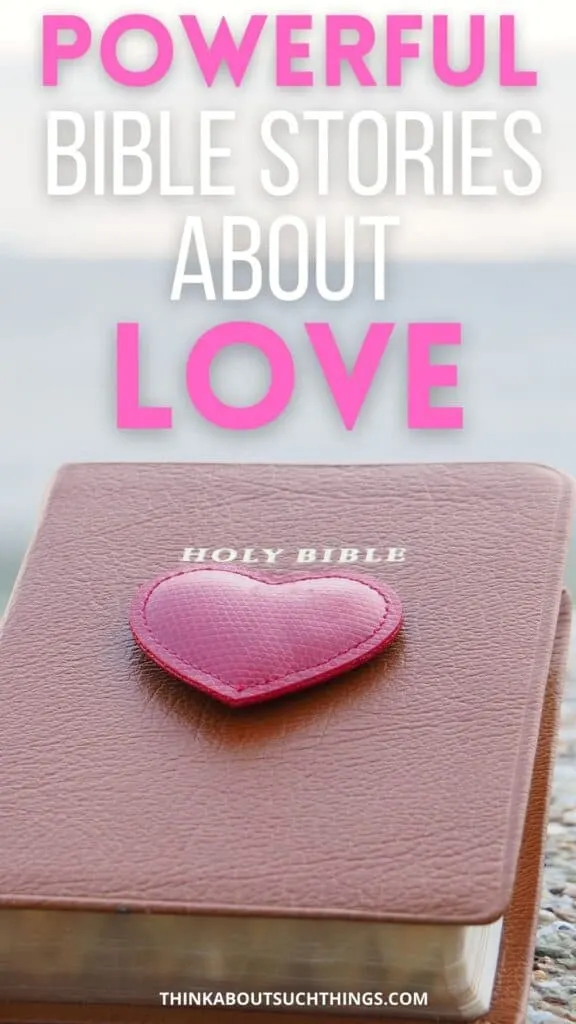 From Rib to Romance: Adam and Eve's Love Story"
And the Lord God said, "It is not good that man should be alone; I will make him a helper comparable to him." -Genesis 2:18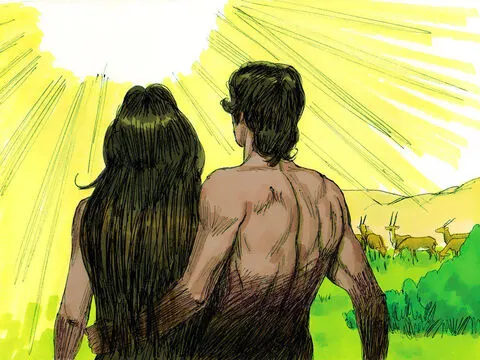 The relationship between Adam and Eve can be seen as the very first love story ever. I like to call it a match made in heaven! I mean you don't get more perfect than God custom making your spouse while you sleep.
Scripture tells us in Genesis how God created man to rule the Earth, but He saw that Adam was lonely. So, God created Eve, a woman, as his partner. (Genesis 2:18).
Adam, who had never seen another human before, must have been amazed by the beauty of Eve.
Adam and Eve formed a close relationship during their time in the Garden of Eden. They lived in a state of innocence and were obedient to God.
They trusted God and had a closeness with Him. The relationship between Adam and Eve was of two people working together as a partnership as Eden's caretakers. They comforted each other, shared their lives, and God fulfilled their every need.
Adam and Eve were humankind's first romantic couple and were content to be with each other. Their love story shows us the importance of connecting with our partners, expressing love, and sharing responsibilities.
From Hardship to Happiness: Boaz and Ruth
13 So Boaz took Ruth and she became his wife; and when he went in to her, the Lord gave her conception, and she bore a son. 14 Then the women said to Naomi, "Blessed be the Lord, who has not left you this day without a close relative; and may his name be famous in Israel! – Ruth 4:13-14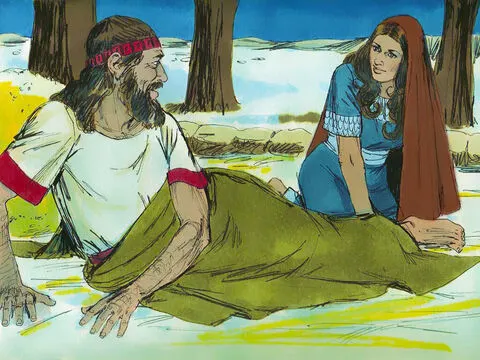 Ruth and Boaz is one of those love stories in the Bible that is beautiful as it slowly unfolds throughout the book of Ruth.
Ruth was originally a Moabite who did not worship the Hebrew God. But when her husband died, she returned to Israel with her mother-in-law Naomi.
Naomi had lost both her sons and her husband, so Ruth was compassionate and would not leave her mother-in-law on her own. She would also accept Naomi's religion. (Ruth 1:16)
They had no food, so Ruth gleaned the leftover barley in the fields. The field that Ruth worked in was owned by Boaz, a family member of Naomi's deceased husband.
Boaz met Ruth and liked her for her good character and kindness to Naomi. He ensured she was protected in the field and had enough barley to take home.
Naomi encouraged Ruth to ask Boaz to be her kinsman-redeemer which was someone who acted on behalf of a relative who was in need. She wanted him to buy the land that belonged to Naomi's dead husband. Not only does Boaz do this, but he also agrees to marry Ruth. (Ruth 4:13-17)
This is a love story of true faith, love, and loyalty. Boaz was kind and generous to his kinsfolk, showing much respect for Ruth. And Ruth was loyal and compassionate to Naomi and obeyed God's law.
She was not proud and did not complain but accepted her responsibilities. These character traits of Boaz and Ruth are what God expects us to show to others. Their love story is a true example of what love between a couple should be.
From Barrenness to Blessedness: The Love Story of Abraham and Sarah
Then God said to Abraham, "As for Sarai your wife, you shall not call her name Sarai, but Sarah shall be her name. 16 And I will bless her and also give you a son by her; then I will bless her, and she shall be a mother of nations; kings of peoples shall be from her."

17 Then Abraham fell on his face and laughed, and said in his heart, "Shall a child be born to a man who is one hundred years old? And shall Sarah, who is ninety years old, bear a child?" -Genesis 17:15-17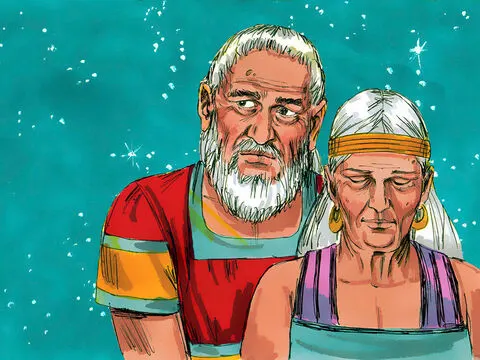 The story of Abraham and Sarah may not seem like a love story, but when you read about their lives and all they went through, you see a married couple that followed after God and believed in a promise of a child. Let's look at their love story:
In the Book of Genesis, we learn about Abram and his wife, Sarai. God commands them to leave their homeland and go to Canaan, where God promises him that He will make his descendants a great nation.
But Abram was an old man, and Sarai, an old woman; how could they possibly have children? But they continued to trust God, and He blessed them and changed their names to Abraham and Sarah.
When Abraham was 100 and Sarah was 90, she had a son, and they named him Isaac. God delivered on His promise because Abraham and Sarah were patient, kept their faith in God, and obeyed His commands. (Genesis 21:1-7)
The Divine Appointment: Isaac and Rebekah Love
Then Isaac brought her into his mother Sarah's tent; and he took Rebekah and she became his wife, and he loved her. So Isaac was comforted after his mother's death. – Genesis 24:67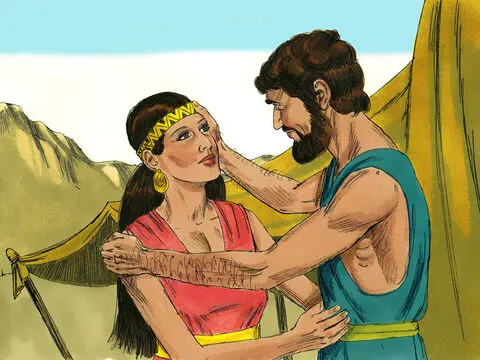 God is truly the best match-maker! And the story of Isacc and Rebekah is a prime example of that.
Abraham was living in Canaan, his wife Sarah had died, and he was very old. He sends his servant to the town of Nahor, where his ancestors are from, to find a wife for his son Isaac.
He did not want Isaac to marry a Canaanite as they did not believe in God. Along the way, the servant prays to God to show him the right woman for Isaac.
He sees Rebekah at the well, and she kindly draws water for his master's camels. He then asks her if she will return with him and take Isaac as her husband.
In faith, Rebekah agrees to marry a man she has never met. They are married, and we read in Genesis 24:67 that Isaac loved her.
A story of obedience from Abraham, who wanted a woman who served God for his son. And a servant's trust in God who believed that God would show him the right person for Isaac.
Also, in faith, Rebekah marries Isaac, whom she has never seen, and God blesses her with a loving husband.
A Biblical-Sized Love Triangle: Jacob, Rachel, And Leah
Now Jacob loved Rachel; so he said, "I will serve you seven years for Rachel your younger daughter." – Genesis 29:18
The classic love triangle is not just something you watch in movies or romance novels. You can actually find it in the Bible! The love story between Jacob, Rachel, and Leah is full of ups and downs as the two sisters try to win the love and time of their husband.
Jacob, the son of Isaac, flees from his father after he betrays his twin brother Esau by deceitfully receiving the blessing that was meant for Esau from their father.
So, Jacob goes to live with his mother's uncle Laban where he meets and falls in love with his daughter Rachel. Jacob agrees to work for 7 years for his uncle so that he may marry Rachel. (Genesis 29:16-20)
However, his uncle deceives him and gives him his eldest daughter Leah as a wife. He asks Jacob to work another 7 years for Rachel. His love for Rachel was so great that Jacob agreed.
In this love triangle, Jacob is deceived by his uncle, just as he deceived his brother Esau. But God blesses him with the love of these 2 women. Leah bore him 6 sons and a daughter. With Rachel, Jacob had 2 sons.
From Strength to Heartbreak: The Bad Romance of Samson And Delilah
Then she said to him, "How can you say, 'I love you,' when your heart is not with me? You have mocked me these three times, and have not told me where your great strength lies." – Judges 16:15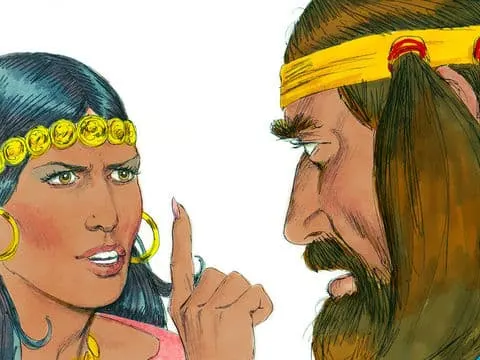 Not all love stories are happy and end well. All of Samsons' love interests don't go well, but Delilah takes the the cake…
Samson was a special child born to a woman who had been barren for many years. When he was born, an angel told his parents that he should be raised as a Nazarite.
These men took vows to not shave their heads, drink wine, eat grapes, and avoid contact with dead bodies (Judges 13:1-5). Samson was growing into a strong man, and God was pleased with him. He became one of the judges of Israel. But he meets a woman, Delilah, who is not from his village and falls in love with her.
The Philistines, who were the enemy, paid Delilah to find out the secret of his great strength. (Judges 16:4-16) Delilah finally wears him down and tells her his strength will fail him when he cuts off his hair. (Judges 16:15-17)
Delilah betrays Samson and calls the soldiers to cut off his hair while he sleeps. Samson becomes weak, and his enemies gouge out his eyes and throw him into a prison in Gaza.
But his hair grows again, and he humbles himself before God. (Judges 16:18-22) The Lord hears his prayers, and during one of the pagan rituals, Samson is paraded in front of the crowds for entertainment.
He pushes against the pillars until they give way, and the temple falls. All the people, including Samson, are killed. (Judges 16:23-30)
Even though Samson had turned away from God, his prayers were answered when he repented his sins and worshipped God again.
In his death, Samson killed more enemies than when he was in battle. Whatever our failures, we can always ask God's forgiveness; He is always close by.
The Epic Love Story of Solomon and the Shulamite Woman: A Song of Passion and Devotion
Let him kiss me with the kisses of his mouth—
For your love is better than wine.
3 Because of the fragrance of your good ointments,
Your name is ointment poured forth;
Therefore the virgins love you.
4 Draw me away! – Song of Solomon 1:2-4
The Songs of Solomon in the Bible is a story of passionate love between King Solomon and the Shulamite woman. It is probably the biggest and most popular love story in the Bible.
It is written by King Solomon and is filled with elaborate and metaphorical descriptions of this woman's appearance and how she makes him feel. Because she works in the vineyard, her skin is darkened by the sun (Song of Solomon 1:5-6).
Her figure is like a mare, elegant and graceful, and her eyes are like gazelles or doves, soft and tender. Her character is described as bold and assertive. In the passages of Songs of Solomon, we are assured of the love, desire, pleasure, and passion that both the king and the Shulamite woman feel toward each other.
Even though she has no wealth or high standing, Solomon loves her and is proud to marry her, and she feels protected by him. (Songs of Solomon 2:4)
The love story of Solomon and the Shulamite woman teaches us about the power of love that rises above social standing and status. It reminds us that true love requires patience, effort, and trust.
It teaches us to have good communication by sharing our feelings with our partners. It is also central to cherish your loved ones and tell them how important they are to you.
---
The love stories in the Bible show us the true meaning of love when two people worship God in their relationship.
We must put God first in our relationship, worship together, and pray for each other. Even through hardships and challenging times, keep trusting and believing in God; He will bless your relationship in the most remarkable ways.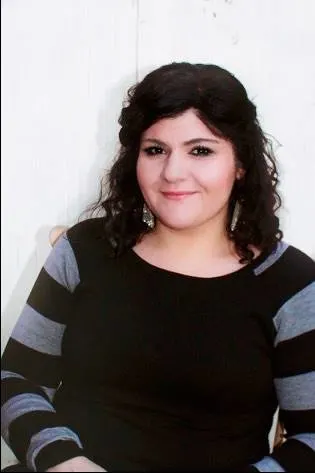 Melissa is a passionate minister, speaker and an ongoing learner of the Bible. She has been involved in church and vocational ministry for over 18 years. And is the founder of Think About Such Things. She has the heart to equip the saints by helping them get into the Word of God and fall more in love with Jesus. She also enjoys family, cooking, and reading.
She has spoken in churches in California, Oregon, Texas, and Mexico and has been featured in Guidepost Magazine and All Recipes Magazine. Read More…