In this article, we will look at 7 different characteristics of Ruth in the Bible. So, grab your Bible, and let's dig in…
I recently wrote on 5 Spiritual Lessons from the Book of Ruth and thought it would be fun to explore more on the personhood of Ruth. The Bible story of Ruth is inspiring and teaches us some things that we can apply in our lives.
Stories have insights into how others lived their lives and how God moved in their situations. Ruth was a Moabitess who had lost her husband; she was a young widow with no children. Her husband was one of the late sons of Naomi, her mother-in-law.
Naomi decided to go back to her homeland and wanted to leave Ruth behind so that she could start a new life with her own family. Ruth refused to stay back and insisted on following Naomi. Eventually, Ruth found herself in the field of Boaz who later became her husband. You can read the whole story of Ruth here: The Book of Ruth NKJV It's a quick read since it's only 4 chapters and I recently created an outline of Ruth to help you study.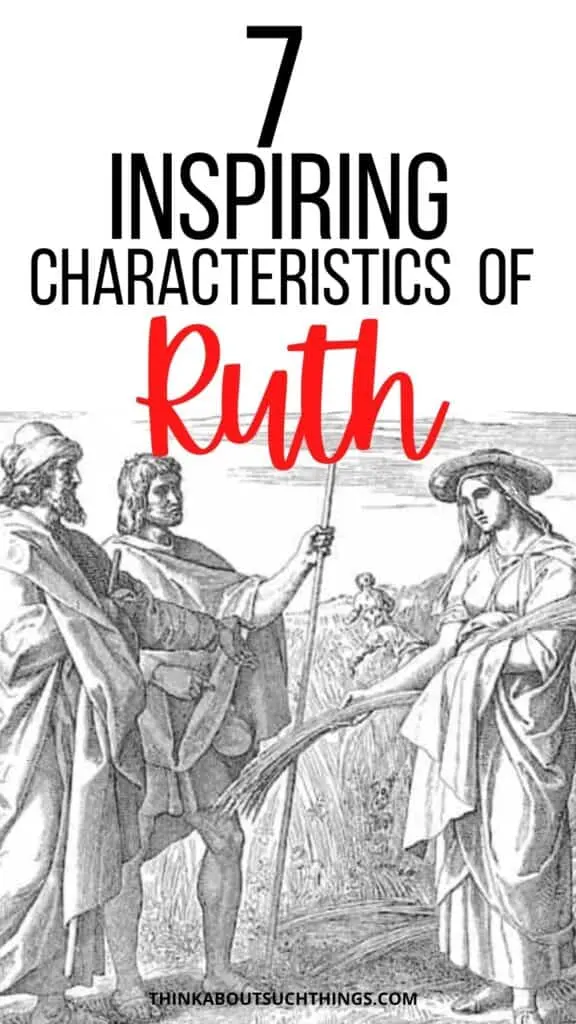 There are many things we can learn from the character of Ruth that we can apply in our lives. The following are 7 characteristics of Ruth that will inspire and bring motivation in your life!
Characteristics of Ruth In the Bible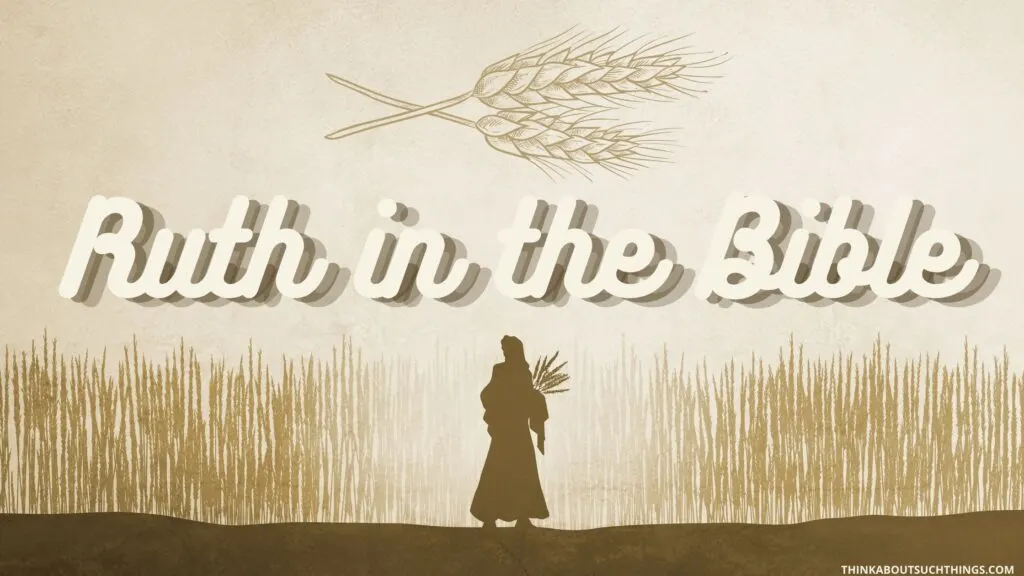 1. Fearless
Ruth followed her mother-in-law, Naomi, without knowing what she will find ahead. She didn't fear what lay ahead and trusted that all will be well (Ruth 1:18). From this characteristic of Ruth, we learn that we can follow the Lord wherever He is leading us even though we don't see the whole path. We can trust that with God, we are moving in the right direction and He will guide us along the way.
2. Loving
Ruth loved her mother-in-law and was not willing to leave her side. She wanted to go with her instead of going her way. She took care of her when they got to Bethlehem and ensured they had food to eat daily. I find this so refreshing then our modern world's view of mother-in-law and daughter-in-law issues.
The love Ruth had for Naomi was unconditional and we too can show the same love to others both in our family. We can love others and care about their needs and help where we can without expecting anything in return from them.
3. Hardworking
Ruth got up each day and went to glean in the fields of Boaz. She figured that she could glean in the fields after the reapers had harvested so that she could find something to eat. She did not stay home with anything to do but worked hard each day for the food she and her mother-in-law ate. She also didn't expect her mother-in-law to take care of her since it was her homeland.
Like Ruth, we can keep ourselves busy with whatever our hands find to do. Even where you have lost your job, you can find something to keep you busy and generate some income or provision, no matter how small. Life happens, and we need a way to start over, and God always provides a way out.
I love this quote,
If Ruth decided to be lazy and not go glean in the fields she would have missed the opportunity to connect with Boaz. Let that sink in a bit…
>> Check Out Bible Verses About Hardwork
4. Virtuous
Ruth was a virtuous woman who cared about her reputation. We know this because she was known as one who never ran around with the men in Boaz's field. She minded her own business and behaved in a wise and modest manner with others.
"And now, my daughter, do not fear. I will do for you all that you request, for all the people of my town know that you are a virtuous woman" Ruth 3:11).
We learn from Ruth that it is important to treat others respectfully and watch how we interact with them.
We are to also watch over how we engage with those of the opposite sex to ensure that we keep our boundaries to avoid temptation or sinful outcomes. We should care about our reputations and focus on living a life of integrity and purity.
5. Decisive
Ruth made up her mind to go with her mother-in-law immediately without thinking twice. She saw the bigger picture of her life and knew which way she wanted to go. It may have been easier for her to stay in her homeland but she decided that she had a better future elsewhere (Ruth 1:16-18).
Many people tend to avoid making decisions or choices. They become fearful of making the wrong choice. The stay in limbo, somedays for weeks, months, or years. This leads to many relational issues that can effect their personal life or careers.
Being decisive is important if we are to make decisions immediately and get moving. The only way we can do this is by seeing the bigger picture of why we need to do some things. God directs our minds and hearts as we read His Word so that we can make decisions that are wise and that will bless our lives.
I do want to say you don't want to make a choice or decision just to be decisive. You want to be wise and prayerful as you moveforward.
6. Moving on from the Past
One of the characteristics of Ruth is her ability to let go of her past and move on. Ruth had lost her husband and she didn't seem like she had a bright future in Moab.
She decided to move on from her old life and embrace a new one not knowing how it would turn out. She did not wallow in the fact that she lost her husband and had no one to take care of her.
She recovered and started a new life with Naomi in Bethlehem. "And Ruth the Moabite said to Naomi, 'Let me go to the fields and pick up the leftover grain behind anyone in whose eyes I find favor'" (Ruth 2:2).
We can also move on from things in our past that have caused us pain and loss. God is there to help us heal and holds our hand as we chart a new course in life. He wants to do a new thing in your life that will bring restoration.
7. Obedient
When her mother-in-law told her to go and lie by Boaz's feet because he was a kinsman-redeemer, Ruth obeyed (Ruth 3:5-6). She did not question but went ahead to do what Naomi asked of her. She trusted that her mother-in-law knew what she was asking her to do.
Like Ruth, we can obey the things God tells us to do because He will never lead us in the wrong direction. We can trust in His counsel because He will not only lead us but walk with us too.
---
Ruth teaches us that we can start over in life with the help of God and others He has put along our path. We can courageously face the future, knowing that only good is in store for us. The story of Ruth encourages us because it shows us how God works things out for our good. We can embrace the characteristics of Ruth and see our lives transform.
More On The Book Of Ruth
Are you eager to learn more about the book of Ruth? You're in luck! I've been studying the book and have written some articles for you to take a look at. It's so easy – just click on whichever one catches your eye!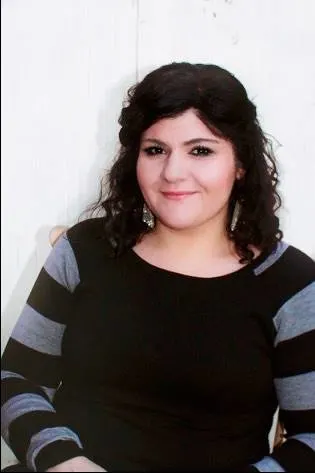 Melissa is a passionate minister, speaker and an ongoing learner of the Bible. She has been involved in church and vocational ministry for over 18 years. And is the founder of Think About Such Things. She has the heart to equip the saints by helping them get into the Word of God and fall more in love with Jesus. She also enjoys family, cooking, and reading.
She has spoken in churches in California, Oregon, Texas, and Mexico and has been featured in Guidepost Magazine and All Recipes Magazine. Read More…