In this article, we will study the characteristics of Boaz in the Bible and how, as Christians, we can learn from this amazing man. So, grab your Bible, and let's dig in…
The history of Ruth is a pretty well-studied topic. I have even written a couple of articles on Ruth and covered her characteristics and outline of the whole book. But there are seminars and Bible Studies that often focus on Ruth, serving as an example for modern believers. And they are really good! I have thoroughly enjoyed studying her life.
But one important person who has often been overlooked in these studies is Boaz. And if you know me, you know I love to study those small characters in the Bible like Barabbas and King Uzziah. Sometimes these small characters can really teach us some amazing things.
Boaz played an influential role in God's plan to prosper Ruth and provide her with a fruitful future, so much so that Boaz and Ruth formed a crucial part of the lineage from which Christ would be born centuries later.
So, what can we learn about Boaz from the Bible? Let's study his character to see how modern believers can grow spiritually from his example.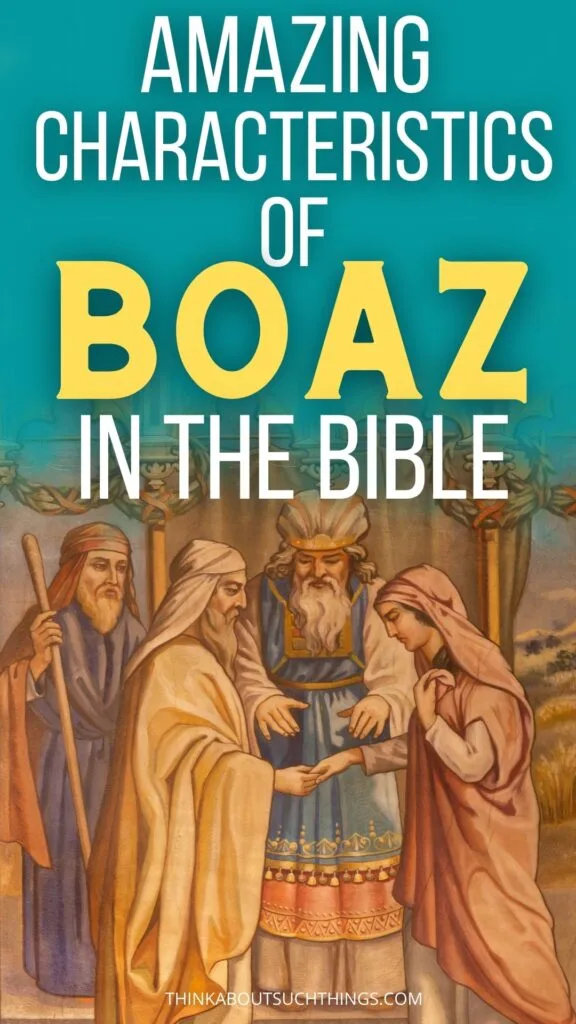 Who Is Boaz In The Bible?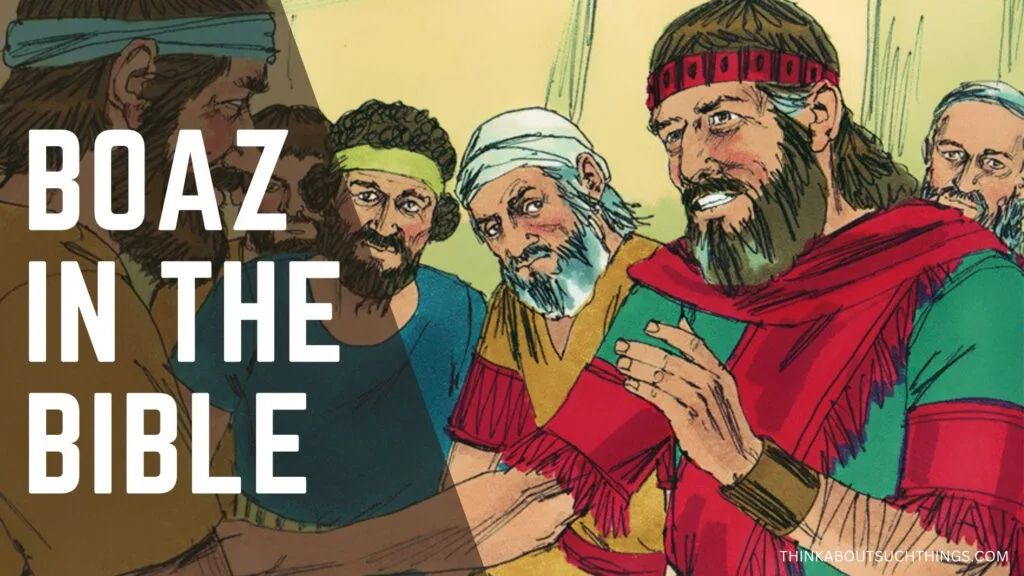 The first aspects we will look at are the words that the Bible uses to describe Boaz. This will help give us a picture of what people around Boaz perceived him as and what we can learn about this guy.
What Does Boaz Mean?
Usually, this is an easy answer when we look into the Hebrew, but that is not the case with Boaz. There is some mystery around what Boaz means. The Strong's Concordance alludes to his name meaning "fleetness" or "swiftness," yet this is their definition of the Hebrew:
STRONG'S CONCORDANCE

1162 בֹּעַז Boꜥaz, bo´-az; from an unused root of uncertain meaning; Boaz, the ancestor of David; also the name of a pillar in front of the temple:—Boaz.

Rose Publication, in their Bible Overview, goes to say this about his name:
"Though difficult to determine, the most accepted meaning is by strength, with strength."
Boaz Was A Mighty Man
In the King James version, Ruth 2:1 says,
"And Naomi had a kinsman of her husband's, a mighty man of wealth, of the family of Elimelech; and his name was Boaz."
This is the first reference we see of Boaz, and (apart from his family relations), the very first word used to describe him is "mighty."
The Hebrew word is "gibbor gibbor" (Strong's Concordance Hebrew number 1368). The term "gibbor" means "powerful," and the fact that the word appears twice consecutively is a way to emphasize that he was exceedingly powerful.
גִּבּוֹר gibbôwr, ghib-bore'; or גִּבֹּר gibbôr; (shortened) intensive from the same as H1397; powerful; by implication, warrior, tyrant:—champion, chief, × excel, giant, man, mighty (man, one), strong (man), valiant man.
In terms of Boaz, this can be interpreted to mean a few things:
Warrior
Champion
Chief
Mighty
Strong
Valiant
Many scholars believe this to mean that Boaz was a leader in Bethlehem, but it's unclear if he had a formal title or was a de facto leader because of his influence and the respect of the people.
The critical point is that people regarded him as a mighty leader, which is pretty awesome!
Boaz Was Wealthy
The second word in that verse used to describe Boaz is "wealth." It's the Hebrew word "chayil" (Strong's number 2428), which means having plenty of forces, goods, might, power, riches, or substance.
STRONG'S CONCORDANCE

חַיִל chayil, khah'-yil; from H2342; probably a force, whether of men, means or other resources; an army, wealth, virtue, valor, strength:—able, activity, ( ) army, band of men (soldiers), company, (great) forces, goods, host, might, power, riches, strength, strong, substance, train, ( ) valiant(-ly), valour, virtuous(-ly), war, worthy(-ily).
We know from reading further that Boaz owned farmland and that his farm and grain fields flourished, which is impressive considering that area had just emerged from a massive famine, which is what had caused Naomi's family to move to Moab in the first place.
Key Characteristics Of Boaz In The Bible
Though those are the Bible's only two words to describe Boaz directly, we can learn much about him from how he acted and what he said and did.
Remember, actions speak louder than words, and Boaz's actions spoke loudly!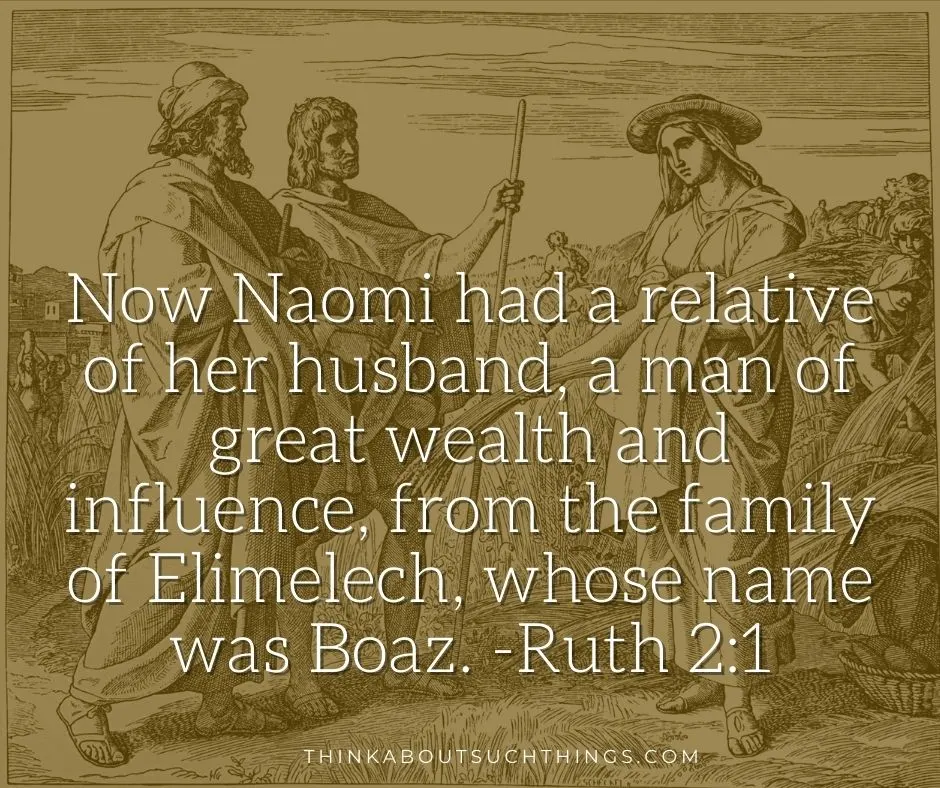 Boaz Was Devout Man Of God
Boaz was a deeply devout man of God. We can see this in a few places:
The way he greeted his workers in Ruth 2:4 by saying, "The LORD be with you."

His statement to Ruth in 2:12:

"The LORD repay you for what you have done, and a full reward be given you by the LORD, the God of Israel, under whose wings you have come to take refuge!"
That last statement especially speaks of deep faith in God and His blessing on others. Realizing that Ruth was a Moabite woman, Boaz understood the heart of God and that God is not the exclusive inheritance of those born in Israel but of anyone who seeks Him.
Boaz Was Generous
This might be Boaz's most well-known characteristic. We can see that Boaz allowed underprivileged people to walk behind his harvesters to pick up and harvest pieces of grain that were left behind, and similarly, we can see that Boaz did the same for Ruth.
But he did even more. He told his workers to leave some grain behind on purpose for Ruth to pick up. They were to let her glean even from the sheaves. He shared food and drink with her and let her drink water with his workers (Ruth 2:9).
Now Boaz said to her at mealtime, "Come here, and eat of the bread, and dip your piece of bread in the vinegar." So she sat beside the reapers, and he passed parched grain to her; and she ate and was satisfied, and kept some back. 15 And when she rose up to glean, Boaz commanded his young men, saying, "Let her glean even among the sheaves, and do not reproach her. 16 Also let grain from the bundles fall purposely for her; leave it that she may glean, and do not rebuke her." – Ruth 2:14-16
People often believe this was because Boaz was in love with Ruth. Though that might have been the case, if we look closely at Boaz's statement in Ruth 3:10, he was no longer a young man and did not expect Ruth to come to him for love.
His actions might have been inspired by love, but he was generous and did not hesitate to share his wealth with others regardless. It's also important to note that in chapter 2 Boaz was very aware of Noami and Ruth's story. He had compassion for both of them as they were extended family.
Boaz Was Just
After Ruth went to lay by Boaz's feet in chapter 3, Boaz had the opportunity to take her as his wife then and there. But rather than doing that, he did the right thing by letting her leave with her honor intact.
This shows so much of his character. Here we are just focusing on him being a just man. But this shows kindness, empathy towards Ruth, wisdom, and more.
Then Boaz afterward goes to the person with the first right to marry Ruth and claim inheritance according to Jewish law.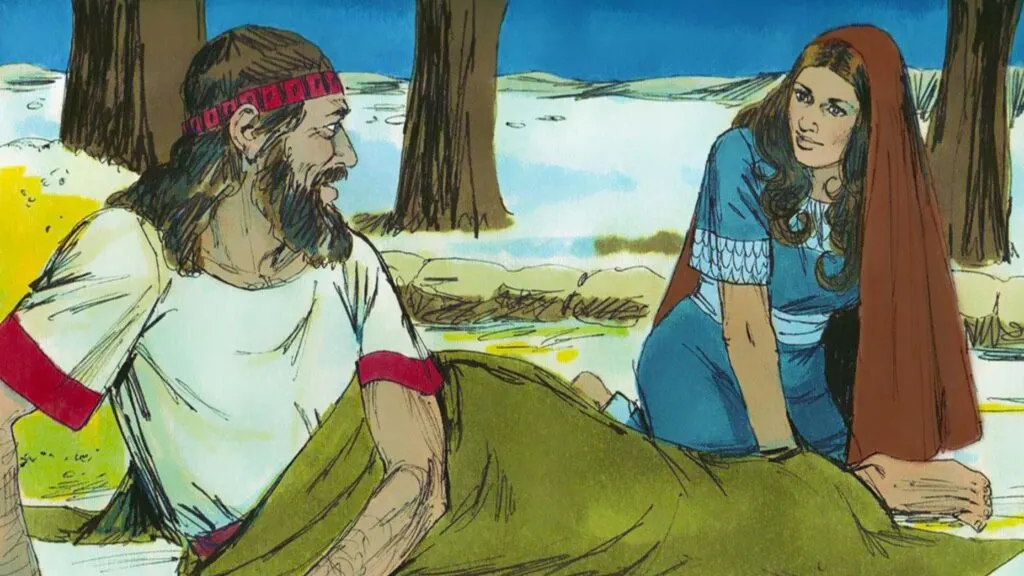 When that person declined, Boaz publicly proclaimed that he was purchasing the inheritance of Elimelech and his sons and his intent to marry Ruth. He also performed his duty by letting Naomi nurse his firstborn as the heir of Elimelech (Ruth 4:16-17).
It was common in those days for people to shun this responsibility. The story of Judah and Tamar is one such example, but Boaz was just and performed his duty as the law expected of him.
Boaz Was Humble
Reading through this account reveals one characteristic of Boaz that isn't emphasized but might be one of the most impactful: humility.
Despite being a wealthy and influential landowner, Boaz was humble enough to eat and drink with his workers. He even slept on the threshing floor (3:7).
In Ruth 3:10, we can see how surprised he was that Ruth, a young woman by all accounts, chose him over "young men, whether poor or rich." This shows he did not think too much of himself despite his successes.
Boaz Had Integrity
All of Boaz's actions spoke of integrity. Everything he did showed his strong sense of justice, mercy, and faith. Even waking up with a young woman at his feet, literally offering herself to him, did not let him succumb to temptation.
He allowed Ruth to spend the night at his feet and let her leave early enough so that none would recognize her, protecting her honor. Not only that, but he measured out an abundance of grain for her to take back to her mother-in-law.
Then he did the honorable thing and handled the entire situation publicly, offering the inheritance to the first rightful heir rather than trying to deceive his way into even more riches. He trusted God to let everything work out as intended instead of scheming.
Boaz was the same person in public and private, trying to do right by everyone, and that's the very definition of integrity.
Truly Boaz was an amazing leader, a mighty man.
Boaz As A Type Of Christ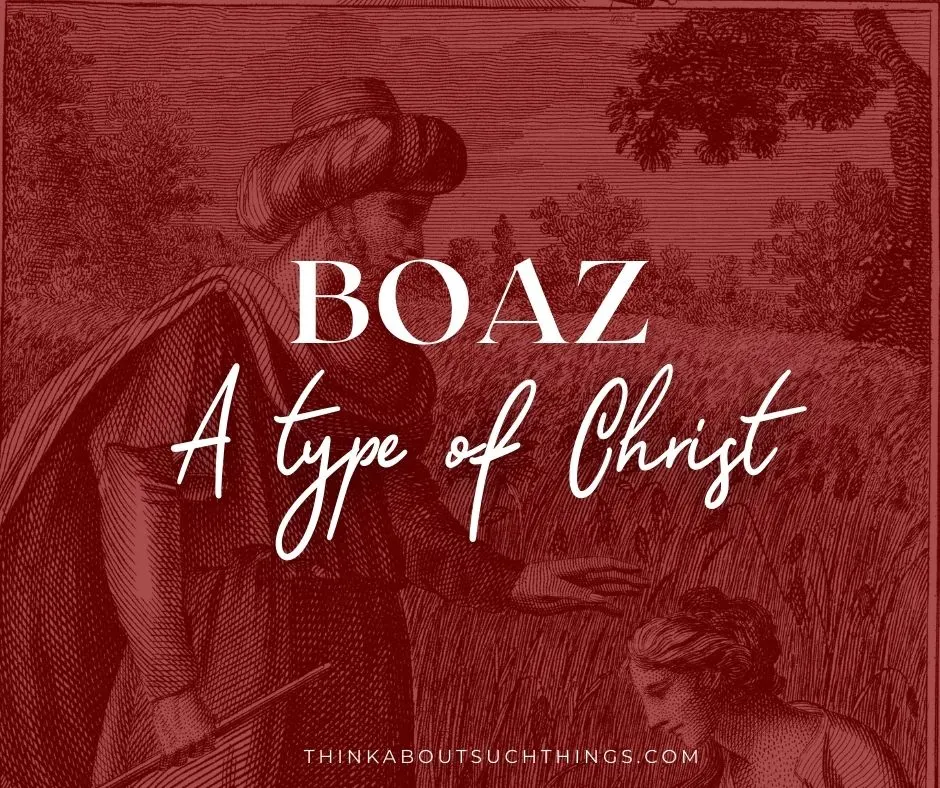 We know that Boaz was the great-grandfather of King David and a direct ancestor of Christ. But when we look at this tale of love, grace, and redemption, we can't help but see the parallels between the character of Boaz and that of Jesus like you do when you look at Joseph and Jesus.
Boaz was a wealthy and successful man who did not think too much of himself, being humble enough to associate with his workers, just as Christ, being God Himself, did not hesitate to become a mere mortal man.

who, being in the form of God, did not consider it robbery to be equal with God, 7 but made Himself of no reputation, taking the form of a bondservant, and coming in the likeness of men. And being found in appearance as a man, He humbled Himself and became obedient to the point of death, even the death of the cross. – Philippians 2:6-8

Boaz gave what he had freely to others and did not rebuke or resist anyone in need, as Christ made His mercy and grace available to all people.

Boaz offered Ruth protection, telling her not to go to other farmlands because he could guarantee her safety, but only on his property. Christ does the same.

We have protection in Him, but only when we stay with Him. We have the guarantee that nothing can take us away from His love.

Ruth was "undesirable" by many standards – she was a childless widow, impoverished, born from a heathen nation, and even previously worshiped other (false) gods.

Yet Boaz embraced her, took care of her, and made her his own, just as Christ did for every one of us, even when we were utterly undesirable.
---
Boaz was a man of integrity, humility, kindness, mercy, and faith. Those are all attributes and characteristics of Christ, so we, as believers, are to emulate them in everything we do. Though Boaz was certainly not perfect, being a mere human, he showed a stunning example of how we can still grow into Christ-likeness despite our flaws.
More On The Book Of Ruth
Would you like to get even more out of the book of Ruth? Well, I've got your back! I have a series of articles sure to help you take a closer look at this precious book from the Bible. Click a study to learn more!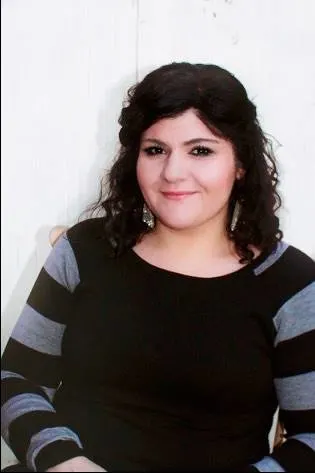 Melissa is a passionate minister, speaker and an ongoing learner of the Bible. She has been involved in church and vocational ministry for over 18 years. And is the founder of Think About Such Things. She has the heart to equip the saints by helping them get into the Word of God and fall more in love with Jesus. She also enjoys family, cooking, and reading.
She has spoken in churches in California, Oregon, Texas, and Mexico and has been featured in Guidepost Magazine and All Recipes Magazine. Read More…