In this article, we will look at some October blessings that we can share with friends and family. I've also included images with the quotes written on them as well.
As October rolls around, with its showy display of fall colors and that crisp chill in the air, it's like we're getting an invitation, a call to take a moment to reflect.
It's a special time for us believers, don't you think? October is like this beautiful doorway, leading us toward the year's end, reminding us of life's cycles and how God's love is constant through it all.
These October blessings can be motivators; they encourage us, inspire us, remind us that we're never alone, even when times get tough. We're under the watchful eye of our God who showers us with His love and goodness.
So, as we navigate through October, let's allow each falling leaf to remind us of God's blessings tumbling into our lives. And let's share these blessings, spreading encouragement and God's love to those around us.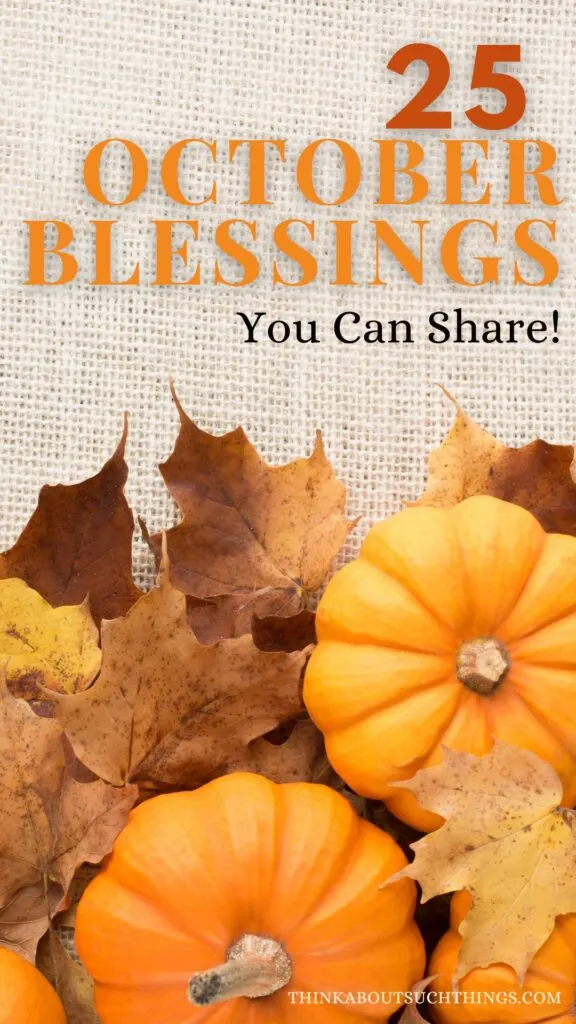 How To Use These Blessings for October
The beauty of blessings is in their sharing, and October provides a wealth of opportunities as everyone is excited about the season and weather change.

Here are some creative ways you can share these October blessings:
Text Messages: Send a short, heartfelt blessing to your loved ones. An unexpected text can brighten someone's day.
Email: For those who prefer a more formal approach, draft an email with a thoughtful blessing. Include a relevant scripture for added inspiration.
Social Media: Share an uplifting blessing on your social media platforms. This can reach a broad audience and perhaps touch a heart that needs it.
Gifts: Attach a small card with a blessing written on it to a gift. It's a beautiful way to add a personal touch.
Crafts: Incorporate blessings into your craft projects, like a stitched sampler or painted canvas. These make lovely, meaningful gifts.
Home Decor: Display blessings around your home. Whether framed on the wall or etched onto a decorative item, they serve as constant, comforting reminders of God's love.
Remember, blessings come in many forms. The most important aspect is the intention behind sharing them – to bring joy, comfort, and hope to others!
October Blessings
*Feel free to use these blessings and images for personal use like texts, email, personal social media pages, and more. If you would like more blessings to share, then check out: 50 Amazing Fall Blessings Plus Images To Share This Autumn
---
May God's grace be your guide this October. Embrace the beauty of fall and His unending love for you.
As the leaves change, may your faith grow stronger. Blessings upon you in this season of transformation. Happy October!
May the Lord bless your heart with His peace as we welcome the harvest season. Happy October!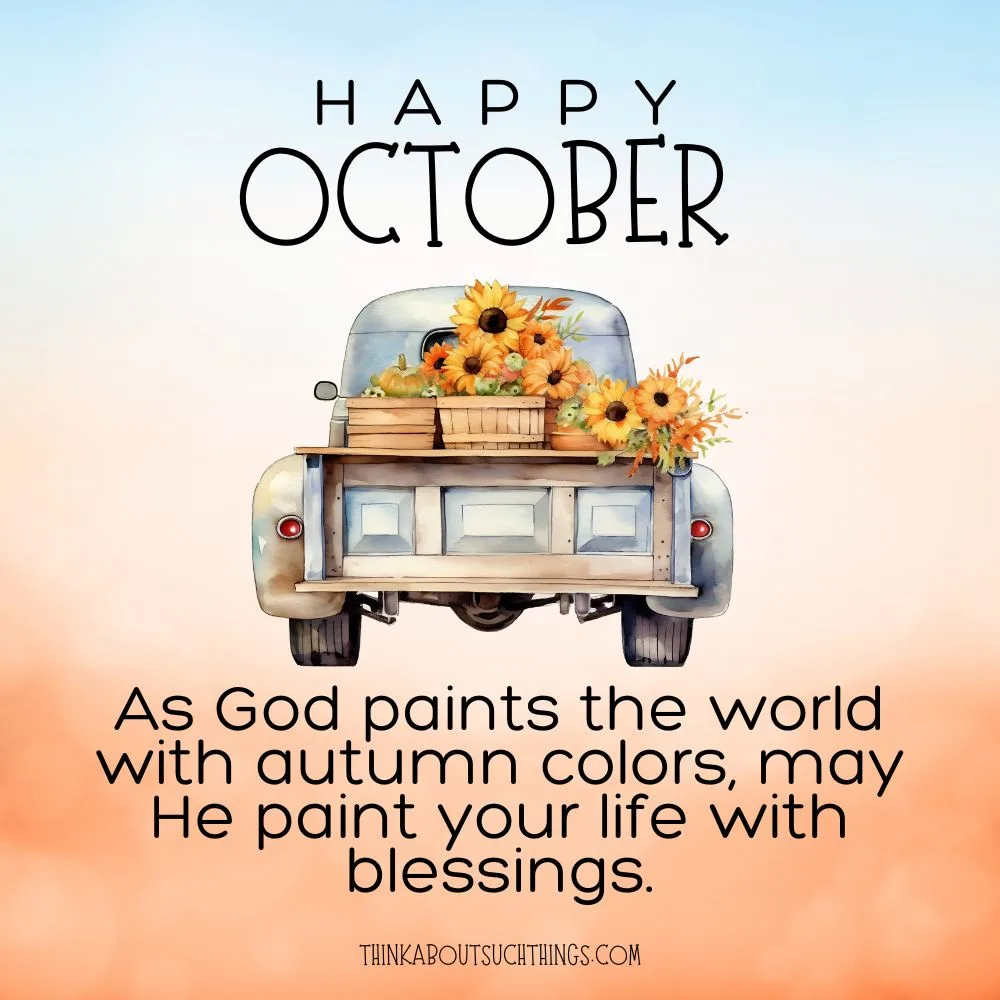 This October, may God's love be your comfort, His grace, your foundation.
Happy October! As trees shed their leaves, may you shed your worries and bask in God's glory.
Just as October brings a new season, may God bring new blessings into your life.
May the Lord's light shine upon you brighter than the autumn sun. Have a truly blessed October.
As God paints the world with autumn colors, may He paint your life with blessings.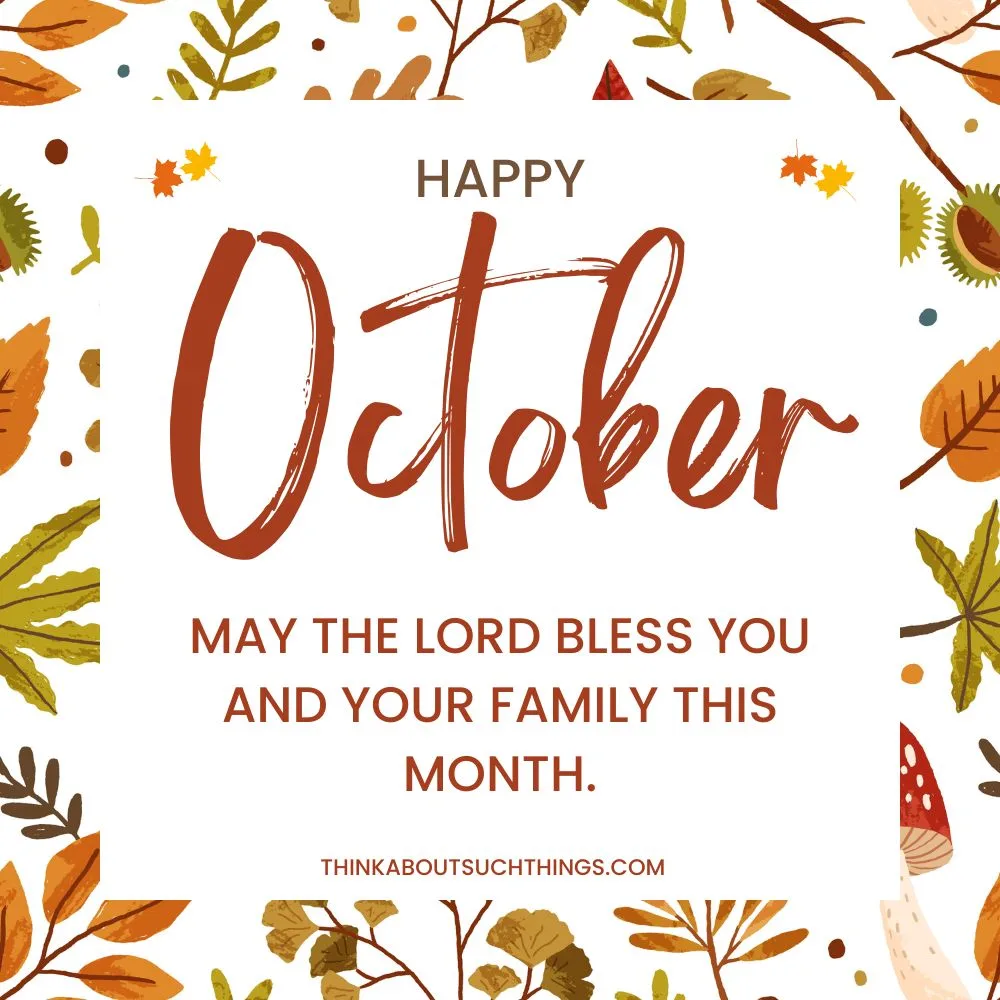 May God's harvest of blessings fill your October with joy and love!
May the cool October breezes remind you of God's constant presence in your life. Have a blessed month!
As you step into October, may God's promises renew your spirit and draw you closer to Him.
In this season of harvest, may you reap the blessings of faith, hope, and love in Christ. Happy October.
May God bless your October days with His abundant love and grace.
Embrace the beautiful changes this October, knowing God's love for you never changes. Blessings!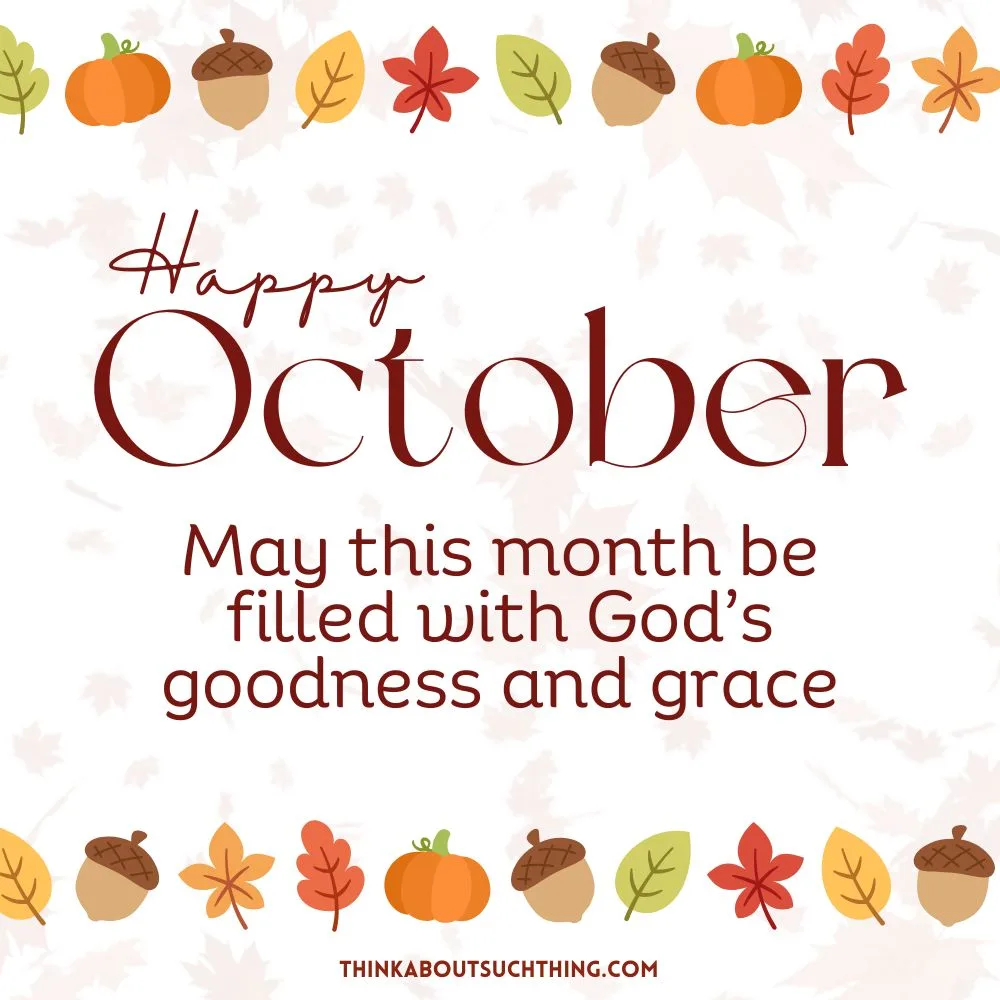 Let the beauty of October remind you of God's masterpiece – you. Happy October, and be blessed!
May the Lord bless your October with an abundance of peace and happiness to you and all your family.
May the Lord shower His blessing over you this October, reminding you that He is faithful.
Like the warmth of an October day, may God's love envelop you. Have a blessed month!
In this season of harvest, may you gather God's blessings in abundance!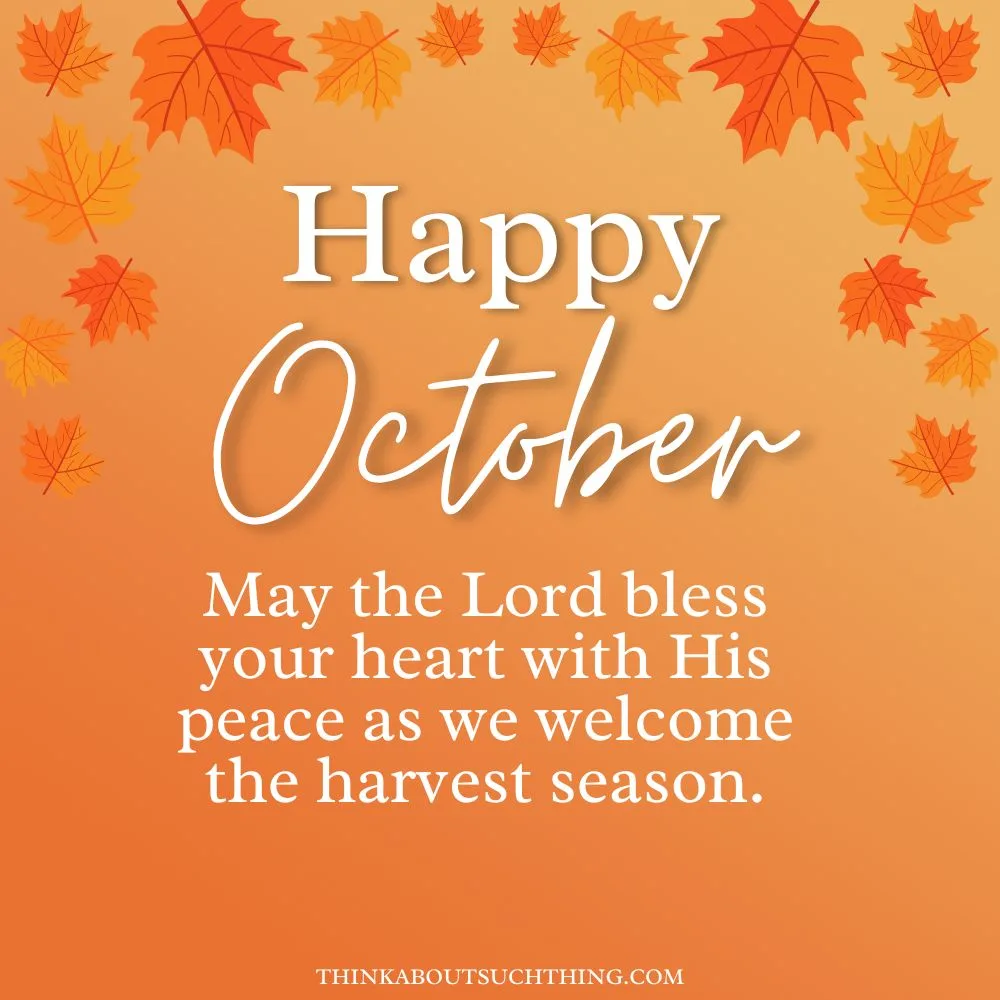 As October ushers in a new season, may God usher in new opportunities for you as He opens new doors.
Welcome October with a heart full of gratitude. May God's blessings overflow in your life.
May the Lord watch over you and your loved ones this October. Many Blessings!
May the changing colors of October remind you of God's unchanging love. God Bless.
This October, may you experience God's peace that surpasses all understanding.
May your faith grow like the autumn trees and your love for God deepen like the October hues.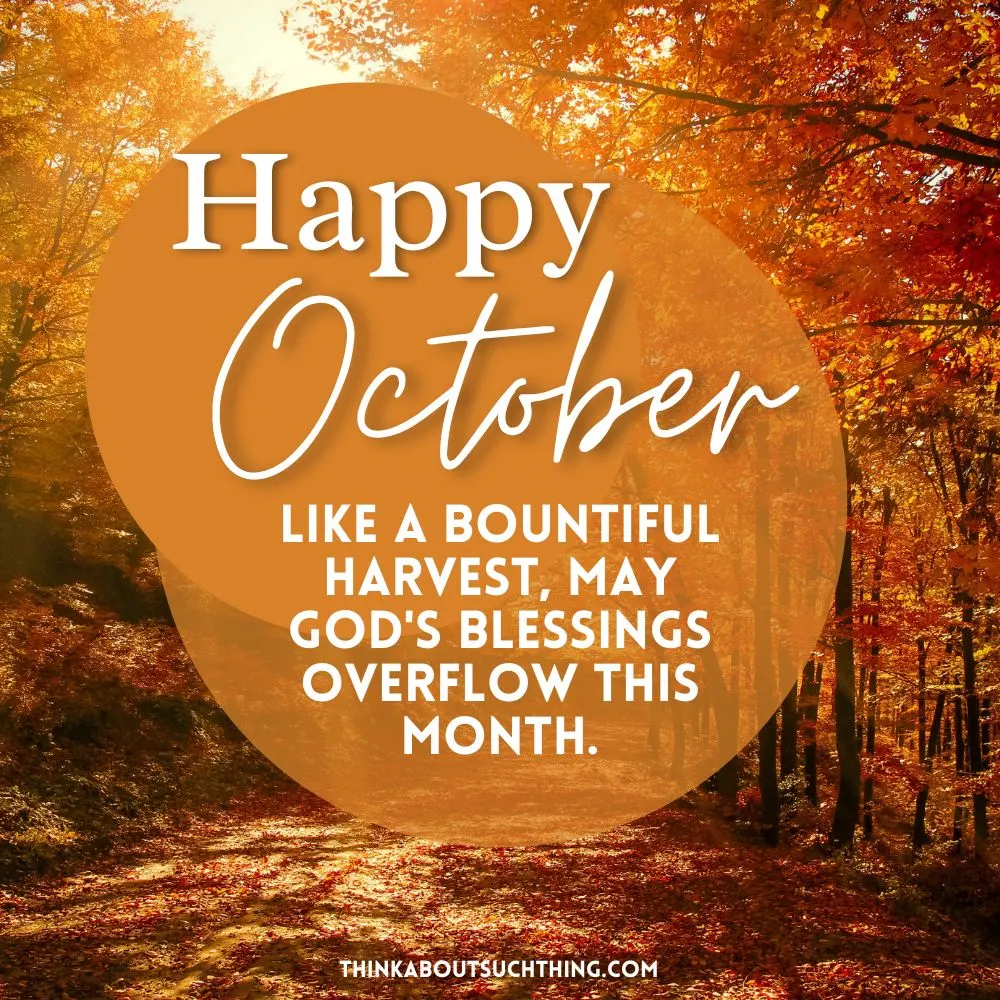 I hope you have enjoyed these October blessings, quotes, and images! Please feel free to share them with those you love! Happy October!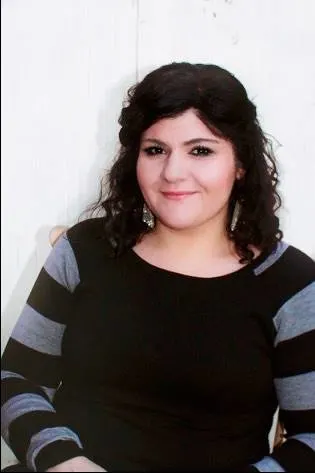 Melissa is a passionate minister, speaker and an ongoing learner of the Bible. She has been involved in church and vocational ministry for over 18 years. And is the founder of Think About Such Things. She has the heart to equip the saints by helping them get into the Word of God and fall more in love with Jesus. She also enjoys family, cooking, and reading.
She has spoken in churches in California, Oregon, Texas, and Mexico and has been featured in Guidepost Magazine and All Recipes Magazine. Read More…