A collection of psalms of praise that will encourage your heart to draw closer to the Lord and worship Him. Each praise psalm will include it's reference and author.
The book of Psalms is one that is very encouraging especially when one is going through a challenging time. It also has Psalms that help us praise God when we don't have the words to do so.
In accordance with Jewish tradition it is said the book of Psalms was written by 10 elders including King David. Out of 150 Psalms 73 were written by King David.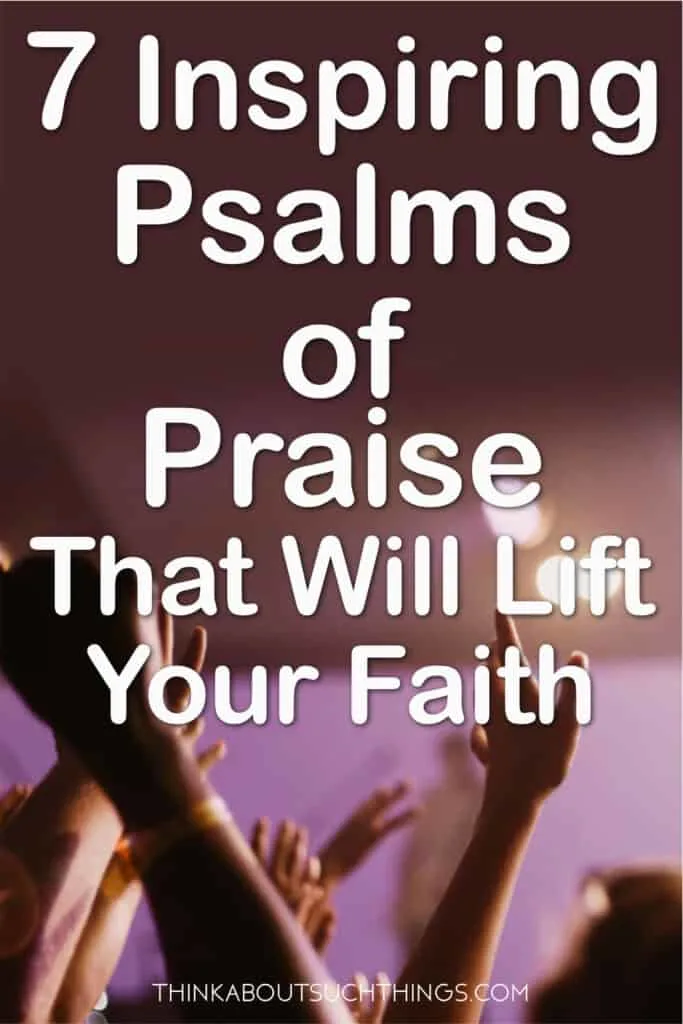 Many of his psalms inspire us because we know his story and can relate to his need of God's salvation and help.
In this article, we will look at 7 Psalms of praise for every season of life. During the current season we find ourselves in around the world, we can praise God despite our circumstances.
I also encourage you to check out my post on the what is the difference between worship and praise.
Psalms of Praise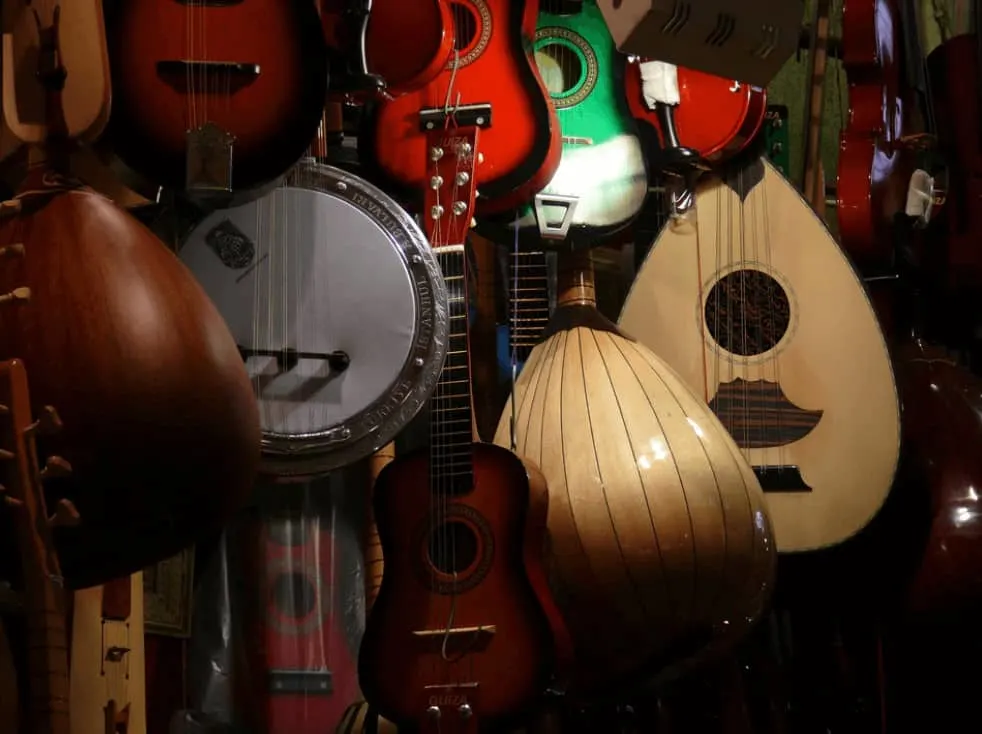 Throughout the book of Psalms there are many that are focused on prause. Some go into thanksgiving, some go into adoration, and so on. But all of them lead us to a place of worshipping the Lord.
Below we will look at 7 praise Psalms. Some of these psalms are lengthy so I have only shared the first 5-6 verses, but you can click the link to read the whole psalm if you like. If there is no option to read the whole psalm that means what I have placed the entire psalm in the blue scripture box.
*All psalms are from the the NKJV
>> Love Psalms? Check out these posts as well: Psalm 42:1 – The Meaning Behind As the Deer Pants , Psalm 23 Commentary: A Simple Look At A Powerful Psalm and 7 Messianic Psalms and What They Mean to Us
Psalm 47 – Praise to God, the Ruler of the Earth
Author: Sons of Korah
Oh, clap your hands, all you peoples!
Shout to God with the voice of triumph!
For the Lord Most High is awesome;
He is a great King over all the earth.
He will subdue the peoples under us,
And the nations under our feet.
He will choose our inheritance for us,
The excellence of Jacob whom He loves. Selah
As we praise God, we can acknowledge that He is the ruler of the earth, and reigns over all nations. This is an encouraging Psalm especially now that we are going through a global pandemic, and we don't know when it will be over.
We can shout to God with the voice of triumph knowing that whatever happens, He will uphold us, and restore whatever we have lost. Our hearts should be full of praise during this season and we should not give in to fear. Let praise be your first reaction, and exalt the King of the earth.
Psalm 92 – Praise to the Lord for His Love and Faithfulness
Author: Unknown, Jewish Tradition states it was written by Adam, but some believe it was written by David.
It is good to give thanks to the Lord,
And to sing praises to Your name, O Most High;
To declare Your lovingkindness in the morning,
And Your faithfulness every night,
On an instrument of ten strings,
On the lute,
And on the harp,
With harmonious sound.
For You, Lord, have made me glad through Your work;
I will triumph in the works of Your hands.
This Psalm inspires us to praise God for His loving kindness in the morning, and His faithfulness every night. God has shown us His everlasting love every day of our lives, and we don't have to do anything to deserve His love.
God is faithful, and He keeps His promises to us, and we can lift up praise for His glory. He is always with us and has promised to never leave or forsake us. We can count on Him to always be with us wherever we go. Praise Him every morning and evening and you will find that it uplifts your spirit.
Psalm 100 – A Song of Praise for the Lord's Faithfulness to His People
Author: Jewish Doctrine believes this is written by Moses
Make a joyful shout to the Lord, all you lands!
Serve the Lord with gladness;
Come before His presence with singing.
Know that the Lord, He is God;
It is He who has made us, and not we ourselves;
We are His people and the sheep of His pasture.
Enter into His gates with thanksgiving,
And into His courts with praise.
Be thankful to Him, and bless His name.
For the Lord is good;
His mercy is everlasting,
And His truth endures to all generations.
With just 5 verses this psalm of praise packs a punch! Enter into the gates of the Lord with thanksgiving, and into His courts with praise.
That verses reveals so much to us. It is stating that praise and worship opens things up and leads us into His presence!
We praise God because He is your Savior, and the one who watches over you without fail. He made you and sustains your life every day.
Praising God reminds us that He is the one in charge of our lives, and will not allow harm to come to us. He comforts us during our times of mourning, and lifts us up. He makes our hearts rejoice again because of His goodness and mercy.
Psalm 103 – Praise for the Lord's Mercies
Author: King David
Bless the Lord, O my soul;
And all that is within me, bless His holy name!
Bless the Lord, O my soul,
And forget not all His benefits:
Who forgives all your iniquities,
Who heals all your diseases,
Who redeems your life from destruction,
Who crowns you with lovingkindness and tender mercies,
Who satisfies your mouth with good things,
So that your youth is renewed like the eagle's.
God crowns us with lovingkindness and His tender mercies. He forgives our sins, and redeems our lives from destruction. He heals our diseases and satisfies us with good things that fill us with joy. We serve a God who is slow to anger and abounds in mercy, and this is reason enough to praise Him.
Praise God that He does not give us what we deserve but instead shows us mercy. He shows us compassion, and helps us even when we don't deserve it. This is how much He loves us and wants to see us live victoriously.
Psalm 113 – The Majesty and Condescension of God
Author: King David
Praise the Lord!
Praise, O servants of the Lord,
Praise the name of the Lord!
Blessed be the name of the Lord
From this time forth and forevermore!
From the rising of the sun to its going down
The Lord's name is to be praised.
The Lord is high above all nations,
His glory above the heavens.
Who is like the Lord our God,
Who dwells on high,
Who humbles Himself to behold
The things that are in the heavens and in the earth?
This Psalm inspires us to praise God because He dwells on high, and yet humbles Himself to behold the things that are in the heavens and in the earth. His name is to be praised because it is above every name, and it is blessed.
We ought to praise God always because there is no other like Him, He is the Most High God. His majesty is beyond comprehension, and we can acknowledge His sovereignty daily. He alone has the power to perform miracles in our lives, and He gives us breakthroughs when we turn to Him. Praise Him for all He has done for you and your family.
Psalm 144 – A Song to the Lord Who Preserves and Prospers His People
Author: King David
Blessed be the Lord my Rock,
Who trains my hands for war,
And my fingers for battle—
My lovingkindness and my fortress,
My high tower and my deliverer,
My shield and the One in whom I take refuge,
Who subdues my people under me.
Lord, what is man, that You take knowledge of him?
Or the son of man, that You are mindful of him?
Man is like a breath;
His days are like a passing shadow.
Bow down Your heavens, O Lord, and come down;
Touch the mountains, and they shall smoke.
READ THE WHOLE PRAISE PSALM HERE
God is our high tower and deliverer, and we can take refuge in Him when things get tough. We can always run to Him when we are in trouble, and He will hide us beneath His wings. You can praise God today for preserving your life from destruction, and from the enemy who seeks to devour you.
Let this Psalm inspire you to praise God because He supplies all your needs and provides for you every day. When we put our trust in the Lord, we lack nothing and He makes sure that we are protected and safe. The ending of this Psalm tells us that happy are the people whose God is the Lord. Praise God today, and dwell in joy and happiness.
Psalm 150 – Let All Things Praise the Lord
Author: Unknown
Praise the Lord!
Praise God in His sanctuary;
Praise Him in His mighty firmament!
Praise Him for His mighty acts;
Praise Him according to His excellent greatness!
Praise Him with the sound of the trumpet;
Praise Him with the lute and harp!
Praise Him with the timbrel and dance;
Praise Him with stringed instruments and flutes!
Praise Him with loud cymbals;
Praise Him with clashing cymbals!
Let everything that has breath praise the Lord.
Praise the Lord!
"Let everything that has breath praise the Lord" is the inspiration we get from this Psalm. We are all to praise God for who He is and not only for what He has done for us. We are to praise Him for His mighty acts, and we can do so in song and dance too.
We are to rise up as God's creation and praise Him in all the ways we can think of because He deserves our praise. We don't need a reason to praise God, and we can do it any time we are inspired to do so in the course of the day. Make praise a lifestyle today, and see the wonders of God.
Bonus Praise Psalms List
If you are looking for a simple list of Psalms of praise and thanksgiving. Then check out these 17 psalms. If you are doing a study on the topic this is a great start! I would also encourage you to check out other Topical Bible Verses to aid in your study time.
Psalm 47
Psalm 92
Psalm 100
Psalm 103
Psalm 57
Psalm 28
Psalm 113
Psalm 144
Psalm 150
Psalm 34
Psalm 42
Psalm 117
Psalm 136
Psalm 89
Psalm 30
Psalm 11
Psalm 138
---
A life of praise is one that pleases God because we recognize His sovereignty in all our circumstances. He inhabits the praises of His people, and this means that we can experience His presence every moment of our lives. We honor God when we praise Him.
There are many other Psalms that will inspire you to praise God, and you can look them up in your Bible. Next time you can't find the words to praise God, look for an inspiring Psalm, and say it out loud.
If you would like to share what God is doing in your life or what God is teaching through the psalms. Please leave me a comment below. I would love to hear from you!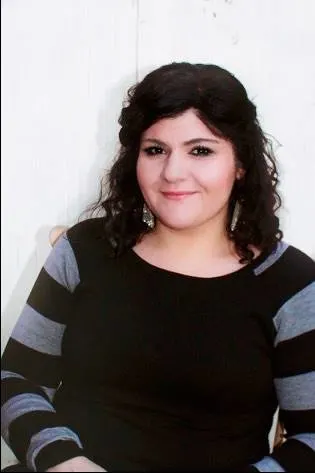 Melissa is a passionate minister, speaker and an ongoing learner of the Bible. She has been involved in church and vocational ministry for over 18 years. And is the founder of Think About Such Things. She has the heart to equip the saints by helping them get into the Word of God and fall more in love with Jesus. She also enjoys family, cooking, and reading.
She has spoken in churches in California, Oregon, Texas, and Mexico and has been featured in Guidepost Magazine and All Recipes Magazine. Read More…