In this article, we will explore a famous verse, Psalm 42:1. In this short devotional, we will look at what is the meaning of as the deer pants and what we can learn from this simple but beautiful verse.
I'm always blown away by how you can take a small topic, verse, or even person (like Barabbas) and it can be so rich and transformational in our growth spiritually. Sure, huge topics or portions of scripture can be a treasure chest of nuggets and gems. But there is value and beauty at examining just one gem.
And that's exactly what we are going to do today, Psalm 42. I thought about going through the whole Psalm, but then decided to create a small study or devotional on the first verse, which is extremely well known.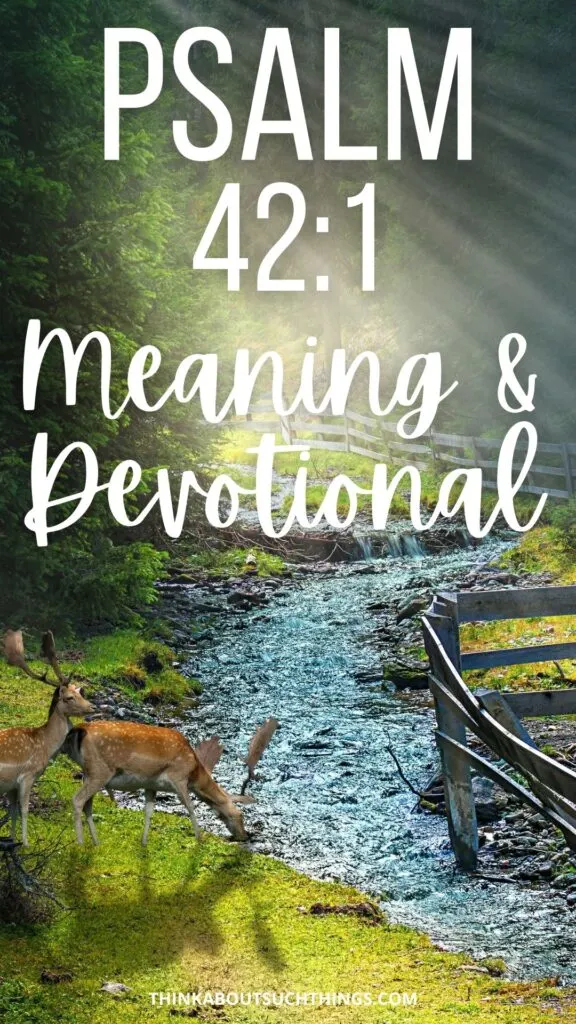 When I started this study, I thought I pretty much understood passage, but as I studdied, I saw a facet of this gem that I never knew. I hope it blesses you as it has truly blessed me.
>> If you love looking at Psalms check out: Psalm 23 Commentary: A Simple Look At A Powerful Psalm
Psalm 42:1 Meaning & Devotional
Before we dig in, here is Psalm 42:1 in various translations. As you can see, there are only a few differences. King James uses the word hart instead of deer, which means a male deer (stag) over the age of five.
| Bible Translations | Psalm 42:1 |
| --- | --- |
| King James Version | (To the chief Musician, Maschil, for the sons of Korah.) As the hart panteth after the water brooks, so panteth my soul after thee, O God. |
| Amplified Version | To the Chief Musician. A skillful song, or a didactic or reflective poem, of the sons of Korah. As the deer pants [longingly] for the water brooks, So my soul pants [longingly] for You, O God. |
| New International Version | For the director of music. A maskil of the Sons of Korah. As the deer pants for streams of water, so my soul pants for you, my God. |
| New American Standard Version | For the music director. A Maskil of the sons of Korah. As the deer pants for the water brooks, So my soul pants for You, God. |
This is a picture of my Bible Study process for this verse. If you are interested in learning how to study like this, then I encourage you to check out this post: How To Do A Topical Bible Study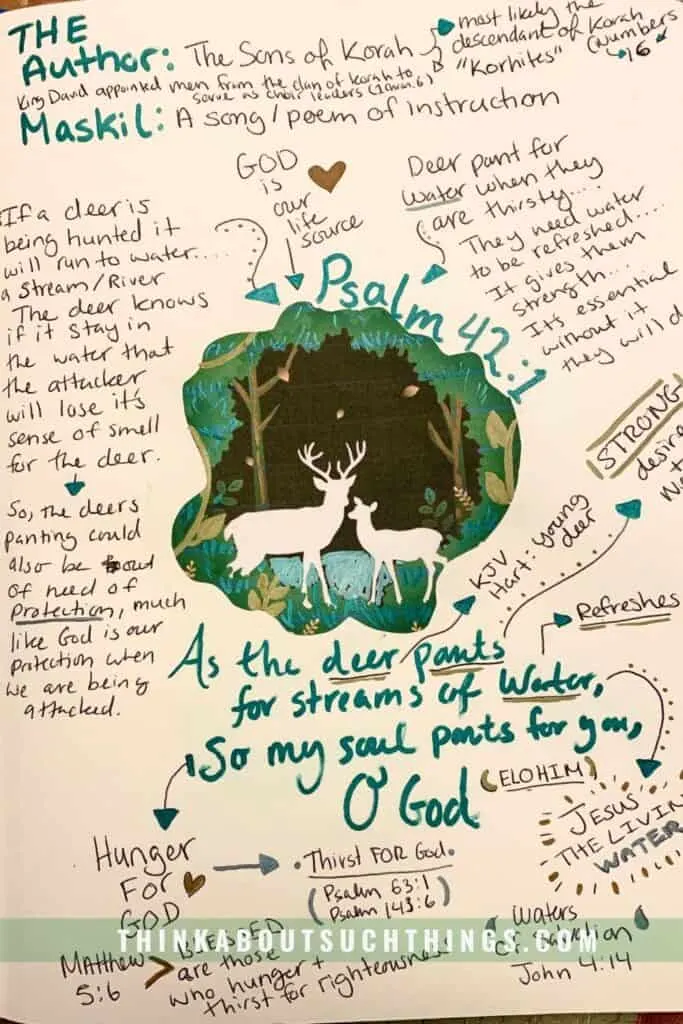 Now, let's look over some important details:
About the Author
There are 8 named authors in the book of Psalms. And one being the sons of Korah. But who is Korah? Well, scripture mentions 3 different Korahs. Many attribute this Korah to be the well-known one in Number 16, that rebels against Moses.
These sons of Korah were not direct sons to Korah, but descendents.
"Exodus 6:24 lists the names of three sons of Korah: Assir, Elkanah, and Abiasaph, who form tribes of a group of people known as the Korahites. To clarify – these were Korah's literal children, not the authors of the Psalms. However, the successive line seems to go all the way through the prophet Samuel and beyond." (source)
The sons of Korah wrote a total 11 psalms : 42,44,45,46,47,48,49,84,85 87, and 88.
What is a Maskil?
You may have never heard of the word maskil, but it actually a musical term. It simply means an instructive (didactic) song/poem. This shows you that psalms were not just written by different authors, but also in different styles.
Below is what we see the word mean in the Hebrew:
מַשְׂכִּיל maskîyl, mas-keel'; from H7919; instructive, i.e. a didactic poem:—Maschil.
Now, let's look at the next section…
As the deer pants for water…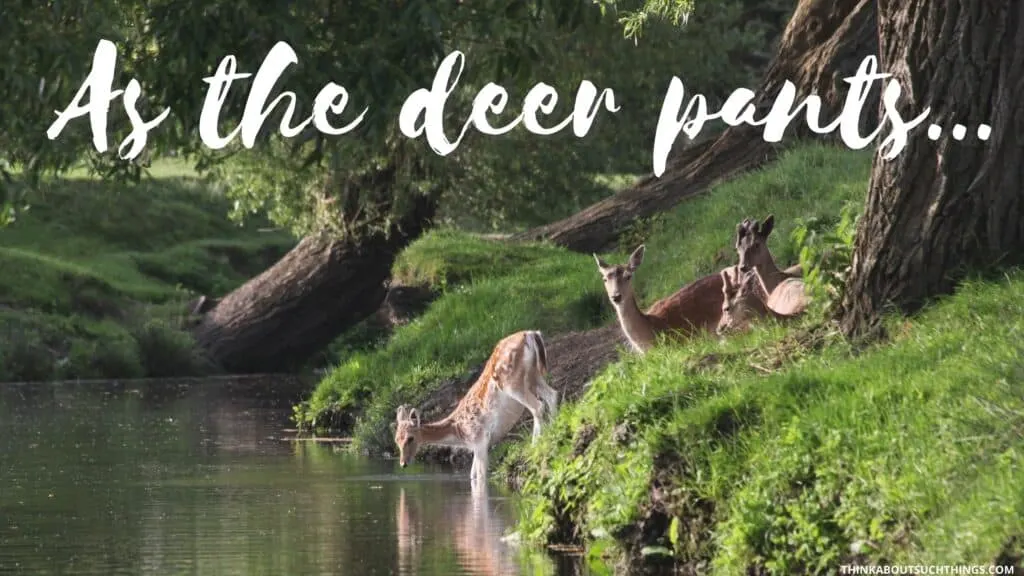 "As the deer pants for streams of water, So pants my soul for You, O God."
The first and most obvious thing we see is this incredible hunger and thirst for the Lord (passion) by the author. He is comparing it to how a deer will seek a stream to quench its thirst. The author does a beautiful job describing that.
We also see this idea of thirsting for God in Psalm 63:1 and Psalm 143: 6. And when we go to the New Testament, we see Jesus is our living water, and that blessed are those who hunger and thirst for righteousness.
On the last and greatest day of the festival, Jesus stood and said in a loud voice, "Let anyone who is thirsty come to me and drink. Whoever believes in me, as Scripture has said, rivers of living water will flow from within them." By this he meant the Spirit, whom those who believed in him were later to receive. Up to that time the Spirit had not been given, since Jesus had not yet been glorified. – John 7:37-39
Deer need water to survive, just like every creature on this earth. Without it, we would all perish. In the spirit, it's the same thing. Jesus is our living water and we drink from Him. We are then restored, refreshed, strengthen and more.
But it's even richer than just that. Yes, deer run to water for thirst, but they also run to water for safety and protection. When a deer runs to the water (deer can swim), it helps them by causing their enemies to not see them and lose their scent.
This leaves the prowling enemy confused to where the deer went. It's like this in the spirit as well. If we run to the Living Water, we won't just have our thirst satisfied, but we are then washed and cleansed, and protected.
That's why in proverbs 18:11 says "The name of the LORD is a strong tower; The righteous run to it and are safe."
Deer also run to water when they have been injured. It's a natural response they have when they are hurt.
When we run to the Lord, He provides us with protection (Psalm 91), He cleanses us (1 John 1:9) He refreshes us (Jeremiah 31:25). He brings healing (Isaiah 53:5) and so much more! This is why we see throughout scripture that water is a symbol for the Holy Spirit.
So, you can see that in this little verse we learn we are to thirst after God and when we are there waiting on Him He doesn't just quench our desire for Him but provide so much more for us!
>> Check Out: Deer In The Bible: Symbolism, References, & Meaning
My final thoughts of Psalm 42:1
I want to close the worship song, As The Deer and with a reminder that as we run to God he gives us the full package. He satisfies us fully in every need we have.
If it's fear, He protects
If it's bondage, He sets free
If it's rejection, He accepts
If it's sickness, He heals
If it's turmoil, He brings peace
If it's depression, He brings Hope
If it's hunger, He provides
He is the way and the truth and the life…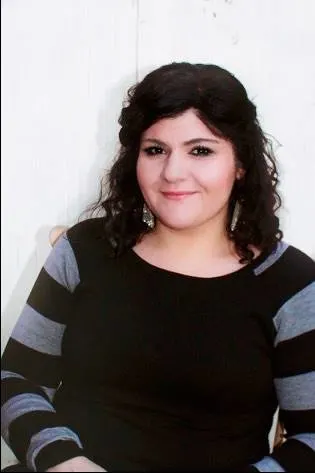 Melissa is a passionate minister, speaker and an ongoing learner of the Bible. She has been involved in church and vocational ministry for over 18 years. And is the founder of Think About Such Things. She has the heart to equip the saints by helping them get into the Word of God and fall more in love with Jesus. She also enjoys family, cooking, and reading.
She has spoken in churches in California, Oregon, Texas, and Mexico and has been featured in Guidepost Magazine and All Recipes Magazine. Read More…