This post may contain affiliate links. Please read my disclosure policy for more info.
I recently read and reviewed When Others Shuddered: Eight Women Who Refused to Give Up. <– click there to check out my review. When I picked up the book I didn't realize that it was about 8 women who worked with Dwight L. Moody or attended Moody Institute. It was quite amazing to see how God used their connection to each other to further the Kingdom of God.
Since then I thought it would be fun to share some inspiring D.L Moody quotes. I highly recommend reading these slowly and letting them sink in. They carry a powerful punch of truth.
20 D.L Moody Quotes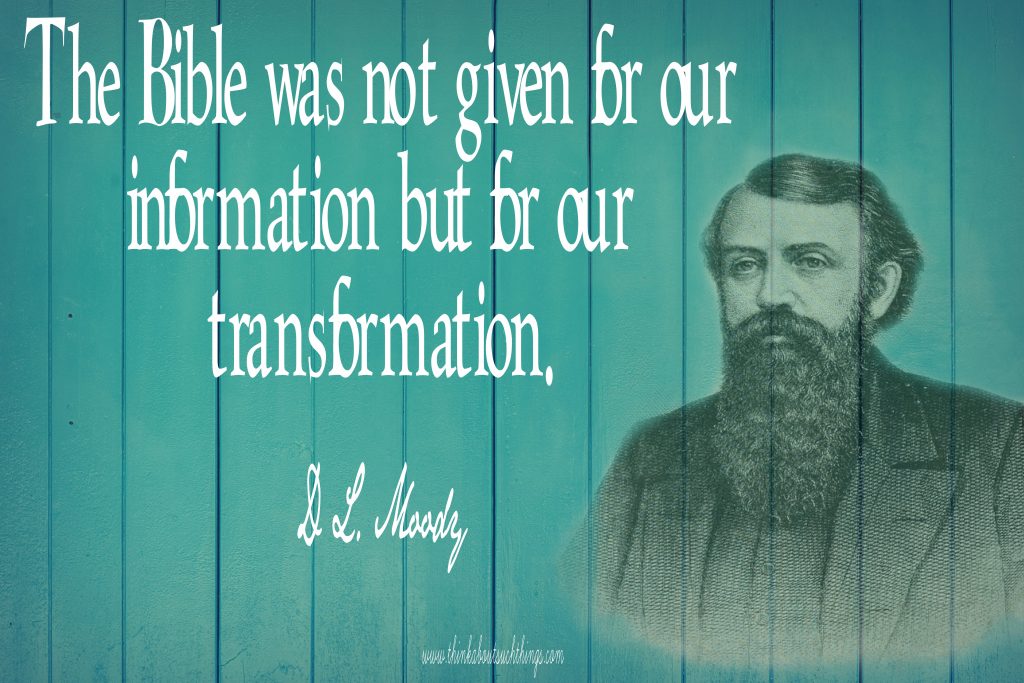 "There are many of us that are willing to do great things for the Lord, but few of us are willing to do little things." D L. Moody
"I never saw a fruit-bearing Christian who was not a student of the Bible." D L. Moody
"We are told to let our light shine, and if it does, we won't need to tell anybody it does. Lighthouses don't fire cannons to call attention to their shining- they just shine." D L. Moody
"There is no use trying to do Church work without love. A doctor, a lawyer, may do good work without love, but God's work cannot be done without love." D L. Moody
"How far away is Heaven? It is not so far as some imagine. It wasn't very far from Daniel. It was not so far off that Elijah's prayer and those of others could not be heard there. Men full of the Spirit can look right into heaven." D L. Moody
"Small numbers make no difference to God. There is nothing small if God is in it." D L. Moody
"If I take care of my character; my reputation will take care of itself." D L. Moody
The Bible without the Holy Spirit is a sundial by moonlight. D L. Moody
"A rule I have had for years is: to treat the Lord Jesus Christ as a personal friend. His is not a creed, a mere doctrine, but it is He Himself we have." D L. Moody
"I firmly believe that the moment our hearts are emptied of selfishness and ambition and self-seeking and everything that is contrary to God's law, the Holy Spirit will come and fill every corner of our hearts; but if we are full of pride and conceit, ambition and self-seeking, pleasure and the world, there is no room for the Spirit of God. I also believe that many a man is praying to God to fill him, when he is full already with something else. Before we pray that God would fill us, I believe we ought to pray that He would empty us. There must be a n emptying before there can be a filling; and when the heart is turned upside down, and everything that is contrary to God is turned out, then the Spirit will come…" D L. Moody
"Read the Bible, my friends, as if you were seeking for something of value. It is a good deal better to take a single chapter, and spend a month on it, than to read the Bible at random for a month." D L. Moody
"The Bible will keep you from sin, or sin will keep you from the Bible." D L. Moody
"The voice of sin is loud, but the voice of forgiveness is louder." D L. Moody
"Character is what you are in the dark." D L. Moody

"We ought to see the face of God every morning before we see the face of man." D L. Moody
"He who kneels the most, stands the best." D L. Moody
"Bear in mind there is no situation in life for which you cannot find some word of consolation in Scripture." D L. Moody
"Every great movement of God can be traced to a kneeling figure." D L. Moody
"What we need as Christians is to be able to feed ourselves. How many there are who sit helpless and listless, with open mouths, hungry for spiritual things, and the minister has to try to feed them, while the Bible is a feast prepared, into which they never venture." D L. Moody
"The Bible was not given for our information but for our transformation." D L. Moody
Drop me a comment below sharing your favorite D.L Moody quotes!