In this article, we will look at summer Bible verses. This a great way to study the different seasons and what God's Word has to say about them. So, grab your Bible, and let's get started…
Who doesn't love summertime? Sunny days, outdoor events, camping, the beach or lake, vacations, and so much more!
I love all those things, but being from Northern California sometimes the best place to be is inside next to the AC. No, joke…when it gets 110 outside you are just trying to survive!
I always wondered what it was like in the summer season in the Bible. And to my amazement, it varies greatly on what part of Israel you are in. Pastor Charles Pope has a neat article that goes into details about it, What Was the Climate and Weather Of Israel Like at the Time of Jesus?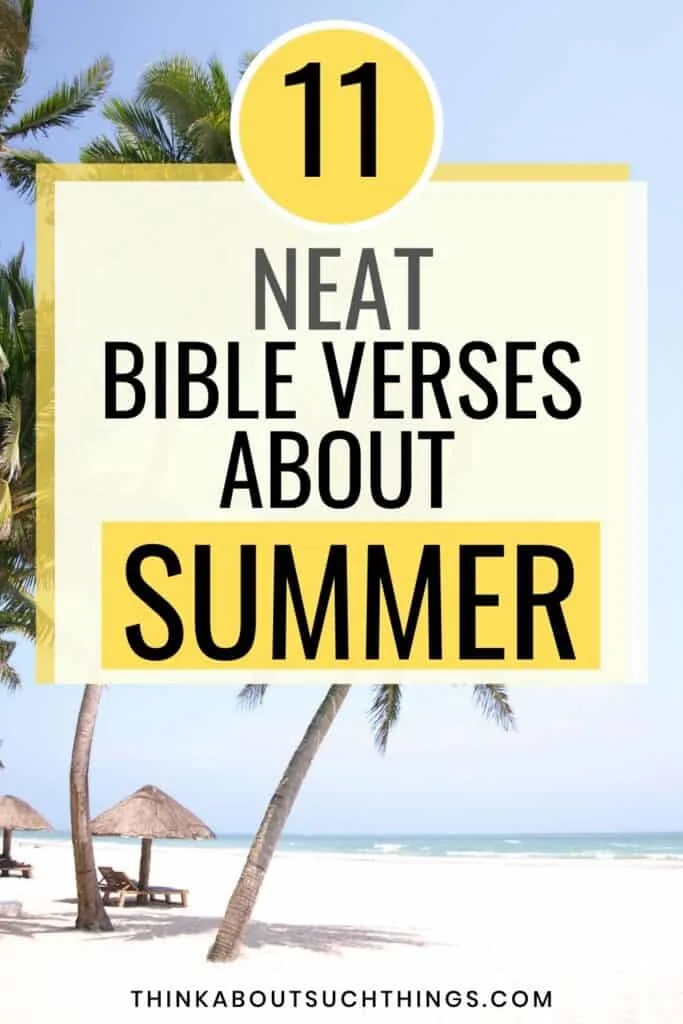 Another way we can learn about the weather is by exploring Bible verses about summer. And that's exactly what we are going to do! But before we jump right in it's important to know that not all verses will have the word, "summer."
Some verses will allude to the summertime season. An example is a verse below (Isaiah 28:4) that speaks about the fig tree, "will be like figs ripe before harvest." Depending on the variety summer figs will ripen all the way until August. The verse doesn't flat-out talk about summer but alludes to it.
The word summer is mentioned 27 times within the KJV, but many verses actually mention "summer fruit." I have only included one verse about summer fruit. As I felt like that is more about fruit than the season of summer.
I have not included any verses about the sun or sunshine even though that can be connected. If you are interested in learning on that topic then check out my post on Bible Verses about the Sun. Super interesting!
If you would like to check out more seasonal verses please check them out below:
Summer Bible Verses
Now all the scriptures on summer are taken from the New International Version (NIV). But If you hover over the verse reference you can read the Amplified version! It's pretty cool.
If you would like to explore other versions, then I highly recommend going to Biblegateway.com. It's amazing how different translations paint a slightly different picture.
Important Note – Some portions of scripture are long. I encourage you to still read through them as you will understand better what the passage is saying.
---
Proverbs 10:5 NIV – 5 He who gathers crops in summer is a prudent son, but he who sleeps during harvest is a disgraceful son.
Genesis 8:22 NIV – 22 "As long as the earth endures, seedtime and harvest, cold and heat, summer and winter, day and night will never cease."
Psalm 74:17 NIV – 17 It was you who set all the boundaries of the earth; you made both summer and winter.
Proverbs 26:1 NIV – 1 Like snow in summer or rain in harvest, honor is not fitting for a fool.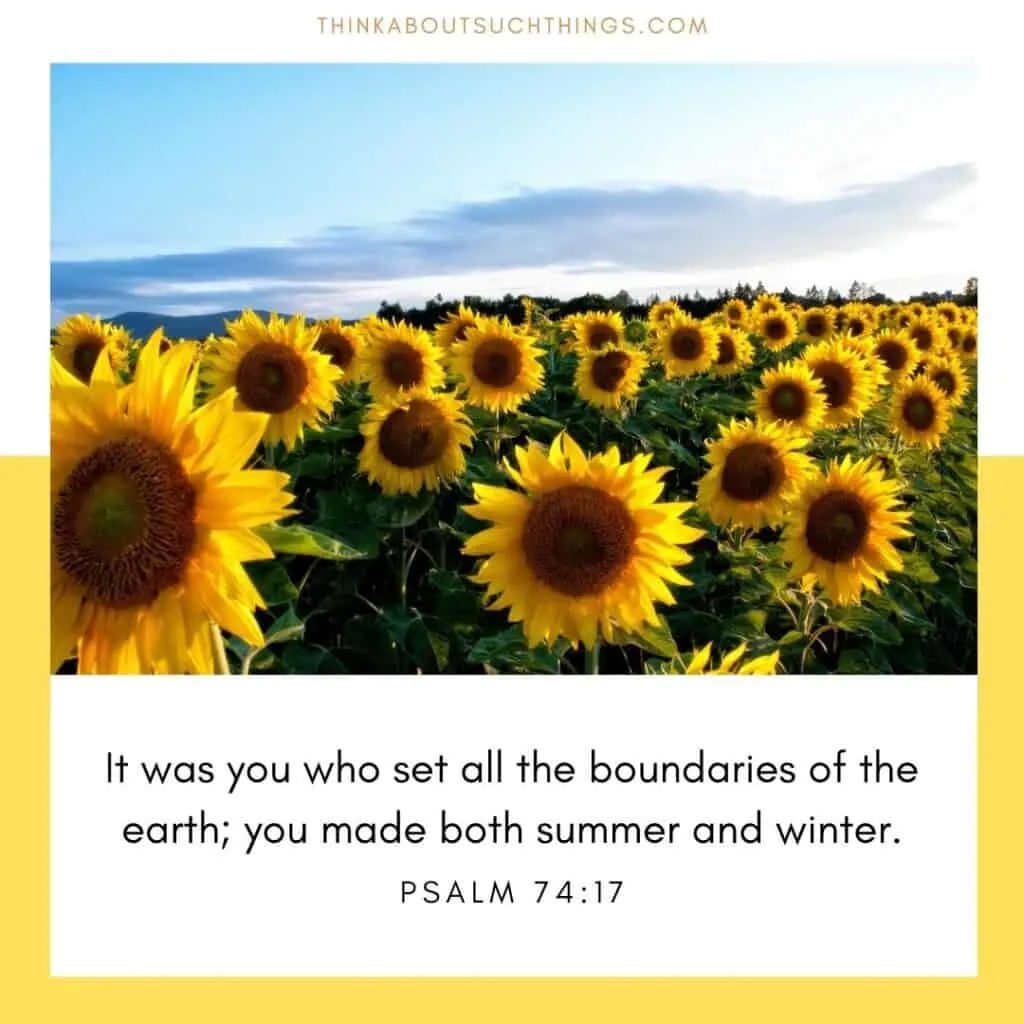 Luke 21:29-36 NIV – 29 He told them this parable: "Look at the fig tree and all the trees. 30 When they sprout leaves, you can see for yourselves and know that summer is near. 31 Even so, when you see these things happening, you know that the kingdom of God is near. 32 "Truly I tell you, this generation will certainly not pass away until all these things have happened. 33 Heaven and earth will pass away, but my words will never pass away. 34 "Be careful, or your hearts will be weighed down with carousing, drunkenness and the anxieties of life, and that day will close on you suddenly like a trap. 35 For it will come on all those who live on the face of the whole earth. 36 Be always on the watch, and pray that you may be able to escape all that is about to happen, and that you may be able to stand before the Son of Man."
Isaiah 28:4 NIV – 4 That fading flower, his glorious beauty, set on the head of a fertile valley, will be like figs ripe before harvest–as soon as people see them and take them in hand, they swallow them.
Judges 5:31 NIV – 31 "So may all your enemies perish, LORD! But may all who love you be like the sun when it rises in its strength." Then the land had peace forty years.
Jeremiah 8:20 NIV – 20 "The harvest is past, the summer has ended, and we are not saved."
Proverbs 6:6-8 NIV – 6 Go to the ant, you sluggard; consider its ways and be wise! 7 It has no commander, no overseer or ruler, 8 yet it stores its provisions in summer and gathers its food at harvest.
Psalm 32:4 NIV – 4 For day and night your hand was heavy on me; my strength was sapped as in the heat of summer.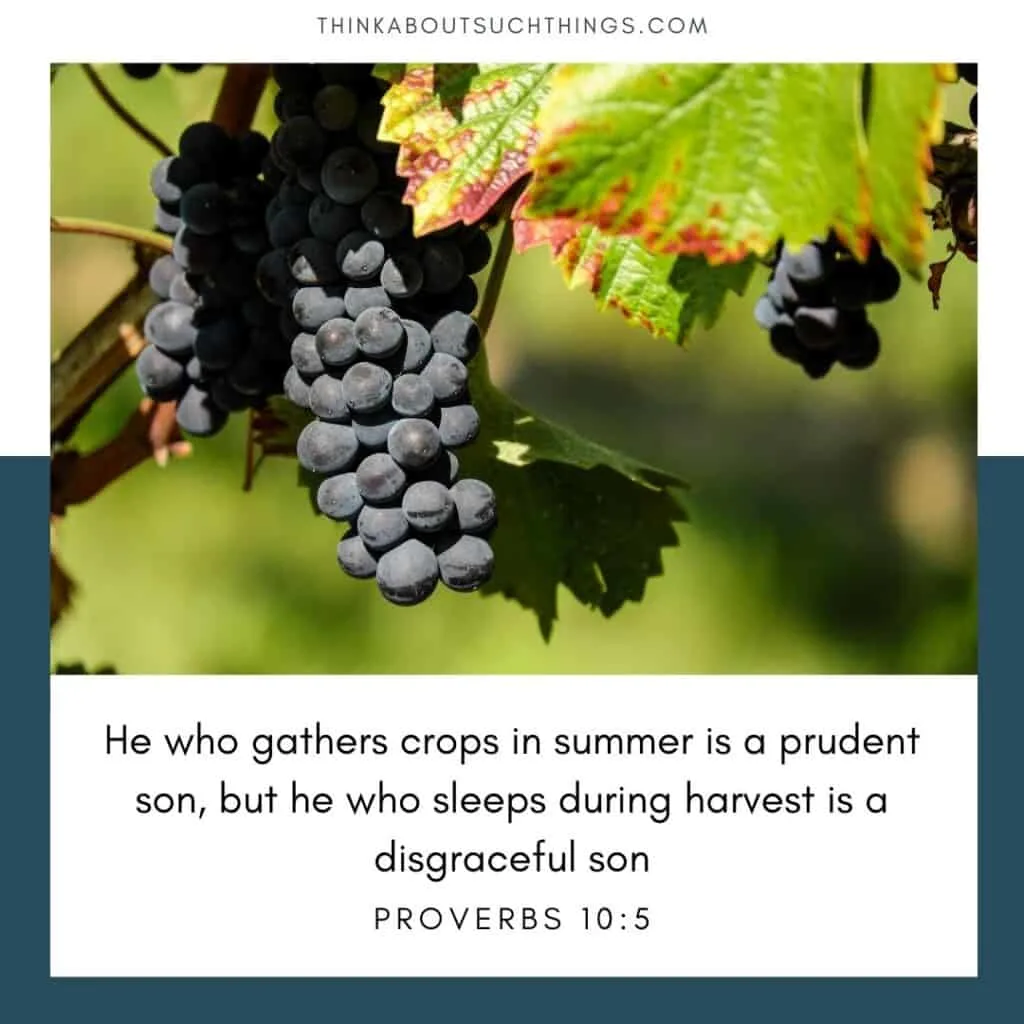 Micah 7:1 NIV – 1 What misery is mine! I am like one who gathers summer fruit at the gleaning of the vineyard; there is no cluster of grapes to eat, none of the early figs that I crave.
2 Samuel 16:1-2 NIV – 1 When David had gone a short distance beyond the summit, there was Ziba, the steward of Mephibosheth, waiting to meet him. He had a string of donkeys saddled and loaded with two hundred loaves of bread, a hundred cakes of raisins, a hundred cakes of figs and a skin of wine. 2 The king asked Ziba, "Why have you brought these?" Ziba answered, "The donkeys are for the king's household to ride on, the bread and fruit are for the men to eat, and the wine is to refresh those who become exhausted in the wilderness." (summertime in the wilderness)
Amos 3:15 NIV – 15 I will tear down the winter house along with the summer house; the houses adorned with ivory will be destroyed and the mansions will be demolished," declares the LORD.
List of Bible Verses about Summer
If you landed on this post for study purposes. I always find it helpful to have a clean list of verses that I can jot down. So, for your convenience, I have created one for you below!
Isaiah 28:4
Proverbs 10:5
Genesis 8:22
Psalm 74:17
Proverbs 26:1
Luke 21:29-36
Judges 5:31
Luke 21:30
Jeremiah 8:20
Proverbs 6:6-8
Psalm 32:4
Micah 7:1
2 Samuel 16:1-2
Amos 3:15
---
I am always in awe of how God created things. The seasons being one of them! I hope you have learned and enjoyed these summer scriptures.
Feel free to leave me a comment below! I would love to hear from you and what you are learning in God's Word.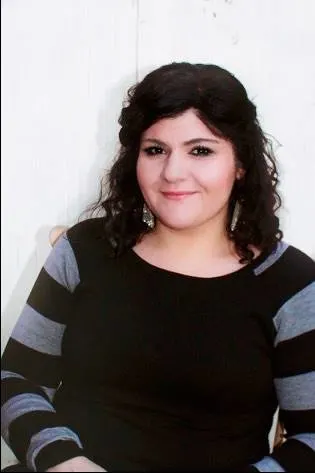 Melissa is a passionate minister, speaker and an ongoing learner of the Bible. She has been involved in church and vocational ministry for over 18 years. And is the founder of Think About Such Things. She has the heart to equip the saints by helping them get into the Word of God and fall more in love with Jesus. She also enjoys family, cooking, and reading.
She has spoken in churches in California, Oregon, Texas, and Mexico and has been featured in Guidepost Magazine and All Recipes Magazine. Read More…