In this article, we will explore Bible verses about seasons. These verses will help you get a better understanding of what scripture says about seasons. So, grab your Bible, and let's dig in!
Times and seasons in the Bible have always been an interest to me. And to be honest to fully understand you really need to do an in-depth study. But for this post, we will be just focusing on verses on seasons.
In the King James Version, we see the word season(s) mentioned 69 times. But what I found interesting was that as I searched the Bible for these verses. I found a slew of different references for the word. Below is a list of what I found.
Seasons: Winter, Spring, Summer, and Fall
Night seasons
In due season or in season
Appointed seasons
Seasoning as in seasoning food with salt
The majority of the time the word season is to reference a specific set time or appointed time. This of course is when we can see it can mean specific times in the earth's weather pattern changes. But a lot of these season passages allude to the seasons to which the Jewish festivals are in. It's also important to note that in Hebrew, we see 5 Hebrew words that are translated into our English word season. This makes it harder to fully grasp what the Lord is showing us. To get a full and clear picture we need to study the topic.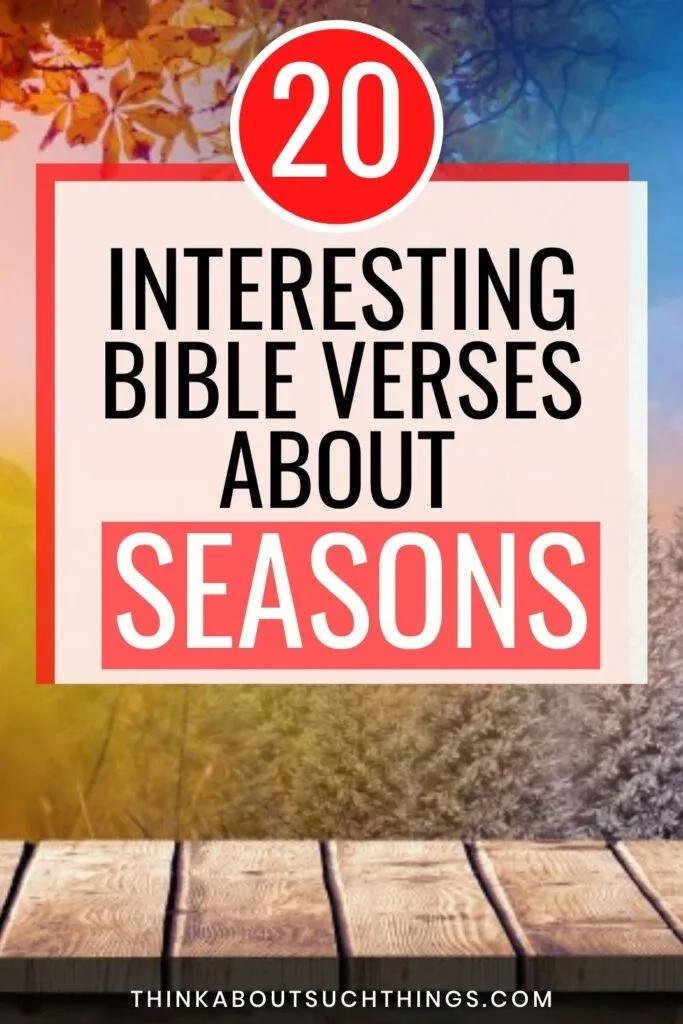 If you are really wanting to dig into this topic I would highly recommend using a Strong's Concordance and Bible dictionary. This will help with understanding the Hebrew and Greek words, but also give you some historical understanding.
For this post, I will be sharing mostly Bible verses on seasons that we think of, spring, fall, summer, and winter. I have included a few others so you can see the difference. If you would like to check out a specific season. Then check out the images below. Just click on the one that interests you.
Bible Verses On Seasons
Below you will find 20 scripture verses about seasons. These all have been taken from the NIV or NKJ translation. You can hover over the Bible reference if you would like to read the Amplified Version of the verse. For more translations please visit, biblegateway.com.
---
Genesis 1:14 NKJV – 14 Then God said, "Let there be lights in the firmament of the heavens to divide the day from the night; and let them be for signs and seasons, and for days and years
Psalm 1:3 NIV – 3 That person is like a tree planted by streams of water, which yields its fruit in season and whose leaf does not wither–whatever they do prospers.
Ecclesiastes 3:1 NIV – 1 There is a time for everything, and a season for every activity under the heavens:
Ezekiel 34:26 NIV – 26 I will make them and the places surrounding my hill a blessing. I will send down showers in season; there will be showers of blessing.
Exodus 13:10 NKJV – 10 You shall therefore keep this ordinance in its season from year to year.
Jeremiah 5:24 NIV – 24 They do not say to themselves, 'Let us fear the LORD our God, who gives autumn and spring rains in season, who assures us of the regular weeks of harvest.'
Psalm 104:19 NIV – 19 He made the moon to mark the seasons, and the sun knows when to go down.
Ezra 10:13 NIV – 13 But there are many people here and it is the rainy season; so we cannot stand outside. Besides, this matter cannot be taken care of in a day or two, because we have sinned greatly in this thing.
Daniel 2:21 NIV – 21 He changes times and seasons; he deposes kings and raises up others. He gives wisdom to the wise and knowledge to the discerning.
Deuteronomy 28:12 NIV – 12 The LORD will open the heavens, the storehouse of his bounty, to send rain on your land in season and to bless all the work of your hands. You will lend to many nations but will borrow from none.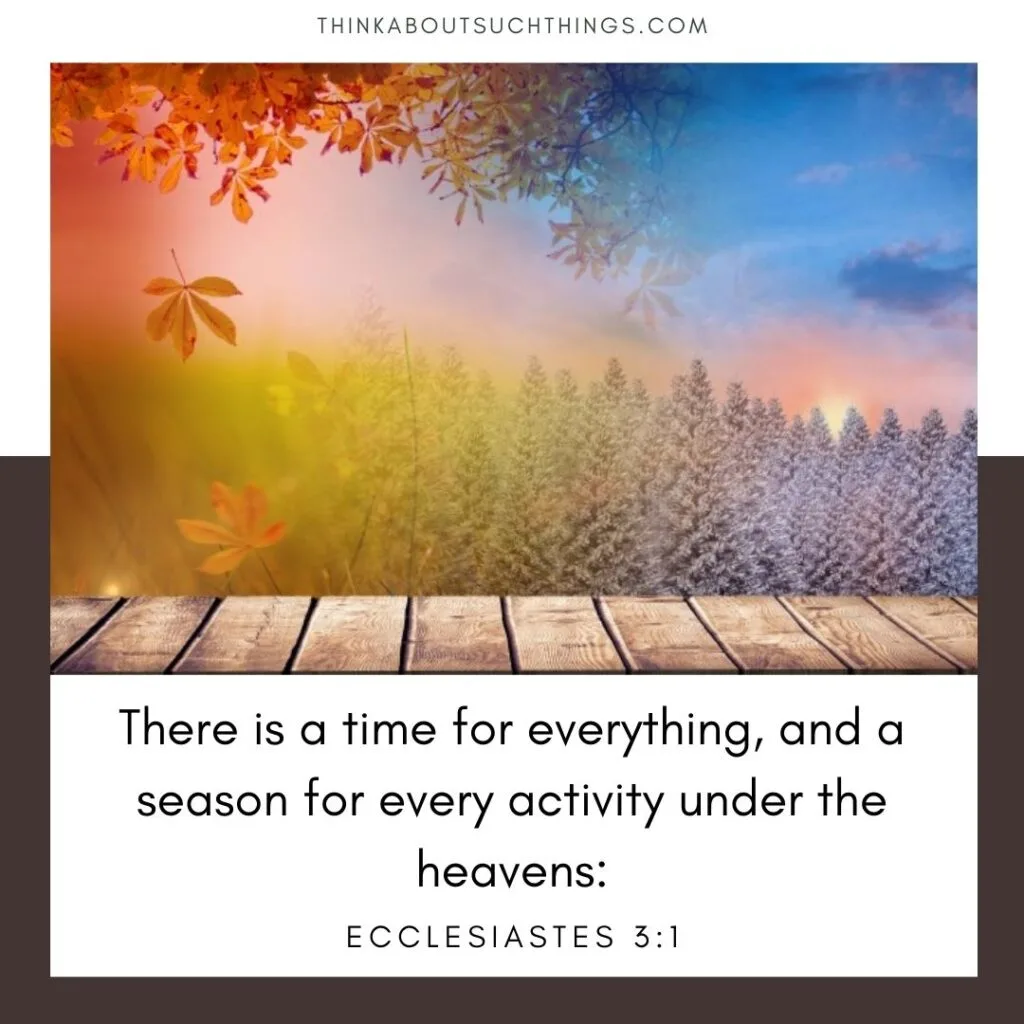 Psalm 4:7 NKJV – You have put gladness in my heart, More than in the season that their grain and wine increased.
Acts 14:17 NIV – 17 Yet he has not left himself without testimony: He has shown kindness by giving you rain from heaven and crops in their seasons; he provides you with plenty of food and fills your hearts with joy."
Leviticus 26:4 NIV – 4 I will send you rain in its season, and the ground will yield its crops and the trees their fruit.
Ezekiel 45:17 NKJV – Then it shall be the prince's part to give burnt offerings, grain offerings, and drink offerings, at the feasts, the New Moons, the Sabbaths, and at all the appointed seasons of the house of Israel. He shall prepare the sin offering, the grain offering, the burnt offering, and the peace offerings to make atonement for the house of Israel."
Psalm 145:15 NKJV – 15 The eyes of all look expectantly to You, And You give them their food in due season.
Deuteronomy 11:14 NIV – 14 then I will send rain on your land in its season, both autumn and spring rains, so that you may gather in your grain, new wine and olive oil.
Numbers 13:20 NIV – 20 How is the soil? Is it fertile or poor? Are there trees in it or not? Do your best to bring back some of the fruit of the land." (It was the season for the first ripe grapes.)
Mark 11:13 NIV – 13 Seeing in the distance a fig tree in leaf, he went to find out if it had any fruit. When he reached it, he found nothing but leaves, because it was not the season for figs.
Acts 1:7 NKJV – 7 And He said to them, "It is not for you to know times or seasons which the Father has put in His own authority.
Galatians 6:9 NKJV – 9 And let us not grow weary while doing good, for in due season we shall reap if we do not lose heart.
Recap On Scripture About Seasons
I always like to have a quick reference list for you to find. This is a great way to just jot down the verses for future study.
Genesis 1:14
Psalm 1:3
Ecclesiastes 3:1
Ezekiel 34:26
Exodus 13:10
Jeremiah 5:24
Psalm 104:19
Ezra 10:13
Daniel 2:21
Deuteronomy 28:12
Psalm 4:7
Acts 14:17
Leviticus 26:4
Ezekiel 45:17
Psalm 145:15
Deuteronomy 11:14
Numbers 13:20
Mark 11:13
Acts 1:7
Galatians 6:9
---
God's Word is filled full of amazing insight. And I hope you saw that today as you read through these seasons Bible verses. If you want to explore more Bible verses then please check out my Topical Bible Verse Page! It's loaded with posts about specific topics and themes throughout scripture.
If you would like to leave a comment you can do so below! I would love to hear from you and what God is doing in your life.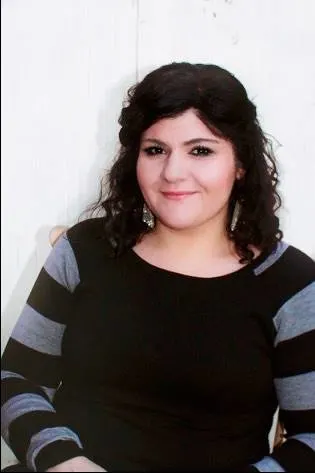 Melissa is a passionate minister, speaker and an ongoing learner of the Bible. She has been involved in church and vocational ministry for over 18 years. And is the founder of Think About Such Things. She has the heart to equip the saints by helping them get into the Word of God and fall more in love with Jesus. She also enjoys family, cooking, and reading.
She has spoken in churches in California, Oregon, Texas, and Mexico and has been featured in Guidepost Magazine and All Recipes Magazine. Read More…