Plan an awesome Thanksgiving dinner with these inspirational Thanksgiving menu plans.
Thanksgiving is just around the corner and it can be crazy figuring out what to make. With the internet and cook books you have thousands of recipes to filter through.
Especially if you are in the mood to try something new. Get ready with recipe overwhelm.
Well, hopefully I can help you with these 7 Thanksgiving menus! I hope helps simplify the process of nailing down a menu you will love.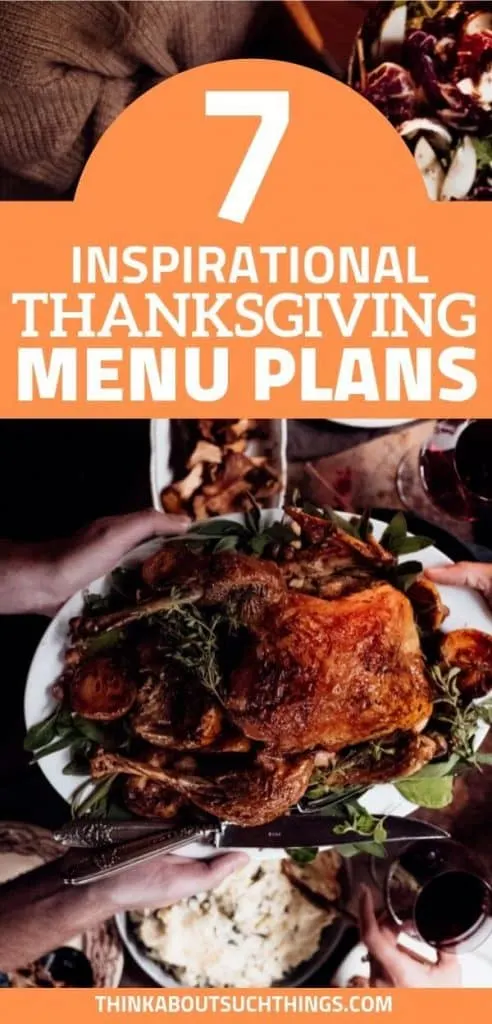 How to Use These Thanksgiving Menus
There are no set rules to how you can use menu plans for Thanksgiving. You can follow them exactly how a menu plan is, pick out just a couple of the recipes, or even swap a recipe out for another.
You can even add some of your favorite thanksgiving recipes to the menu plan.
Remember make Thanksgiving enjoyable. Make it to your liking and what your guest will like. Use these thanksgiving menu plans in anyway you like!
Now some of these recipes are missing some key thanksgiving staples. So, I have provided them below. You can add them to any meny plan you like. Or skip them all together.
Key Recipes that can go with any Thanksgiving Menu
---
Menu 1 – Classic Thanksgiving
Keep with the tradition with these classic Thanksgiving recipes.
APPETIZERS
Baked Brie with Cranberry Sauce
MAIN DISH
SIDE DISHES
DESSERT
Menu 2 – Thanksgiving with A Southern Flare
Let's take a Southern twist with this menu plan. It's sure to bring a homey feel to your table.
APPETIZERS
Mini Baked Mac-and-Cheese Bites
MAIN DISH
Southern Roast Turkey and Gravy
SIDE DISHES
DESSERT
Menu 3- Turkeyless Thanksgiving
Not a fan of turkey? No problem! This thanksgiving menu will be right up your alley. You will be surprised how many people are not a fan of turkey!
APPETIZERS
MAIN DISH
Baked Ham with Brown Sugar Ham Glaze or Roast Prime Rib with Thyme Au Jus
SIDE DISHES
Honey Balsamic Roasted Brussels Sprout
Garlic Parmesan Roasted Sweet Potatoes
Roasted Asparagus and Mushrooms
Steakhouse Style Garlic Mashed Potatoes
DESSERT
Menu 4 – Make-Ahead Thanksgiving
Want a stress free Thanksgiving? Well, it's possible! That's right you can make everything ahead of time…even the turkey! woot woot!
APPETIZERS
Onion Cranberry Pecan Cheese Ball
MAIN DISH
SIDE DISHES
Deviled Egg Macaroni Salad Recipe
DESSERTS
Pumpkin Butter Croissant Bread Pudding with Ice Cream
Menu 5 – Thanksgiving with A Hint of Spice
Like it hot? Well try this modern twist with this spicy menu.
APPETIZERS
Green Chile Chicken Enchiladas Dip
MAIN DISH
Caribbean Turkey with Spicy Cornbread & Chorizo Stuffing
SIDE DISHES
DESSERT
Apple Spice Cake with Brown Sugar Cream Cheese Frosting
Pumpkin Pecan Cobbler with Vanilla Ice Cream
Menu 6 – Italian Inspired Thanksgiving
This one is dear to my heart. As an Italian-American all of my thanksgiving has been a mash up of traditional and italian style thanksgiving. No one ever said you can't have mashed potatoes and lasagna on the same plate!
APPETIZERS
Cheese Crostini with Rosemary Cranberry Fig Jam
MAIN DISH
Turkey with Herbes de Provence and Citrus
SIDE DISHES
Sicilian Rice Ball (arancini) Casserole or Lasagna
Baked Italian Zucchini, Tomatoes and Onions
Garlic Parmesan Mashed Potatoes
DESSERT
Zeppole (Italian donuts…YUM)
Menu 7 – Asian Inspired Thanksgiving
Step out of the box! Try this awesome Asian inspired menu! Your guest will love it and will be talking about it for years to come. Unless you are Asian …then try step out of the box with that Italian or Southern menu 😉
APPETIZERS
Turkey, Cranberry and Brie Eggrolls
MAIN DISH
Roast Turkey with Hoisin Gravy
SIDE DISHES
Asian Style Mashed Potatoes with Wasabi and Roasted Garlic
Crunchy Beef & Broccoli Casserole

DESSERT
Matcha Green Tea Swiss Roll Cake
---
I hope these menu plans for thanksgiving inspire you to create a dinner spread that you are proud. And that will create lasting memories with your family and friends.
Please, leave me a comment below sharing your Thanksgiving menu plans! I would love to hear how you are going make this Thanksgiving memorable.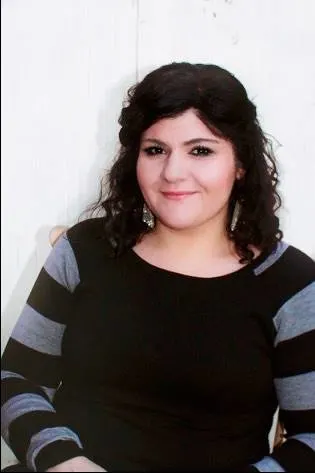 Melissa is a passionate minister, speaker and an ongoing learner of the Bible. She has been involved in church and vocational ministry for over 18 years. And is the founder of Think About Such Things. She has the heart to equip the saints by helping them get into the Word of God and fall more in love with Jesus. She also enjoys family, cooking, and reading.
She has spoken in churches in California, Oregon, Texas, and Mexico and has been featured in Guidepost Magazine and All Recipes Magazine. Read More…