In this article, we will dive deep into the meaning of Isaiah 41:10 by looking at the whole context of the passage and seeing what it means for us today. So, grab your Bible, and let's study…
There are countless powerful verses in the Bible that, if we stop to look at them and study their meaning and context, we would learn so much from them. I feel like Isaiah 41:10 is one of those verses
This powerful Scripture gives us insight into how God will lift us from our troubles and provide strength in difficult times. It's a beautiful passage that we can pray back to God and meditate on.
But before we dig into the meaning of Isaiah 41:20 let's really quick on the back story…
The Meaning of Isaiah 41:10 – The Context of Chapter 41
This is a quick little overview of what is happening in context to Isaiah 41. It tells the story of the Israelites, who were exiled because of their unfaithfulness and sin, and were now living in Babylon. They encountered many hardships there and felt that God had abandoned them.
But they soon realized that God punished them because of their sin. They began to repent, and God forgave them and told them not to be fearful but that He will help and protect them.
"Fear thou not; for I am with thee: be not dismayed; for I am thy God: I will strengthen thee; yea, I will help thee; yea, I will uphold thee with the right hand of my righteousness." – Isaiah 41:10 KJV
You can read all of Isaiah 41 here.
Below, we will break down this verse into four sections to help us fully grasp meaning of this passage, and how we, as Christians, can apply this to our daily lives.
The Meaning Of Fear Thou Not; For I Am With Thee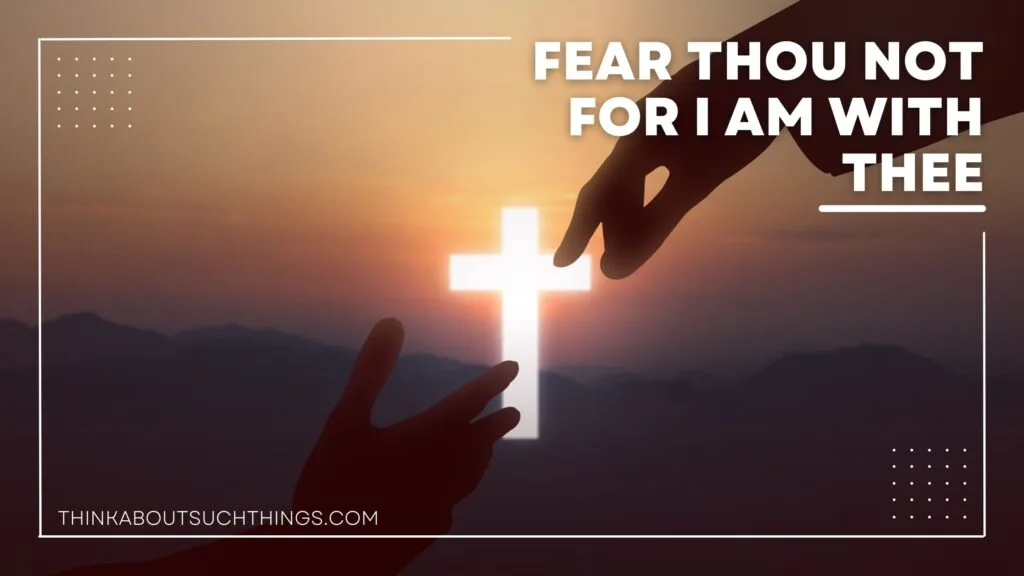 Throughout our lives, there will be many times when we will have fears that make us anxious or afraid. In Greek, fear is known as 'Phobos,' derived from the word phobia. And that is what fear is, an intense aversion to something.
Humans very often have a fear of failure, of not living up to our or other people's expectations. Or the fear of abandonment, rejection, humiliation, and embarrassment.
In Isaiah 41:10, God tells us not to fear because His presence is always with us. God wants us to overcome our fears and lean on Him to help us through difficult times when we are afraid.
We read in other passages from scripture where God tells us that He will always be with us, and we need not fear.
In Joshua 1:9, God tells Joshua to be strong and courageous and that God will be with him wherever he goes.

Just like with Joshua, when we put our life in God's hands, He will help us and be with us always, in good and challenging times.
In Deuteronomy 31:8, Moses tells Joshua that God will never stop fighting for him and will never forsake him.

God is the Creator and has no limits or space, and if we believe in Him and have faith, He will never leave us, and He will always be watching over us.
In 1 Peter 5:6-7, the Apostle Peter urges believers to humble themselves before God, stay strong, and be encouraged by the thought that God is with them.

But we need to trust in God, have faith in Him, and not be fearful but believe He cares for us and will always help us.
In Philippians 4:6, we have a clear message: we must pray about things we fear.

Keep reading God's word to strengthen your faith and give thanks for all the small things you experience daily, which are blessings from our Father.
When anxious or worried, God wants us to trust Him to help us through fearful times. But how do we do that?
We often don't have control in many anxious situations, so we become afraid. But we can hand over our fears to God by praying to Him.
We must allow God to take control of our situation. When we trust God with our fears, He guides us through and allows things to work out for our own good.
I know for me, getting into God's presence when in prayer can literally shift my perception on a situation and bring loads of peace.
The Meaning of Be Not Dismayed, For I Am Thy God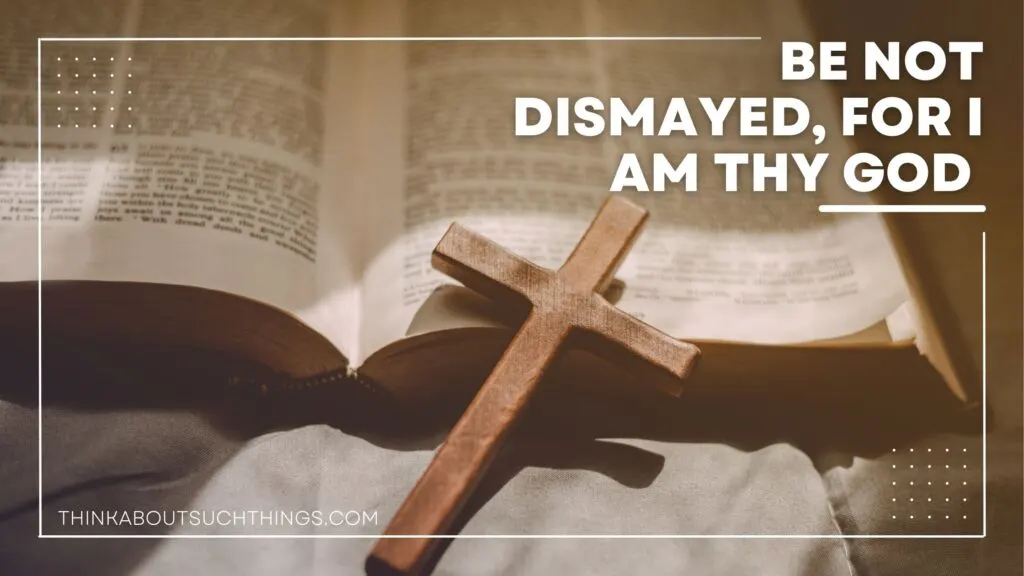 To be dismayed means feeling terror or stressed when we experience something unexpected and unpleasant.
The Hebrew word is shâʻâh. When looking at the meaning is super interesting since it means to gaze at. So basically, you look at something so much you become fearful.
שָׁעָה shâʻâh, shaw-aw'; a primitive root; to gaze at or about (properly, for help); by implication, to inspect, consider, compassionate, be nonplussed (as looking around in amazement) or bewildered:—depart, be dim, be dismayed, look (away), regard, have respect, spare, turn.
It reminds me of when Peter got out of the boat to walk on the water with Jesus. When Peter's eyes were on Jesus, He was ready to walk on the water with Him. But the minute he lost his focus and "gazed" at the wind, Peter became fearful.
29 "Come," he said. Then Peter got down out of the boat, walked on the water and came toward Jesus. 30 But when he saw the wind, he was afraid and, beginning to sink, cried out, "Lord, save me!" – Matthew 14:29-30 NKJV
In this passage in the Bible, God tells us not to be overwhelmed by constantly looking at a situation or our circumstances but to remember that He is greater than any problem or situation we might be facing.
When things seem out of control, and there is no way out, nothing is impossible for God. He is always in control. But we must ask for His help and guidance and believe He will always be with us.
The meaning of 'for I am thou God' is a powerful statement that identifies God as our Creator, our loving Father who cares for us and only wants the best for us. God is telling us to not be dismayed at any problem we might be facing but to instead keep our eyes on Him.
We need to focus on God's love for us, His goodness and faithfulness, and that He will always be there to protect His children.
We must remember we serve a Living God who sent us His son who conquered death so that we may have everlasting life. As John 1:1-5 says, God is light, and there is no darkness in Him. God is great, He is in charge, and He is the Truth.
What a wonderful God we serve. Knowing that He is always with us, we need not be dismayed during troubled times.
We read of God's greatness, power, glory, and majesty in 1 Chronicles 29:11.
Yours, O Lord, is the greatness,
The power and the glory,
The victory and the majesty;
For all that is in heaven and in earth is Yours;
Yours is the kingdom, O Lord,
And You are exalted as head over all.
Isaiah 55:8-9 tells us that God's ways and thoughts are not like ours. God sits in Heaven and is all-knowing and all-seeing, and His ways are always the best outcome for His believers.
"For My thoughts are not your thoughts,
Nor are your ways My ways," says the Lord.
9 "For as the heavens are higher than the earth,
So are My ways higher than your ways,
And My thoughts than your thoughts. – Isaiah 55:8-9
Believe in God, the Almighty, pray and read His word, remember how great our God is, and do not be dismayed, for He is with you.
The Meaning of I Will Strengthen You, Yes, I Will Help You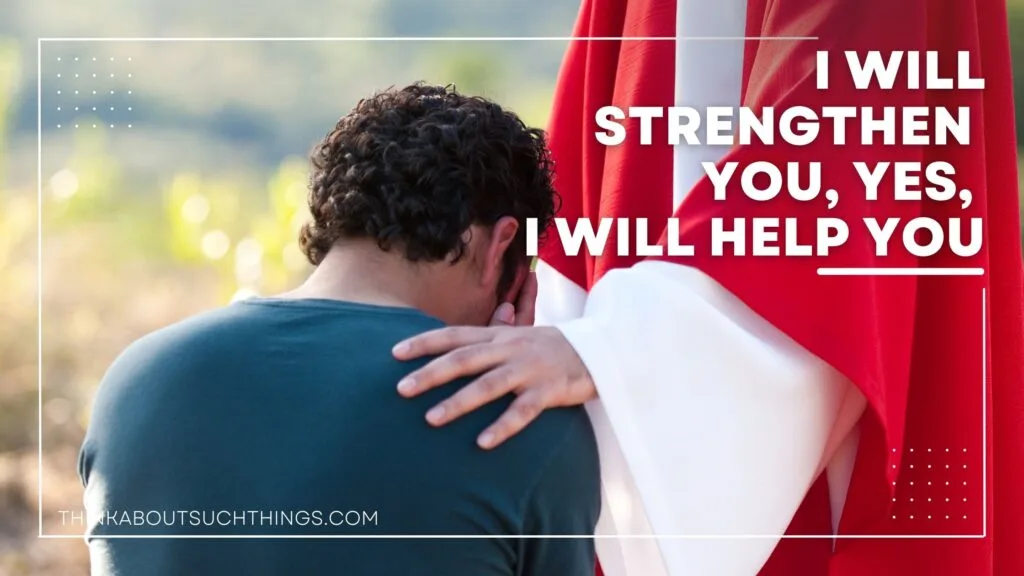 The meaning of God will strengthen us is that God will empower us to overcome our weaknesses, and with His help, we can do more than we ever imagined.
God will strengthen our situation and give us the inner strength to face any difficulty.
To find this inner spiritual strength, we must hold on to God, pray, read His word, and believe in His promises. I even like using Biblical affirmations, these are taking God's truths and promises and speaking, praying, or meditating on them.
I have afew posts on the topic if you are interseted in checking them out:
Now, we must let go of our fears, surrender to God's will, and trust that He will provide the help we need. Sounds easier said then done, but Philippians 4:13 says that I can do anything if God strengthens me.
We must learn to lean on Him and everytime we get those thoughts we surrender or cast them down. We cannot stand firm against our enemies or problems if we do not have God at the center of our lives.
God says He will help us, which means that when we pray, He will hear our prayers and help us. But we must have faith and trust that God will and that He knows best. He is Jehovah Shalom, God is our Peace!
No matter what difficulty you face or if the outcome is unexpected, God's result is always best for you. Psalm 34:17-18 reads that God hears when His people cry out, and He will come and help them.
Continue to be humble and pray about what you are going through, study the Bible, speak with other Christians, and be helpful and kind to others in need. God will bless you as you grow stronger in your spiritual life.
The Meaning of I Will Uphold You With My Righteous Right Hand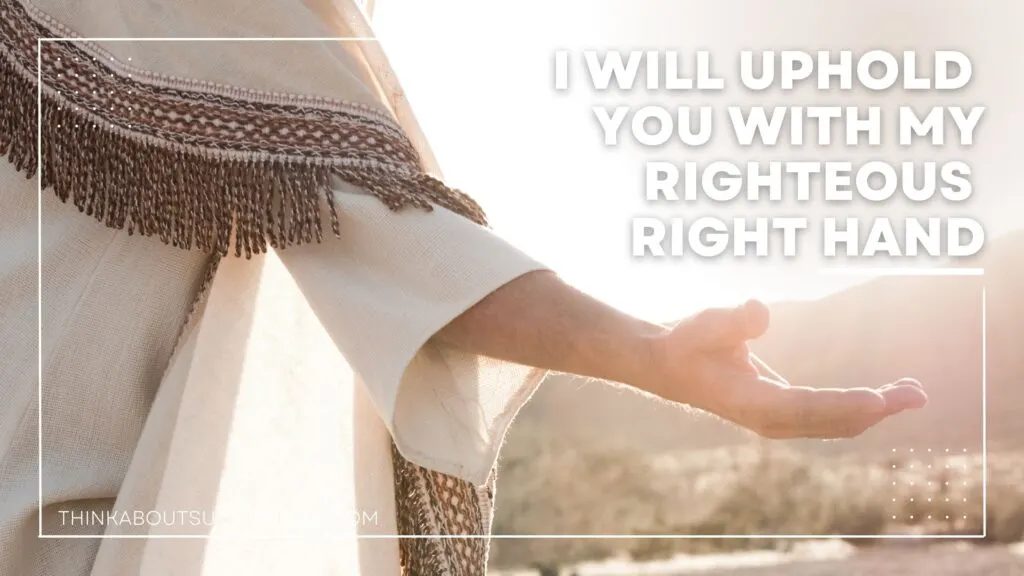 To uphold someone in scripture means that God has a firm hold on that person's life and will defend, protect, and support them.
When God upholds us, He keeps us from falling and sustains our faith through all phases of our life. I always picture God's big hand holding me like I'm a tiny little person in His mighty hand. Nothing can hurt me or get to me.
The righteous right hand of God symbolizes the strength, power, and protection of God and how He keeps us safe.
The right hand of God can stretch far, and He is always near to us. He is our heavenly Father and will always draw us near Him.
Below are a few scriptures in the Bible that speak about the right hand of God:
Exodus 15:6 speaks of the power and majesty of God's right hand and how it shatters the enemy.
Psalm 139:10, God will guide us along His path so that we won't fall, and His righteous right hand will keep us safe. God is omnipresent and always close to His believers.
1 Peter 3:22, we are told that Jesus sits at the right hand of the Father. The right hand of God is a place of honor and status. The death of Jesus also makes way for believers to receive the Holy Spirit. ( Acts 2:32-33).
As Christians, we can live knowing that God's right hand protects us and that He will be faithful to His promises for us. We must trust Him and be obedient to His word.
We must continually strive to become closer to God through prayer and become Christ-like in our actions and deeds.
---
Isaiah 41:10 teaches us that we, as believers, do not need to fear or become dismayed as God is with us always.
He will uphold us in His righteous right hand, protecting us from our enemies. God will give us inner power and courage by spiritually strengthening our faith. We need not be overwhelmed or anxious in difficult times when we know God is with us.
Christians must remember the glory, majesty, and power of Almighty God, our Creator, whenever we feel alone or are overcome with fear.
God goes before us in any situation and knows what is best for us. But we must keep our eyes on God, speak to Him in prayer, trust Him, learn from scripture, be helpful to others, and be obedient to His word.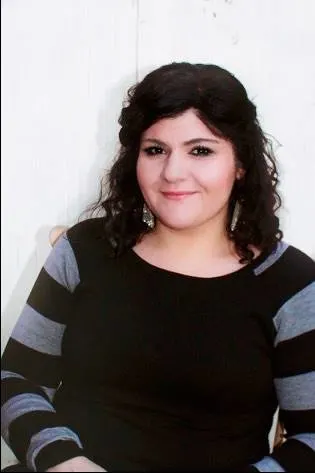 Melissa is a passionate minister, speaker and an ongoing learner of the Bible. She has been involved in church and vocational ministry for over 18 years. And is the founder of Think About Such Things. She has the heart to equip the saints by helping them get into the Word of God and fall more in love with Jesus. She also enjoys family, cooking, and reading.
She has spoken in churches in California, Oregon, Texas, and Mexico and has been featured in Guidepost Magazine and All Recipes Magazine. Read More…