In this article, we will explore and answer the powerful question of who I am in Christ, by looking at what the Bible has to say. So, grab your Bible, and let's dig in…
As Christians, it is essential for us to understand who we are in Christ and how He defines our identity. Many hard situations come our way because we make choices based on a flawed view of ourselves. I know I have been there and done that!
Through His Word, God reveals Himself to us and affirms our worth; by meditating and praying on these powerful verses and affirmations of Scripture, we can remind ourselves every day of who we truly are in Him – children of the King!
We will be unpackaging some of the most encouraging passages from the Bible that remind us confidently of how much God loves and values each one of you uniquely.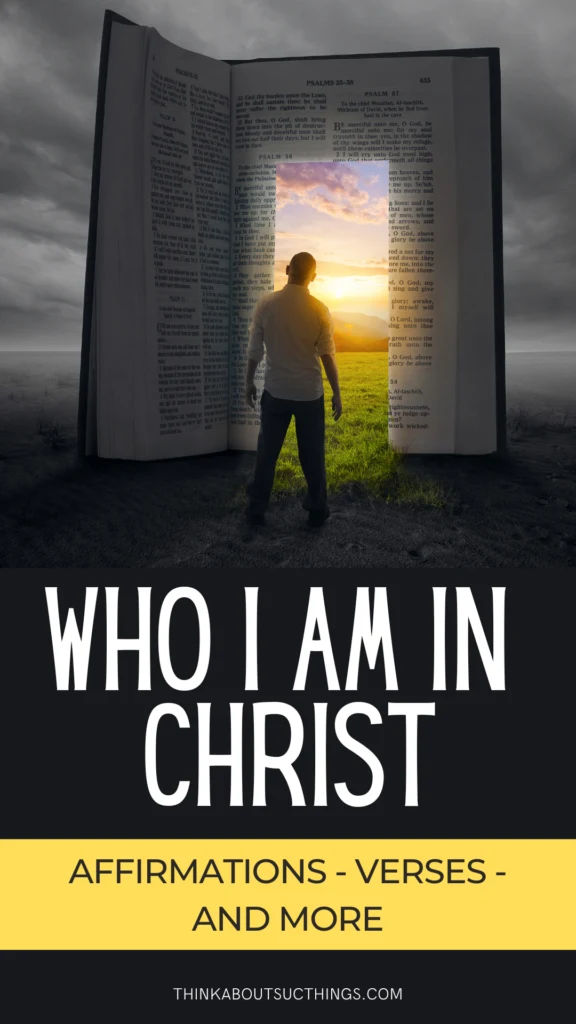 Who Am I In Christ? Why Does it Matter?
Does it really matter that I know who I am in Christ? Does it make a difference to my life, walk with God and relationships?
The answer to all that and more is a resounding YES!
Discovering who we are in Christ significantly impacts our lives by awakening within us a sense of purpose, identity, and belonging rooted in truth. As we embrace our identity in Christ, we realize that we are not merely physical beings mired in a mundane existence, but rather children of God meant for love, joy, and fulfillment.
As I mentioned earlier, it also impacts our choices. Here is a prime example and one I have struggled with in my life.
Let's say a great opportunity has been offered to several employees, including yourself, but you have to take the initiative to apply for the new role. You look at everyone else in the office and think, "Man, I will never be picked. I'm just not good enough compared to all my co-workers. I'm not even going to apply."
Rejection, low-self worth, and low-self esteem can lead to these kinds of choices. You didn't base your choice according to the Word of God or what His Spirit was leading you to do but on insecurities and fear. Ouch, but true.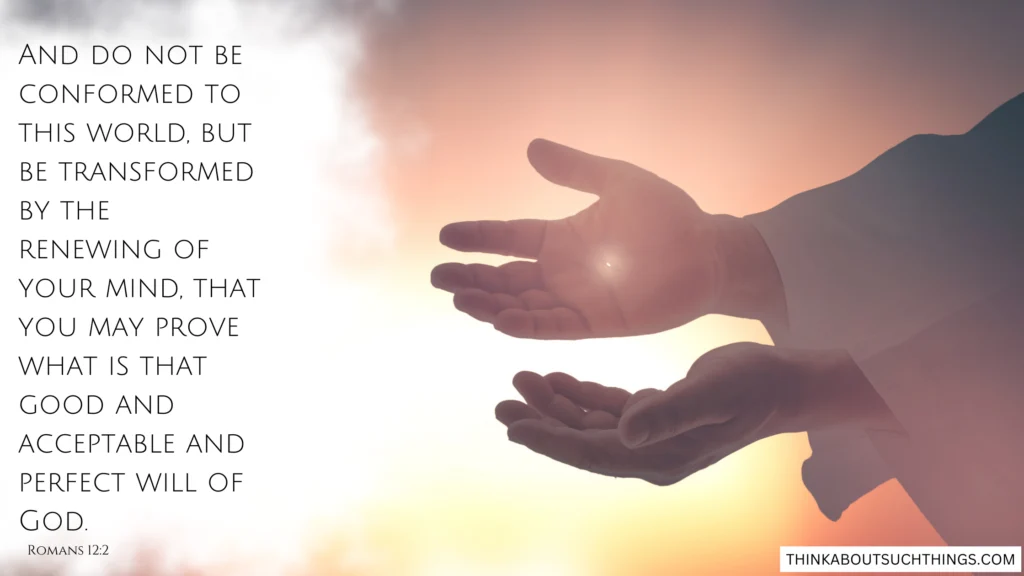 A healthy way of going about this would be to look at the opportunity and feel confident that this could be something the Lord has for you. I mean, why not? You can do anything through Christ, and you are His child. You look over the opportunity and take it to prayer, asking the Lord for His guidance on whether you should pursue this. From there, you decide to apply. If the door opens, you trust the Lord to help you; if the door closes, you trust the Lord knows best.
Do you see the difference? One is making decisions based on an identity founded on their ideas of truth, while the other is making a decision based on their identity in Christ, which this truth is founded in the Bible.
This won't swallow easily, especially in our day and age. But our personal truths and feelings about ourselves are not always real TRUTHS. God is the only one who knows the truth and brings us truth through His Word.
How we feel about ourselves must bow down to God's truth about ourselves. This is why knowing who you are in Christ is so important.
When we know who we are in Him, we pursue a higher purpose and go after excellence, and empowers us to make meaningful connections with others, realizing that they, too, are part of God's plan.
And do not be conformed to this world, but be transformed by the renewing of your mind, that you may prove what is that good and acceptable and perfect will of God. – Romans 12:2 NKJV
As we develop and strengthen our relationship with Christ, we inevitably become transformed, experience freedom from lies, and are driven to seek a life that truly honors God.
How To Use Who Am I In Christ Declarations
You can call the Who I am in Christ affirmations below statements or even declarations. It really doesn't matter; what matters is how you go about using them. For me, there are three productive ways to use them.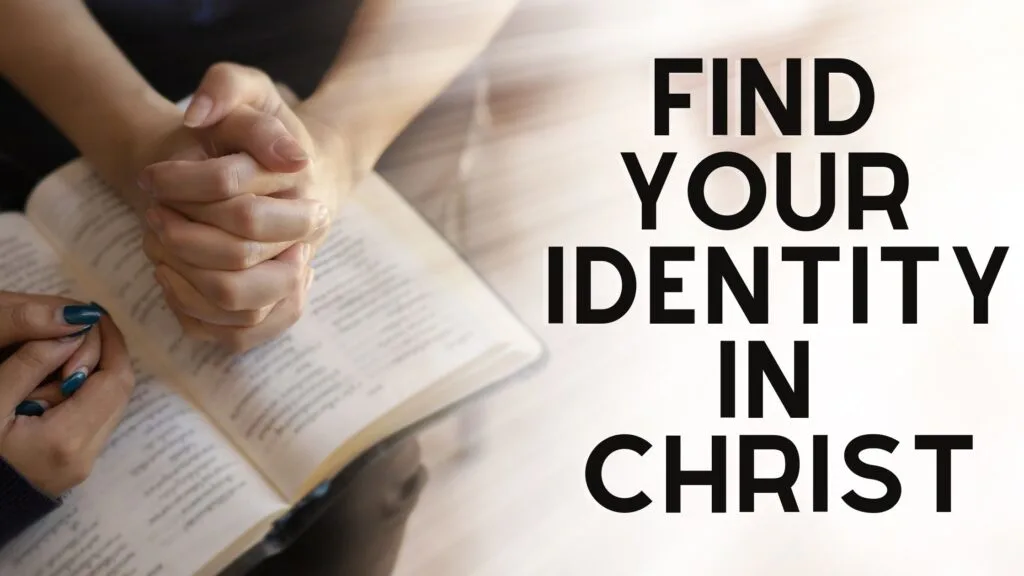 In Prayer
Taking these Who I am in Christ verses and statements and bring them to the Lord is a great way to talk to the Lord about your identity with Him. I encourage you to be real and raw with Him about them too. Here is an example of using these in Christ affirmations in prayer:
Heavenly Father, I thank You for Your love for me. You are so good to me. Lord, Your word says I am Your child and that You have a plan for me. Help me to walk in that reality and not just know it in my head but deep within my heart. So that when I face hardships, I wouldn't doubt the plan you have ahead for me. In the mighty name of Jesus, amen!
In Meditation
Meditation is a powerful Christian practice! And no, I am not talking about the type of Eastern mysticism meditation where you empty your mind. NOPE! I am talking about true Biblical meditation. Where you do the opposite, you FILL your mind with God's Word.
Simply grab one of the who I am in Christ statements and the Bible verses, slowly read the passage, and think and ponder on its meaning. And then, again, read the passage and say the statement slowly. Continue reading and pondering the passage until you feel you have meditated enough. This could be a couple of minutes or several. I recommend focusing on one statement and verse at a time and then moving on to another.
There are times when you will meditate on scripture, and the presence of God becomes so strong you have to stop and just sit in His presence. It's beautiful!
Speaking Them Out
Another way is declaring or speaking out the verses and statements. I share more about this in 40 Biblical Affirmations To Strengthen Yourself In The Lord. But I do want to say that God's Word says faith comes from hearing and hearing through the Word of Christ. (Romans 10:17)
When hearing these truths out loud and speak over ourselves, it can cause our faith to raise and our outlook to change. It's quite powerful! I would do them in the bathroom in front of the mirror it usually became a combo of declaring them and praying to the Lord.
Who I am In Christ Affirmations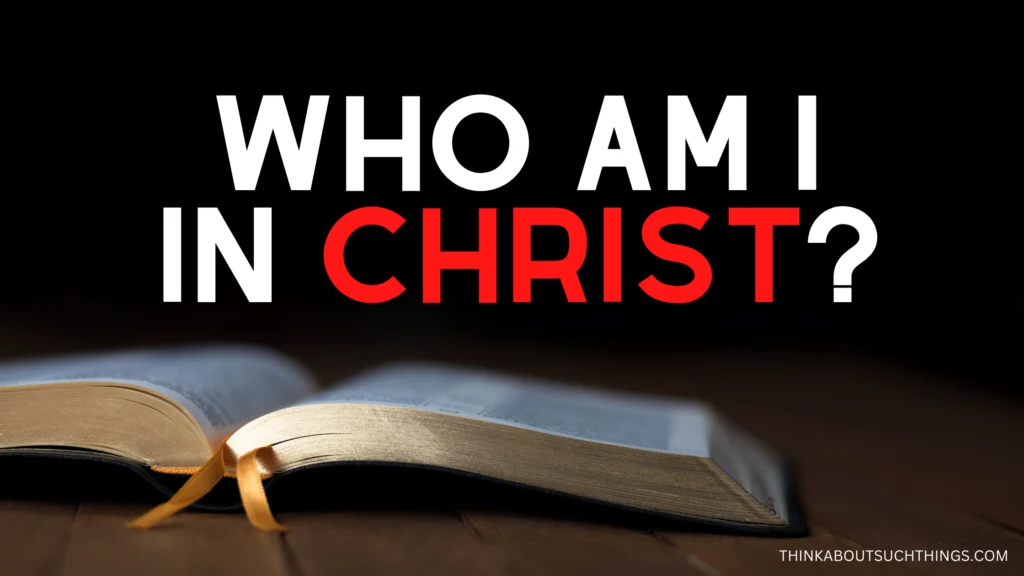 Each who am I in Christ statement has a Bible verses and different statements (many coming for other verses) that you can use in your prayer time. Feel free to come up with your own versions of these affirmations as well.
At the end of the post, you can grab my free PDF. You can print them out and use them at any time or place.
*All verses are from the New King James Version of the Bible.
Who God Created Me To Be
I Am God's Creation
And the Lord God formed man of the dust of the ground, and breathed into his nostrils the breath of life; and man became a living being. – Genesis 2:7
From the very beginning, God fashioned and made us. We are not a byproduct of random chance. But beautiful masterpieces that God has created.
God has made me.

I am fearfully and wonderfully made.

Like clay, God shaped and formed me.

God's breath of life is in me.
I Am Made In The Image Of God
Then God said, "Let Us make man in Our image, according to Our likeness; let them have dominion over the fish of the sea, over the birds of the air, and over the cattle, over all the earth and over every creeping thing that creeps on the earth." 27 So God created man in His own image; in the image of God He created him; male and female He created them. – Genesis 1:26-27
In this day and age, many believe we are just like the animals around us. That couldn't be further from the truth. God's Word is clear that we are made in His image. When you look at the Hebrew in this passage, it conveys a "mirror" likeness.
I am in God's likeness.

I am made to relate to God and others.

Who I Am Because Of What Jesus Has Done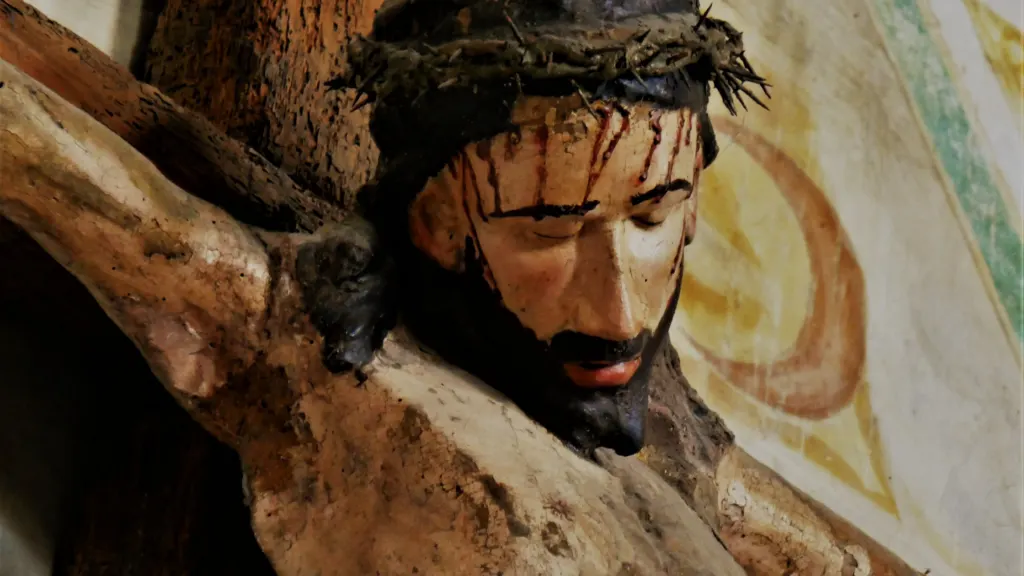 I Am Forgiven
to the praise of the glory of His grace, by which He made us accepted in the Beloved.7 In Him we have redemption through His blood, the forgiveness of sins, according to the riches of His grace 8 which He made to abound toward us in all wisdom and prudence, – Ephesians 1: 6-8
Because of what Jesus has done for me on the cross, I am forgiven of all my sins.
The Lord doesn't condemn me.

All my sins have been washed away in the blood of Christ.

I am forgiven and sanctified.

He doesn't see my sins anymore.
I Am Saved
But God demonstrates His own love toward us, in that while we were still sinners, Christ died for us. 9 Much more then, having now been justified by His blood, we shall be saved from wrath through Him. 10 For if when we were enemies we were reconciled to God through the death of His Son, much more, having been reconciled, we shall be saved by His life. – Romans 5:8-10
His salvation is amazing. It's multifaceted and beautiful. Here are some things the Lord has saved us from that is true of your new identity in Christ.
I have been saved from the bondage of sin.

I have been saved from Satan.

I have been saved from the anger of God.

I have been saved from death and hell.

I have been saved from myself.
I Am Reconciled To God
Now all things are of God, who has reconciled us to Himself through Jesus Christ, and has given us the ministry of reconciliation, 19 that is, that God was in Christ reconciling the world to Himself, not imputing their trespasses to them, and has committed to us the word of reconciliation. – 2 Corinthians 5:18-19
I love how Jesus, the second Adam, took what happened with the first adam and fixed it! He brought us back to where we can have right relationship with the Father.
Because of Jesus I can have a relationship with the Father
I have free access to God.

I have been reunited to the Father.

I Am Known By God
Nevertheless the solid foundation of God stands, having this seal: "The Lord knows those who are His," and, "Let everyone who names the name of Christ depart from iniquity." – 2 Timothy 2:19
Being known is such a huge part of how we value our self-worth. This is why people want to get famous. They want to be known, heard, and understood. But we don't need flashing headlines to feel known or become the most popular person at school or work.
The King of the Universe knows us and cares for us. He knows us even better than we know ourselves! How amazing is that?
God made me and knows all things about me.

God knows the deep parts of me.

God knows me even better than I know myself.

God knew me while I was in my mother's womb.
I Am A Child Of God
And because you are sons, God has sent forth the Spirit of His Son into your hearts, crying out, "Abba, Father!" 7 Therefore you are no longer a slave but a son, and if a son, then an heir of God through Christ. – Galatians 4:6-7
Being a child of God is an honor and privilege. God becomes our father and we grafted into a wonderful new family.
I am a child of the King.

God is my Father.

I am part of God's family.

I Am New Creation
Therefore, if anyone is in Christ, he is a new creation; old things have passed away; behold, all things have become new. – 2 Corinthians 5:17
When we become born again the old life we had is gone, and we are given a new life in Christ. In doing so we are transformed and changed, becoming a new creation.
God has made me new.

Old things in my life are no longer part of me.

I am being transformed by the renewing of my mind.
I Am Set Free
22 But now having been set free from sin, and having become slaves of God, you have your fruit to holiness, and the end, everlasting life. 23 For the wages of sin is death, but the gift of God is eternal life in Christ Jesus our Lord. – Romans 6:22-23
Part of the package we get when we come to Christ is freedom. He sets us free from all kinds of bondage and will continue to keep us free if we abide in Him.
I am no longer a slave to sin.

Where the Spirit of the Lord is, there is freedom.

I Am Loved
For I am persuaded that neither death nor life, nor angels nor principalities nor powers, nor things present nor things to come, 39 nor height nor depth, nor any other created thing, shall be able to separate us from the love of God which is in Christ Jesus our Lord. -Romans 8:38-39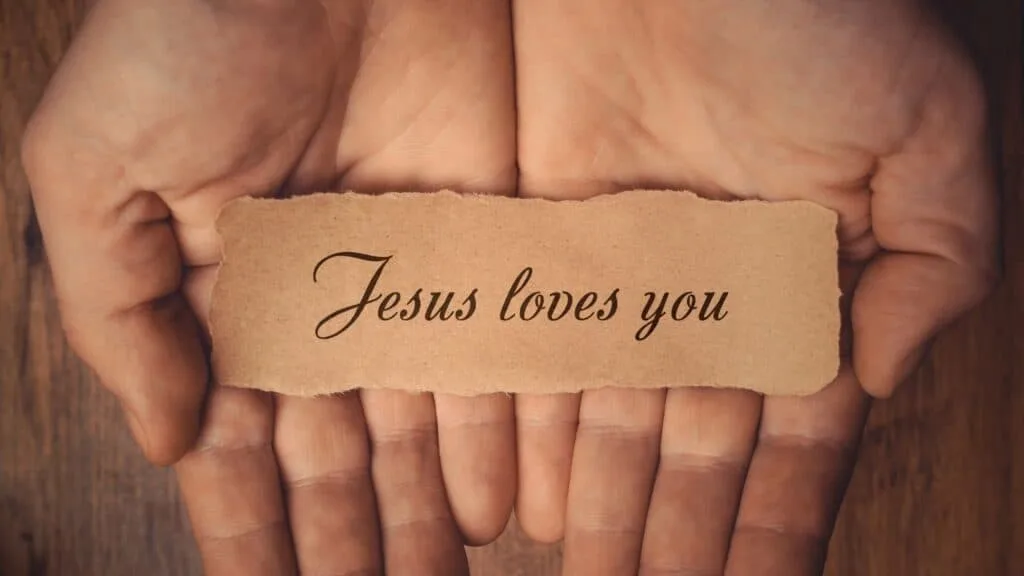 Being loved is up there with the desire to be known. It's a longing each person has within them. We want to be loved. It's as simple as that. And even when we don't get it on an earthly level as we should, we can put our hearts in God's hands, knowing He truly loves us dearly. He sent His Son to die on the cross for you. THAT IS LOVE.
I am deeply loved by God.

No one can love me like God can.

Nothing can separate God's love from me.
I Am Chosen
But you are a chosen generation, a royal priesthood, a holy nation, His own special people, that you may proclaim the praises of Him who called you out of darkness into His marvelous light; – 1 Peter 2:9
There is something special about being chosen or picked out. And God has picked you out to be part of His family.
I am hand-picked by God.

I am part of a chosen generation, a royal priesthood…

I am not an accident, but I was called out by God.
I Am A Citizen Of Heaven
Now, therefore, you are no longer strangers and foreigners, but fellow citizens with the saints and members of the household of God, – Ephesians 2:19
How exciting is that?! We are no longer part of this world but a citizen of heaven!
I am no long a stranger.

My citizenship is found in heaven.

My home is with God and His people.

I will see heaven one day.
I Am A Friend Of Jesus
No longer do I call you servants, for a servant does not know what his master is doing; but I have called you friends, for all things that I heard from My Father I have made known to you. – John 15:15
This is one of my favorite passages! God doesn't just love us like a father does a child, but He also likes us and enjoys our company calling us His friend. It's another beautiful picture of our relationship with Him.
I Am Accepted
Just as He chose us in Him before the foundation of the world, that we should be holy and without blame before Him in love, 5 having predestined us to adoption as sons by Jesus Christ to Himself, according to the good pleasure of His will, 6 to the praise of the glory of His grace, by which He made us accepted in the Beloved. – Ephesians 1:4-6
If you deal with rejection, this is a great one to pray and meditate on. Even though we can face rejection in life, we must never forget we are fully accepted in Christ!
I am fully accepted.

God welcomes me.

I am no longer a reject or outsider.

God embraces me even when others don't.
I Am The Salt And Light Of The World
"You are the salt of the earth; but if the salt loses its flavor, how shall it be seasoned? It is then good for nothing but to be thrown out and trampled underfoot by men. 14 "You are the light of the world. A city that is set on a hill cannot be hidden. – Matthew 5:13-14
This who am I in Christ statement furthers our purpose or calling. Being salt and light to the world is one way we accomplish our calling.
I am light to those around me.

I can bring God's truth and love to every situation.

When the world says one thing, I stand as salt, showing God's truth.
I Am Victorious
But thanks be to God, who gives us the victory through our Lord Jesus Christ. – 1 Corinthians 15:57
No matter what life hits us with, we are victorious. Jesus has won the battle of sin, bondage, sickness, and death! Hallelujah.
I have the victory over things in my life that.

The Lord fights on my behalf.

I am victorious through Christ.

I am victorious over the devil.
I Am Assured That All Things Work Together For My Good
And we know that all things work together for good to those who love God, to those who are the called according to His purpose. – Romans 8:28
Life can throw us a curve ball and spiral us into depression or anger. We question ourselves and God. But the truth is that no matter what happens in our lives, God can turn it for our good.
No matter what is happening in my life, God will work it for my good.

I can trust God with my life.

God is bigger than my situation and circumstances.
I Am Safe
I have set the Lord always before me;
Because He is at my right hand I shall not be moved. Therefore my heart is glad, and my glory rejoices; My flesh also will rest in hope. – Psalm 16:8-9
It's easy to feel fearful when we turn on the news. From viruses to the economy, wars, and more… But the truth is that God is our protector, and we don't need to fear.
God has not given me a spirit of fear but of love, power, and a sound mind.

I am protected in God.

God watches over me.

No weapon formed against me shall prosper.

The Lord is my shield.
Who I Am In Christ PDF
I thought it would be nice for my readers to have a FREE printable of the Who I Am In Christ sayings. You can use this resource in prayer or study. All you have to do is sign up for my newsletter by filling out the form below. You will get an email with a link to download your Who I am In Christ PDF. But later on, I'll send another email will access to all my Christian printables!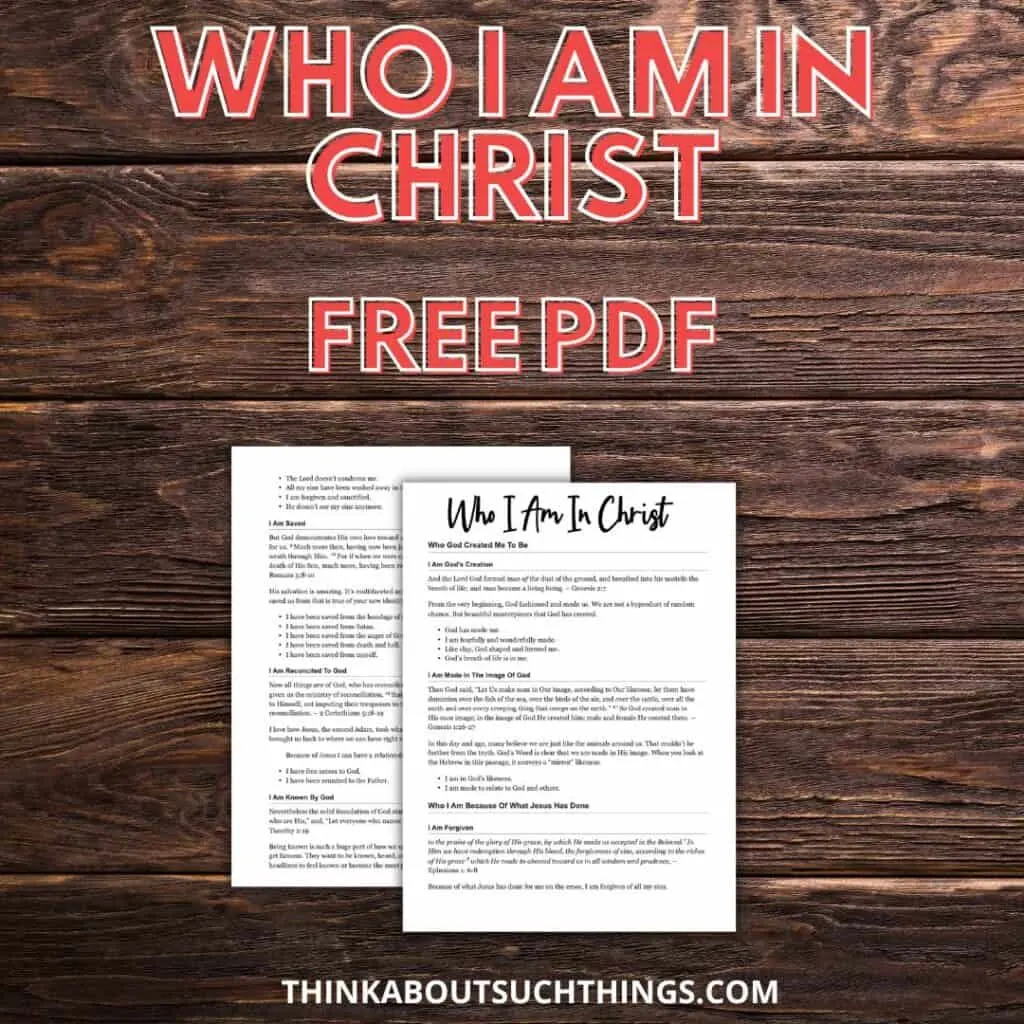 ---
My prayer is that you have enjoyed this post and that it has truly blessed you. Knowing our true identity in Christ is vital, and we can grab a hold of this by drawing close to Him and getting into His Word.
If you would like to leave me a comment, you can do so below. I would love to hear from you and hear what God is teaching you about.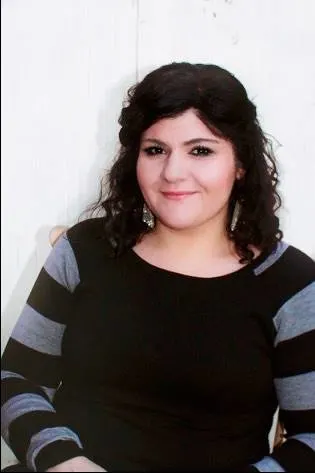 Melissa is a passionate minister, speaker and an ongoing learner of the Bible. She has been involved in church and vocational ministry for over 18 years. And is the founder of Think About Such Things. She has the heart to equip the saints by helping them get into the Word of God and fall more in love with Jesus. She also enjoys family, cooking, and reading.
She has spoken in churches in California, Oregon, Texas, and Mexico and has been featured in Guidepost Magazine and All Recipes Magazine. Read More…