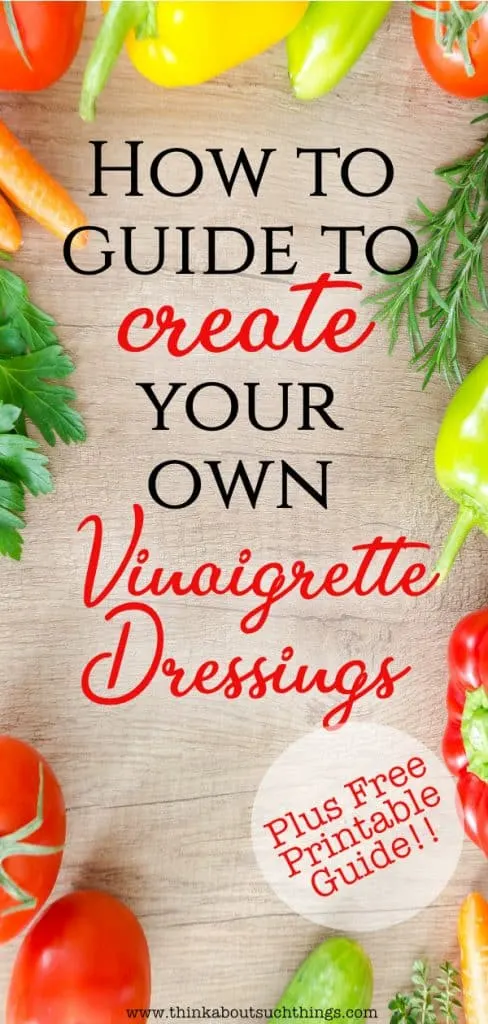 Why You Should Make Your Own Vinaigrette Recipes
When it comes to dressing your greens the supermarket has a plethora of choices. But some of these choices are not the healthiest. They are full of bad oils (soy and canola), sugar and chemical ingredients (mmmm yum!). The whole point of eating a salad is that we want it to be healthy. Instead, we are covering our super greens with genetically modified soy and canola oil, which is high in omega 6 fat and who knows what else.
Not to mention some of these dressing are not cheap! This is why I am all for making homemade vinaigrette recipes (check out my Lemon-Lime Dressing…it's super YUM). It saves you money and is way better for your health. You will be removing all those yucky ingredients and replacing them with healthy versions. And the beautiful thing about it is that it's not hard at all. It's actually SUPER easy. You just have to follow a simple formula. From there you can make all kinds of vinaigrettes!
Now let's take a look at the formula and your options.
The Bottle
Any bottle or even jar will work if it has a lid. You just want something that you can shake the dressing up. They even sell a special lid for mason jars for dressings (even can be for syrup). You can check out the Mason Tap
If you are intending to make vinaigrettes all the time then I highly recommend investing in actual salad dressing bottle. OXO has a great bottle. It even has measurements on the bottle to make things easier for you.
The Basic Formula To Create Vinaigrette Recipes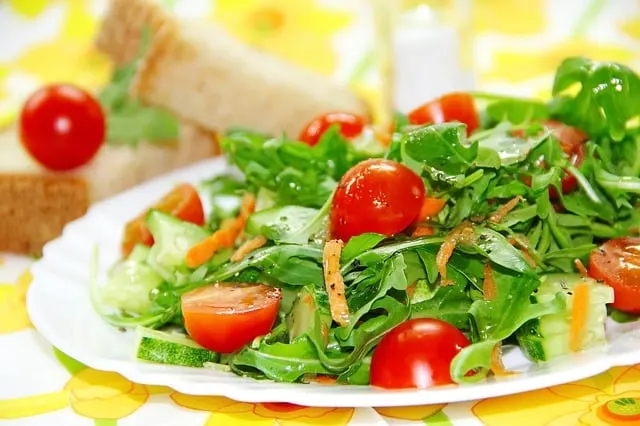 There are 4 key things that need to be part of your vinaigrette recipe to be successful. They are:
Oil
Acid
Aromatics
Flavorings
Below you will find measurements, but always tweak your dressing to your liking. Some people prefer more acid some don't. If you are unsure just follow the formula and it will come out great! Download this handy Homemade Vinaigrette printable and stick it on your fridge! This way you can make salad dressing in a snap!
The Oil
Always opt for healthy oils and buy organic if possible.
Feel free to experiment and use more than one oil. Just make sure to keep your ratios.
Oil measurement – 1/2 cup
Types of Oils
Avocado oil
Extra Virgin olive oil
Grapeseed oil
Flaxseed oil
Hazelnut oil
Almond oil
Walnut oil
The Acid
Acid Measurement – 1/4 cup
Balsamic vinegar
Champagne vinegar
Apple cider vinegar
Lemon juice
Lime juice
Orange juice
Grapefruit juice
Red wine vinegar
Rice vinegar
Sherry vinegar
White vinegar
White wine vinegar
Flavored vinegar
The Aromatics
Now in the culinary world aromatics can be pretty broad. But when it comes to salad dressing think simple. This part of the formula is for herbs and spices that have a distinct fragrance. So, think garlic or onions.
2 tsp. Minced Onion
1 tsp. Minced Garlic
1 tsp. Grated Ginger
2 tsp. Sliced Scallions
2 tsp. Minced Shallot
2 tsp. Minced Ramps
1/8 -1/2 tsp. Garlic Powder
1/8 -1/2 tsp. Onion Powder
1/8 – 1/2 tsp. Ginger Powder
The Flavorings
This is where things can get real fun. It's easy to mix and match different flavorings to create delicious vinaigrettes or stay on the classic route with flavor pairings that are tried and true. Example: dijon mustard and honey, or ginger and scallions.
Add about 1/2 teaspoon of salt and/or any of the flavoring below. Some of these are naturally high in sodium like soy sauce. So, keep that in mind when adding salt.
1 tbsp. Minced fresh herbs
1 tsp. Anchovy paste
1 tsp. Fish sauce
1-2 tsp. Honey
2 drops Stevia (create sugar-free dressings!)
1/2 – 1 tsp.Hot sauce – Like Sriracha
1 tsp. Lemon, Lime, Orange, or Grapefruit Zest
1- 2 tsp. Maple syrup
1 tsp. Mustard
1 tsp. Sesame seed oil
1 tsp. Soy sauce or Tamari
1 tsp. Worcestershire sauce
1 tsp. Whole or ground spices (if whole lightly toast to release natural oils)
Ground spices
1- 3 tsp. Fruit jam or jelly
1- 4 oz Blended fruit or fruit juice
1 tsp. amino's or coconut amino's
1-2 tsp. Nut butter – peanut, almond etc.
Pinch Red Pepper Flakes/Black Pepper
Download this handy Vinaigrette Recipes Printable and stick it on your fridge!
Classic Homemade Vinaigrette Recipes
Using the formula we have above these are some tasty classic dressing you can whip up in a snap!
Italian Vinaigrette
1/2 cup extra-virgin olive oil
1/4 cup red wine vinegar
1 tsp. minced Garlic
1 tsp Italian Seasoning
Pinch of Red Pepper Flakes
3/4 tsp Salt
Orange Balsamic
1/2 cup avocado oil
1/4 cup balsamic dressing
2 tsp. minced Shallots
1 tsp orange zest
3/4 tsp Salt
Honey Mustard
1/2 cup extra-virgin olive oil
1/4 cup apple cider vinegar
1 tsp. minced garlic
1-2 tsp dijon mustard
1-2 tsp honey
3/4 tsp Salt
1/8 tsp black pepper
I hope you enjoyed this post and that it was helpful on your hunt to make a better and healthier salad. And don't forget to download Vinaigrette Recipes printable!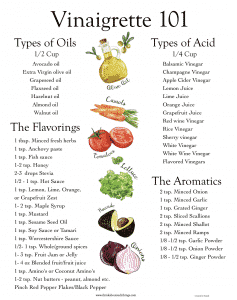 If you enjoy this printable and would like to grow more in your walk with Christ please sign up for my newsletter! You will gain access to all my free printables and will be first to know what's new on Think About Such Things! It's all together awesome!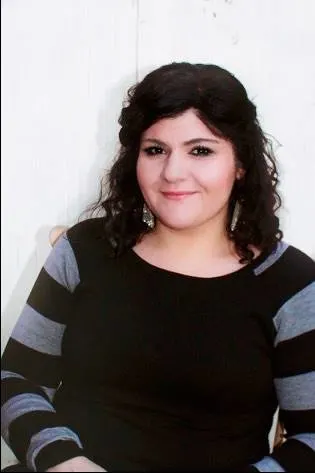 Melissa is a passionate minister, speaker and an ongoing learner of the Bible. She has been involved in church and vocational ministry for over 18 years. And is the founder of Think About Such Things. She has the heart to equip the saints by helping them get into the Word of God and fall more in love with Jesus. She also enjoys family, cooking, and reading.
She has spoken in churches in California, Oregon, Texas, and Mexico and has been featured in Guidepost Magazine and All Recipes Magazine. Read More…