About the Author & Book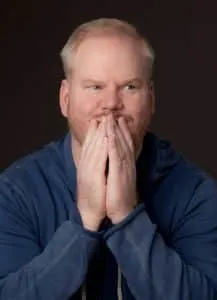 Jim Gaffigan is a Grammy nominated Comedian, New York Times Best Selling author, top touring performer, and multi-platinum selling father of five.
In May of 2013, Jim's first book 'Dad is Fat' was released by Crown Publishing debuting on the New York Times bestsellers list at #5 and remained in the top 20 for 17 weeks.
His second book Food: A Love Story will be released on October 21, 2014 under the same imprint. His fourth hour-long special "Obsessed" premiered on Comedy Central on April 27th, 2014. Becoming the most-watched stand-up special since April 2013. (taken from amazon.com)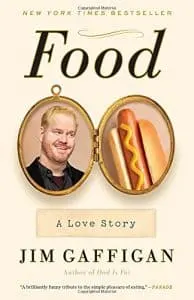 Have you ever finished a meal that tasted horrible but not noticed until the last bite?

Eaten in your car so you wouldn't have to share with your children? Gotten hungry while watching a dog food commercial? Does the presence of green vegetables make you angry?
If you answered yes to any of the following questions, you are pretty pathetic, but you are not alone.
Feast along with America's favorite food comedian, bestselling author, and male supermodel Jim Gaffigan as he digs into his specialty: stuffing his face.
Food: A Love Story is an in-depth, thoroughly uninformed look at everything from health food to things that people actually enjoy eating. (taken from amazon.com)
This is my first Jim Gaffigan book I have read. I love his comedy acts, but don't follow his stuff a lot.
Just
a little here and there.
So, I am not familiar with his food jokes, except the famous Hot Pocket ones.
I have one word to describe this book and that would be "delightful." Throughout the book, you laugh, smiles, and
soberly
relate with Jim's love of food. It's a fun and witty read with a vast array of food topics and subjects.
After reading the whole book Gaffigan may have convinced me that crabs and lobsters are
really
just
oversized bugs that live in the water
. His
deeply
profound words made sense. Though it won't stop me eating them, but by
golly
Jim,
I think
you're onto something!
On a serious note I Melissa super recommend this book. If you need a laugh or de-stress, or on a long plane/car ride. It's great entertainment! I am looking forward to reading Dad is Fat.
I received this book from Blogging for Books for free for my honest opinion.
Other Books By Jim Gaffigan (click photo for more info):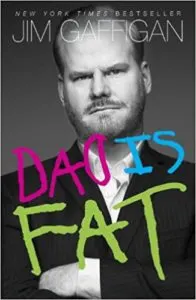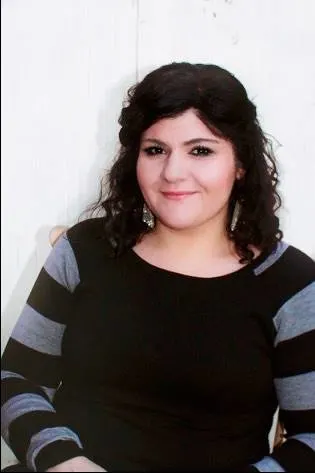 Melissa is a passionate minister, speaker and an ongoing learner of the Bible. She has been involved in church and vocational ministry for over 18 years. And is the founder of Think About Such Things. She has the heart to equip the saints by helping them get into the Word of God and fall more in love with Jesus. She also enjoys family, cooking, and reading.
She has spoken in churches in California, Oregon, Texas, and Mexico and has been featured in Guidepost Magazine and All Recipes Magazine. Read More…