I'm pretty sure when you click on this you were thinking…"Say what?…you can't work on your blog without a computer." Well, that is true, but not entirely true. There are blogging tasks that don't require a computer. You just need to think outside of the box!
My guess is that your second thought is…."But why would you want to work without your computer?" Well, I don't know about you, but sometimes I get burned out of my computer. It's literally one task after another all on a screen. It's like I am glued to this thing. For me this even includes my phone, which is basically a mini computer.
For me personally, getting away from the computer is a refreshing change of pace and helps me refocus.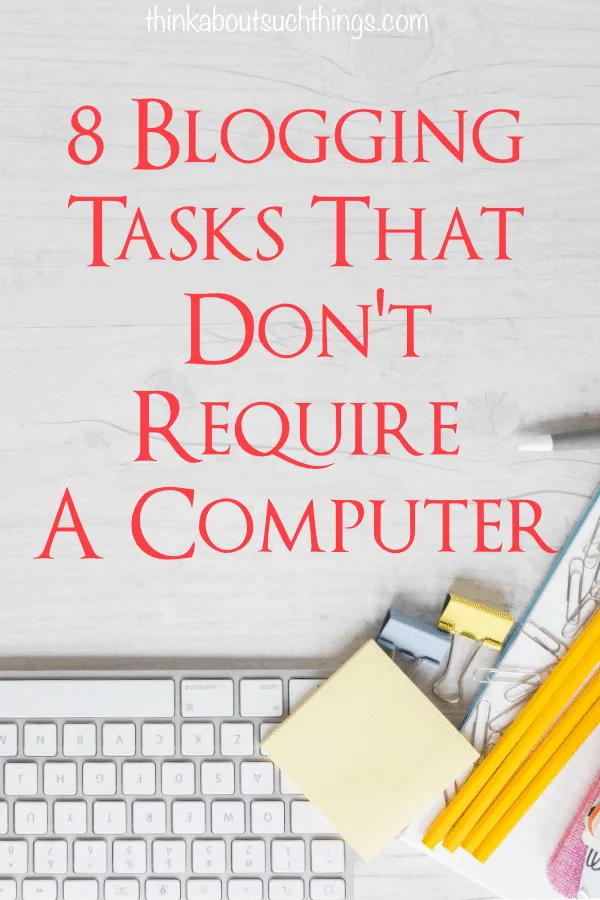 Blogging Tasks Don't Require A Computer
Brainstorming Content: One of my favorite things to do is walk around a bookstore and dream up content. A bookstore is literally a treasure chest of content that you can be inspired from. A title of a book can give you ideas or even a chapter title or a magazine article. And I am not talking about "stealing" other peoples content. That's a BIG NO NO. Don't do that! Let me give a couple of examples of what I am talking about:
You see the book Overcomer By David Jeremiah on the shelf you start to think of content that can help with overcoming…
5 Ways to Overcome Writers Block
Overcoming Family Hardships
How to Help Someone Overcome Depression
You see an article from Food Network magazine: I Ate Cauliflower Every Day for a Week and Here's What Happened

Knowing cauliflower is a trendy cruciferous of our day and age, you think your readers would like…
10 Ways to Cook Cauliflower
Cauliflower Round Up Recipes
Health Benefits of Eating Cauliflower
Can you see how you can get insanely inspired at your local Barnes & Nobles?? I usually go with just a blank notebook and a pen.
Writing out your blog outlines
I love sitting at a coffee shop with my computer in my computer bag and me with my blog post outline printable, writing out blog outlines. I'll have a post I want to write and then I just star jotting down an outline that I will then fill in and type later. It's superhelpful for break writers block as well. You can check that out here! How to Stop Writer's Block in Blogging
Write out your blogging to do list
Call me old fashion, but I love writing out my to-do list versus typing it. It's just satisfying (also proven to be more beneficial then typing – Handwritting vs Typing) If going digital is your thing then consider writing it out by hand then use dictation to have it written out digitaly. Quick and easy!
Taking pictures for your graphics.
No matter your content I'm sure you can snap some pictures to include in your blog. Taking your own pictures causes your blog to stand out, makes it more personal, and Pinterest LOVES it. It's a huge!
*You might have to use your phone if you don't have a camera.
Make a video for your blog.
Creating videos for social media, blog posts, newsletters, or youtube is a great way to share a little piece of you with your audience.
*You might have to use your phone if you don't have a camera.
Work on your editorial calendar
This is what I love to do. I grab a calendar or print out some blank months. I then grab some mini post it notes. On each post it note I write out a blog post I want to post.
This is when the fun begins…I start moving the sticky notes around on the calendar to figure out the best time to release certain posts or if some posts work well together and should be released near each other.
Once I have it all figured out I write out a concrete plan. You can even snap a picture of your month(s) if you want to store it that way.
*You can get super creative with this, buy getting different colored sticky notes to symbolize different types of topics on your blog!
Research your content with books.
Hey, remember when we didn't have the internet and you needed to learn something? Yeah, I do! We used to go to the library or bookstore to research a topic. This rare form of study is still available, valuable and profitable. Try it out sometime. Might be nice to hit some books!
Connect with other bloggers in person
I know this isn't possible for everyone, but if you can find local bloggers then you are in luck. This is a great time for strategizing, sharing tips, and encouraging each other. It may not feel like you are working on your blog, but this kind of investment with other bloggers can really impact your blog in the long run.
I hope these 8 blogging tasks that don't require a computer have inspired to turn off your computer and try something different. Leave me a comment below and share your thoughts.
And don't forget to download my free Blog Post Outline. You can find that below!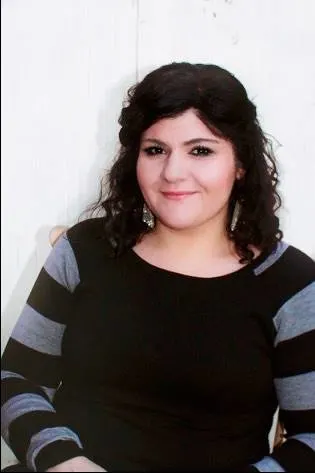 Melissa is a passionate minister, speaker and an ongoing learner of the Bible. She has been involved in church and vocational ministry for over 18 years. And is the founder of Think About Such Things. She has the heart to equip the saints by helping them get into the Word of God and fall more in love with Jesus. She also enjoys family, cooking, and reading.
She has spoken in churches in California, Oregon, Texas, and Mexico and has been featured in Guidepost Magazine and All Recipes Magazine. Read More…