On My Bookshelf: NIV, Artisan Collection Bible
This post may contain affiliate links. Please read my disclosure policy for more info.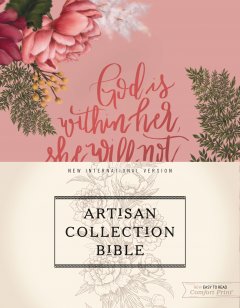 About the Bible
The only NIV Bible with a printed hand-painted cover design and beautiful art hidden in the page edges
Exquisite from the inside out, the NIV Artisan Collection Bible stuns with its printed cover design showcasing hand-painted flair. When the Bible is opened, beautiful art appears on the page edges as you read through Scripture. When you close the Bible, the image vanishes into shimmery foil gilding. As you start reading, let your eyes relax as you take in more of God's Word with the exclusive Zondervan NIV Comfort Print® typeface, carefully designed with custom fonts to be easy and enjoyable to read. In addition to the attractive typesetting, each page of this Bible has lightly ruled, wide margins, inviting you to journal, reflect, take notes, and create art.
(From www.booklookblogger.com)
When it comes to Bibles…I always pick them out for practical reasons: study, translation, commentary ect. So, when I was offered to review the Artisan Collection Bible I was intrigued. All I can say is that this BIble is beautiful! It's so feminine and delicate. The gold pages even have rose designs on them! They really didn't hold back on making this Bible something you would want everyone to see.
The inside is nice as well. There is a lot of space for writing in the margins. It is lined which works well for those who like to take notes, but not sure for those who like to do Bible Journaling. That might be an issue.
I love the comfort print! It's so much bigger than my older Bible's print. The only thing I was surprised about was the actual size of the Bible. I guess I am used to the standard Bible size, this version is unique. It's more squarish (is that even a word?) shaped and smaller than a standard Bible. It brings a lot of character to the Bible. I would think finding a Bible case for it might be hard, but then you might not want to hide the beautiful cover.
I would recommend this Bible to any woman or girl who loves thing pretty and feminine. This will be right up her alley!
I received a copy of this book in exchange for my honest opinion.
For other book reviews click here: BOOK REVIEWS