In this post, we will discover Bible verses about fasting. These scriptures will help you study the topic of fasting. So, grab your Bible and get ready to learn…
I was going through my prayer posts and realized I didn't have any posts on the topic of fasting. So, with that realization, I have decided to write two new articles. You of course have landed on one of them! The other one is called 7 Spiritual Fasting Benefits. I encourage you to check it out once you finish with this one.
Fasting is a key component in many stories throughout the Bible…would Esther had the favor she needed if she didn't call people to fast and pray?? What about the prophet Daniel when he fasted?? or what about when Jesus said, "this kind does not go out except by prayer and fasting." (Matt. 17:21)
Fasting is a POWERFUL spiritual act that can bring transformation, and change to us as individuals and situations around us.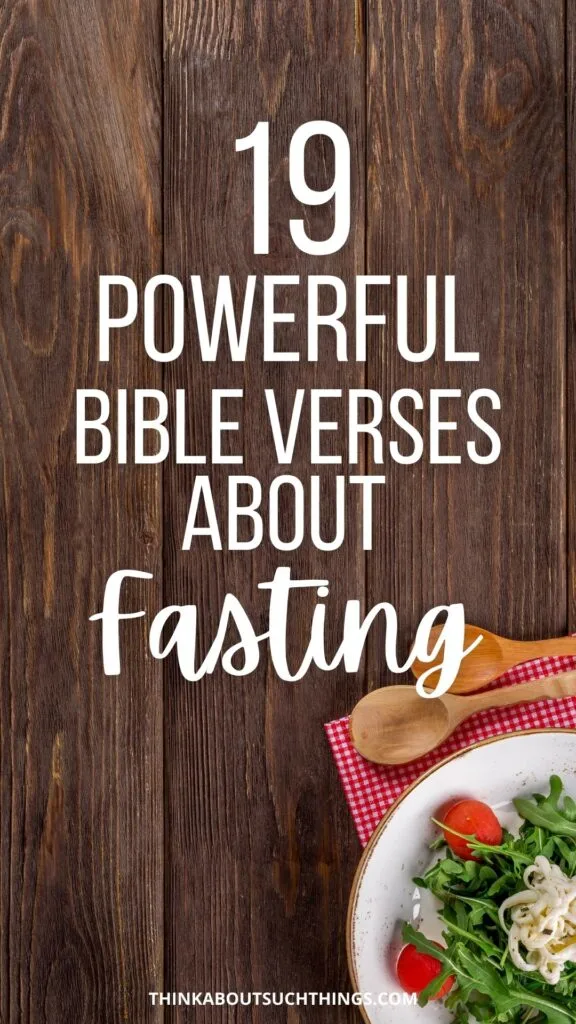 As for the scriptures about fasting below, I encourage you to look them up and read them within context. This will give you a better understanding.
Bible Verses about Fastings
*All Bible verses below are taken from the NKJV Bible. If you hover over the verse reference you will be able to read the AMP version.
Matthew 6:16-18 NKJV – 16 "Moreover, when you fast, do not be like the hypocrites, with a sad countenance. For they disfigure their faces that they may appear to men to be fasting. Assuredly, I say to you, they have their reward. 17 "But you, when you fast, anoint your head and wash your face, 18 "so that you do not appear to men to be fasting, but to your Father who [is] in the secret [place]; and your Father who sees in secret will reward you openly.
Joel 2:12 NKJV – 12 "Now, therefore," says the LORD, "Turn to Me with all your heart, With fasting, with weeping, and with mourning."
Luke 4:1-2 NKJV – 1 Then Jesus, being filled with the Holy Spirit, returned from the Jordan and was led by the Spirit into the wilderness, 2 being tempted for forty days by the devil. And in those days He ate nothing, and afterward, when they had ended, He was hungry.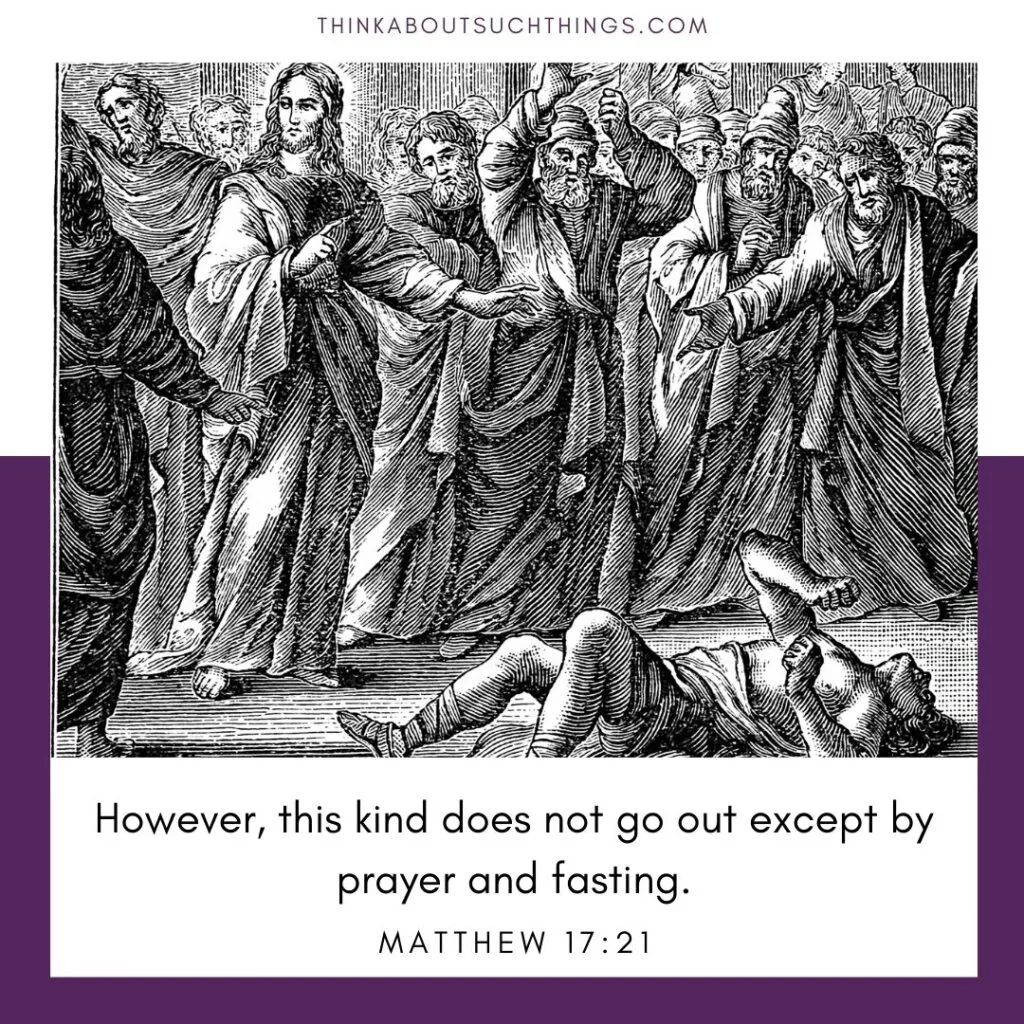 Daniel 10:3 NKJV – 3 I ate no pleasant food, no meat or wine came into my mouth, nor did I anoint myself at all, till three whole weeks were fulfilled.
Ezra 8:21-23 NKJV – 21 Then I proclaimed a fast there at the river of Ahava, that we might humble ourselves before our God, to seek from Him the right way for us and our little ones and all our possessions. 22 For I was ashamed to request of the king an escort of soldiers and horsemen to help us against the enemy on the road, because we had spoken to the king, saying, "The hand of our God [is] upon all those for good who seek Him, but His power and His wrath [are] against all those who forsake Him." 23 So we fasted and entreated our God for this, and He answered our prayer.
Acts 14:23 NKJV – 23 So when they had appointed elders in every church, and prayed with fasting, they commended them to the Lord in whom they had believed.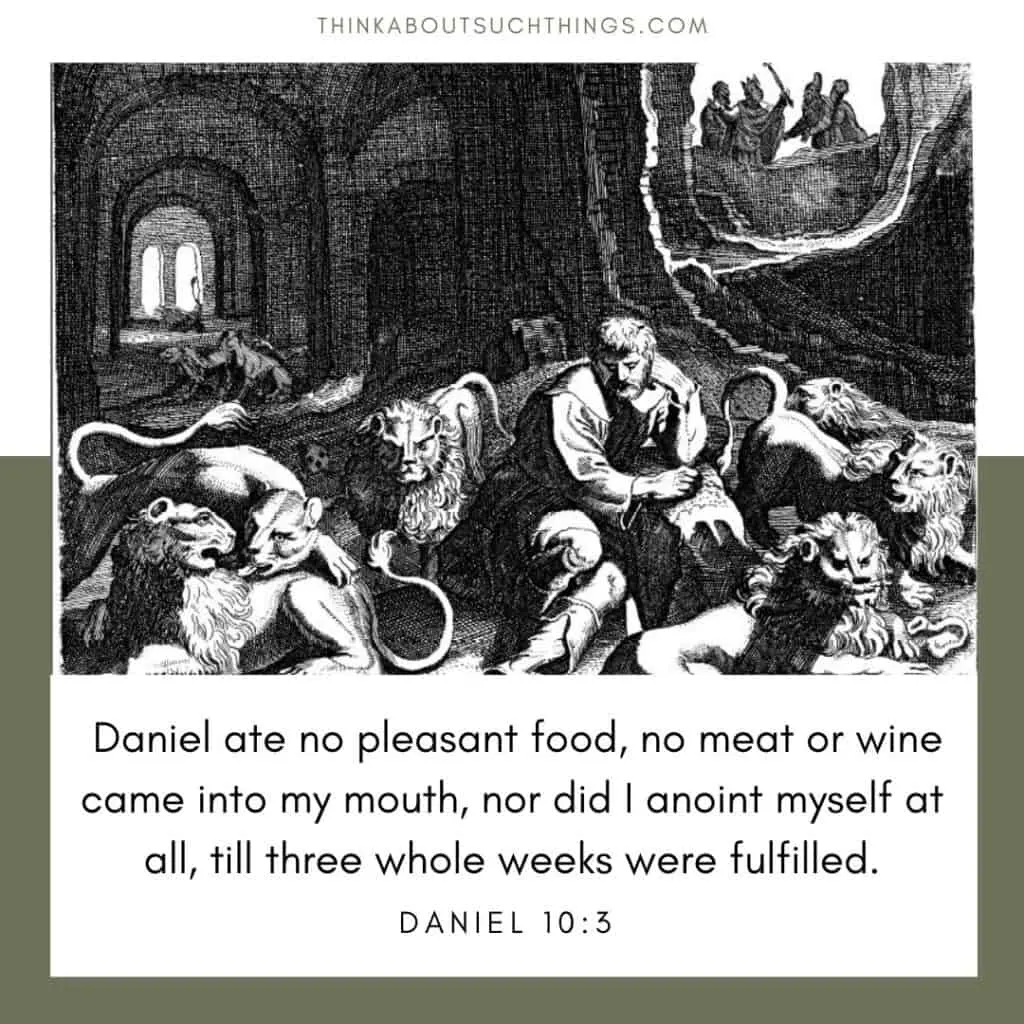 Exodus 34:28 NKJV – 28 So he was there with the LORD forty days and forty nights; he neither ate bread nor drank water. And He wrote on the tablets the words of the covenant, the Ten Commandments.
Isaiah 58:6 NKJV – 6 "[Is] this not the fast that I have chosen: To loose the bonds of wickedness, To undo the heavy burdens, To let the oppressed go free, And that you break every yoke?
Esther 4:16 NKJV – 16 "Go, gather all the Jews who are present in Shushan, and fast for me; neither eat nor drink for three days, night or day. My maids and I will fast likewise. And so I will go to the king, which [is] against the law; and if I perish, I perish!"
Luke 2:37 NKJV – 37 and this woman [was] a widow of about eighty-four years, who did not depart from the temple, but served [God] with fastings and prayers night and day.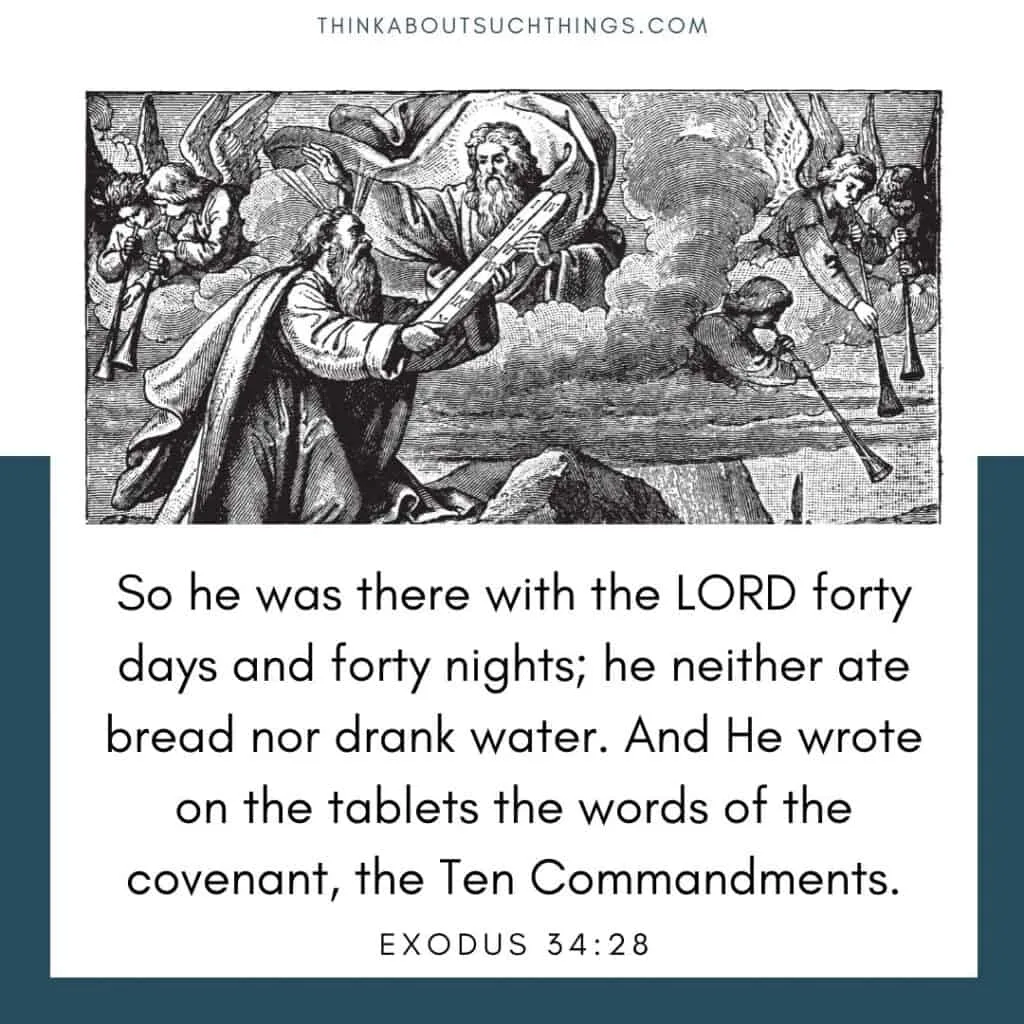 Acts 13:2 NKJV – 2 As they ministered to the Lord and fasted, the Holy Spirit said, "Now separate to Me Barnabas and Saul for the work to which I have called them."
Nehemiah 1:4 NKJV – 4 So it was, when I heard these words, that I sat down and wept, and mourned [for many] days; I was fasting and praying before the God of heaven.
Matthew 17:21 NKJV – 21 "However, this kind does not go out except by prayer and fasting."
Psalm 35:13-14 NKJV – 13 But as for me, when they were sick, My clothing [was] sackcloth; I humbled myself with fasting; And my prayer would return to my own heart. 14 I paced about as though [he were] my friend [or] brother; I bowed down heavily, as one who mourns [for his] mother.
List of Scriptures on Fasting
I find it helpful to have a simple list of the verses for those who want to jot the verses down for study later or write them down in their journal.
BIBLE VERSES ABOUT FASTING
Matthew 6:16-18

Joel 2:12

Luke 4:1-2

Daniel 10:3

Ezra 8:21-23

Acts 14:23

Exodus 34:28

Isaiah 58:6

Esther 4:16

Luke 2:37

Acts 13:2

Nehemiah 1:4

Psalm 35:13-14

Matthew 17:21
---
I hope you have enjoyed these Bible verses on fasting! If you would like to study other topics in the Bible then please check out my Topical Bible Verses. You will find a slew of posts on various themes throughout scripture.
If you would like to leave a comment you can do so below. I would love to know what the Lord is teaching you about fasting!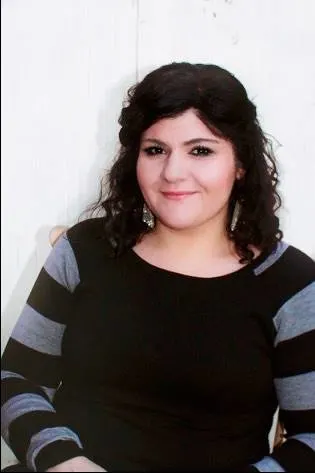 Melissa is a passionate minister, speaker and an ongoing learner of the Bible. She has been involved in church and vocational ministry for over 18 years. And is the founder of Think About Such Things. She has the heart to equip the saints by helping them get into the Word of God and fall more in love with Jesus. She also enjoys family, cooking, and reading.
She has spoken in churches in California, Oregon, Texas, and Mexico and has been featured in Guidepost Magazine and All Recipes Magazine. Read More…