A collection of Bible Verses about God's love. These scriptures will encourage and build up your faith. These scriptures on god's love would be great for memorizing, Bible journaling, and more!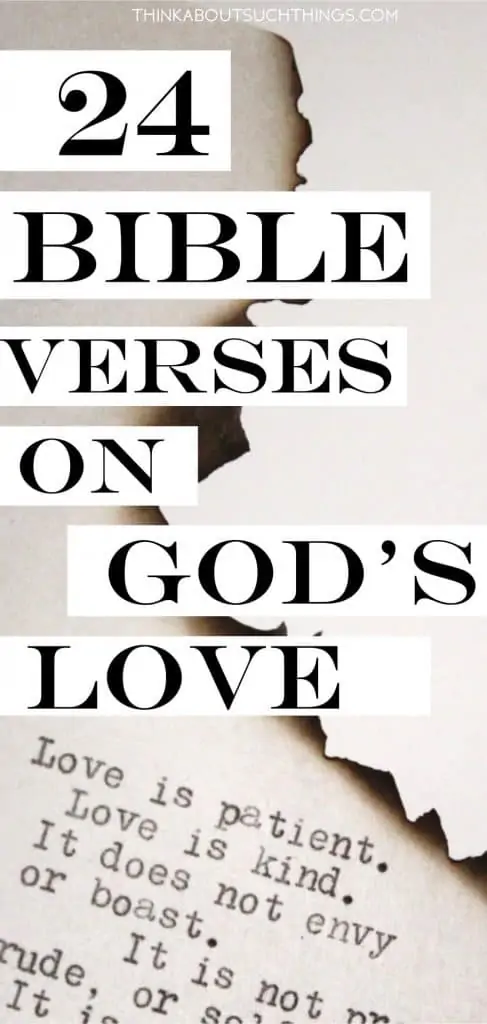 I've been walking with the Lord for 20 years now and the one thing that still blows me away is God's love. Trust me in these 20 years I have NOT been perfect or without fault. And each time I messed up He was there loving me.
I understand now how it says in Romans 2:4 that it is the kindness of God that leads a man to repentance. His love is a powerful force that draws you to Him and gives you such purpose and fulfillment. It's absolutely beautiful.
You might be here because you are doing a study or preparing to preach/teach, or you could be here because you are wondering if God really does love you.
That's why I wanted to share Bible verses on God's love with you. That no matter why you landed here. This article would be a blessing to you in your growth and search for the Lord.
God loves you tremendously and I hope you see and feel that though these scriptures today.
Bible Verses About God's Love
All verses are taken from the NKJV. If you hover over the verse you will see the amplified version. If you would like to see other translations of these verses please head over to Bible Gateway.
Also, feel free to share the verse images below with others! You will be surprised what a little encouragement can do in someone's life.
---
John 15:12-13 – 12 "This is My commandment, that you love one another as I have loved you. 13 "Greater love has no one than this, than to lay down one's life for his friends.
Romans 5:2-5 – 2 through whom also we have access by faith into this grace in which we stand, and rejoice in hope of the glory of God. 3 And not only [that], but we also glory in tribulations, knowing that tribulation produces perseverance; 4 and perseverance, character; and character, hope. 5 Now hope does not disappoint, because the love of God has been poured out in our hearts by the Holy Spirit who was given to us.
1 John 4:7-8 – 7 Beloved, let us love one another, for love is of God; and everyone who loves is born of God and knows God. 8 He who does not love does not know God, for God is love.
Deuteronomy 7:9 – "Therefore know that the LORD your God, He [is] God, the faithful God who keeps covenant and mercy for a thousand generations with those who love Him and keep His commandments;
Galatians 2:20 – "I have been crucified with Christ; it is no longer I who live, but Christ lives in me; and the [life] which I now live in the flesh I live by faith in the Son of God, who loved me and gave Himself for me.
Romans 5:8 – But God demonstrates His own love toward us, in that while we were still sinners, Christ died for us.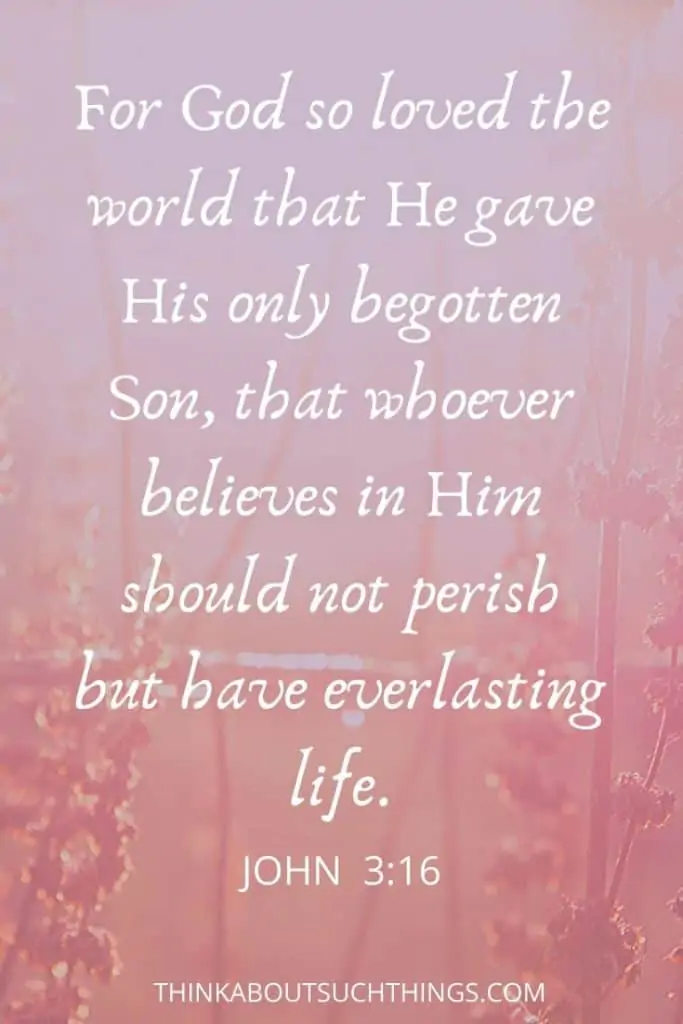 Psalm 136:26 – Oh, give thanks to the God of heaven! For His mercy [endures] forever.
Psalm 36:7 – How precious [is] Your lovingkindness, O God! Therefore the children of men put their trust under the shadow of Your wings.
1 John 4:18-19 – There is no fear in love; but perfect love casts out fear, because fear involves torment. But he who fears has not been made perfect in love. 19 We love Him because He first loved us.
John 3:16 – For God so loved the world that He gave His only begotten Son, that whoever believes in Him should not perish but have everlasting life.
1 John 3:1 – Behold what manner of love the Father has bestowed on us, that we should be called children of God! Therefore the world does not know us, because it did not know Him.
1 John 4:9-11 – In this the love of God was manifested toward us, that God has sent His only begotten Son into the world, that we might live through Him. 10 In this is love, not that we loved God, but that He loved us and sent His Son [to be] the propitiation for our sins. 11 Beloved, if God so loved us, we also ought to love one another.
Ephesians 2:4-5 – But God, who is rich in mercy, because of His great love with which He loved us, 5 even when we were dead in trespasses, made us alive together with Christ (by grace you have been saved),
1 Peter 4:8 – And above all things have fervent love for one another, for "love will cover a multitude of sins."
Psalm 86:5 – For You, Lord, [are] good, and ready to forgive, And abundant in mercy to all those who call upon You.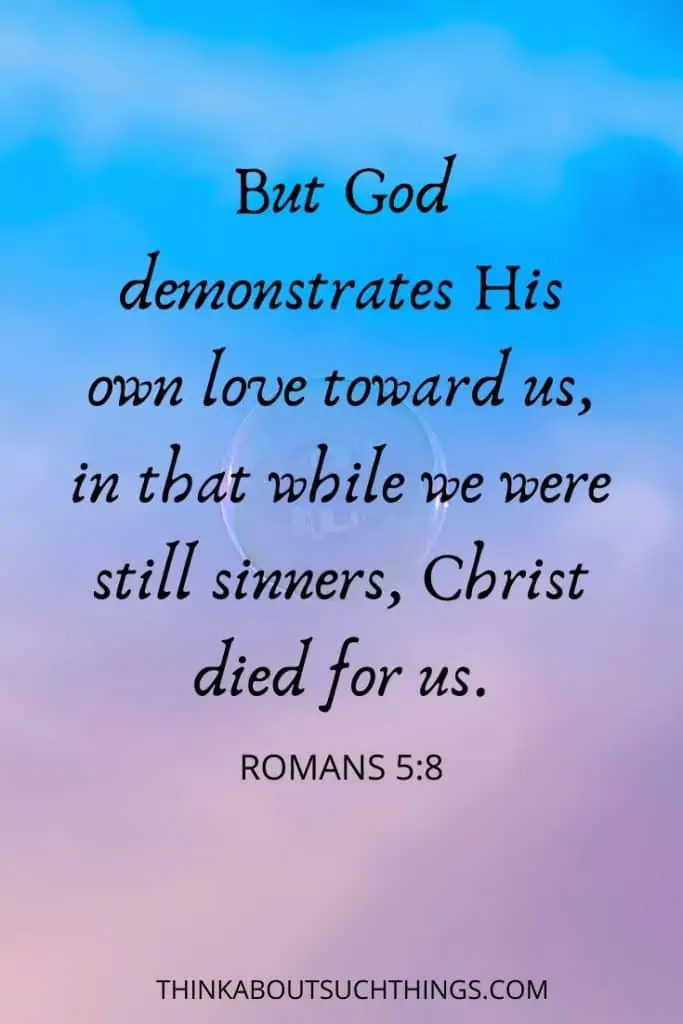 Luke 6:35 – "But love your enemies, do good, and lend, hoping for nothing in return; and your reward will be great, and you will be sons of the Most High. For He is kind to the unthankful and evil.
Zephaniah 3:17 – The LORD your God in your midst, The Mighty One, will save; He will rejoice over you with gladness, He will quiet [you] with His love, He will rejoice over you with singing."
Romans 8:37-39 – Yet in all these things we are more than conquerors through Him who loved us. 38 For I am persuaded that neither death nor life, nor angels nor principalities nor powers, nor things present nor things to come, 39 nor height nor depth, nor any other created thing, shall be able to separate us from the love of God which is in Christ Jesus our Lord.
Isaiah 54:10 – For the mountains shall depart And the hills be removed, But My kindness shall not depart from you, Nor shall My covenant of peace be removed," Says the LORD, who has mercy on you.
Colossians 3:12-14 – Therefore, as [the] elect of God, holy and beloved, put on tender mercies, kindness, humility, meekness, longsuffering; 13 bearing with one another, and forgiving one another, if anyone has a complaint against another; even as Christ forgave you, so you also [must do]. 14 But above all these things put on love, which is the bond of perfection.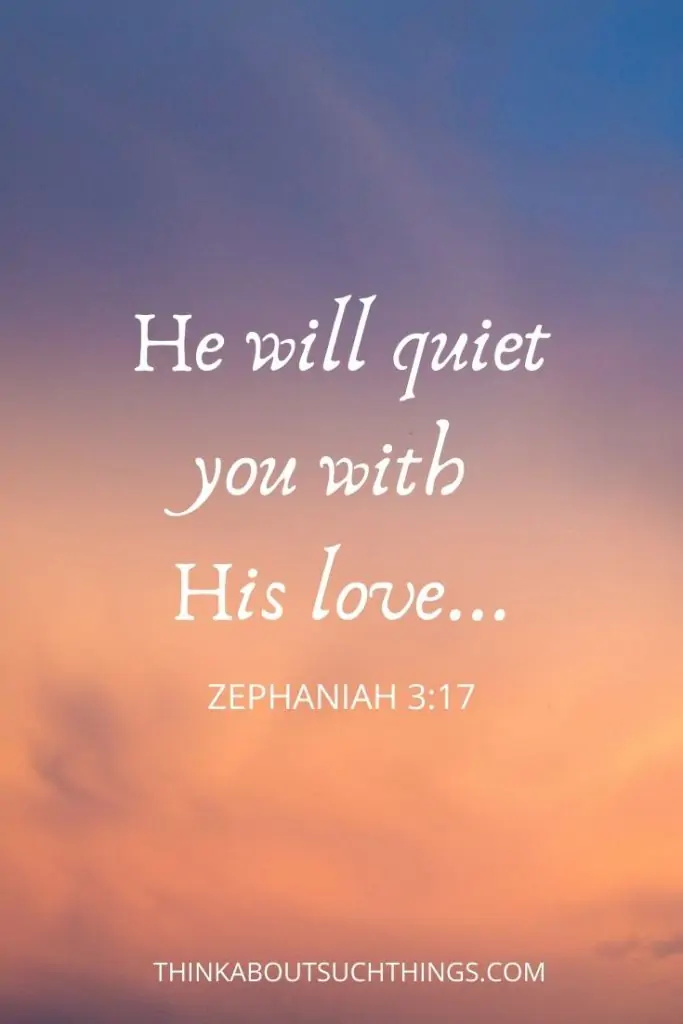 1Corithians 13:4-8 – Love suffers long [and] is kind; love does not envy; love does not parade itself, is not puffed up; 5 does not behave rudely, does not seek its own, is not provoked, thinks no evil; 6 does not rejoice in iniquity, but rejoices in the truth; 7 bears all things, believes all things, hopes all things, endures all things. 8 Love never fails. But whether [there are] prophecies, they will fail; whether [there are] tongues, they will cease; whether [there is] knowledge, it will vanish away.
Psalm 86:15 – But You, O Lord, [are] a God full of compassion, and gracious, Longsuffering and abundant in mercy and truth.
John 15:9-11, 14-17 – "As the Father loved Me, I also have loved you; abide in My love. 10 "If you keep My commandments, you will abide in My love, just as I have kept My Father's commandments and abide in His love. 11 "These things I have spoken to you, that My joy may remain in you, and [that] your joy may be full. … 14 "You are My friends if you do whatever I command you. 15 "No longer do I call you servants, for a servant does not know what his master is doing; but I have called you friends, for all things that I heard from My Father I have made known to you. 16 "You did not choose Me, but I chose you and appointed you that you should go and bear fruit, and [that] your fruit should remain, that whatever you ask the Father in My name He may give you. 17 "These things I command you, that you love one another.
Recap Resource List of Scriptures on God's Love
If you are looking for just a quick list of all the verses…here it is! A great way to jot them down in your journal or Bible for later! These would be great to do as a daily reading plan.
List of Bible Verses on the Love of God
John 15:12-13
Psalm 136:26
Romans 5:2-5
1 John 4:7-8
Deuteronomy 7:9
Galatians 2:20
Romans 5:8
Psalm 36:7
1 John 4:18-19
John 3:16
1 John 3:1
1 John 4:9-11
Ephesians 2:4-5
1 Peter 4:8
Psalm 86:5
Luke 6:35
Zephaniah 3:17
Romans 8:37-39
Isaiah 54:10
Colossians 3:12-14
1 Corinthians 13:4-8
Psalm 86:15
John 15:9-17
---
I hope these scriptures on the love of God have blessed you and encouraged you in your walk with the Lord! If you wanting to check out more topical verses then click on my Bible verses on Topics Resource Page. You will find a collection of different topics to further your study of God's word or check out my Faith Page.
Like always feel free to leave me a comment below! I love hearing from my readers and what God is doing in their lives!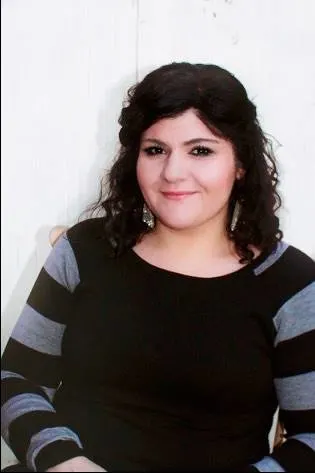 Melissa is a passionate minister, speaker and an ongoing learner of the Bible. She has been involved in church and vocational ministry for over 18 years. And is the founder of Think About Such Things. She has the heart to equip the saints by helping them get into the Word of God and fall more in love with Jesus. She also enjoys family, cooking, and reading.
She has spoken in churches in California, Oregon, Texas, and Mexico and has been featured in Guidepost Magazine and All Recipes Magazine. Read More…