A collection of Bible verses about peace. These scriptures will bring you comfort and strength in whatever season of life you are in.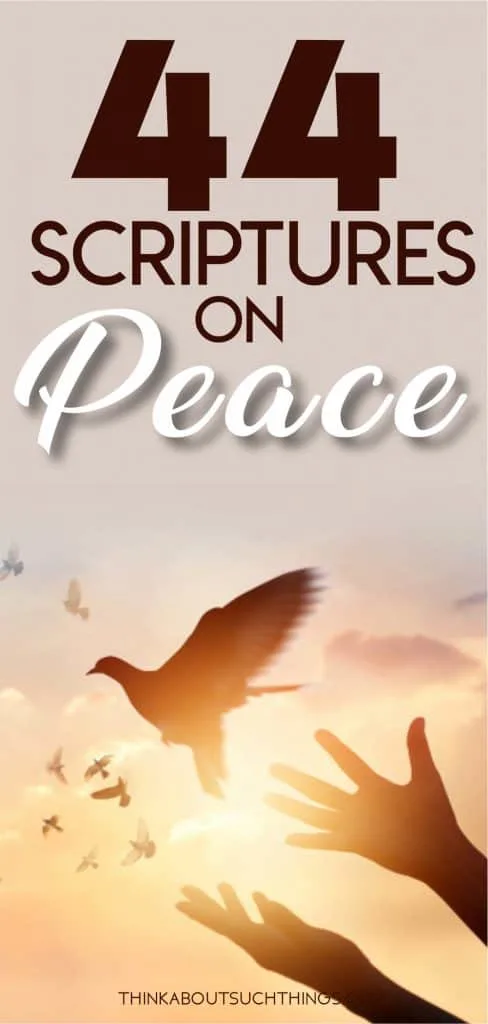 God's peace is part of our inheritance as His sons and daughters. And in a world where there is no peace, it's a vital part of what makes us different.
True peace is supernatural in nature and is different than rest. (For verses on rest click here). It is one of the attributes of the fruit of the Spirit. Meaning it can only be obtained if we live according to the Spirit.
So, I hope these Bible verses draw you closer to Him and that He will give you peace in your heart that you are seeking out.
The world doesn't give peace, for it doesn't have any peace to give. It fights for peace, it negotiates for peace, it maneuvers for peace, but there is no ultimate peace in the world. But Jesus gives peace to those who put their trust in Him.

Billy Graham
Bible Verses on Peace
All verses below are from the NKJV. You can hover over the reference and you can check out the Amplified translation of the Bible verse. If you would like to check out other translations then head over to Bible Gateway.
As a little side note these verses would be great to pray and meditate on!
---
Numbers 6:24-26 NKJV – 24 "The LORD bless you and keep you; 25 The LORD make His face shine upon you, And be gracious to you; 26 The LORD lift up His countenance upon you, And give you peace." '
Colossians 3:15 NKJV – 15 And let the peace of God rule in your hearts, to which also you were called in one body; and be thankful.
Galatians 5:22 NKJV – 22 But the fruit of the Spirit is love, joy, peace, longsuffering, kindness, goodness, faithfulness,
Psalm 4:8 NKJV – 8 I will both lie down in peace, and sleep; For You alone, O LORD, make me dwell in safety.
Hebrews 12:14 NKJV – 14 Pursue peace with all [people], and holiness, without which no one will see the Lord: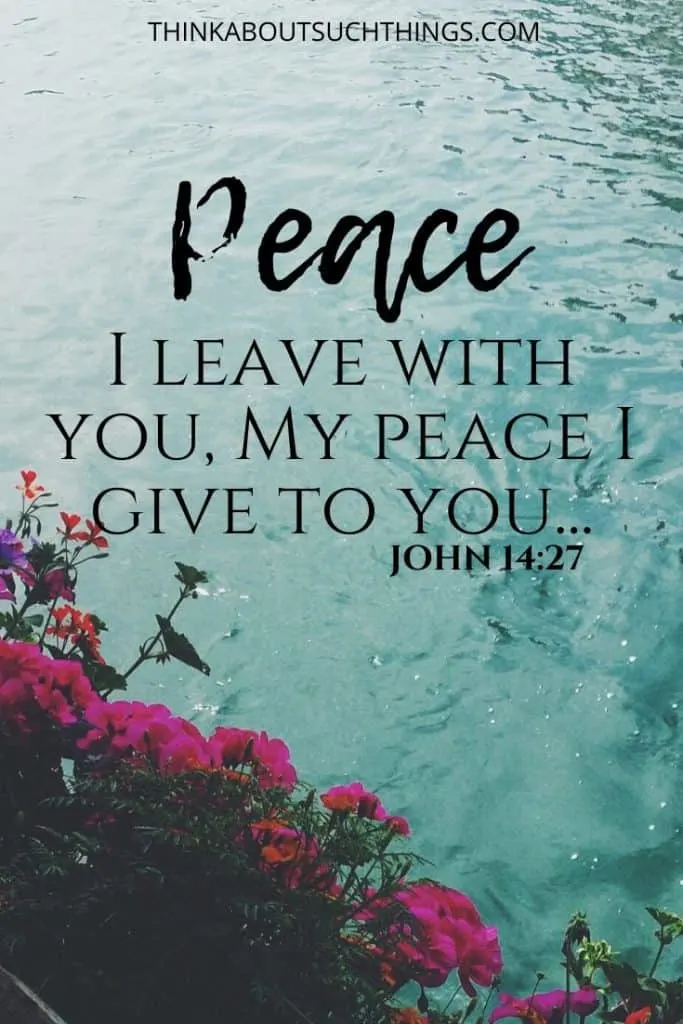 Isaiah 52:7 NKJV – 7 How beautiful upon the mountains Are the feet of him who brings good news, Who proclaims peace, Who brings glad tidings of good [things], Who proclaims salvation, Who says to Zion, "Your God reigns!"
1 Peter 3:11 NKJV – 11 Let him turn away from evil and do good; Let him seek peace and pursue it.
Hebrews 12:11 NKJV – 11 Now no chastening seems to be joyful for the present, but painful; nevertheless, afterward it yields the peaceable fruit of righteousness to those who have been trained by it.
1 Peter 5:7 NKJV – 7 casting all your care upon Him, for He cares for you.
1 Thessalonians 5:15 NKJV – 15 See that no one renders evil for evil to anyone, but always pursue what is good both for yourselves and for all.
Romans 8:6 NKJV – 6 For to be carnally minded [is] death, but to be spiritually minded [is] life and peace.
Romans 14:17-19 NKJV – 17 for the kingdom of God is not eating and drinking, but righteousness and peace and joy in the Holy Spirit. 18 For he who serves Christ in these things [is] acceptable to God and approved by men. 19 Therefore let us pursue the things [which make] for peace and the things by which one may edify another.
James 3:18 NKJV – 18 Now the fruit of righteousness is sown in peace by those who make peace.
Philippians 4:6-7 NKJV – 6 Be anxious for nothing, but in everything by prayer and supplication, with thanksgiving, let your requests be made known to God; 7 and the peace of God, which surpasses all understanding, will guard your hearts and minds through Christ Jesus.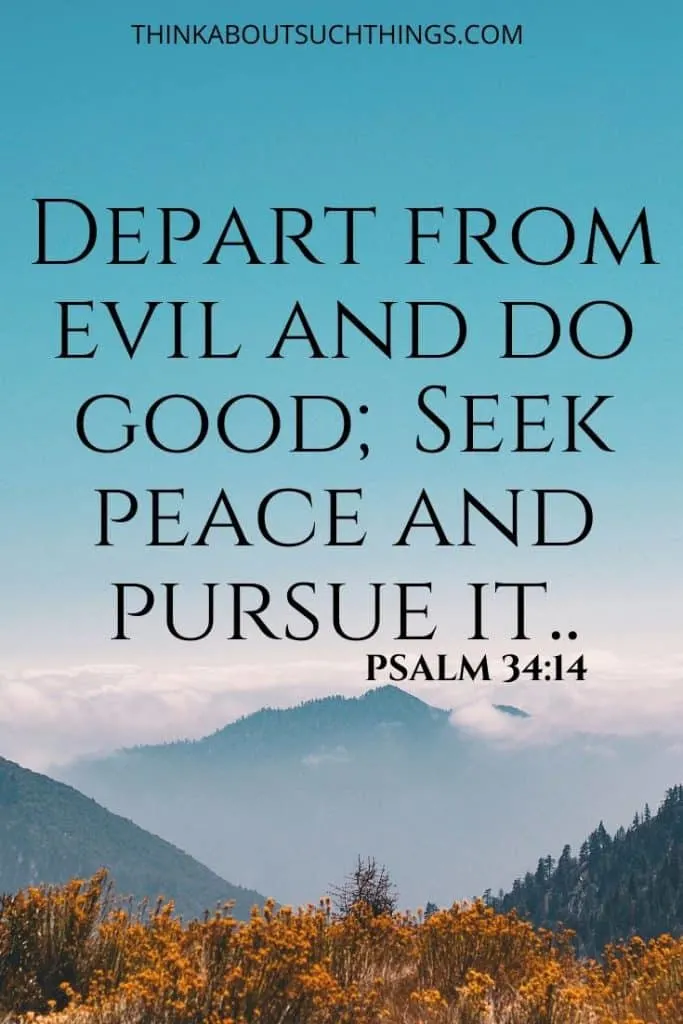 Romans 5:1 NKJV – 1 Therefore, having been justified by faith, we have peace with God through our Lord Jesus Christ,
Proverbs 12:20 NKJV – 20 Deceit is in the heart of those who devise evil, But counselors of peace have joy.
Proverbs 3:1-2 NKJV – 1 My son, do not forget my law, But let your heart keep my commands; 2 For length of days and long life And peace they will add to you.
Proverbs 16:7 NKJV – 7 When a man's ways please the LORD, He makes even his enemies to be at peace with him.
Psalm 29:11 NKJV – 11 The LORD will give strength to His people; The LORD will bless His people with peace.
John 20:19 NKJV – 19 Then, the same day at evening, being the first [day] of the week, when the doors were shut where the disciples were assembled, for fear of the Jews, Jesus came and stood in the midst, and said to them, "Peace [be] with you."
John 16:33 NKJV – 33 "These things I have spoken to you, that in Me you may have peace. In the world you will have tribulation; but be of good cheer, I have overcome the world."
John 14:27 NKJV – 27 "Peace I leave with you, My peace I give to you; not as the world gives do I give to you. Let not your heart be troubled, neither let it be afraid.
Mark 9:50 NKJV – 50 "Salt [is] good, but if the salt loses its flavor, how will you season it? Have salt in yourselves, and have peace with one another."
Romans 12:18 NKJV – 18 If it is possible, as much as depends on you, live peaceably with all men.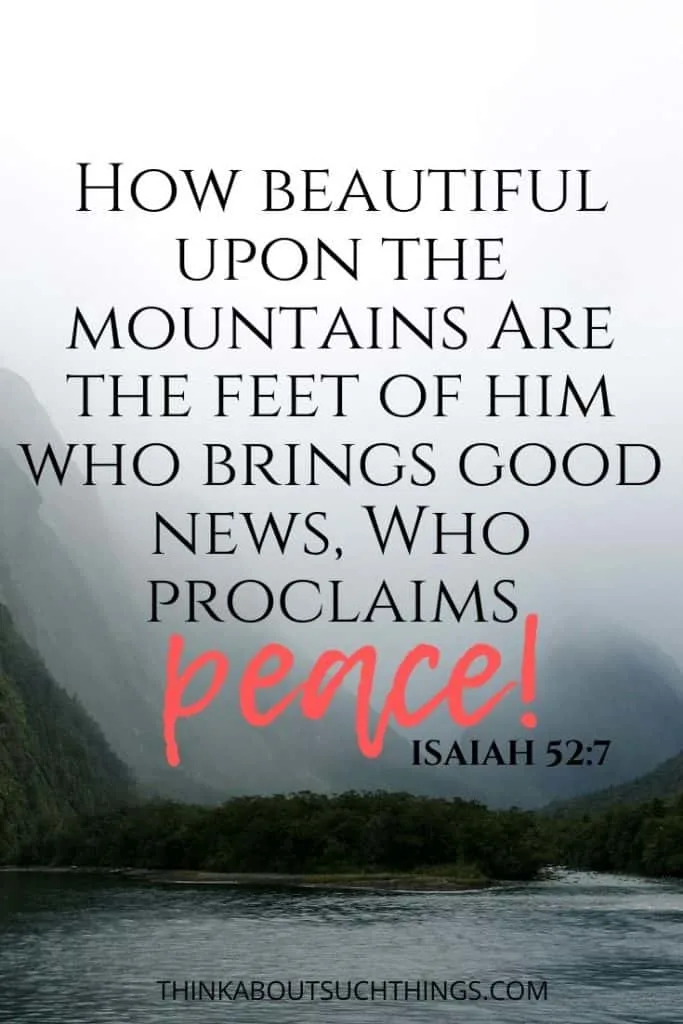 1 Corinthians 7:15 NKJV – 15 But if the unbeliever departs, let him depart; a brother or a sister is not under bondage in such [cases]. But God has called us to peace.
Psalm 34:14 NKJV – 14 Depart from evil and do good; Seek peace and pursue it.
1 Peter 3:9-10 NKJV – 9 not returning evil for evil or reviling for reviling, but on the contrary blessing, knowing that you were called to this, that you may inherit a blessing. 10 For "He who would love life And see good days, Let him refrain his tongue from evil, And his lips from speaking deceit.
Leviticus 26:6 NKJV – 6 I will give peace in the land, and you shall lie down, and none will make [you] afraid; I will rid the land of evil beasts, and the sword will not go through your land.
Psalm 37:37 NKJV – 37 Mark the blameless [man], and observe the upright; For the future of [that] man [is] peace.
Jeremiah 29:11 NKJV – 11 For I know the thoughts that I think toward you, says the LORD, thoughts of peace and not of evil, to give you a future and a hope.
Jeremiah 33:6 NKJV – 6 'Behold, I will bring it health and healing; I will heal them and reveal to them the abundance of peace and truth.
Psalm 85:8 NKJV – 8 I will hear what God the LORD will speak, For He will speak peace To His people and to His saints; But let them not turn back to folly.
Romans 12:17, 19-21 NKJV – 17 Repay no one evil for evil. Have regard for good things in the sight of all men. … 19 Beloved, do not avenge yourselves, but [rather] give place to wrath; for it is written, "Vengeance [is] Mine, I will repay," says the Lord. 20 Therefore "If your enemy is hungry, feed him; If he is thirsty, give him a drink; For in so doing you will heap coals of fire on his head." 21 Do not be overcome by evil, but overcome evil with good.
Psalm 119:165 NKJV – 165 Great peace have those who love Your law, And nothing causes them to stumble.
Isaiah 54:10 NKJV – 10 For the mountains shall depart And the hills be removed, But My kindness shall not depart from you, Nor shall My covenant of peace be removed," Says the LORD, who has mercy on you.
Isaiah 55:12 NKJV – 12 "For you shall go out with joy, And be led out with peace; The mountains and the hills Shall break forth into singing before you, And all the trees of the field shall clap [their] hands.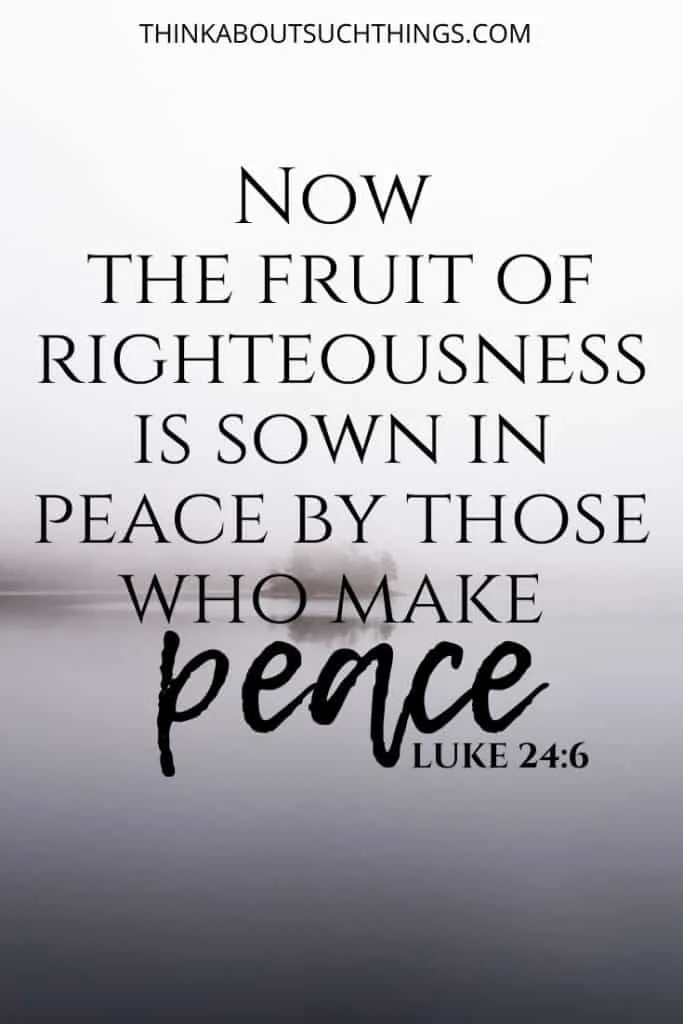 Matthew 5:9 NKJV – 9 Blessed [are] the peacemakers, For they shall be called sons of God.
Matthew 11:28-30 NKJV – 28 "Come to Me, all [you] who labor and are heavy laden, and I will give you rest. 29 "Take My yoke upon you and learn from Me, for I am gentle and lowly in heart, and you will find rest for your souls. 30 "For My yoke [is] easy and My burden is light."
1 Corinthians 14:33 NKJV – 33 For God is not [the author] of confusion but of peace, as in all the churches of the saints.
Isaiah 26:3, 12 NKJV – 3 You will keep [him] in perfect peace, [Whose] mind [is] stayed [on You], Because he trusts in You. … 12 LORD, You will establish peace for us, For You have also done all our works in us.
2 Thessalonians 3:16 NKJV – 16 Now may the Lord of peace Himself give you peace always in every way. The Lord [be] with you all.
Romans 15:13 NKJV – 13 Now may the God of hope fill you with all joy and peace in believing, that you may abound in hope by the power of the Holy Spirit.
Quick Reference List of Scriptures on Peace
Like I do with all my topical Bible verses here is a simple reference list of Bible verses about peace. I hope this makes it easy for you to jot down these verses in your journal or Bible for future use or study.

List of Peace Bible Verses
Numbers 6:24-26
Colossians 3:15
Galatians 5:22
Psalm 4:8
Hebrews 12:14
Isaiah 52:7
1 Peter 3:11
Hebrews 12:11
1 Peter 5:7
1 Thessalonians 5:15
Romans 8:6
Romans 14:17–19
James 3:18
Philippians 4:6-7
Romans 5:1
Proverbs 12:20
Proverbs 3:1-2
Proverbs 16:7
Psalm 29:11
John 20:19
John 16:33
John 14:27
Mark 9:50
Romans 12:18
Romans 14:19
1 Corinthians 7:15
Psalm 34:14
1 Peter 3:9–11
Leviticus 26:6
Psalm 37:37
Jeremiah 29:11
Jeremiah 33:6
Psalm 85:8
Romans 12:17–21
Psalm 119:165
Isaiah 54:10
Isaiah 55:12
Matthew 5:9
Matthew 11:28–30
1 Corinthians 14:33
Isaiah 26:3
Isaiah 26:12
2 Thessalonians 3:16
Romans 15:13
---
I hope these verses have encouraged you in your venture in knowing God more. And may you find deep peace and comfort. He is truly our Prince of Peace, Jehovah Shalom.
Feel free to drop me a comment below! I would love what God is doing in your life!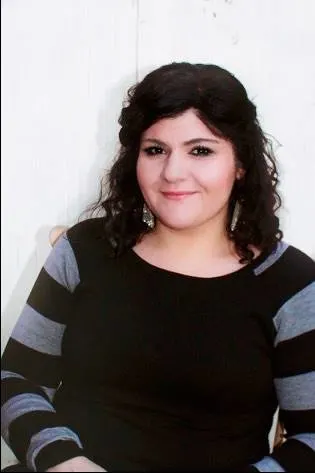 Melissa is a passionate minister, speaker and an ongoing learner of the Bible. She has been involved in church and vocational ministry for over 18 years. And is the founder of Think About Such Things. She has the heart to equip the saints by helping them get into the Word of God and fall more in love with Jesus. She also enjoys family, cooking, and reading.
She has spoken in churches in California, Oregon, Texas, and Mexico and has been featured in Guidepost Magazine and All Recipes Magazine. Read More…