In this article we will explore and answer the question, Have you ever wondered what the meaning of salt of the earth is? This salt of the earth bible lesson will help you understand and apply this teaching from Matthew 5 and how to become a salty Christian.
Today, I want to talk about the Salt of the Earth and what Jesus meant by it all and how it applies to us in our walk with Him. I hope this Bible lesson encourages you and blesses you. If you wanting to learn more then don't forget to check out my Christian Faith and Bible Articles.
Are you a Salty Christian?
If you would like to watch the video of my speaking on this topic click here: Salty Christianity
Let me clear the air before we get started. In our English vocabulary salty means tasting of or containing salt; saline. or piquant; sharp; witty. racy or coarse. Wait, who even uses the word piquant??
I will say I do enjoy witty people, but that is not the kind of salty I am talking about. And it's definitely not the salty that Jesus was talking about.
By now you probably know that I'm going to talk about Matthew 5:13 (NIV).
You are the salt of the earth. But if the salt loses its saltiness, how can it be made salty again? It is no longer good for anything, except to be thrown out and trampled underfoot.
We have heard it time and time again that we are the Salt of the Earth. And if we don't dig deeper into what Jesus is saying we will think it only means that we bring flavor to this lifeless world.
That is a true fact, salt does bring flavor. Have you ever had a meal with no salt? Not going to lie it's not fun or tasty. I did it for two weeks and I wanted to pull my hair out for how bad the food tasted.
But there's more to salt than just flavoring!
Natural salt has incredible abilities. It can stop and inhibit the growth of harmful mold and bacteria by absorbing moisture. It has been used for centuries as a means to preserve cure and save food.
That little fact alone should make us realize we are called to be people who inhibit the growth of sin and darkness in the world. That's a lot more than just flavoring.
Another incredible fact about salt is that it is an element that we cannot live without. Salt keeps our electrolytes in balance and helps regulate insulin and blood pressure. You can learn more how salt can affect the body at Organic Facts.
Just like salt keeps the body healthy. We as Christians are helping the world become healthy and whole by preaching the Gospel, praying, leading the lost to salvation, and the list goes on. Our presence on this earth makes a difference!
Let's look at those three things that salt does again!
Salty Christians Bring Flavor
Salt has the ability to enhance flavor. This translates to the Human race that when the world has nothing to offer and the bitterness of sin has taken its toll. We can bring something flavorful to the plate.
Salty Christians Preserve
Salt has an ability to preserve. It stops the growth of harmful bacteria and mold. It is used for food and if you had a wound it would prevent infection to take place. We are called to preserve and stop the growth of sin and worldliness. The enemy has come to steal kill and destroy and we are called to stop that! We also bring healing to those who are wounded.
Salty Christians Bring Spiritual Health
Salt can keep our body in balance and healthy. If we had no more salt we would die. If the body of Christ was not on the planet the world would be led to complete spiritual death. Our calling is to be His ambassadors. But how can they call on him to save them unless they believe in him? And how can they believe in him if they have never heard about him? And how can they hear about him unless someone tells them? Romans 10:14
Now let's take a deeper look into what does salt of the earth mean when it comes to losing its saltiness.
Can Salt Lose Its Saltiness?
When Jesus says we are the salt of the world in Matthew 5:13 He also says that you can lose your saltiness.
Well, scientifically it can't! Salt literally can't lose its flavor. I'm pretty sure the Creator of the universe knows the salt can't lose its saltiness. So, what did Jesus mean by saying that?
In Biblical times, salt was a huge deal. You would be considered wealthy if you owned large amounts. Our word that we know today for "salary" actually comes from the word salt.
"Word History Salt was a very valuable substance in ancient times. In addition to being used to flavor food, it was also used to keep foods from spoiling. Because of its importance, soldiers in the Roman army were given a special sum of money with which to buy salt for themselves. The Latin word for "salt" was sal, and the "salt money" given to the soldiers was called salarium. Salarium later came to be used for the regular pension or salary paid to the soldiers. Still later it was used for payments made to officials of the empire. The English word salary comes from the Latin salarium. " (taken from Word Central )
Salt was such a big deal because no one had refrigerators. They needed a way to keep food safe from bacteria and decay.
It also aided in fighting infections from open wounds. Since salt was needed for survival in ancient times merchants would sell it.
But dishonest merchants would add fillers or impurities to the salt. This would increase the volume of the salt, without actually adding more real salt.
Making the person who buys the salt pay more and not get real the real deal. Talk about feeling gypped!
Since fillers were added the salt was no longer good. It has lost its saltiness. It could no longer preserve, bring healing, or flavor well.
There is no way they could separate the fillers from the salt. This caused it to become useless. It then would be thrown outside where the horses and the people would trample upon it. The is the salt Jesus was talking about.
"…It is no longer good for anything, except to be thrown out and trampled underfoot…. " – Matthew 5:13
We are called to be the Salt of the Earth, but at the same time, we need to be careful because we can lose our saltiness.
We as Christians can add fillers and impurities into our life. We can go from being salty to salt-less.
Some of these fillers and impurities can be sin issues that need to be dealt with and repented of.
Then there are some fillers in our life that are not technically bad or considered a sin. The thing is that they can have an effect on our relationship with God.
All things are lawful [that is, morally legitimate, permissible], but not all things are beneficial or advantageous. All things are lawful, but not all things are constructive [to character] and edifying [to spiritual life] – 1 Corinthians 10:23 AMP
For me, I need to watch what I consume my time with. If I am not careful I will put everything on my to-do list first before I spend alone time with God.
It can affect my attitude or how I'm acting towards other people, or my level of faith and what God is doing in my life, or even affect my identity in Christ.
I am filling up my time in my life with things that can cause me to lose my saltiness. Not because they are bad, but because I have put them as a higher priority of my time than the Lord.
They have become fillers in my life.
Testing your Saltiness
So, is there a way to test our saltiness? One way to know if you are salty is by tasting. Hopefully, you know I am not asking you to lick your arm.
Our saltiness is spiritual but can be seen in our lives through our actions and how we live our lives.
We are told to taste and see that God is good.
Taste and see that the Lord is good;
blessed is the one who takes refuge in him. -Psalm 34:8
Those around you will be able to taste from your life and they will either taste God in your life……or they will taste YOU.
The biggest indicator of what they will taste is if you are living in the Spirit and bearing the fruit of the Holy Spirit.
But the fruit of the Spirit is love, joy, peace, forbearance, kindness, goodness, faithfulness, gentleness and self-control. Against such things there is no law. – Galatians 5:22:23
I believe the Fruit of the Spirit is the best indicator of being the Salt of the Earth. If we lack producing the Fruit of the Spirit then we also lack in saltiness.
Video Teaching On Being A Salty Christian
I had the wonderful privilege of speaking at the Sisterhood Celebration in Missouri. I spoke on the topic of salty christianity and how does salt lose its flavor. The teaching was done over zoom and a good friend of mine was able to record it. I hope you enjoy the teaching and that it inspires you to draw closer to God and become saltier.
*FYI – The video quality isn't the greatest. We had some technical difficulties.
You Are the Salt of the Earth!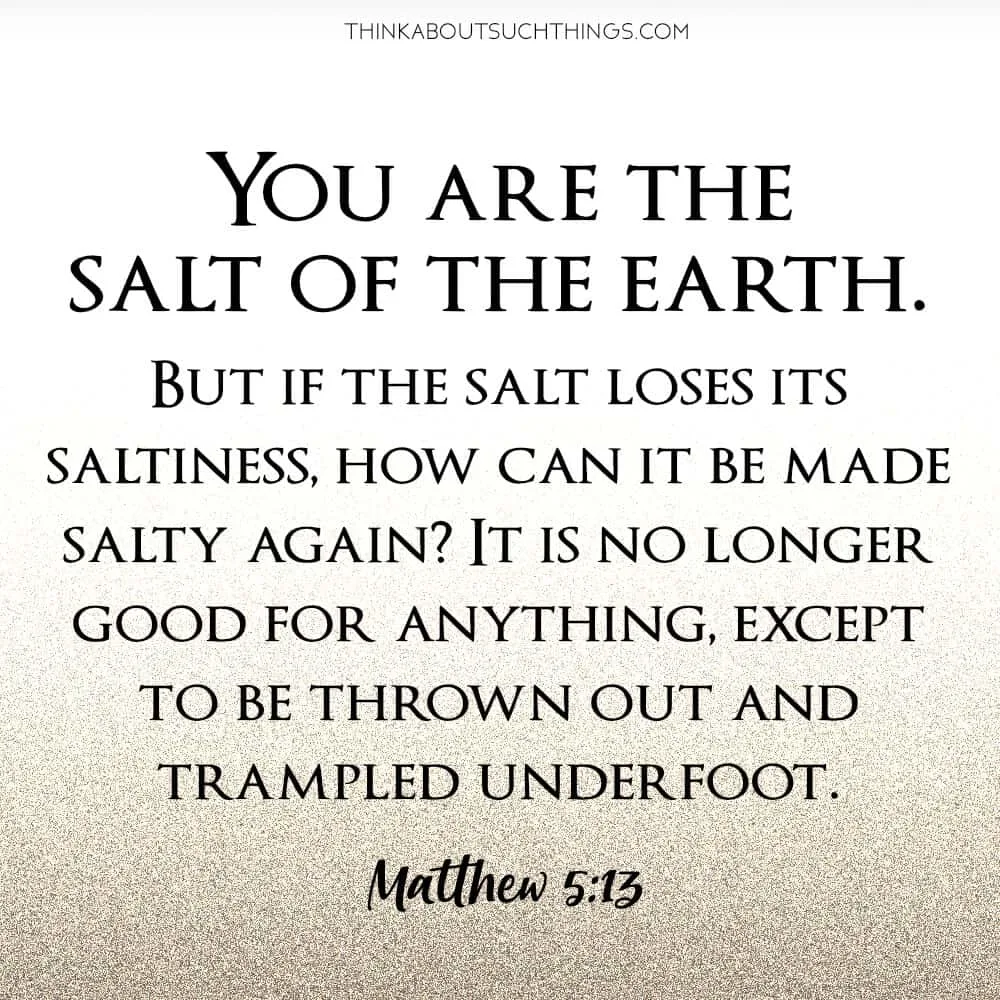 God is wanting us to be sold out lovers for Him!
Who are not wanting to add things to their lives that could hinder our relationship with Him.
He wants us to be salty Christians.
It's when we are salty Christians that we will see lives transformed and walk out our God-given destiny.
If the Holy Spirit has placed a check in your spirit about things filling up your walk. The turn to Him. We may not be able to remove fillers and impurities from salt. BUT our God can!
Go before Him, pray, repent, and spend time in His presence. Ask Him to help you to draw near to Him. He is faithful, kind, merciful, and loving. He will meet you where you are at.
For with God nothing [is or ever] shall be impossible."
– Luke 1:37 AMP
Leave me a comment below and share your thoughts on what it means to be the salt of the Earth. I would love to hear them!
Did you enjoy this post? Check out these posts below!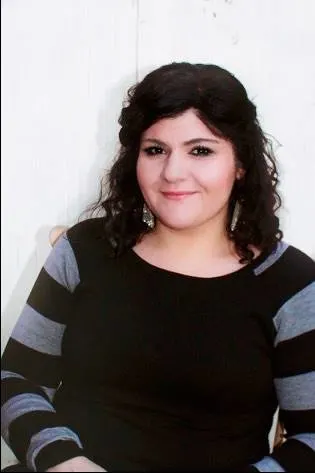 Melissa is a passionate minister, speaker and an ongoing learner of the Bible. She has been involved in church and vocational ministry for over 18 years. And is the founder of Think About Such Things. She has the heart to equip the saints by helping them get into the Word of God and fall more in love with Jesus. She also enjoys family, cooking, and reading.
She has spoken in churches in California, Oregon, Texas, and Mexico and has been featured in Guidepost Magazine and All Recipes Magazine. Read More…