In this post we will look at a wonderful collection of Bible verses for a good morning. These morning scriptures will help you start out your day right. You can even share them with a loved one to uplift their morning.
I'm a total morning person! I love getting up early and having a long productive morning. I even mention in an article what my morning routine is like by calling it Anchoring Our Day.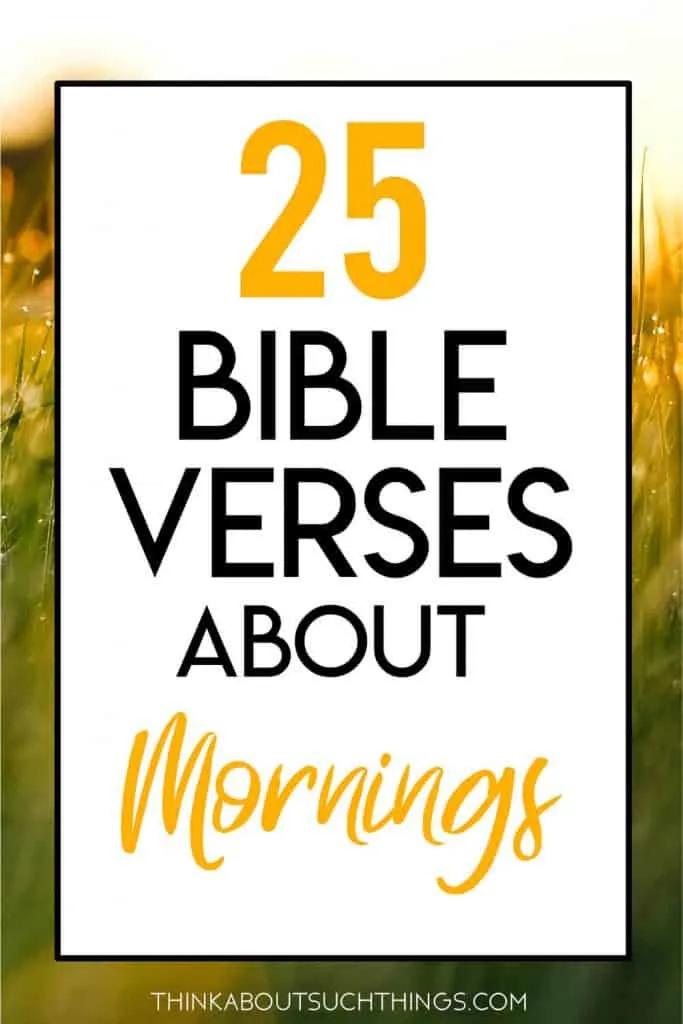 But I am aware that for a lot of people the morning is hard. They tend to be more night owls and sleep in. The majority of my friends are wired that way. I have tried that and it just doesn't work for my body.
So, whether you love morning or hate them I hope these Bible verses about mornings will encourage and bless you. And if you are studying on the topic of mornings in the Bible. I hope this resource helps you!
Just a side note a lot of these verses would make for very cute home decor, crafts, or for gifts. They bring such an element of joy and God's faithfulness of a new day.
Bible Verses for a Good Morning
All verses below are from the NKJV. You can hover over the reference and you can check out the Amplified translation of the Bible verse. If you would like to check out other translations then head over to Bible Gateway.
---
Psalm 5:3 NKJV – 3 My voice You shall hear in the morning, O LORD; In the morning I will direct [it] to You, And I will look up.
Psalm 118:24 NKJV – 24 This [is] the day the LORD has made; We will rejoice and be glad in it.
Psalm 90:14 NKJV – 14 Oh, satisfy us early with Your mercy, That we may rejoice and be glad all our days!
2 Peter 1:19 NKJV – 19 And so we have the prophetic word confirmed, which you do well to heed as a light that shines in a dark place, until the day dawns and the morning star rises in your hearts;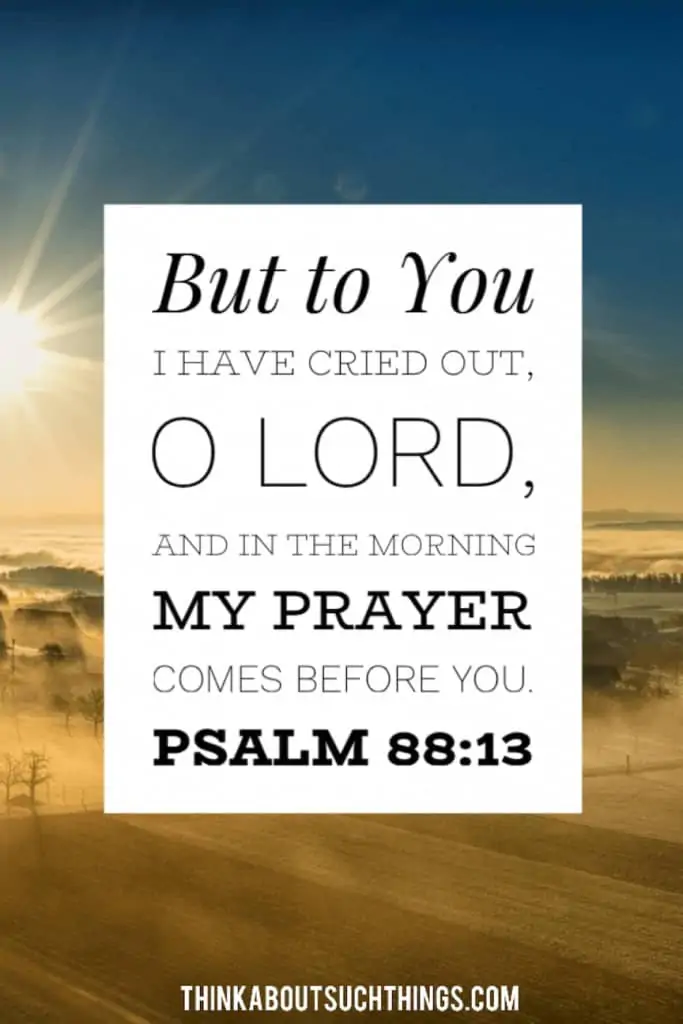 Lamentations 3:22-23 NKJV – 22 [Through] the LORD's mercies we are not consumed, Because His compassions fail not. 23 [They are] new every morning; Great [is] Your faithfulness.
Isaiah 50:4 NKJV – 4 "The Lord GOD has given Me The tongue of the learned, That I should know how to speak A word in season to [him who is] weary. He awakens Me morning by morning, He awakens My ear To hear as the learned.
Psalm 30:5 NKJV – 5 For His anger [is but for] a moment, His favor [is for] life; Weeping may endure for a night, But joy [comes] in the morning.
Psalm 37:6 NKJV – 6 He shall bring forth your righteousness as the light, And your justice as the noonday.
Isaiah 33:2 NKJV – 2 O LORD, be gracious to us; We have waited for You. Be their arm every morning, Our salvation also in the time of trouble.
Psalm 42:8 NKJV – 8 The LORD will command His lovingkindness in the daytime, And in the night His song [shall be] with me–A prayer to the God of my life.
Jeremiah 29:11 NKJV – 11 For I know the thoughts that I think toward you, says the LORD, thoughts of peace and not of evil, to give you a future and a hope.
Acts 22:16 NKJV – 16 'And now why are you waiting? Arise and be baptized, and wash away your sins, calling on the name of the Lord.'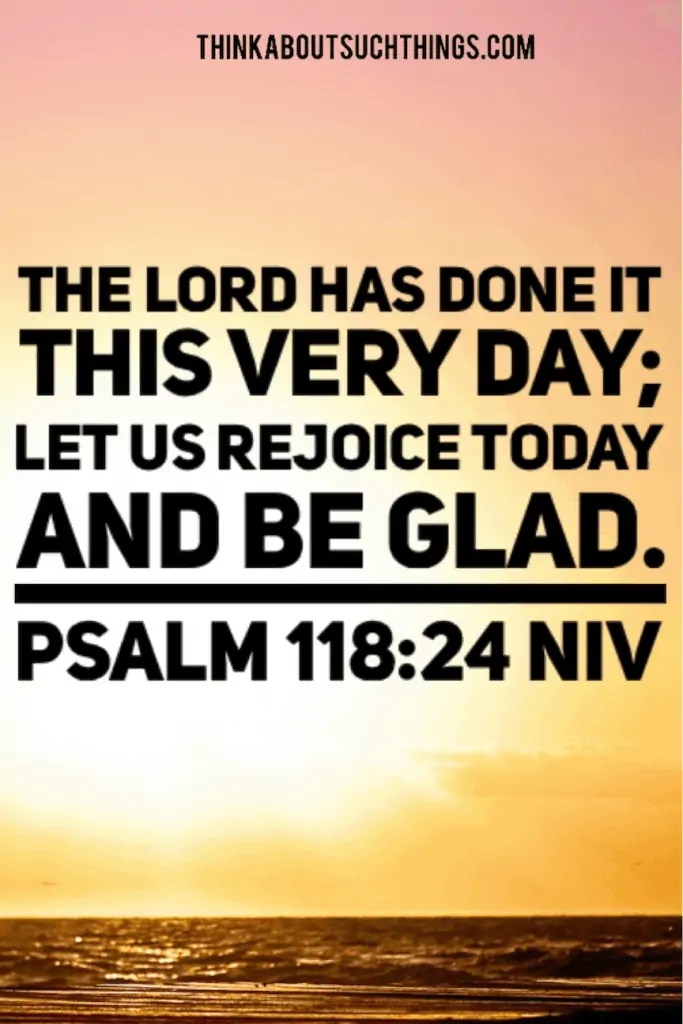 Psalm 59:16 NKJV – 16 But I will sing of Your power; Yes, I will sing aloud of Your mercy in the morning; For You have been my defense And refuge in the day of my trouble.
Job 38:12 NKJV – 12 "Have you commanded the morning since your days [began], [And] caused the dawn to know its place,
Psalm 88:9 NKJV – 9 My eye wastes away because of affliction. LORD, I have called daily upon You; I have stretched out my hands to You.
Isaiah 26:9 NKJV – 9 With my soul I have desired You in the night, Yes, by my spirit within me I will seek You early; For when Your judgments [are] in the earth, The inhabitants of the world will learn righteousness.
Psalm 130:6 NKJV – 6 My soul [waits] for the Lord More than those who watch for the morning–[Yes, more than] those who watch for the morning.
Psalm 143:8 NKJV – 8 Cause me to hear Your lovingkindness in the morning, For in You do I trust; Cause me to know the way in which I should walk, For I lift up my soul to You.
Matthew 6:34 NKJV – 34 "Therefore do not worry about tomorrow, for tomorrow will worry about its own things. Sufficient for the day [is] its own trouble.
Mark 1:35 NKJV – 35 Now in the morning, having risen a long while before daylight, He went out and departed to a solitary place; and there He prayed.
Psalm 88:13 NKJV – 13 But to You I have cried out, O LORD, And in the morning my prayer comes before You.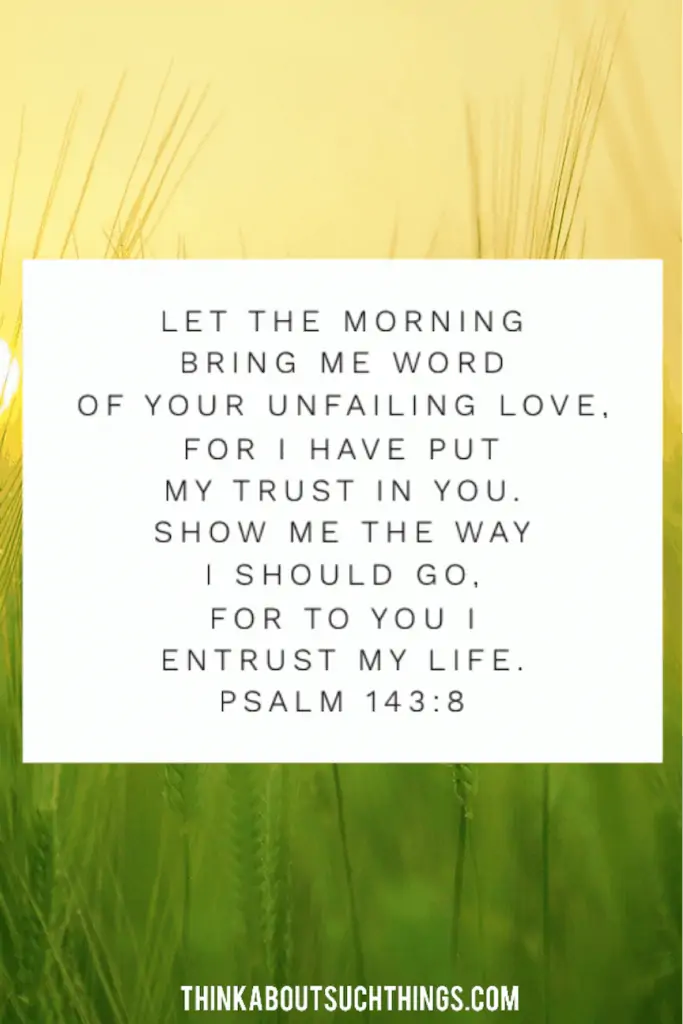 Psalm 119:147 NKJV – 147 I rise before the dawning of the morning, And cry for help; I hope in Your word.
Genesis 1:5 NKJV – 5 God called the light Day, and the darkness He called Night. So the evening and the morning were the first day.
Judges 5:31 NKJV – 31 "Thus let all Your enemies perish, O LORD! But [let] those who love Him [be] like the sun When it comes out in full strength." So the land had rest for forty years.
Recap Reference List of Morning Scriptures
Here is a quick reference list of all the Bible verses listed above. This makes it easier to jot verses down for later.
List of Bible Verses about the Morning
Psalm 5:3
Psalm 118:24
Psalm 90:14
2 Peter 1:19
Lamentations 3:22-23
Isaiah 50:4
Psalm 30:5
Psalm 37:6
Isaiah 33:2
Psalm 42:8
Jeremiah 29:11
Acts 22:16
Psalm 59:16
Job 38:12
Matthew 6:34
Psalm 88:9
Isaiah 26:9
Psalm 130:6
Psalm 143:8
Mark 1:35
Psalm 88:13
Psalm 119:147
Genesis 1:5
Judges 5:31
---
I hope these morning bibles verses have blessed you and encouraged you to enjoy your next morning! A little coffee and a whole lot of JESUS!
If you wanting to check out more topical verses then click on my Bible verses on Topics Resource Page. You will find a collection of different topics to further your study of God's word or check out my Faith Page.
And like always please leave me a comment below. I would love to hear from you!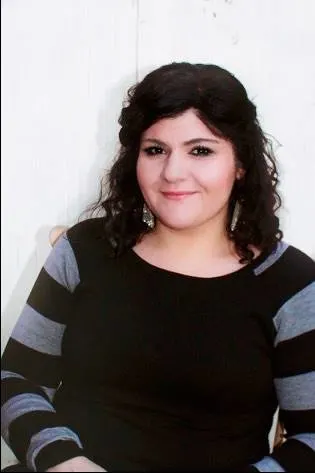 Melissa is a passionate minister, speaker and an ongoing learner of the Bible. She has been involved in church and vocational ministry for over 18 years. And is the founder of Think About Such Things. She has the heart to equip the saints by helping them get into the Word of God and fall more in love with Jesus. She also enjoys family, cooking, and reading.
She has spoken in churches in California, Oregon, Texas, and Mexico and has been featured in Guidepost Magazine and All Recipes Magazine. Read More…