A collection of sweet and beautiful Bible verses for Mother's day. You can use these scriptures on mothers for birthdays and other special occasions.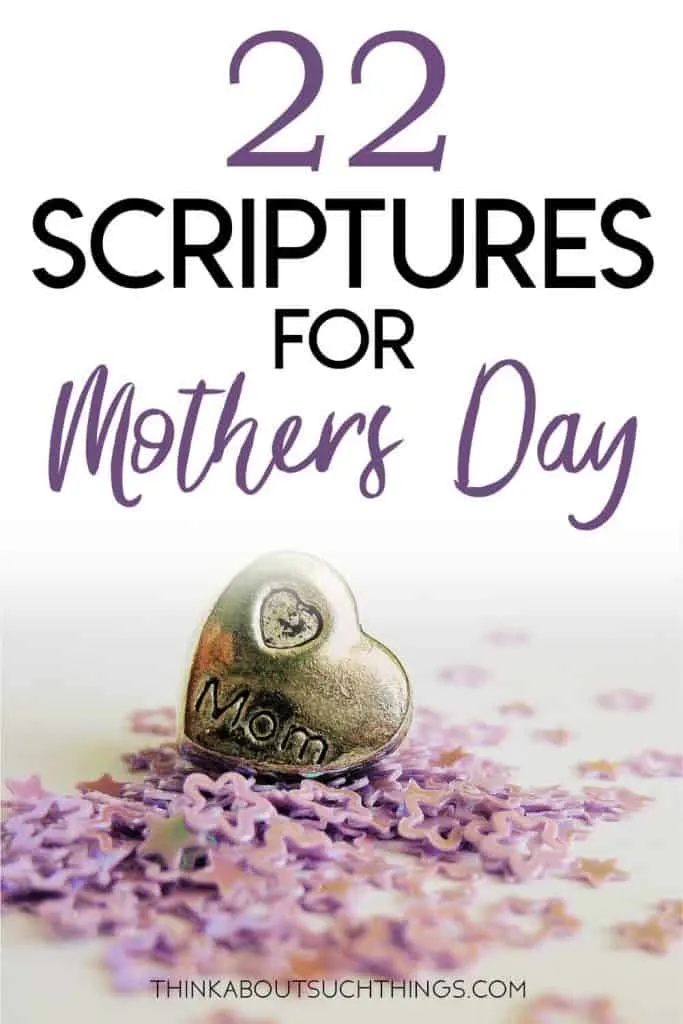 If you have read 10 Ways to Bless Your Mom you will know I am HUGE fan of moms! I have an amazing relationship with my mom and thank God for her. I'm not a mom yet, but someday I hope to have the same relationship with my children.
Today, I thought it would be nice to share some Bible verses for mother's day. Just a little sweet way to bless and encourage your mom!
If you are looking for ideas on how to use these scriptures. Here are some of my suggestions:
Creative Ways to Use Birthday Verses for Moms
Mother's day card or a Birthday Card or Thank You Card
Send a Text Message – Email (use one of the images below!)
Share on a Social Media Post or Shout Out
In a gift or some flowers
Create a slideshow or photo book and share verses throughout it
Speak them out in person or make her a video
No matter what avenue you decide to uses these verses she will LOVE it. With that said let's take a look at them!
BTW isn't that super cute of dumbo and his mom?!
Bible Verses for Mother's Day
All verses below are from the NKJV. You can hover over the reference and you can check out the Amplified translation of the Bible verse. If you would like to check out other translations then head over to Bible Gateway.
Feel free to share the images below with your mom. I'm sure it would bless her to read it on her email, Facebook/Instagram, or text message.
---
Proverbs 1:8-9 NKJV – 8 My son, hear the instruction of your father, And do not forsake the law of your mother; 9 For they [will be] a graceful ornament on your head, And chains about your neck.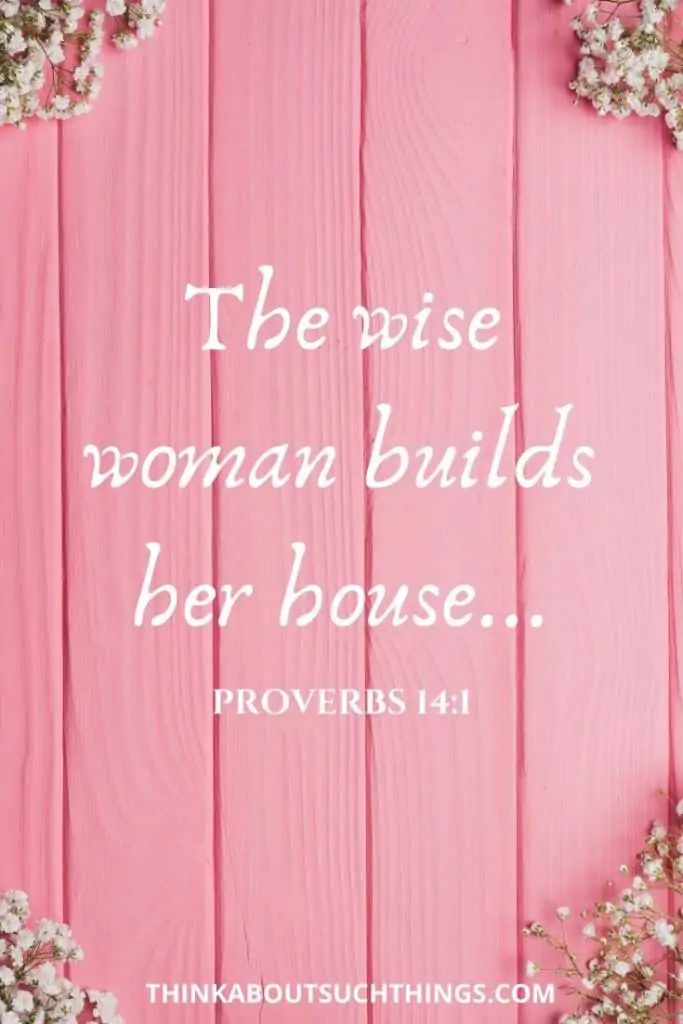 Isaiah 66:13 NKJV – 13 As one whom his mother comforts, So I will comfort you; And you shall be comforted in Jerusalem."
Isaiah 49:15 NKJV – 15 "Can a woman forget her nursing child, And not have compassion on the son of her womb? Surely they may forget, Yet I will not forget you.
Exodus 20:12 NKJV – 12 "Honor your father and your mother, that your days may be long upon the land which the LORD your God is giving you.
1 Peter 3:4 NKJV – 4 rather [let it be] the hidden person of the heart, with the incorruptible [beauty] of a gentle and quiet spirit, which is very precious in the sight of God.
1 Corinthians 13:4-7 NKJV – 4 Love suffers long [and] is kind; love does not envy; love does not parade itself, is not puffed up; 5 does not behave rudely, does not seek its own, is not provoked, thinks no evil; 6 does not rejoice in iniquity, but rejoices in the truth; 7 bears all things, believes all things, hopes all things, endures all things.
Proverbs 11:16 NKJV – 16 A gracious woman retains honor, But ruthless [men] retain riches.
Philippians 4:8 NKJV – 8 Finally, brethren, whatever things are true, whatever things [are] noble, whatever things [are] just, whatever things [are] pure, whatever things [are] lovely, whatever things [are] of good report, if [there is] any virtue and if [there is] anything praiseworthy–meditate on these things.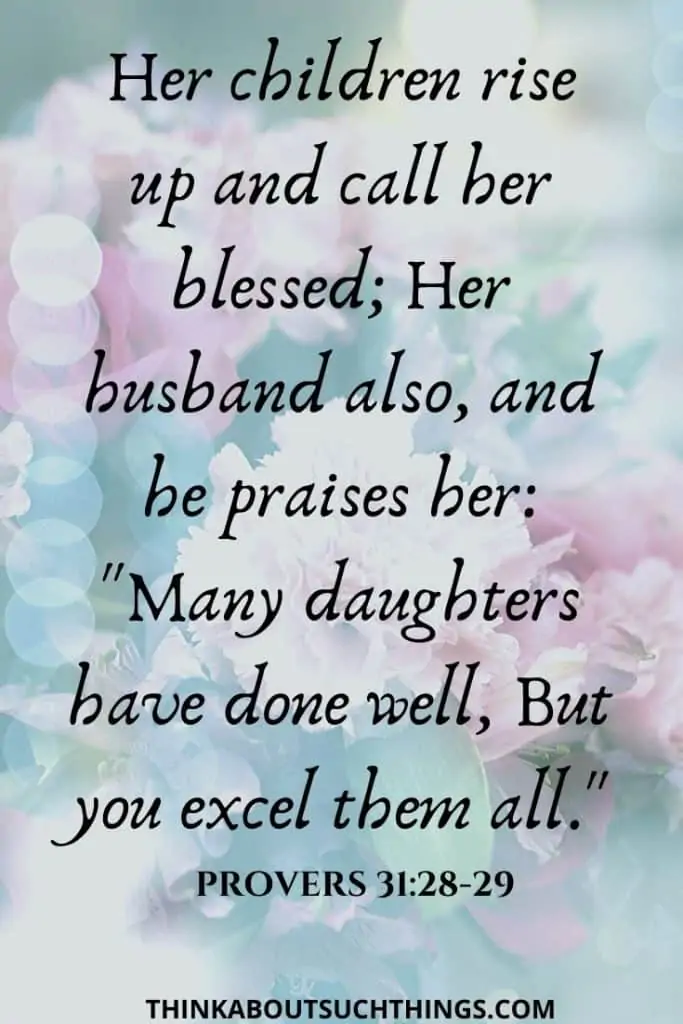 Proverbs 5:18 NKJV – 18 Let your fountain be blessed, And rejoice with the wife of your youth.
Proverbs 31:10-31 NKJV – 10 Who can find a virtuous wife? For her worth [is] far above rubies. 11 The heart of her husband safely trusts her; So he will have no lack of gain. 12 She does him good and not evil All the days of her life. 13 She seeks wool and flax, And willingly works with her hands. 14 She is like the merchant ships, She brings her food from afar. 15 She also rises while it is yet night, And provides food for her household, And a portion for her maidservants. 16 She considers a field and buys it; From her profits she plants a vineyard. 17 She girds herself with strength, And strengthens her arms. 18 She perceives that her merchandise [is] good, And her lamp does not go out by night. 19 She stretches out her hands to the distaff, And her hand holds the spindle. 20 She extends her hand to the poor, Yes, she reaches out her hands to the needy. 21 She is not afraid of snow for her household, For all her household [is] clothed with scarlet. 22 She makes tapestry for herself; Her clothing [is] fine linen and purple. 23 Her husband is known in the gates, When he sits among the elders of the land. 24 She makes linen garments and sells [them], And supplies sashes for the merchants. 25 Strength and honor [are] her clothing; She shall rejoice in time to come. 26 She opens her mouth with wisdom, And on her tongue [is] the law of kindness. 27 She watches over the ways of her household, And does not eat the bread of idleness. 28 Her children rise up and call her blessed; Her husband [also], and he praises her: 29 "Many daughters have done well, But you excel them all." 30 Charm [is] deceitful and beauty [is] passing, But a woman [who] fears the LORD, she shall be praised. 31 Give her of the fruit of her hands, And let her own works praise her in the gates.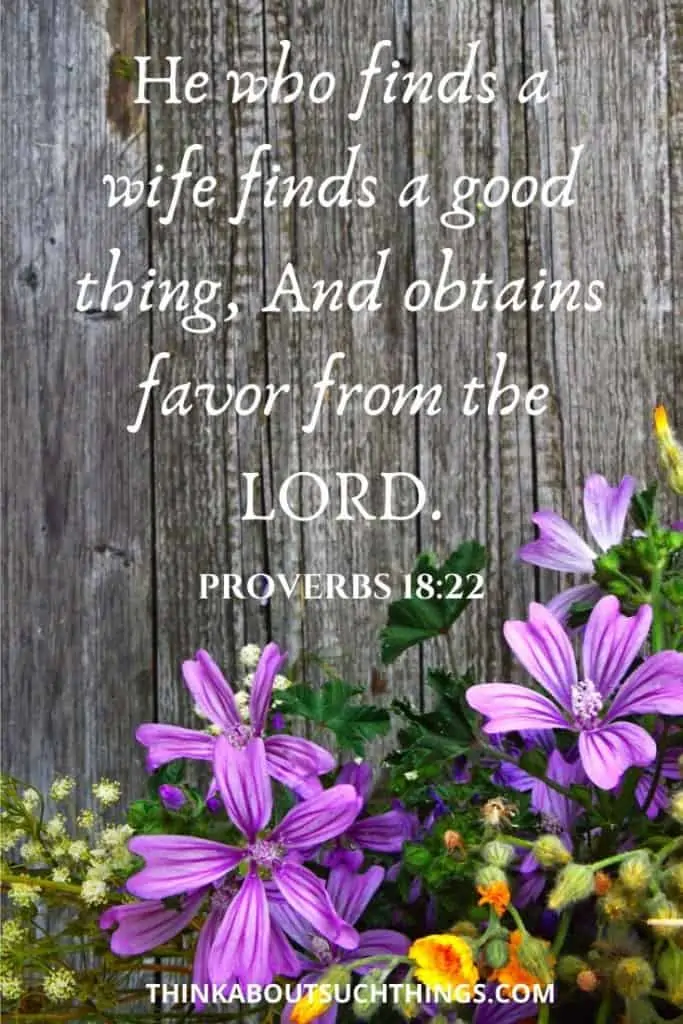 Galatians 6:9 NKJV – 9 And let us not grow weary while doing good, for in due season we shall reap if we do not lose heart.
Proverbs 14:1 NKJV – 1 The wise woman builds her house, But the foolish pulls it down with her hands.
Proverbs 22:6 NKJV – 6 Train up a child in the way he should go, And when he is old he will not depart from it.
Luke 2:51 NKJV – 51 Then He went down with them and came to Nazareth, and was subject to them, but His mother kept all these things in her heart.
Proverbs 18:22 NKJV – 22 [He who] finds a wife finds a good [thing], And obtains favor from the LORD.
Proverbs 23:22-25 NKJV – 22 Listen to your father who begot you, And do not despise your mother when she is old. 23 Buy the truth, and do not sell [it], [Also] wisdom and instruction and understanding. 24 The father of the righteous will greatly rejoice, And he who begets a wise [child] will delight in him. 25 Let your father and your mother be glad, And let her who bore you rejoice.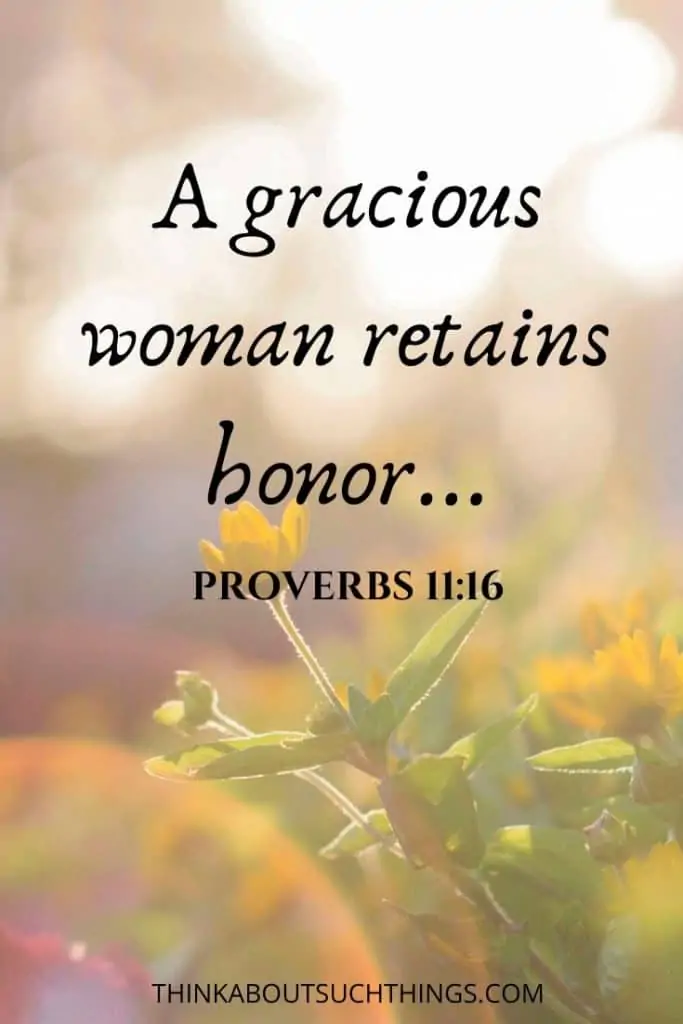 Joshua 24:15 NKJV – 15 "And if it seems evil to you to serve the LORD, choose for yourselves this day whom you will serve, whether the gods which your fathers served that [were] on the other side of the River, or the gods of the Amorites, in whose land you dwell. But as for me and my house, we will serve the LORD."
Romans 8:38-39 NKJV – 38 For I am persuaded that neither death nor life, nor angels nor principalities nor powers, nor things present nor things to come, 39 nor height nor depth, nor any other created thing, shall be able to separate us from the love of God which is in Christ Jesus our Lord.
Genesis 3:20 NKJV – 20 And Adam called his wife's name Eve, because she was the mother of all living.
Recap Reference List of Mother's Day Scriptures
Here is a simple reference list of the Bible verses on moms. I hope this makes it easy for you to jot down these verses in your journal or Bible for future use.
List of Bible Verses for Mother's Day
Philippians: 1:2-3
1 Corinthians 13:4-7
Isaiah 66:13
Proverbs 1:8-92
Isaiah 49:15
Exodus 20:12
1 Peter 3:4
Proverbs 11:16
Philippians 4:8
Timothy 1:5
Proverbs 5:18,
Proverbs 31:10-31
Galatians 6:9
Proverbs 14:1
Proverbs 22:6
1 Corinthians 13:4-7
Luke 2:51
Proverbs 18:22
Proverbs 23:22-25
Joshua 24:15
Romans 8:38-39
Genesis 3:20
---
I hope one of these verses blesses your mom or wife tremendously and if it's strictly for study purposes I hope you can see the value in motherhood in them.
For more articles the help you grow on your walk with the Lord check out my Faith Page. And like always I would love to hear from you! So, please leave me a comment below and share with me what special thing you are doing for your mom!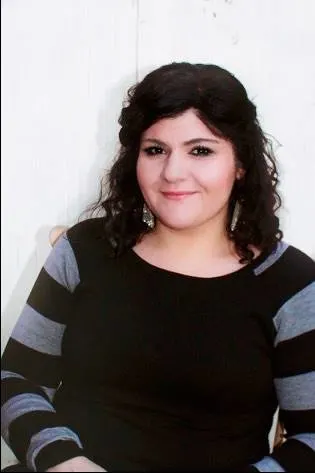 Melissa is a passionate minister, speaker and an ongoing learner of the Bible. She has been involved in church and vocational ministry for over 18 years. And is the founder of Think About Such Things. She has the heart to equip the saints by helping them get into the Word of God and fall more in love with Jesus. She also enjoys family, cooking, and reading.
She has spoken in churches in California, Oregon, Texas, and Mexico and has been featured in Guidepost Magazine and All Recipes Magazine. Read More…